Air Dolomiti: Lufthansa's hub-feeder from Italy. What is its role in the Lufthansa group?
Air Dolomiti has seen a lot of route volatility recently, as highlighted by a recent wave of route closures. The Italian regional airline is suspending Milan Bergamo-Frankfurt, Verona-Frankfurt and its two Moscow services. Earlier this year, it ceased Verona to Vienna and Zurich and Florence-Monaco. Many of these routes were only started quite recently. Its website currently offers only five routes, all of which it took over from its owner Lufthansa earlier in 2013. Lufthansa operates 25 routes between Germany and Italy and its LCC Germanwings operates 23.
Lufthansa has had an equity stake in Air Dolomiti since 1999 and owned it outright since 2003. It does not separately disclose traffic data or financial results, but is included within the Lufthansa Passenger Airline Group for reporting purposes and is a minnow compared with its leviathan parent. To give some context, its operating fleet of fourteen regional aircraft compares with the Lufthansa Group fleet of 637 aircraft as at 30-Jun-2013. Does Lufthansa need Air Dolomiti?
According to Innovata, Air Dolomiti currently operates from five airports in Italy (Bari, Florence, Milan Bergamo, Venice Marco Polo and Verona) to just three other European destinations: Frankfurt, Munich and Moscow Domodedovo. Almost all of its capacity is on routes to Germany (95% of its seats, week of 16-Sep-2013, source: Innovata), with the balance to the Russian Federation, and it has no domestic routes.
In fact, recent route suspensions not yet reflected in the Innovata database reduce the number of airports in Italy to four (Milan Bergamo withdrawn) and in the rest of Europe to two (Moscow withdrawn). This means that 100% of its capacity is now operating from Italy to Germany.
Air Dolomiti routes according to Innovata 16-Sep-2013 to 22-Sep-2013
Lufthansa, Air Dolomiti's owner, flies considerably more routes (25) between Italy and Germany and codeshares with it at Berlin Tegel and Milan Linate. Moreover, Lufthansa's LCC subsidiary Germanwings currently operates 23 routes from Italy to Germany. Even allowing for some duplication of routes between Lufthansa and Germanwings that may be eliminated over time as the latter continues to take over point to point routes outside its hubs, this is a very large number of routes operated by the Lufthansa group between Italy and Germany. It makes Air Dolomiti's Italy-Germany network appear like an after-thought.
See related report: Germanwings rebrands: you say you want a revolution? To be led by cost and operations
Lufthansa routes from Italian airports 16-Sep-2013 to 22-Sep-2013
Germanwings routes from mainland Italian airports 16-Sep-2013 to 22-Sep-2013
Air Dolomiti bases by seats 16-Sep-2013 to 22-Sep-2013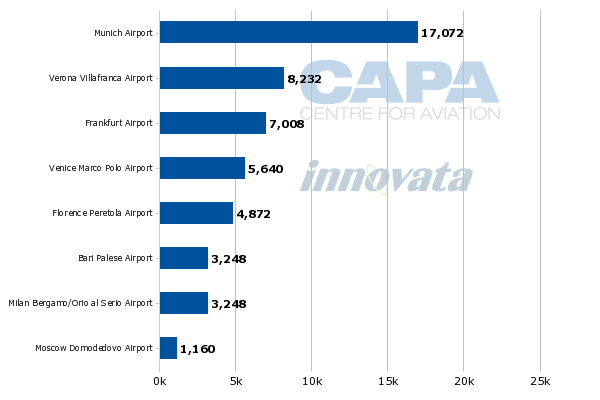 Its headquarters are at Verona in Italy, from where it operates three routes, but it has more than twice as much seat capacity at Munich, to where it operates four routes.
Air Dolomiti is the number two airline by seats at Verona, with a share of 14%, behind Meridiana with 29%. At Venice Marco Polo its share is too low to feature in the top nine; at Florence it is number five; at Bari it is number six.
See related report: Meridiana: how to escape the impact of loss-making Italian airlines?
Its highest rank outside Verona is at Milan Bergamo, where, according to Innovata, it is in third place. However, it no longer offers the two routes previously operated from Bergamo (and its 1.5% share of seats was dwarfed by Ryanair's 86% and Wizz Air's 7%). Moreover, both Venice and Milan are multiple gateway cities and Air Dolomiti's rank is even lower on the basis of the city airport system in each case.
At its biggest foreign base, Munich, it is fourth and has a market share by seats of less than 2%. At Frankfurt its share is too low to feature in the top nine (week of 16-Sep-2013, source: Innovata).
Verona Villafranca Airport seat capacity by airline 16-Sep-2013 to 22-Sep-2013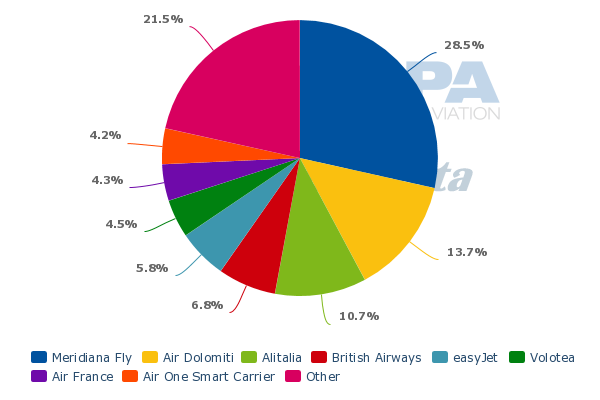 Air Dolomiti map of destinations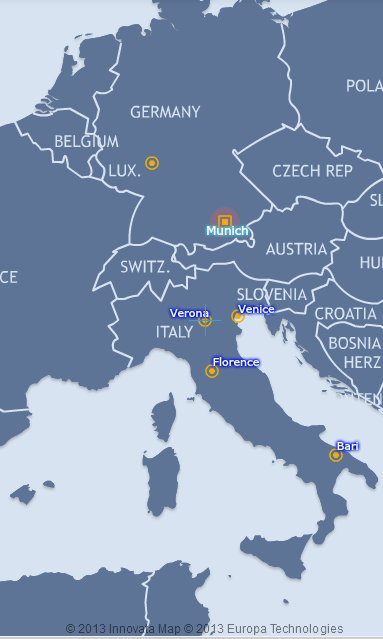 Air Dolomiti routes by number of seats* 16-Sep-2013 to 22-Sep-2013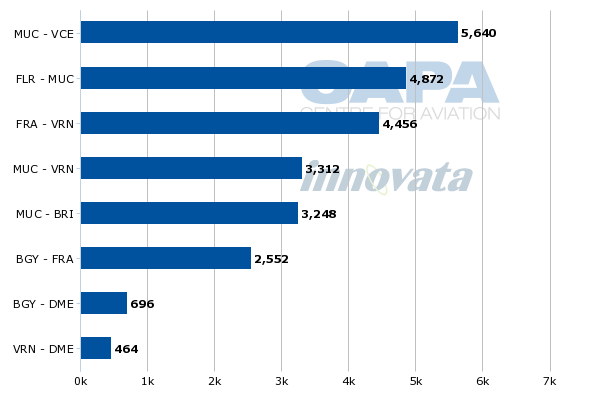 Several recent route withdrawals
Lufthansa will reportedly replace Air Dolomiti on Frankfurt routes during 1Q2014. On the Verona route, its CityLine subsidiary will operate CRJ-700s, replacing Air Dolomiti's EMB95 and ATR72-500 aircraft. Air Dolomiti is suspending its Milan Bergamo-Frankfurt service in Sep-2013 and this route is now no longer available on the company's website, although Milan Linate-Frankfurt is offered by codeshare operated by Lufthansa.
In addition, Air Dolomiti is planning to suspend its two Moscow Domodedovo services at the end of summer 2013. These routes, which it launched earlier in 2013, are no longer available on the company's website, although they remain in the Innovata schedules database until end Oct-2013. Its Florence-Moscow route was withdrawn in late 2012.
It ceased Verona-Vienna, which it served with 64-seat ATR 72 aircraft, in May-2013 and no longer offers Florence-Monaco, which was only started in Feb-2013 with EMB-195 aircraft. Verona-Zurich, launched in Jul-2012, was withdrawn in May-2013. Rome-Nimes was offered during summer 2012, but not repeated subsequently.
Dolomiti is a market leader on its five remaining routes
Air Dolomiti currently offers five routes on its website (16-Sep-2013), all operating to Lufthansa's two main hubs at Frankfurt and Munich. Air Dolomiti is the number one airline by number of seats and the monopoly supplier on four of the routes. On the fifth, there is competition from airberlin in the summer only. In all five routes, Lufthansa had previously operated the route itself, but handed it over to Air Dolomiti earlier this year.
While Air Dolomiti has a strong market position on these routes, recent history suggests that this may not be sufficient to sustain Air Dolomiti on a route. It also had a monopoly on the two Milan Bergamo routes that have recently been withdrawn (although these were competitive on a city pair, rather than airport pair, basis) and it is the sole supplier on Verona-Frankfurt, which is to be ceased next year.
Air Dolomiti market position on its routes 16-Sep-2013 to 22-Sep-2013
Attractive pricing, but not in LCC class
With the exception of the withdrawn Moscow routes, Air Dolomiti's flights are all in the one to two hour range. While this sits with the concept of a regional airline, it also places it squarely in LCC territory, as does its single class cabin.
However, Air Dolomiti offers 'frills' such as a free snack and drink, FFP points through Lufthansa's Miles & More scheme (dependent on fare class) and, for the highest 'Emotion Fare', lounge access, one free checked bag, a free meal and dedicated check-in.
Air Dolomiti frequencies versus flight time 16-Sep-2013 to 22-Sep-2013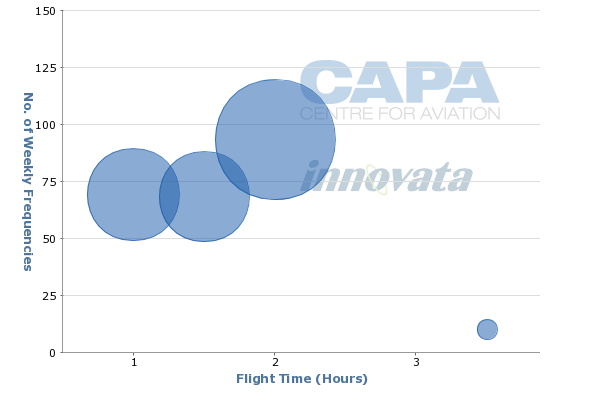 Its lowest fare category currently offers starting fares of EUR49 one-way on its Munich routes and EUR56 on its Frankfurt routes. These compare favourably with Lufthansa's one-way prices within Germany starting from EUR59 and Germany to Italy prices from EUR99, but less favourably with Lufthansa LCC subsidiary, which has some fares under EUR40.
Moreover, other LCCs on other routes frequently offer much lower prices and, while they may not be competing directly with Air Dolomiti, they create an expectation of how much it should cost to take a short flight in Europe. Air Dolomiti's fares are attractive, but perhaps not enough to be the main driver of demand.
High frequency service
Where Air Dolomiti does score well is in the number of frequencies it offers on its routes. All of its five remaining routes offer at least a double daily service; three of them are three times daily or more. This makes sense given that they are feeding into Lufthansa's two hubs and underpins Air Dolomiti's appeal to those looking for a choice of departure times and to those looking to take advantage of Lufthansa's wide European and long-haul network.
In particular, business travellers should be attracted by this level of frequency and they are less likely to be purely price-driven, especially given the Lufthansa FFP advantages. This starts to explain what Air Dolomiti's function is.
Air Dolomiti number of international destinations served by frequency/week 16-Sep-2013 to 22-Sep-2013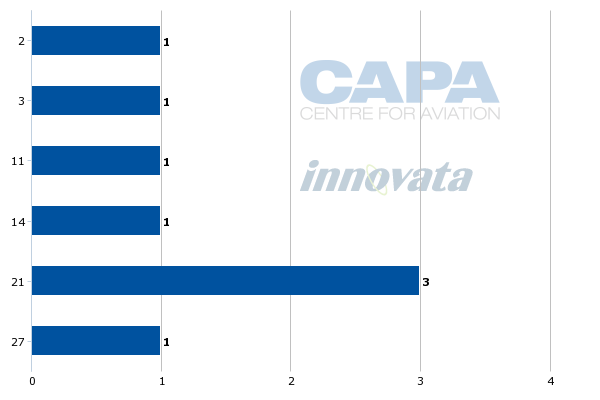 Fleet restructuring is nearing completion, featuring EMB195s
Air Dolomiti's website says it has ten Embraer 195 aircraft, with 120 seats, and four ATR 72-212a with 72 seats (19-Sep-2013). The carrier took delivery of five EMB195 in 2009 and has received five more since Dec-2012, while at the same time reducing its ATR fleet. The majority of the fleet is leased (the Embraer fleet is leased from Lufthansa).
The total fleet size was cut from 19 aircraft at the end of 2009 to 11 at the end of 2011, before growing back to its present size of 14. The ATR fleet is expected to be fully phased out by 2014.
Air Dolomiti development of fleet numbers at Dec-2007 to Dec-2012 and Sep-2013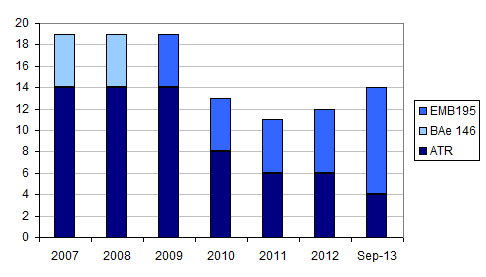 Air Dolomiti average fleet age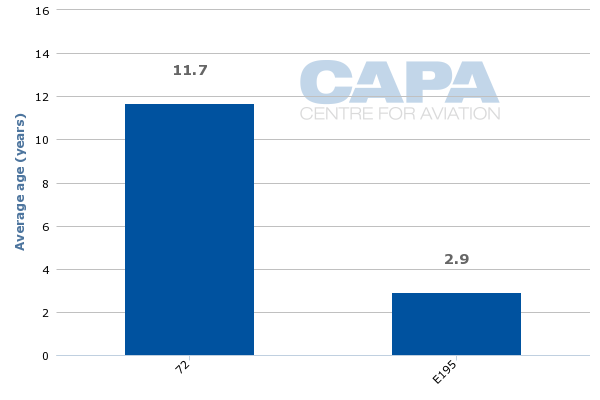 Air Dolomiti is small and likely loss-making
With only five routes (aside from its charter business) Air Dolomiti is very small. Moreover, although its fleet has grown again in recent years, it is smaller than it was five years ago and may become yet smaller when the ATRs have all left the fleet.
Added to this, it is probably not making money. While its results are not disclosed, Lufthansa took an impairment of EUR66 million in its 2012 accounts to reflect the diminished value of Air Dolomiti, a significant clue that it has not converted strong market positions into profits. Air Dolomiti is restructuring and looking into how it can reduce its fixed costs, supporting the conclusion that it is loss-making.
Is it a 'must-have'?
Air Dolomiti does give Lufthansa some additional feed into its two main hubs at Frankfurt and Munich. Furthermore, its regional aircraft allow this to be done with relatively high frequencies (and, with the new Embraer fleet, more cost effectively than in the past). Air Dolomiti's recent and significant level of route churn may signal problems in operating profitably, but it may also demonstrate that Lufthansa appreciates the flexibility to match the right size of aircraft to fluctuating demand on particular routes.
Lufthansa also has its Lufthansa CityLine unit in the regional sector and could probably use it on routes between its hubs and Italy just as effectively, although there are fleet and crew efficiency arguments in favour of basing such an operation in Italy. Perhaps its bad experience of launching and then closing Lufthansa Italia created an aversion to trying to run a Lufthansa-branded operation out of Italy (although Germanwings operates to several non-German destinations from airports in Italy).
Nevertheless, it is difficult to argue that Air Dolomiti is a 'must-have' for Lufthansa. If its restructuring does not restore profitability soon, its future appears uncertain.
See related report: Lufthansa: another good trick. 2Q2013 operating result deteriorates and improves at the same time