Air Canada: despite market weakness and its robust capacity growth, maintains a positive outlook
Analysis
Air Canada is undertaking a significant international push, just as the UK has voted to exit the European Union and terrorist attacks have swept Belgium, France and Turkey. Despite the pressure those circumstances are creating for revenue and yields, Air Canada has a reasonably positive outlook for demand in 3Q2016.

The airline has posted declines in yields and unit revenues for numerous quarters, but stresses that outcome remains a by-product of its strategy to grow internationally. Expansion by the company's low cost subsidiary rouge has increased Air Canada's mix of leisure customers and its growing average stage lengths have also pressured unit revenues. However, the company continually declares that its expansion is margin-accretive.

Air Canada no longer provides specific capacity guidance but has no plans to slow its growth in 2016, the bulk of which is directed to international markets. The company's message is that its capacity increases should in fact be absorbed, even accounting for a major capacity push that started in late 2Q2016.
Air Canada's unit revenues and yields decline sequentially from 1Q2016 to 2Q2016
Air Canada recorded 9.6% capacity growth in 1H2016, with the largest increase of 11% occurring in 2Q2016. Along with increases in capacity the decline in its unit revenue and yields also widened from 1Q2016 to 2Q2016.
Air Canada executives recently explained that on a stage length-adjusted basis yields declined 4.4% year-on-year in 2Q2016. Its stage length during that period increased 4.2% year-on-year, and grew 2.8% for 1H2016.
Air Canada PRASM and yield performance for 1Q2016 and 2Q2016, with capacity growth
| | | | |
| --- | --- | --- | --- |
| Quarter | PRASM | Yield | Capacity growth |
| 1Q2016 | 5.1% decline | 4.7% decline | 8% increase |
| 2Q2016 | 8.2% decline | 6.8% decline | 11% increase |
During the past year the company has continually stressed that its capacity growth, passenger mix and increased stage lengths would affect yields and unit revenues. However, Air Canada's position is that its capacity growth is much lower cost, which leads to improved margins. The company's operating margin fell 1.5ppt to 8% in 2Q2016, and its EBITDAR margin grew 0.2ppt to 17.5%.

Air Canada's rival WestJet posted sequential gains in unit revenue from 1Q2016 to 2Q2016, and expects further improvement in that metric in 3Q2016. Obviously WestJet has a different operating profile. Even as it launched direct long haul flights to London Gatwick in May-2016 its average stage length increased 0.2% in 2Q2016.

See related report: WestJet's positive unit revenue trend. 2016 is still challenging airlines, but investors encouraged
Pressure on Air Canada in domestic and trans-Atlantic markets in 2Q2016
On a regional basis Air Canada posted double-digit capacity growth in the US transborder, trans-Atlantic and trans-Pacific markets year-on-year in 2Q2016. Both Air Canada and rouge posted marked expansion during that time and combined, the airlines launched 10 new international routes and 11 new transborder routes.
Air Canada yield and passenger unit revenue performance year-on-year by region in 2Q2016

The airline acknowledged pockets of weakness during 2Q2016, including pressure on Canadian domestic yields from incremental capacity increases in the market, competitive pricing action and some fallout from oil-related revenues.

Air Canada also acknowledged a tough revenue environment on the trans-Atlantic during 2Q2016, stemming from increased competitive capacity from the US and Canada and competitive pricing actions. The company also cited a slowdown in originating traffic from the UK as a result of the Brexit vote, on top of the effects of terrorist attacks in France, Belgium and Turkey on passenger demand.

Data from CAPA and OAG for the week of 1-Aug-2016 to 7-Aug-2017 show that the UK is Air Canada's second largest market by ASM deployment.
Air Canada international capacity by country (% of ASMs): 1-Aug-2016 to 7-Aug-2016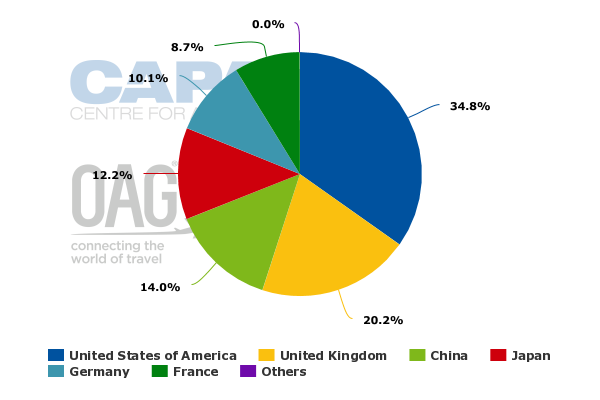 Air Canada remains confident that demand remains solid for 3Q2016
For the past few years Air Canada has been balancing the effects of its international expansion on metrics such as yields and unit revenues, on the one hand, with the importance of building an international network that rivals its US peers, on the other.

For 3Q2016 the airline observed that demand remains solid, despite some of the pockets of weakness in various geographies. Its seats for the high-demand season – the bulk of which occurs in 3Q – have grown markedly in international markets and on a system-wide basis.
Air Canada monthly system seat growth: 2014 through 2016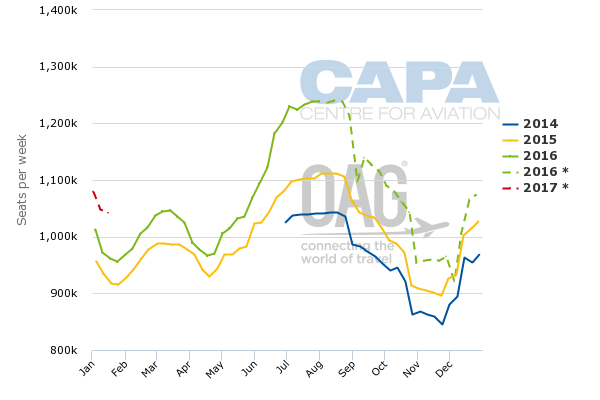 Air Canada monthly international seat growth: 2014 through 2017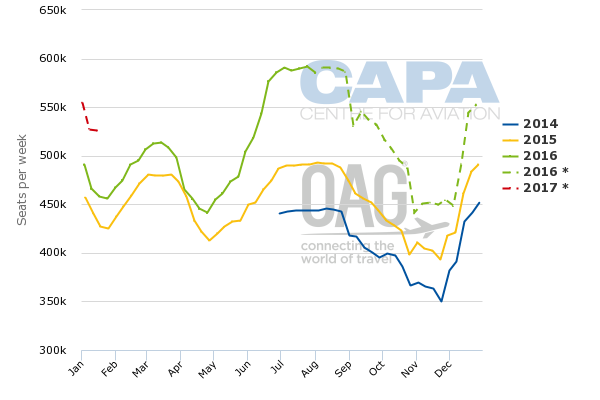 Air Canada made a big push into the Atlantic that began in the latter part of 2Q2016, and its seats on offer between Canada and Europe for the week of 1-Aug-2016 are up nearly 10% year-on-year.

The airline has explained that it has started to deploy retrofitted Boeing 777-300ERs with 51 additional seats, and 777-200s with 30 more seats.
Air Canada Fleet Summary as of 2-Aug-2016
Additionally, 70 seats are being added to the Boeing 767s as the aircraft transition from mainline to rouge.
Air Canada rouge fleet summary as of 2-Aug-2016
Due to the increased density unit costs on all three of those fleet types will fall, Air Canada has said, and unit revenues on the rouge aircraft are trending at expected levels.
But Air Canada acknowledges it has high hurdles to overcome with its planned growth
Air Canada's lack of capacity guidance makes it difficult to model exact growth estimates, but its system ASMs for the week of 1-Aug-2016 are up 15% year-on-year. That likely has some investors spooked, even as Air Canada stresses that its capacity growth is driving margin expansion, and that demand remains solid despite geopolitical and economic pressure.

Airline CEO Calin Rovinescu stressed Air Canada is confident that its third quarter capacity will be filled profitably, reiterating that the company is focused on margin expansion instead of chasing market share and yields.

Given Air Canada's significant route expansion in 2Q2016, Mr Rovinescu acknowledged that the company is setting high hurdles for itself, but demand is continuing to be strong.
Air Canada ceases guidance in metrics that remain highly important to investors
Now that Air Canada no longer offers yield, unit revenue, or capacity guidance it has steered investors towards its EBITDAR margin and ROIC targets. At the end of 2Q2016, on a 12-month trial basis, Air Canada had met its goals in those metrics. Its EBITDAR margin of 18.3% slightly exceeded its targeted range of 15% to 18%, and its 16.2% return on invested capital also exceeded its stated goal of 13% to 16%.

The airline has guided EBITDAR growth of 4% to 8% for 2016, but its net income for 1H2016 fell from CAD372 million (USD283 million) year-on-year to CAD288 million (USD219 million).

Air Canada decided to discontinue offering guidance in yields and unit revenue as investors in North American airlines became laser-focused on those metrics. Despite carriers arguing that other measures are far more important, most airlines in North America have attempted to outline a general timeframe for when their unit revenue performance might turn positive.
Weak unit revenues and robust capacity growth may outstrip Air Canada's other strides
Air Canada's strategy differs from those of its large US network peers. It is expanding rapidly internationally in both business and leisure markets, but leisure routes actually represent a substantial portion of that growth.

Although the company is standing its ground in attempting to convince investors to look at other metrics, the laser focus on unit revenue by investors, as well as Air Canada's decision not to provide guidance in those metrics, could be a turn-off for investors looking for an inflection point in the unit revenue performance of North American airlines.

It is encouraging that Air Canada is meeting its targets in many important financial measures, but its high capacity growth and deteriorating unit revenue performance are likely to outshine the progress that it has made in margins and ROIC.