05-Jun-2009 3:20 PM
Air Berlin raises EUR39 million, Aeroflot improves, Aer Lingus' last AGM? - Share Wrap
Air Berlin (-7.7%) joined the growing ranks of capital raisings, adding another 10% of shares to its register - see below. Aer Lingus (-3.7%) lost yesterday's gains as its controversial AGM looms today. Aeroflot (+8.9%) meanwhile gained strongly. Things are moving in Russia (more next week). And Aegean Airlines (+8.9%) soared closer still to the sun, continuing its remarkable run upwards.
Europe selected airlines daily share price movements (% change): 04-Jun-09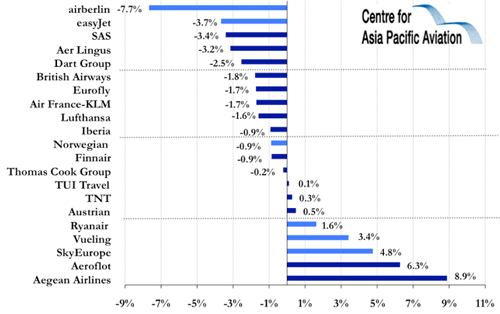 Aer Lingus - this could be the last time for an AGM?
Many of those filing into the Aer Lingus AGM this afternoon will be wondering if it is the last they will attend. Others, who won't be there, have already answered that question by their own actions, by selling out, as the carrier's shares have slumped to little more than a quarter of their level of two years ago.

But there is a lot riding on this meeting, with 29.5% shareholder Ryanair pumping it up to be a confrontation between board and shareholders (including a substantial holding by the staff pension fund) and with the ever-present possibility of another buyout offer from Europe's biggest airline.
Air Berlin capital raising - for "general corporate purposes"

Air Berlin yesterday joined the ranks of those companies fattening their coffers for the coming hard times, raising EUR23.0 million from the issuance of approximately 6.6 million new shares. (It also disclosed healthy yield data for May-2009).
The bankers' delight will be used for "general corporate purposes" (Credit Suisse was the sole bookrunner for the issue). The placement was with institutional and professional investors and represents just under 10% of Air Berlin's issued and registered share capital.

Main points of yesterday's announcement were:
Approx 6.6 million new shares issued, for a total of 72,288,803 shares;
ESAS Holding A.S., Air Berlin's largest shareholder, take another 4.0 million new shares;
Chairman, Johannes Zurnieden and CEO, Joachim Hunold, to take 350,000 and 150,000 shares respectively;
ESAS and management issues will raise another EUR15.8 million;
Offer price was EUR3.50 per share;
Settlement to be "on or about" 9-Jun-09.