AirAsia X yields skyrocket as Malaysian competition rationalises and key markets pick up
Analysis
AirAsia X achieved revenue growth of 25% year-on-year in 1Q2016, a welcome improvement, as traffic and fares grew strongly.
Through the remainder of 2016, AirAsia X will reduce its wet lease operation and focus on expanding its scheduled services amid stronger demand in its core markets of Australia and China where more than 50% of its capacity by seats is deployed – and where the biggest improvements have been made.
Despite the strong and improving performance at AirAsia X and Thai AirAsia X, the Indonesian arm of the operation has an uncertain future as it falls under review due to restrictions imposed by Indonesian regulators.
The airline's core growth market is facilitating connecting traffic from Australia through to China, India and Iran – reflecting the weakened position of Malaysia Airlines in the ex-Australia transit market. Having returned to a strong growth position, AirAsia X is currently reaping the rewards – but unlike previous excursions, with a much more diligent focus on the commercial side.
AirAsia X revenue growth supported by increased traffic and higher airfares in 1Q2016
Revenue growth of 25% year-on-year in 1Q2016 was supported by a 15% increase in passenger traffic and 31% growth in the average base fare. Aircraft operating lease income increased 119% and cargo revenue increased 13%.
AirAsia X revenue up 25% - financial highlights for three months ended 31-Mar-2016:
Revenue: MYR970.7 million (USD231.7 million), +25.2% year-on-year;

Ancillary: MYR155.9 million (USD37.2 million), +23.2%;

Costs:

Fuel: MYR243.1 million (USD58.0 million), -11.4%;
Aircraft operating lease: MYR206.5 million (USD49.3 million), +59.3%;

Operating profit: MYR105.1 million (USD25.1 million), +1672%;
Net profit (loss): MYR179.5 million (USD42.8 million), compared to a loss of MYR125.9 million (USD34.8 million) in p-c-p;
Passenger numbers: 1.1 million, +15%;
Load factor: 82%, +8 ppts;
Average passenger fare: MYR566 (USD135), +30.7%;
Revenue per ASK: MYR15.11 sen (USD 3.6 cents), +16.9%;
Cost per ASK: MYR 13.82 sen (USD 3.3 cents), +7.0%;
Cost per ASK excl fuel: MYR 10.05 sen (USD 2.4 cents), +20.4%;
Average sector length: 4964 km, +7%;
Total assets: MYR4089 million (USD976.3 million);
Deposits, cash and bank balances: MYR240.0 million (USD57.3 million);
Total liabilities: MYR3356 million (USD801.2 million).
*Based on the average conversion rate at MYR1 = USD0.238724
The airline said the progress of its turnaround plan and a strong return of business from China and Australia contributed to an operating profit of MYR105 million (USD25.5 million) and a net profit of MYR179 million (USD43.4 million), which was boosted by a MYR122 million (USD29.6 million) foreign exchange gain. In Iran, AirAsia will move its collections to USD to mitigate currency risk and provide yield enhancement.
AirAsia X Group CEO Kamarudin Meranun said the carrier remains focused on exploring strategic initiatives to sustain earnings momentum for sustainable growth in Malaysia and Thailand, but will "re-evaluate" operations in Indonesia.
Significant achievements in unit cost reductions, RASK increase and base fare rises during 1Q2016
AirAsia X's core achievements through 1Q2016 can be summarised as an 8% reduction in CASK, 23% increase in ancillary revenue, 31% increase in average fare and a 51% increase in flight revenue.
Already the world's most cost-efficient airline, the 8% reduction in CASK was derived from lower oil prices – though ex-fuel CASK grew by 3% y-o-y.
The carrier was able to command a higher average base fare as its core markets rationalised, and it was able to implement increases in mature markets such as Australia. AirAsia noted this had no impact on forward bookings which remain strong, "signifying travel demand has returned and growing stronger."
AirAsia X expects the positive trend to improve further as additional routes come online and it introduces "aggressive marketing" campaigns to stimulate new markets.
AirAsia X load factors and average base fare, Apr-2016 to Sep-2016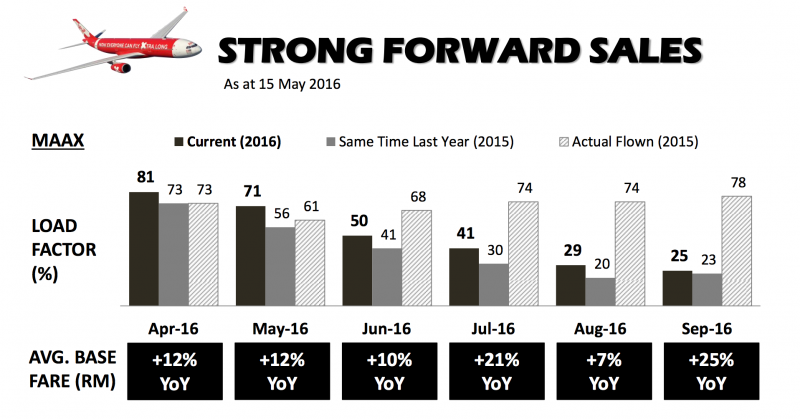 AirAsia X has hedged 100% of its fuel requirement for the remainder of 2016 at an average price of USD54, mitigating volatility and costs in oil prices while it pursues strategic expansion.
Turnaround fuelled by China growth, expected to continue through 2016
China contributed the highest growth to AirAsia X's operations in 1Q2016. Revenue from China increased 49% year-on-year due to higher passenger traffic and a 54% increase in the average base fare. China is AirAsia X's second largest market by seats, though China is a larger market overall for the AirAsia brand with more than half of group capacity deployed through short-haul subsidiaries or affiliates.
China is a key growth market for feeder traffic, and AirAsia X expects a 30% y-o-y increase in passenger traffic through 2016 as it adds additional second tier cities to stimulate underserved markets. The introduction of a visa waiver for Chinese visitors to Malaysia in Mar-2016 is expected to support the positive trend already identified in 2016.
AirAsia X and Thai AirAsia X both plan to add new routes to China in 2016. AirAsia X's Japan and Korea operations also improved and the carrier is strengthening its presence in Australia by resuming capacity growth on high demand routes and expanding its 'FlyThru' transit product to connect with destinations in Asia and the Middle East.
AirAsia X Group international capacity seats by country (23-May-2016 to 29-May-2016)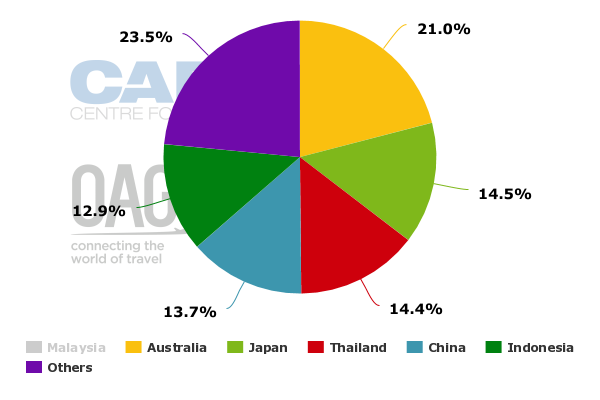 Already in 2016, China's percent of seats has grown to a third - though only a whisker separates it from Japan - with increased frequency to Beijing and Shanghai, as well as new second tier routes in 2H2016.
New services encouraging, as Australia matures as a core source market for AirAsia X
AirAsia X Group CEO Kamarudin Meranun noted encouraging inbound and outbound forward bookings for AirAsia X's Kuala Lumpur-Tehran service and Thai AirAsia X's Bangkok-Tehran service.
Mr Kamarudin said, "We are confident we can stimulate further demand as we are the only low-cost carrier operating direct flights from Kuala Lumpur and Bangkok to Iran."
AirAsia X Group system wide ASKs per week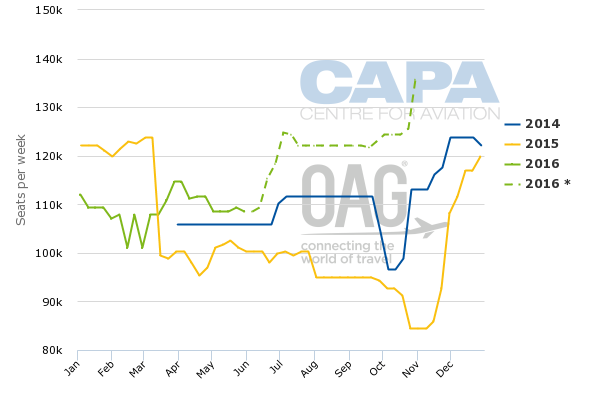 AirAsia X resumed double-daily frequencies to Sydney, Melbourne and Perth after poor performance necessitated sharp capacity contractions. AirAsia X cut back significantly in Australia in Mar-2015, erasing an earlier nearly 100% increase in seat capacity in the Malaysia-Australia market which led to yield declines and heavy losses.
By Oct-2016, AirAsia X will again be close to 2014 capacity levels in Australia, but with a much more rational approach. AirAsia X is pinning its expansion on record growth in tourism numbers into Australia from China and India, as well as core outbound leisure markets in ASEAN including Thailand and Vietnam. The carrier expects +40% y-o-y growth in passengers by end 2016 as a result.
Malaysia to Australia (seats per week, one way): 27-May-2013 to 31-Oct-2016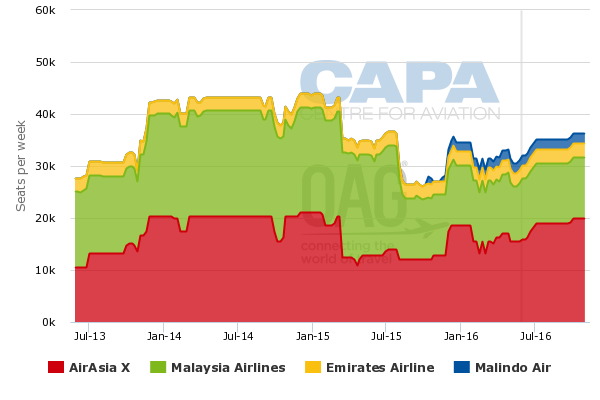 In 1Q2016, passengers carried from Australia increased 13% y-o-y with a 49% increase in average base fare. AirAsia sees extensive potential for its Fly-Thru product in the Australian market, where it can leverage its geography into the Middle East, India and Asia.
AirAsia X expects ancillary revenue growth of 'at least' 10%
Moving forward, AirAsia X is targeting ancillary revenue growth of 'at least' 10% p/a with the implementation of dynamic baggage pricing, greater meal selections, enhanced duty free products and sales platform as well as the introduction of IFE to all markets (this is only available on services to Australia at present).
During 1Q2016, ancillary revenue increased by 23% y-o-y including a 46% increase in revenue from its premium flatbed product. Its premium product has always performed well in Australia, but has been lagging in other markets.
Adjustments to improve 'Fly-Thru' product at AirAsia X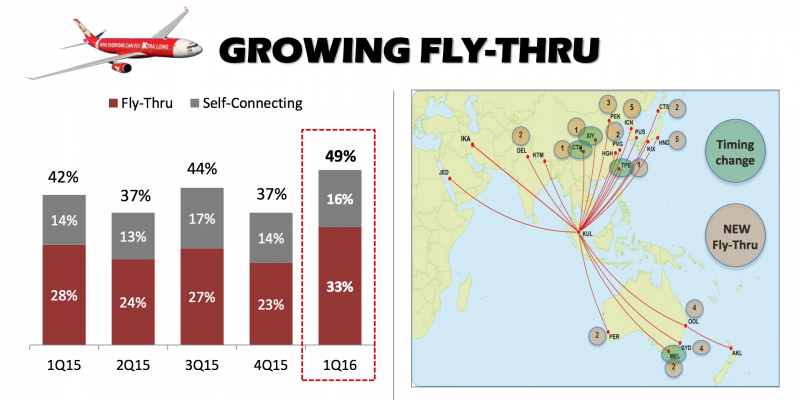 AirAsia X will also roll out its 'FlyThru' transit product to a greater number of city pairs, and improved flight timing to facilitate a greater number of China-Australia, India-Australia and Iran-Australia connections. Already, 36 new sectors have been activated.
This is forecast to deliver a 20% y-o-y increase in Fly-Thru to comprise 46% of total passengers during 2016 – an impressive achievement if reached. Already, 49% of passengers connect though 16% of those self-connected in 1Q2016.
Two aircraft to arrive in 2H2016 ending more than year of fleet stagnation
AirAsia X Group operated 29 aircraft as of Apr-2016. AirAsia X and Thai AirAsia X each added one aircraft on operating lease in 1Q2016. The group expects to take delivery of two more aircraft in 2H2016.
AirAsia X Group fleet plan, 2016 to 2026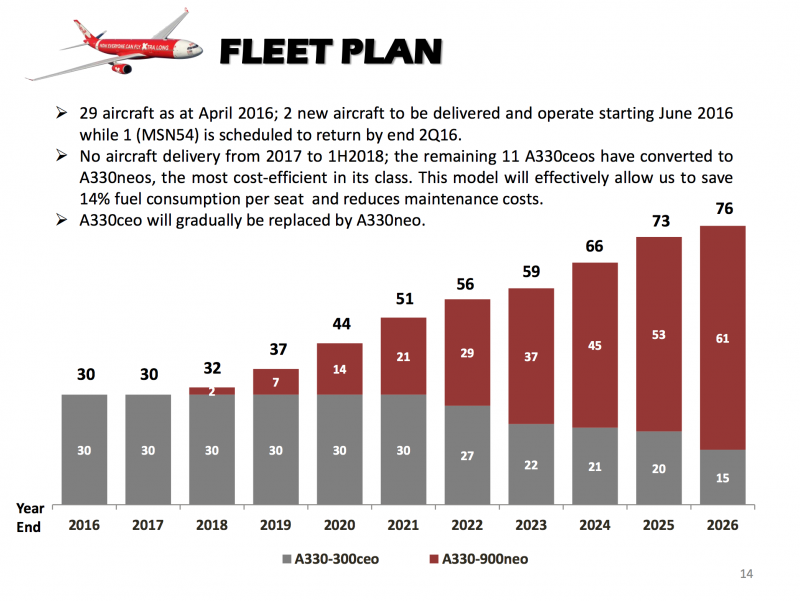 No more additions will be made from 2017 to 1H2018 after converting the last of its 11 A330ceos to the neo, which AirAsia X expects will save 14% fuel per seat. The neo will "gradually" replace the ceo.
AirAsia X Group Fleet Summary as at 26-May-2016
| | | | |
| --- | --- | --- | --- |
| Aircraft | In Service | Inactive | On Order |
| | 1 | 0 | 0 |
| | 23 | 0 | 0 |
| | 6 | 0 | 0 |
| | 0 | 0 | 66 |
| | 0 | 0 | 10 |
| Total | 30 | 0 | 76 |
After the initial deferral announcement in Nov-2014 AirAsia X was projecting a fleet of 40 A330ceos before taking its first A330neo. The group now plans to have only 29 A330ceo before transitioning to the A330neo.
The new adjustment to the fleet plan is sensible given the improved efficiencies that come with the A330neo, though it has gradually increased the number on order through deferral and conversion of its ceo options.
Nevertheless, AirAsia X has the flexibility to change the plan for 2017 and restore some of its initial A330-300ceo delivery slots for 2017, if market conditions warrant. The group also has flexibility with its order for 10 A350-900s: AirAsia X has the right to cancel its A350 order without penalties.
Future of Indonesia AirAsia X under review, while 'strong potential' for Thai AAX
The AirAsia X Group has not allocated IAAX any additional A330s in its 2016 fleet plan. As a result IAAX at this point is not planning to launch any new long haul routes in 2016. Nevertheless, the plan for 2016 could change, depending on market conditions, the way its initial three long haul routes mature, and whether IAAX succeeds at becoming profitable.
Indonesia AirAsia X routes ranked by one-way weekly seats: 23-May-2016 to 29-May-2016
IAAX has struggled since taking its first aircraft in late 2014 and launching operations in Jan-2015. IAAX was initially set back by a costly four month delay in launching services to Melbourne, its intended launch route, following a regulatory hiccup in securing approvals from Australia.
IAAX is now performing relatively well in Melbourne, an indication that efforts to rebuild the AirAsia X brand in Australian market have succeeded. AirAsia X is also encouraged by the initial bookings on Bali-Sydney and is looking at Bali-Brisbane, which would be its third route in the Indonesia-Australia market. IAAX would have the capacity to add Brisbane using its two-aircraft fleet but may not have the capacity to also launch other routes.
IAAX is now working to meet Indonesian regulations requiring airlines to have positive equity and maintain a fleet of at least 10 aircraft, including five owned aircraft. Consequently, IAAX is the only AirAsia X affiliate to operate A320s which it deploys domestically on behalf of Indonesia AirAsia.
For now AirAsia X continues to be optimistic about Indonesia. But the reality is that retaining an affiliate in the Indonesian market could ultimately prove to be too costly given the current bizarre regulatory environment.
A fleet of only two A330s is also clearly inefficient. The group could be better of pulling the plug on IAAX and redeploying the aircraft to Malaysia or Thailand. Future growth at Indonesia AirAsia X appears to be off the cards until a review is complete.
Thai AirAsia X and Indonesia AirAsia X review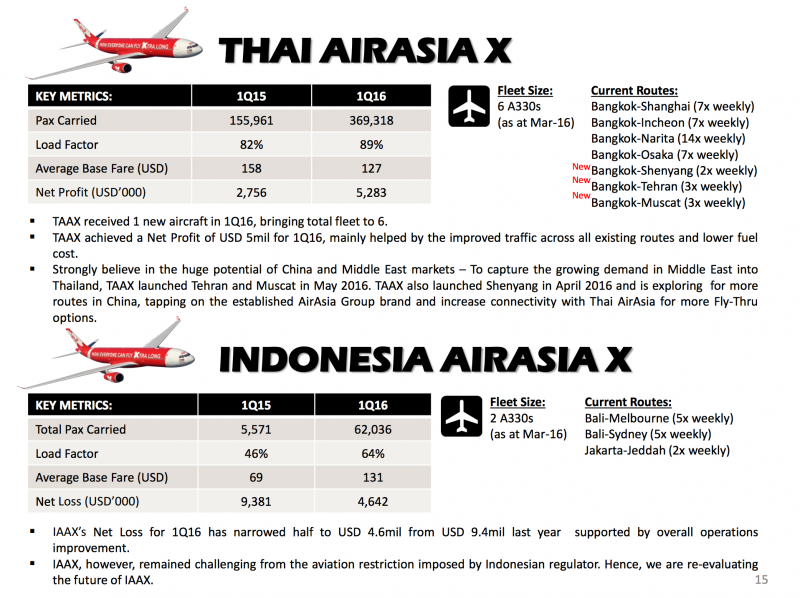 While also suffering from delayed growth and regulatory setbacks, the outlook at Thai AirAsia X is much brighter having appeared to reach sufficient scale for profitability. TAAX has also managed to deliver strong growth despite the implications of an ICAO downgrade of Thailand's DCA.
AirAsia expects TAAX to achieve turnaround in FY2016 through greater operational synergies with the Group to achieve economies of scale while adding new routes to its growing network. Thai AirAsia CEO Tassapon Bijleveld told CAPA on the sidelines of the LCC Airports Congress that TAAX could launch services to Australia and Europe in 2016.
He said the TAAX has already proven to be a good complement to short-haul sister carrier Thai AirAsia (TAA) with 30% of TAAX passengers connecting onto TAA-operated flights. Having already launched Tehran, Shanghai, Shenyang and Muscat, the sensible next step for expansion would be Australia.
AirAsia X sees massive opportunities for its Malaysian and Thai operations in 2016
The group has delivered a remarkable turnaround in a relatively short period of time as it works to prove the sustainability of its long-haul low-cost model. MAAX has been highly unprofitable over the last two years, accumulating net losses of MYR938 million (USD272 million) from 1-Oct-2013 to 30-Sep-2015. Over the same period the carrier incurred operating losses of MYR387 million (USD112 million). There are now promising signs the red ink will will abate in FY2016.
With the three new markets AirAsia X will also not need to rely to such a degree on Malaysia, where competition remains intense. Auckland and Honolulu are being added with fifth freedom rights, while New Delhi will rely heavily on transfer traffic beyond Kuala Lumpur.
Unlike many airlines, AirAsia X has a cost base that lets it focus where it counts - on yield and revenue growth - rather than lengthy and unpopular cost-cutting regimes favoured when times are tough.
While success (and profitability) is far from assured in the intensely competitive SE Asian market, AirAsia X has delivered strongly. 2016 remains a critical year in shaping the airline's future.