Air Arabia reports impressive third quarter profit
Analysis
Air Arabia is the world's most profitable airline, thanks to its unique geographic position in the growing Middle East market, low costs and highly efficient operations. The earnings sweet spot is set to continue for Air Arabia as oil prices fall, although it will face increasing challenges from later in 2009 as flyDubai gets off the ground. Net profit surged 29.7% in the third quarter on a 69% increase in revenue.
Air Arabia financial performance: 3Q08 vs YTD3Q08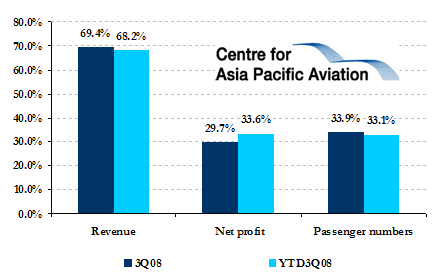 Air Arabia's net margin reached an extraordinary 34.2% in 3Q08 - eclipsing even the 32.9% margin in the previous corresponding peak period.
Air Arabia net profit and net profit margin: 1Q07 to 3Q08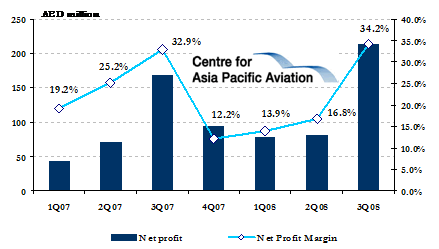 The Sharjah-based LCC unveiled a 30% increase in third-quarter net profit, thanks to a 69% increase in revenue as passenger numbers surged 34% to 978,794. Passenger load factor averaged 87% in the first nine months of the year.
Flying full: Air Arabia passenger numbers and passenger load factor: 2004 to YTD3Q08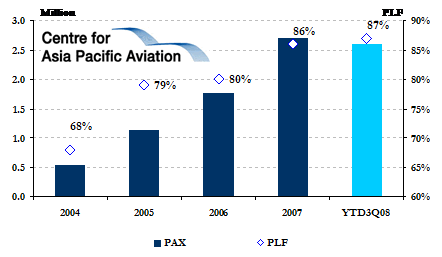 Air Arabia this month confirmed plans to commence operations from its second hub in Morocco early next year. Air Arabia Maroc will use the Casablanca base to fly to destinations in Europe, the Middle East and Africa, helping to spread the brand and capitalise on Morocco's vertical open skies deal with the EU (one of only two such arrangements).
Air Arabia has not been successful in establishing cross-border JVs (a Nepal-based venture failed last year), although the Moroccan venture probably has a better chance of success, assuming its regulatory path is smoother than it was in Kathmandu.
In its home market, Air Arabia can still look forward to considerable growth in the under-penetrated and liberalising Gulf Cooperation Council region.
Air Arabia's shares dipped slightly on 10-Nov-08, reflecting broader market sentiment.
Asia Pacific selected airline's daily share price movements (% change): 10-Nov-08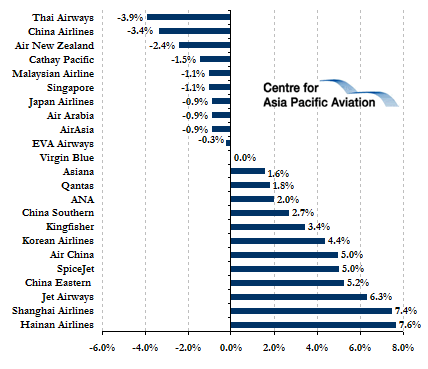 Chinese airline shares had a strong day on the news of a massive economic stimulus package by the government (which also had a notable upwards impact on world oil prices). Indian airline shares also had a strong day as carriers have so far resisted moves to slash fares as fuel prices have fallen sharply this month.