Aer Lingus: 2014 guidance raised again after strong 3Q as unions vote for pensions progress
Analysis
Aer Lingus has had another very respectable quarter, increasing its 3Q operating profit by 19%. Its North Atlantic capacity expansion continues to drive its total ASKs up at a double digit rate of growth. Although costs grew slightly more rapidly than ASKs, its revenue grew faster still in 3Q.
The new services to Toronto and San Francisco and increased frequencies on other North American routes, appear to have been well received by passengers, thanks to a combination of Dublin's geographic location, US customers pre-clearance and feed from the UK and continental Europe. Aer Lingus' North Atlantic capacity grew by 29%, traffic by 30% and fare revenue by 34% in 3Q.
The strength the 3Q results has prompted Aer Lingus to increase its FY2014 guidance, which now anticipates an operating result above that of last year. Perhaps more importantly, a staff ballot has voted in favour of a proposed solution to the pension funding issue, paving the way for improved industrial relations.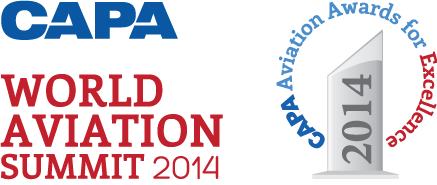 CAPA's World Aviation Summit will he held at the Hilton Antwerp Hotel on 20/21 November 2014, preceded by a Corporate Travel Innovation Day on 19 November.
Register now to hear:
- Director General João Aguiar Machado of DG MOVE
- 20+ airline CEOs
- the highest level debates on EU objectives,
- global liberalisation and the Gulf carriers,
- the role of unions and many other critical issues,
involving over 20 airline CEOs and numerous other industry and government decision makers. Please click here: CAPA World Aviation Summit and Corporate Travel Innovation Day
Aer Lingus' 3Q operating profit up 19% and net cash balance grows 30%
In 3Q2014, Aer Lingus increased its operating profit before exceptional items by 19% year on year to EUR113 million, with revenues up 14% to EUR531 million. Its operating margin increased by 0.9ppts to 21.3%. For 9M2014, operating profit increased by 32% to EUR103 million and the operating margin increased by 1.4ppts to 8.4%.
Aer Lingus' balance sheet continues to improve its already robust position, with net cash at the end of Sep-2014 increasing by 30% versus a year earlier to EUR572 million. The airline finances its fleet mainly through operating leases, which do not appear in on-balance sheet debt and this helps to explain its net cash position.
Nevertheless, if we add capitalised operating leases at eight times annual rental payments, this would still leave Aer Lingus with a net cash balance of around EUR150 million (using its trailing 12 month operating lease expense at 1H2015, since it does not report 3Q operating lease costs). Its gross cash balance of EUR973 million, up 4% year on year, is equivalent to more than eight months of revenues.
See related reports:
Aer Lingus financial highlights 3Q and 9M2014



Aer Lingus margins sit between Ryanair and the Big Three legacy groups
Among those European airlines that have reported results for the period, Aer Lingus' operating margins rank it comfortably ahead of the Big Three European legacy airline groups, but behind Ryanair in profitability (see chart below).
Operating margins for Ryanair*, Aer Lingus, IAG, Lufthansa and Air France-KLM (% of revenue) 3Q2014 and 9M2014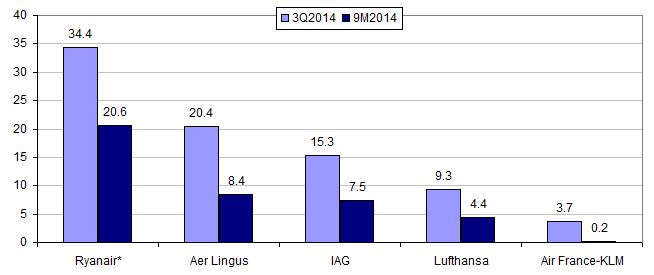 ASKs up 11.4%, driven by North Atlantic expansion
Aer Lingus increased its total ASKs by 11.4% year on year in 3Q2014, driven by a 28.8% increase in long-haul capacity growth as it continued its expansion on the North Atlantic. This was driven by new routes to San Francisco and Toronto and increased frequencies on existing routes.
RPKs grew by 12.4% and overall load factor increased by 0.7ppts to 86.2%, with long-haul gaining 0.5ppts to 92.2%, in spite of the strong capacity growth. The short-haul network's ASK increased by only 1.7% and its load factor was just above flat (+0.1ppts) at 82.1%. RPK growth outpaced the 4.8% increase in passenger numbers, reflecting increased average trip length.
These 3Q load factor figures compare favourably with average levels for members of the Association of European Airlines, whose North Atlantic load factor was in the region of 87% and Europe load factor was around 81% in the same period. Aer Lingus' load factors were below the AEA in 1H, but these above market average levels in the peak seasonal quarter allowed it to match the AEA for 9M2014 on both the North Atlantic and Europe.
Aer Lingus Regional, which is operated under a franchise agreement by Stobart Air and feeds traffic from regional cities mainly in the UK to Aer Lingus' Dublin and Shannon hubs, saw passenger numbers increase by 17.8% in 3Q and by 22.6% in 9M2014.
Aer Lingus traffic statistics 3Q and 9M2014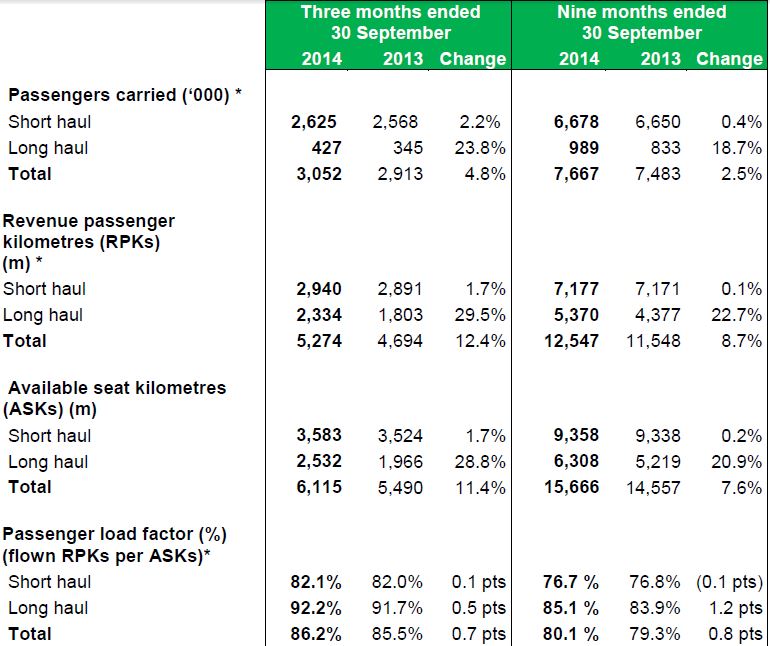 Average fares increase faster than trip length
Fare revenue per seat grew by 12% year on year in 3Q2014, faster than the 7% increase in average trip length, driven mainly by a 9.8% increase in average fares and supported by load factor gains.
Average fares on long-haul increased by 8.0%, also outpacing the 4.6% increase in average long-haul trip length. This demonstrates underlying pricing power and that the strong increase in Aer Lingus' North Atlantic capacity is being well received in the market.
Average fares on short-haul reversed their 1% decline in 1H2014 to rise by 3.3% in 3Q2014.
Aer Lingus fare revenue per passenger and per seat 3Q and 9M2014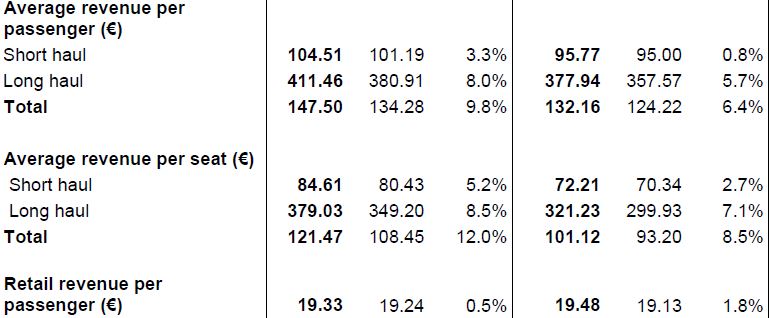 Revenues were up 13.9%, ahead of ASKs
Total revenue growth of 13.9% year on year in 3Q2014 was ahead of the increase in ASKs and was mainly driven by a similar increase in total passenger fare revenues to EUR509 million (the result both of traffic growth and of average fare increases, as discussed above). Long-haul fare revenues grew by 34%, increasing their share of total fare revenues by 5.6 ppts to 38.0%.
Retail revenues grew by 5.4% in 3Q, with retail revenue per passenger just above flat at EUR19.33. Cargo revenue growth accelerated to 16.2% in 3Q, after falling by 3.1% in 1H. Cargo activity can be volatile and represented only 2% of total revenues and this increase probably reflects Aer Lingus' long-haul network growth. Other revenue, which includes contract flying, increased by 13.0%.
Aer Lingus revenues, costs and EBIT 3Q and 9M2014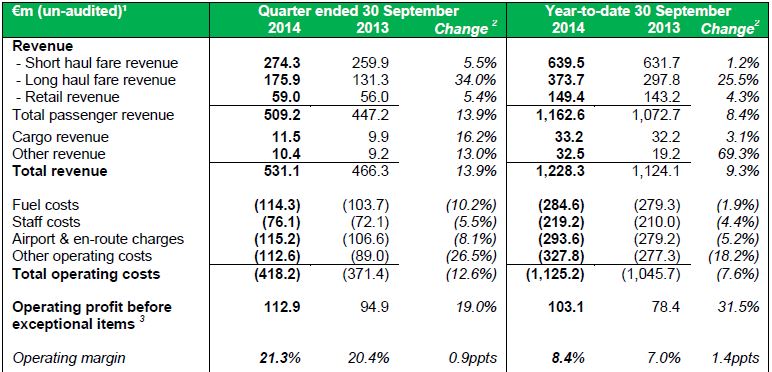 Costs rose 12.6%, fuel by 10.2%
Operating costs (before exceptional items) grew by 12.6% in 3Q, faster than the growth in ASKs, but slower than the increase in revenues. Fuel costs were up 10.2%, slightly lower than the volume increase as a result of favourable price and currency movements. Ex fuel costs increased by 13.5%, only just less than the growth in revenues.
Staff costs increased by 5.5%, reflecting additional headcount in support of the long-haul expansion, but this increase was significantly less than the growth in ASKs. Other costs were affected by the long-haul expansion, including the ASL lease contract for three Boeing 757 aircraft, higher depreciation and distribution costs. Advertising costs associated with strike action in 2Q2014 also affected other costs.
CORE profit programme needs a pension solution
With regard to Aer Lingus' CORE profit improvement programme, which includes both revenue initiatives and cost initiatives around processes and staff related matters, the airline says that progress has been made, but limited financial benefits are expected in 2014. On staff related initiatives, Aer Lingus says progress has been delayed by the strike in 2Q2014 and the implementation of a solution to the pension issue that has rumbled on for years.
As CAPA has observed previously, a solution to this matter is key to improved industrial relations and to achieving the necessary labour related cost efficiency improvements targeted by the CORE programme. Steps have been taken towards implementing the Labour Court recommendations in this area.
These steps include a conditional agreement with unions and a staff ballot, which has now voted in favour of the proposed solution. Shareholder approval will be now sought to make a one-off payment of EUR190.7 million in relation to the IASS (Irish Airlines Superannuation Scheme), which will also need approval from the Pensions Authority. Separately, a funding proposal on the Pilots' scheme, which does not involve a capital contribution by Aer Lingus, has been agreed with the pilot union IALPA for submission to the Pensions Authority.
Aer Lingus now seems to be closer than ever to resolving this issue, paving the way for further progress on CORE.
Nevertheless, as the airline itself notes, this is a "complex process and there remains a risk of unexpected delay or other unanticipated issues arising".
Aer Lingus to grow ASKs on North Atlantic by 14% in 2015
Aer Lingus' strong growth on the North Atlantic will continue in 2015 with a 12.5% increase in the number of seats and a 14% increase in ASKs. An additional leased A330 will join the fleet from May-2015, bringing the A330 fleet to eight. This will facilitate the launch of a new four times weekly Dublin-Washington DC service and increased frequencies on Dublin-San Francisco (from five per week to daily) and Dublin-Orlando (from three times to four times per week).
The new Washington service from Dublin will act as a gateway to more than 30 US domestic destinations. Aer Lingus is in discussion with its US partner United Airlines regarding their cooperation at Washington, but this will be at least an interline agreement.
Aer Lingus will also deploy a Boeing 767 under an ACMI contract, to add to the three wet leased 757s, for the peak 12 weeks of the summer schedule. This will allow a capacity increase on the Shannon-Boston route and a third daily frequency on Dublin-New York.
Planned third daily Dublin-New York service to be operated by Boeing 757 during peak summer 2015

In the longer term, Aer Lingus' planned A350 order will see it provide more of its North Atlantic capacity with its own production and should also lead to lower unit costs. It has also considered the A330neo, whose development by Airbus was announced after Aer Lingus indicated its decision to order the A350, but Mr Kavanagh confirmed that the preference was for the latter.
See related report: Aer Lingus' Atlantic adventure tests the virtual airline concept
Short-haul contract flying opportunities being evaluated following Little Red exit
The planned phasing out in 2015 by Virgin Atlantic of UK domestic routes operated by Aer Lingus under the Little Red brand should not have significant cost implications for Aer Lingus. Chief strategy and planning officer Stephen Kavanagh told analysts on a conference call to discuss the 3Q results that Little Red's exit was "not unanticipated". He said that there were lease termination options in connection with the associated aircraft, but that Aer Lingus was considering whether or not there was a business case to retain the equipment for new opportunities.
Certainly, Aer Lingus has previously indicated that it sees scope to increase the operation of short-haul aircraft on a contract basis for other airlines, although Virgin has been its only customer to date. Mr Kavanagh stated that Aer Lingus would need "a different form of revenue certainty" in order to pursue further growth opportunities at London Heathrow in this area.
Aer Lingus' FY2014 outlook is raised once more
Aer Lingus has increased its FY2014 pre-exceptional operating profit target from "in line" with last year to "ahead" of the 2013 result of EUR61 million. In Jul-2014, it had restored its "in line" guidance after cutting it in Jun-2014 as a result of industrial action in 2Q2014.
See related report: Aer Lingus restores 2014 target after strong 2Q as departing CEO focuses on labour relations legacy
A higher loss is expected in 4Q2014 than last year, reflecting the higher fixed costs associated with Aer Lingus' expanded fleet. The company's 9M2014 pre-exceptional operating result was EUR25 million higher than that for 9M2013. In order to meet its new FY2014 guidance, its 4Q loss cannot be more than EUR25 million wider than last year.
Given that its 4Q2013 operating loss was EUR27 million, this looks comfortably achievable. The operating margin implied by the guidance is in the region of 4% to 5%, a level that would place Aer Lingus above average among Europe's airlines.
However, it will need to push higher still if it is to generate returns that cover its cost of capital through the cycle. Making progress with its CORE programme will be vital.