Aegean Airlines' wider 1Q operating loss reflects intensifying competition, especially from Ryanair
Analysis
After strong results in 2013 and 2014, Aegean Airlines has started 2015 by reporting a wider loss in the seasonally weak 1Q. Capacity grew sharply, led by international routes from Aegean's Athens base, but revenue failed to keep pace. Unit costs came down, helped by lower fuel prices and greater network efficiencies, but they were not enough to offset falling unit revenue.
Aegean's weak unit revenue highlights strong competition and capacity increases in its markets, especially from ultra-LCC Ryanair. Although Greece has seen strong growth in tourism since 2012, uncertainties surrounding the macro environment in Greece add to Aegean's challenges.
As the airline's Managing Director Dimitris Gerogiannis observed, "We continue to believe that network synergies and tourism development in our country can offer further potential to our company provided a return to stability is achieved in the very near term for our country".
In 1Q2015, Aegean Airlines reported a net loss of EUR8 million, unchanged from the same period last year. However, the net result benefited relative to 1Q2014 from a more favourable net balance of foreign exchange gains in its financial income and a higher figure for deferred tax.
The operating result, or EBIT, was a loss of almost EUR18 million, 81% wider than in 1Q2014 and back to the same loss as in 1Q2013. The EBIT margin was -12.6% versus -7.2% in 1Q2014. Revenue increased by 3% to EUR138 million.
Note that all results are consolidated and include the domestic subsidiary Olympic Air, acquired in 2013.
Aegean Airlines 1Q2015 consolidated financial results summary

The group's cash balance increased from EUR208 million at the end of Dec-2014 to EUR228 million at the end of Mar-2015, equivalent to 83 days of revenues. This is a healthy cushion, but has come down from EUR276 million (118 days of revenue) at the end of Mar-2014.
With debt (in the form of finance lease liabilities) of EUR64 million, the group had a net cash position of EUR165 million at the end of 1Q2015, up from EUR149 million at the end of Dec-2014, but down from EUR219 million at the end of Mar-2014.
Aegean's ASKs rose 20%; passenger growth driven by international market
The Aegean Airlines Group increased its seat numbers by 14% year on year in 1Q2015, broadly in line with its planned FY2015 growth of 15%. ASKs were up at the faster rate of 20% in 1Q2015, reflecting longer average sector length. RPK growth fell short of this, growing by 15%, so that load factor fell 2.8 ppts to 70.1% (note that this is the overall load factor, whereas the 70.3% figure in the table below is for scheduled traffic only).
Growth in passenger numbers was 13%, driven by a 22% increase in international passengers (domestic numbers grew by 7%). Aegean's Athens base continued to be the main driver of international expansion, with 26% growth and ten new destinations in the quarter.
Aegean Airlines 1Q2015 operating statistics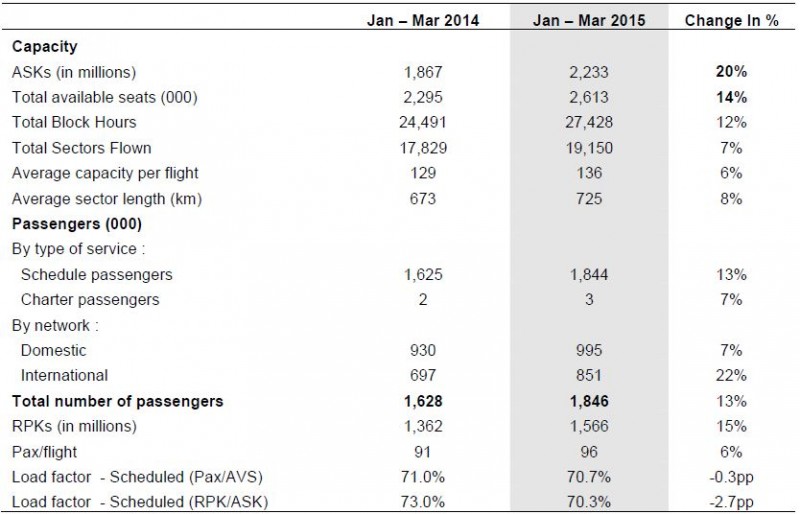 Aegean revenue rose only 3%
Revenue grew by 3%, significantly less than the growth in ASKs. Moreover, scheduled revenue was flat and all the growth in revenue was due to a 19% increase in other revenue, which consists of ancillaries, cargo and executive aviation.
Passenger fare revenue per passenger fell by 11%, in spite of the increase in average sector length and total revenue per ASK (RASK) fell by 15%. This continues the RASK fall suffered by Aegean in 2014, when it was down by 6%, and almost matches the 4Q2014 RASK decline of 17%.
Aegean Airlines 1Q2015 consolidated revenues

The unit revenue weakness experienced by Aegean over winter 2014/2015 highlights what its Managing Director Dimitris Gerogiannis called a "challenging" environment for Greece, in addition to "increased competitive intensity". EUR weakness may also have contributed to RASK weakness.
Aegean's costs rose 7%, mostly due to airport related charges, distribution costs
Operating costs (at the EBIT level) increased by 7% in 1Q2015, less than the growth in ASKs, but faster than the increase in revenue. Aegean benefited from lower fuel prices (partly offset by the weakening of EUR versus USD) to record a 17% fall in its fuel costs. Fuel remained the biggest cost category, but its share of the total fell to 24% from 20% a year earlier. According to CAPA calculations, its operating result would have been EUR14 million lower in 1Q2015 if Aegean had paid the same fuel cost per ASK as it did a year earlier.
Non-fuel costs increased by 15%. Labour, the second biggest cost (15% of total costs) grew by 9%, considerably slower than ASK growth. The biggest cost increases were in airport charges, ground handling and distribution. These increases reflect price increases, Aegean's disproportionate expansion in Athens and the weaker EUR.
Total CASK (calculated from costs at the EBIT level) fell by almost 11% and ex fuel CASK fell by 4%.
Aegean Airlines 1Q2015 operating costs, EBITDAR and EBIT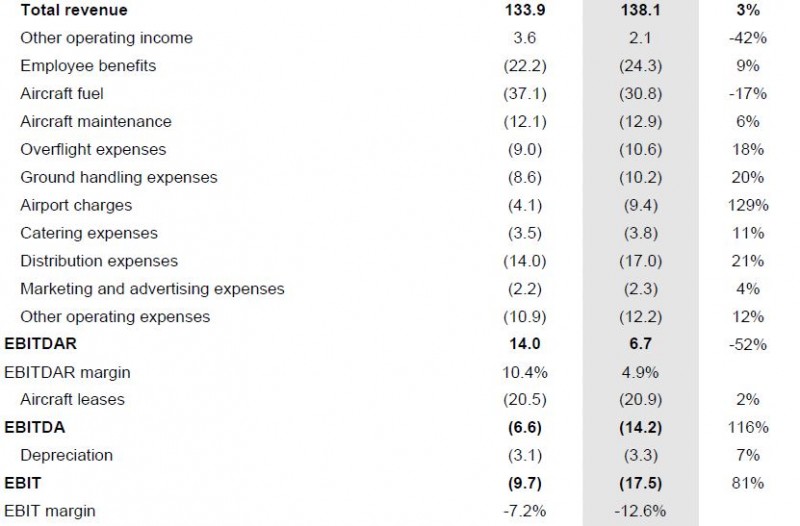 Aegean has its strengths…
Greece remains an attractive tourist destination for travellers from the major Western European countries, even if its economic backdrop remains uncertain. Aegean has the largest network of any airline operating in Greece, with 100 international destinations and 34 domestic destinations in 2015.
It also has an efficient cost structure, helping it to be the most profitable legacy airline in Europe (measured by operating margin) in 2014.
Tourist arrivals in Greece

…but the pricing environment has become fiercely competitive
However, much of the traffic growth in Greek markets is stimulated by low fares. The competitive intensity noted by Mr Gerogiannis is squeezing Aegean's market share and placing a heavy burden on unit revenue.
According to data attributed to the Hellenic Civil Aviation Authority and Aegean Airlines in its Apr-2015 company presentation on its website, the Group's share of total passengers in the Greek market was 26% in 2014. This fell from a peak share of 34% for Aegean and Olympic combined in 2009 (this was prior to Aegean's acquisition of Olympic in 2013). Meanwhile, LCC share of seats to/from Greece grew from 21% in 2009 to 40% in 2014.
Passenger numbers for Aegean Airlines/Olympic* and total Greek market and LCC share of seats to/from Greece 2004 to 2014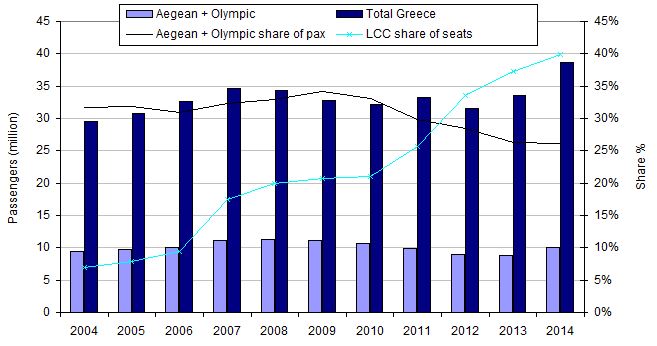 In addition, Ryanair's dramatic expansion into the Greek domestic market from the end of Mar-2014 has caused the Aegean Group's share of domestic seats to fall from more than 90% to less than 80% (source: OAG). According to OAG data, Ryanair's domestic Greek seat capacity in the peak summer period will be around 45% higher in 2015 than in 2014, compared with around 3% growth for Aegean/Olympic.
Although Aegean still has a very high domestic share, Ryanair's average revenue per passenger is around one third less than Aegean's and this has had a significant impact on pricing.
Domestic Greece share of weekly seat capacity 19-Sep-2011 to 15-Nov-2015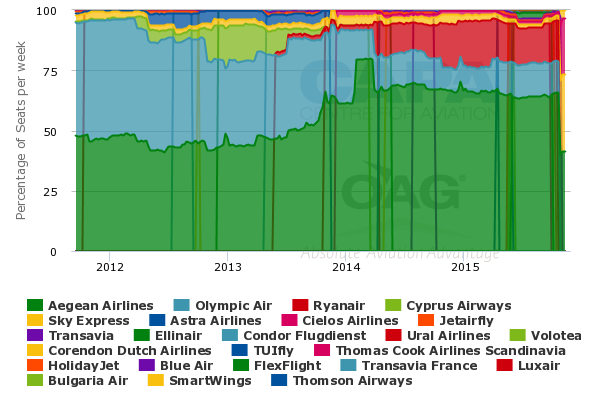 Greece to Western Europe share of weekly seat capacity 19-Sep-2011 to 15-Nov-2015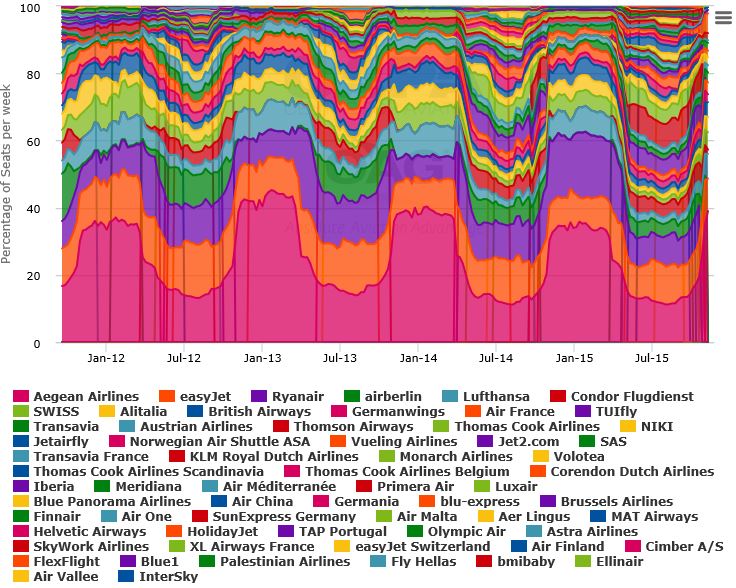 When Aegean turned around a 2012 loss to record a profit in 2013, this was largely driven by a RASK increase.
However, RASK can be a very fickle friend and 2014's profit growth was driven by a cut in CASK that exceeded the drop in RASK.
See related reports:
Although the seasonally weak 1Q2015 result may not be a reliable indicator for FY2015, it does underline the ongoing importance of unit cost reduction if Aegean is to overcome the very challenging unit revenue environment.