AirTran and JetBlue suffer as 'Southwest flu' threatens. Continental in regional turbulence
AirTran (-8.6%) and JetBlue (-6.9%) stocks hurt on Friday, in possible signs of a wider metamorphosis of the US airline system. The common element: a starved Southwest Airlines looking for new feeding grounds, now heading into Milwaukee's General Mitchell Airport. (see below).
Continental Airlines (-5.8%) meanwhile is caught up in concerns over the use of regional airline partners which deliver branded services on their behalf. The Feb-2009 crash of a Continental Connection-branded Colgan Air commuter aircraft in New York State has drawn unwanted attention to the extensive and cost-effective use of small commuter airlines.
For daily updates on American aviation stock prices and a complete wrap of the day's breaking news, sign up now for a complimentary subscription to America Airline Daily.
North & South America airlines daily share price movements (% change): 22-May-09
Southwest Airlines looking to eat at competitors' tables
Shocks to AirTran and JetBlue's stock prices have numerous common reasons. Higher fuel costs are among them. Southwest may be another.

But route-hungry Southwest Airlines' announcement last week that it was planning to enter the Milwaukee market (without specifying routes) has put a scare into AirTran, the second largest airline at the airport, whose strategy has been to up a powerful market share at its recently established hub. As Southwest CEO, Gary Kelly blithely noted, "My hope is we'll be able to grow Milwaukee into a very substantial operation for us".

Today it is the third biggest carrier at Milwaukee's General Mitchell International Airport (and the largest LCC), with around 20% of seats. Only Midwest Airlines/Midwest Connect (35%) and Delta/Northwest (23%) have larger shares; and the remainder are nowhere in sight. A fourth aggressive competitor would be most unwelcome for AirTran's plans. Especially if that one is Southwest Airlines.

Likewise for JetBlue at Boston, where Southwest has staked a significant claim, destabilising JetBlue's designs on a strong hub there.

The granddaddy LCC, which for so long eschewed busy hubs, has long since run out of new potential oases and is steadily eating into the markets of other large airlines. Over the past couple of years, it has picked fights with some of the major network airlines at major hubs, in some ways is an easier target, despite the operational downside of congested airports.

But picking on less congested airports, where competing LCCs are focusing their strategies seems to be another step, imbued with both operating and strategic goals. The fact for example that AirTran was building up Milwaukee with some success was in itself a signal that there were opportunities there. Neighbouring Chicago O'Hare is not served by Southwest, which is based out of Midway, so a Milwaukee base also offers some catchment from that territory of Chicago.

(And the General Mitchell airport itself has been prodding that nerve very hard, as it even labeled a gate at the terminal for Southwest, another example of where an airport can perhaps get an airline over the line if it uses carefully targeted tactics.)

What better way to bring on confrontations with major competitors when the US airline system is so obviously going to throw up some fundamental changes over the next year, as most airlines are forced to cut back on capacity, simply to reduce the amount of money they lose! Those measures are not strategies, they are survival tactics.
North American carriers' domestic passenger capacity growth (% change year-on-year, bubble size reflects the relative amount of capacity offered): Apr-2009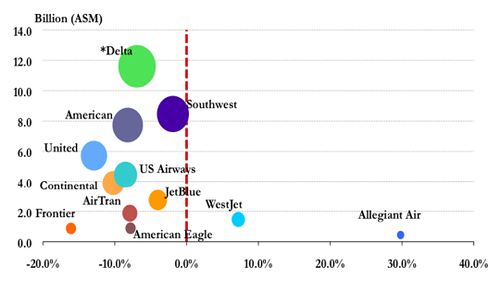 In these conditions, any airline which doesn't reduce capacity is a net gainer. And, as the others reduce in size, so they tend to make easier targets. Hurting AirTran in Milwaukee causes greater pain if the airline has fewer other options.

Southwest has made a lot of the fact that it has temporarily at least discontinued its growth plans. But it is barely contracting – while AirTran is cutting back by about 10% in coming months.

AirTran and JetBlue are not the only ones who will be looking over their shoulders as the US' biggest airline (by seats) continues its hunt for greener pastures.