747-400 fleet dwindles to 204 as Cathay Pacific the latest airline to retire Queen of the Skies
Analysis
The 747 has been in the spotlight since the Aug-2016 passing of lead engineer Joe Sutter. The iconic aircraft's milestones and fade from service come into focus again with the impending retirement of Cathay Pacific's passenger 747 fleet. A Cathay Pacific 747-400 was the final commercial flight to depart Hong Kong's old airport at Kai Tak, while another Cathay 747 was the first commercial flight to land at the new airport at Chek Lap Kok – with that flight also the first to use a Polar Routing, one which has changed the Asia-North America market for all airlines.
After the 01-Oct-2016 return to Hong Kong of Cathay's final passenger 747 flight, CX543 from Tokyo Haneda, Cathay's last three passenger 747s will be decommissioned from normal service. The global fleet of passenger/combi 747-400s will then decrease to 204, according to CAPA's Fleet Database. The 747-400s in regular, non-charter service will number 175. Six airlines – British Airways, United, KLM, Lufthansa, Qantas and Thai Airways – operate 10 or more 747s, accounting for 65% of what is left of the regular in-service fleet. United will retire its 747 fleet by 2018, while British Airways and Qantas (which operates the slightly newer 747-400ER) look likely to be some of the last 747 (non-8i) operators, with service stretching into 2020.
In 2016 both Air France and Cathay Pacific will end 40 years of 747 passenger flying
Two airlines are ending a long history with the 747 in 2016. On 01-Oct-2016 Cathay Pacific is due to fly its final passenger 747 flight – from Tokyo Haneda to Hong Kong. This will end just over 37 years of such passenger flights.
In Jan-2016 Air France ended a longer history – 45 years – with the 747. Air France also withdrew its 747 freighters, thereby terminating its ties to the aircraft. Cathay, in contrast, appears likely to operate the 747 family well into the future as its all-747 fleet of 20 cargo aircraft includes 14 747-8Fs, the oldest of which was delivered in Nov-2011 and the youngest delivered in Aug-2016.
See related report: 747-400 fleet profile: Air France, Cathay Pacific and Saudia retire passenger 747 fleets in 2016
The global 747-400 passenger fleet decreases to 204
Cathay's retirement of three 747-400s from regular commercial operations on 01-Oct-2016 will later that day bring the in-service 747-400 (passenger and combi) fleet down to 204, bar any retirements from other airlines, according to the CAPA Fleet Database.
In normal service, excluding charters, there are 172 747-400s. There are 12 airlines operating five or more 747-400s in regular service. (This excludes five frames from Wamos and eight from Air Atlanta.) This accounts for 90% of the 747-400 fleet. The six airlines operating 10 or more 747-400s account for 65% of the fleet.
Airlines with five or more passenger/combi 747-400s in normal operation: 02-Oct-2016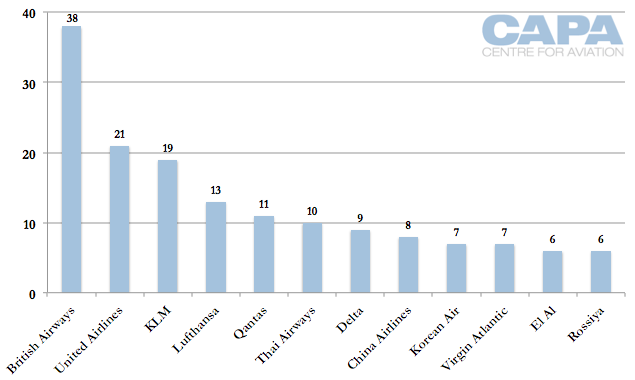 British Airways, United and KLM are the largest 747-400 passenger operators in Oct-2016, which is the same as when CAPA examined the 747-400 fleet in Jan-2016 (since then there has been a handful of retirements). British Airways remains the largest operator by far, with 38 of the type.
United (21) and KLM (19) are the next largest, followed by a more distant Lufthansa with 13, Qantas with 11 and Thai with 10. In Mar-2016 United disclosed its plan to accelerate 747 retirement and have the fleet exit by the end of 2018.
This is despite low fuel prices, although an unknown factor is United's exact maintenance requirements for its 747s. Overhauls for the aircraft and especially engine can be prohibitively expensive if there is limited service life yet to be used. Projections from CAPA's MRO Database are that about half of United's aircraft (delivered in the early 1990s) are soon due for a C check while the other half (delivered in the late 1990s) are due for a D check. Depending on engine needs and a range of factors, the younger (late 1990s) aircraft may be removed first due to the more intensive checks they need. In 2016 KLM has also said that it would retire its 747 fleet, but gave no timeframe.
Since Jan-2016 the largest change in the 747-400 fleet is at Korean Air, which had 11 in service aircraft in Jan-2016 but in Oct-2016 has seven.
Many operators can be presumed to shed their 747-400 fleets by 2020. British Airways has committed to operating its last 19 747-400s by the end of 2020.
For some time Qantas is likely to retain its six 747-400ERs, which are needed for long ETOPS services such as from Sydney to Johannesburg and Santiago. Keeping the -400ERs also supports a business case for holding on to the -400s, given their commonality.
In Jul-2015 Delta retired N661US – the first 747-400 ever built. Delta operates the world's second oldest 747-400 (manufactured in Jul-1988), while China Airlines operates the four youngest passenger 747-400s – manufactured between Oct-2004 and Mar-2005, putting them just under 12 years old. Although the 747-400ER appears to be a newer model, Qantas' 747-400ERs were manufactured over 2002 and 2003, making them slightly older than China Airlines' 747-400s.
Among major operators, China Airlines has the youngest average 747-400 fleet age (15 years) while Delta has the oldest (25 years). Except for Lufthansa and China Airlines, most major operators have a wide gap between the ages of the oldest and youngest 747-400s (shown in the blue bars on the graph below).
British Airways, United, KLM and Delta tend to have an average fleet age (black square in the graph below) closer to their older 747-400s, indicating a greater proportion of older-model aircraft. Qantas is the only operator with a distinct average fleet age closer to its younger aircraft – the result of Qantas' newer 747-400ERs.
Age range in years of oldest and youngest passenger 747-400s (blue bar) and average fleet age (black square): 02-Oct-2016
The following two graphs chart the accumulated fleet age of 747-400s at each airline.
In the first chart below, Lufthansa's fleet steadily increases in age: it has eight aircraft spread out in age between 15 and 19 years old, but then it has a concentration of five aircraft all aged 20 years old. KLM and British Airways have slightly smoother lines, indicating that aircraft are spread out in age.
United Airlines has a long horizontal line, indicating its two tranches of aircraft: it has 12 aircraft aged 16-19 years old, but then the remaining nine 747s in its fleet are aged 24-27 years old. This may give some indication of the pace of individual 747 retirements, should airlines take retirement action according to age (although this is far from the sole factor).
Age range in years of oldest and youngest passenger 747-400s (blue bar) and average fleet age (black square) for selected airlines: 02-Oct-2016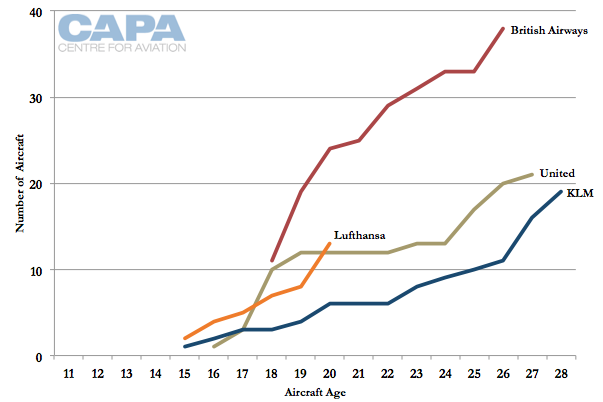 The four airlines in the chart above have the largest 747 fleets (13-38 aircraft).
In the next chart the four airlines have eight to 11 aircraft. Except for Thai Airways, the fleet ages are not as even. This could be for a number of reasons: for Qantas and China Airlines, they have a cohort of middle-aged 747s and perhaps have paired them with older 747s to produce a fleet with necessary scale.
This is not observed at Delta, where there is a bent towards older aircraft: it has two aircraft aged 17 and then seven aircraft aged 26-28 years old.
Age range in years of oldest and youngest passenger 747-400s (blue bar) and average fleet age (black square) for selected airlines: 02-Oct-2016
747-400 fleet to dip below 200 by end of 2016
It looks likely that the 747-400 passenger fleet will dip below 200 units by the end of 2016 or early 2017. At the same time the number of regular non-charter 747-400s will decrease to less than 150 as United and Delta complete retirement. As other airlines withdraw the type – especially those airlines with smaller 747-400 fleets – the regular in-service 747-400 passenger fleet may hover around 100.
The decrease is occurring in spite of low fuel prices. The drastic decline of fuel costs in recent times has prompted some airlines to retain 747s for longer, and in larger numbers, than previously planned; but others – like United – are accelerating retirement. Although no drastic increase in fuel price is forecast, any significant would accelerate 747 retirements.
Widebody sales at Airbus and Boeing have slowed, but if they are willing to offer bigger discounts that incentive could produce orders and replacements for the 747.
The 747-400 looks likely to fly into 2020, with the -8i even longer. Yet its prominence and reign as Queen of the Skies are long over.