WOMEN AIRLINE PILOTS: A tiny percentage of flight crews and only growing slowly. India is a standout
Airline Leader
IT WAS INTERNATIONAL WOMEN'S DAY on 08-Mar-2010, and the Indian Ministry of Civil Aviation proudly "acknowledged" flag carrier Air India's historic flight between Mumbai and New York JFK.
It was unique that day in that flight AI141 operated with an all female flight crew on the Boeing 777-200LR. There was no Air India man in sight.
It was different at head office. There the same profile does not apply, either for the airline's management or its board. Despite India's generally favourable attitude to women in high places – notably in politics – on that day the company counted just one woman board member among the 10 directors. In management, the balance was rather more generous, with six of the 36 senior executive team women – yet only one of them reports directly to the CEO.
On the same dedicated Women's Day, you could have counted on the fingers of one hand the female CEOs of commercially significant airlines across the world.
There is little immediate prospect of a great shift in this profile, either at Air India, actually one of the more women-receptive employers, or in any other airline.
Summary
7.0% of all US FAA airline pilot certificates are held by women, while 4.4% of US airline pilots and 4.3% of UK airline pilots are women;
Women pilots' share is growing, but by less than 1ppt over a decade;
Among global airlines surveyed by the International Society of Women Airline Pilots, the US Big Three have the highest number of women pilots;
IndiGo has the highest percentage of women pilots, at 13.9%;
India overall has a much higher proportion of women pilots than any other nation.
Time for a change (still)

The introduction to this report was taken from the first issue of Airline Leader in Oct-2010. Not much has changed since.
CAPA has been active in reviewing the issue of women in airline management over the years, but the trends leave few grounds for encouragement. And things are not much better on the flight deck. This is a situation that cannot be afforded by an industry that is desperately short of pilots and running into a major crisis if remedial action is not taken.
Data for the US and the UK indicate that just over 4% of airline pilots are women. This share is growing, but very slowly. According to the International Society of Women Airline Pilots, the US Big Three airlines have the highest number of women pilots and the Indian LCC IndiGo has the highest proportion (13.9%).
India has approximately 1200 women pilots, which is about 12% of the total. There is no obvious reason why India should be a standout. It is not a country noted for its liberal attitudes to female autonomy, nor is the airline industry seen as offering a particularly stable career.
Coherent and accurate data are needed if the problem is to be addressed effectively
However, consistent global data on women airline pilots do not exist.
The background papers for an Aug-2018 ICAO conference, 'Global Aviation Gender Summit', incorrectly used a figure of 5.18% from the Airline Pilots Association International (which represents pilots in the US and Canada) as a global ratio.
This was a much needed event, but if a global aviation organisation at a conference dedicated to improving the industry's gender balance could not precisely calibrate the challenge, then the challenge must be great.
As is often the case, one country that does have publicly available data on the number of women pilots is the US.
According to the Federal Aviation Administration (FAA), across all pilot categories 42,694 active pilot certificates were held by women in the US at 31-Dec-2017. This is 7.0% of all pilots (note that this includes students, which account for more than 19,000 women, in addition to private pilots, airline pilots and commercial pilots not employed by airlines).
4.4% of US and 4.3% of UK airline pilots are women
Focusing on the airline sector, there were 6994 women holding FAA certificates as airline pilots, representing just 4.4% of the total.
For both sets of data, the number of female pilots is growing in the US. Over the past decade (2007 to 2017), the total number of women pilots across all categories in the US has grown by 19% (versus just 3% for all pilots).
The number of women airline pilots grew by 31% (versus 11% for all pilots) from 5349 in 2007 to 6994 in 2017.
The UK Civil Aviation Authority also publishes the number of pilot licences by gender. At 31-Dec-2016 (the most recent date for which data are available), 4.3% of UK airline pilots were female, similar to the proportion in the US.
Again, this is small, but growing – it was up from 3.4% at 01-Jan-2008.
Women pilots' share is growing, but slowly
Women pilots' share of all pilot jobs is growing, but it has increased by less than 1ppt over the past 10 years.
The number of women holding FAA student pilot certificates has doubled over the past decade, indicating a growing interest among women in qualifying as cockpit crew (but they were still only 12.9% of all FAA student pilots at 31-Dec-2017).
Number Of FAA Airline Pilot Certificates Held By Women*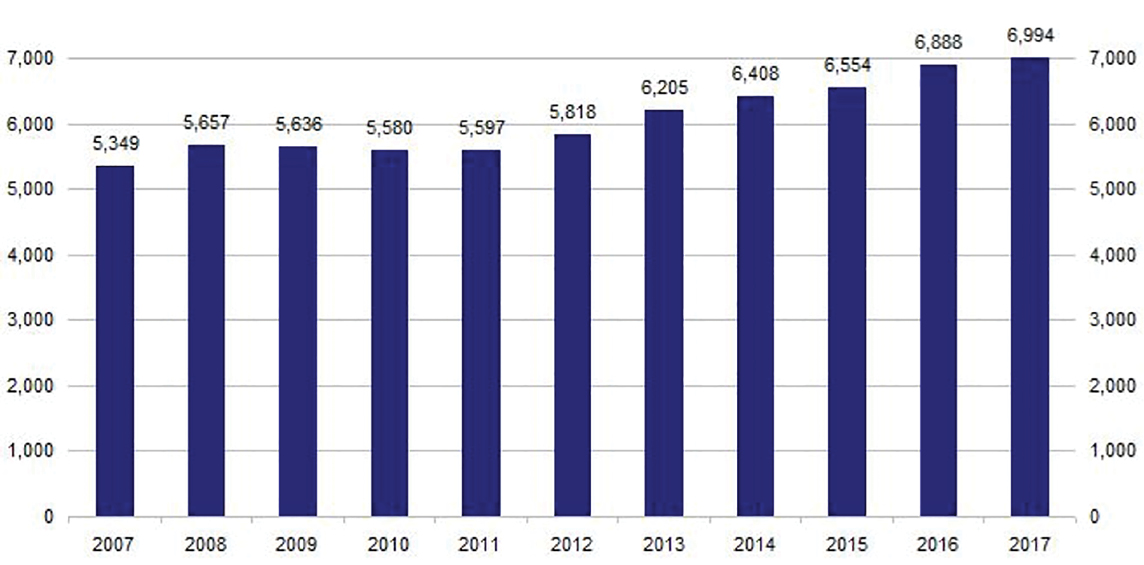 Share Of FAA Pilot Certificates Held By Women*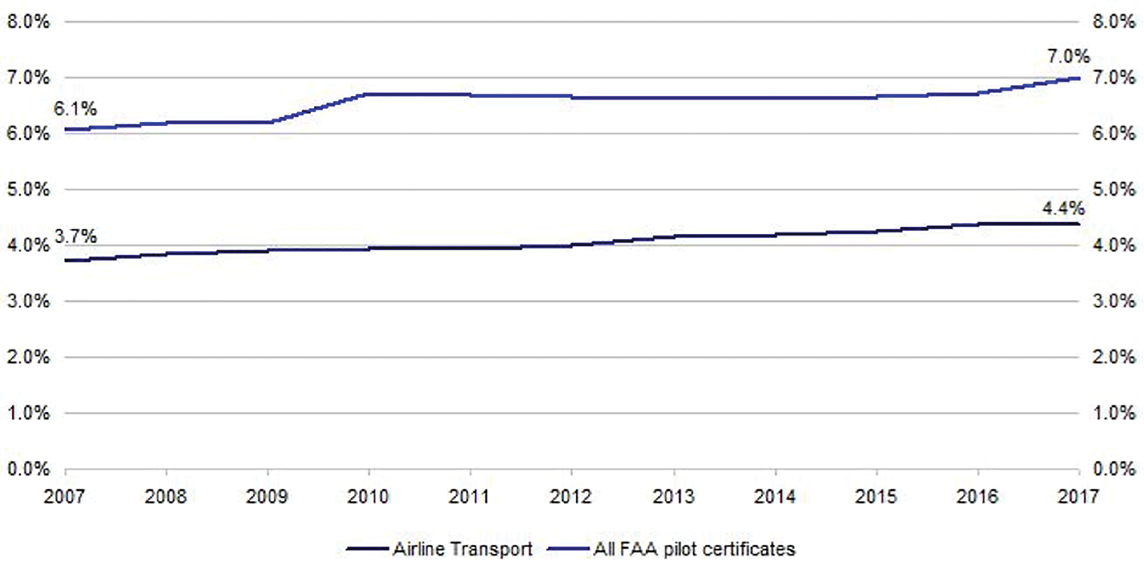 5.2% of pilots among airlines surveyed by ISWAP are women
The publication by individual airlines of pilot numbers by gender is inconsistent. A useful source is the International Society of Women Airline Pilots (ISWAP), which gathers and publishes some data on the number of female pilots by airline across different countries, although this is not comprehensive.
A document on the ISWAP website shows data for 79 airlines around the world as of Jul-2018. Among these airlines, there are 7468 women pilots, which equates to 5.2% of the total. Of these, only 1393 are captains (18.7% of the women pilots).
The 5.2% ratio for women pilots among the airlines reporting to ISWAP is higher than the ratios for the US and the UK, but probably reflects some self-selection bias. Airlines making their data available to the ISWAP may be more likely to have a higher ratio of women pilots.
The US Big Three airlines employ the highest number of women pilots
In absolute terms, the US Big Three airlines have the highest number of women pilots.
United Airlines tops the list with 940, followed by Delta Air Lines with 692 and American with 626. Lufthansa, the leading non-US employer of women pilots, has 375, followed by IndiGo, which has 322.
The 20 airlines with more than 100 female pilots are shown in the chart below.
In addition to the five named above, they also include SkyWest, Southwest, British Airways, Air Canada, FedEx Express, jetBlue, easyjet, UPS, Air India, Alaska, KLM, ExpressJet, Cathay Pacific, Endeavor Air and Republic Airlines.
IndiGo has highest percentage of women pilots
The fast growing Indian LCC IndiGo heads the ISWAP list when ranked by female pilots as a percentage of the total, with 13.9%. The figure of 322 women pilots employed by IndiGo today compares with 69 five years ago.
It is fractionally ahead of two Qantas subsidiaries: Network Aviation, also on 13.9%, and QantasLink on 13.8%.
Four other airlines in the ISWAP list also have a double digit percentage of pilot jobs held by women: Canada's Porter Airlines (12.7%), South Africa's SA Express (12.1%), and two Canadian regional airlines – Wasaya Airways (11.8%) and Air Georgian (11.2%).
There are 38 airlines in the ISWAP list where women make up more than 5% of the pilot body. These are shown in the chart opposite.
There are other airlines not included in the ISWAP ranking that have published female pilot data. For example, the Air France website says that 8% of its pilots are women and data in Iberia's 2017 annual report show a ratio of 5.5%.
easyJet has a target that 20% of its new entrant copilots will be women by 2020, having achieved its original target of 12% in 2016, a year ahead of schedule. In 2017, 13% of its new entrants were women but the ISWAP data show that only 5.0% of all its pilots are women as at July-2018, so the lead times are long.
Airlines should be required to publish pilot numbers by gender
Only by focussing attention on statistics of women in aviation can effective targets be established and women pilots are the most clearly visible manifestation of female representation in airlines. Growing the number of women airline pilots would set an example. Pilots are the highest paid and most headline grabbing cohort among aviation workers.
Women are also under represented among FAA certificated ground crew (just 4.3% as at 31-Dec-2017) and over represented among flight attendants (79.5%). Women are also under represented in the senior ranks of airline management.
On a purely hard nosed, commercial level, the current squeeze in the supply of qualified airline pilots means that airlines need to widen the recruitment net.
Progress towards gender equality in the pilot cadre would help to accelerate gender equality across the aviation sector. As a starting point, ICAO should take action leading to a requirement for all airlines to publish the gender breakdown of their pilot numbers.
Then there is the issue of women in airline management
The issue of women in senior airline management is even more dire. CAPA has held several sessions at its events on the topic and undertaken considerable research in the area. The 2010 CAPA report referred to in the introduction - "Why don't women run airlines?" - began as follows:
"The airline industry is notorious for its "boysy" silhouette. It is a business which revolves around big boys' toys, engineering and industry regulation. The only areas where women have a large role is at check-in and serving in-flight meals. At least that is the perception, and one which was pretty much accurate until well into the 1990s.
"Whether it is in fact all that different from other sectors in its gender mix is another issue. But this industry is a different place from where it was just 10 years ago. The big boys' toys have given way to a customer facing, consumer-driven business where humanity skills are gaining ascendancy over engineering.
"Amid massive attitudinal and structural change in a turbulent decade, the industry's accelerated evolution has done much to open doors for women. The result should presumably be that women play a much greater role in the newer, usually low cost, airlines. Legacy airlines meanwhile are apparently little changed over recent decades. These generalisations are broadly correct.
"But, when we reviewed the profiles of over 200 airlines around the world, the contrast in leadership diversity was not as marked as might be expected, at least at the highest management levels."
When we first conducted our research, in 2009/2010, we discovered only 15 women CEOs or MDs among all of the world's airlines.
The second part of this 2010 report followed shortly afterwards: "Why don't women run airlines? Part 2
A follow up report in 2015 found that, rather than things improving, they were actually deteriorating! Most of the women who had been running airlines five years earlier had moved on, mostly replaced by men: Why don't women run airlines? Part 1: 94% of airlines are led by men
Around the world, perhaps as no coincidence, it is the newer airlines - mostly LCCs - which have women in key roles.
More recently, at CAPA's LCCs in North Asia Summit held in Seoul in Jun-2018: Shattering The Ceiling – The Rise Of Women In Asian Aviation, the topic was discussed in the Asian context.
This was preceded by an update of women airline leaders in CAPA's sister publication, Blue Swan Daily: CAPA's Women in aviation: In Asia Pacific, LCCs represent more women CEOs, along with similar commentaries on other world regions.
Sadly it does look as if there have been few signs of improvement. Clearly there is no silver bullet. But at least creating greater awareness and constantly challenging the status quo must eventually have some impact.
Airlines With More Than 100 Women Pilots*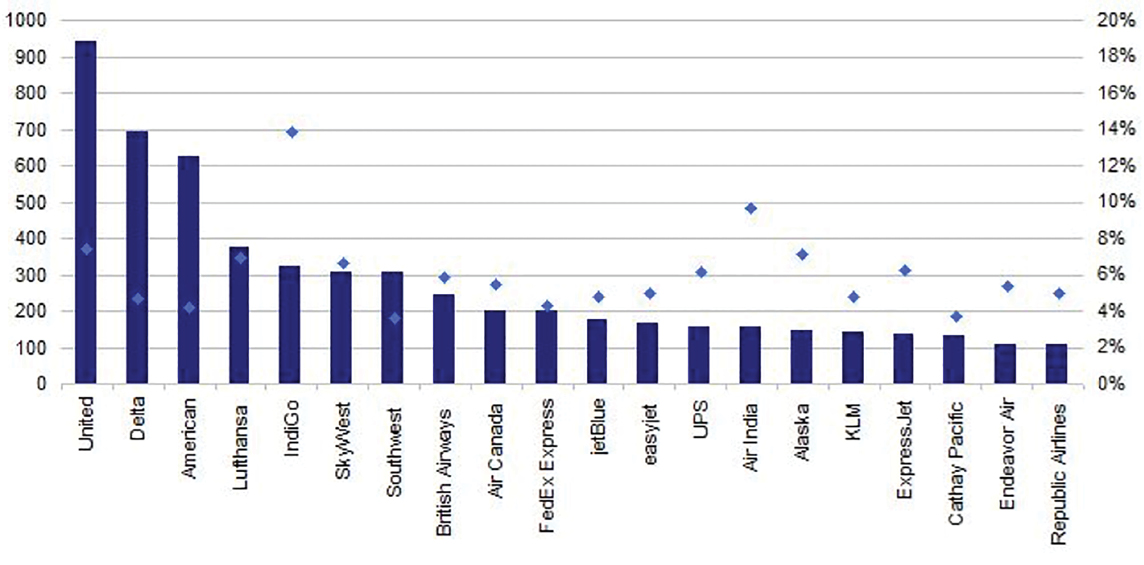 ICAO and ACI are moving. IATA is also starting to move
ICAO's Global Aviation Gender Summit, co-organised by the South African Civil Aviation Authority and held in Cape Town from 08-Aug-2018 to 10-Aug-2018, was the first conference of its kind. The role of women as airline pilots is just one part of the gender agenda in aviation.
Like most ICAO meetings it produced many words, in many languages.
ICAO Secretary General, Dr Fang Liu concluded the conference by recognising that it was "critical to our longer-term success that our agreed approaches advocate among both governments and the private sector" and that in each case "the need for strong commitments and leadership, at the highest levels, must be consistently underscored".
The gathering also produced a "roadmap" for accelerating gender equality and the advancement of women and girls.
ACI Director General Angela Gittens, also at the Summit, added her organisation's voice to the movement: "Gender inequality persists in the aviation sector and ACI reaffirms its commitment to supporting the United Nations goal of achieving gender equality and empower all women and girls. This is directly pertinent to the airport industry and ACI World is working with ICAO and our partners on ways to attract more women into aviation and to support their professional development." Airports in fact are much more women-friendly than other parts of the aviation industry, although there is still much room for movement.
Following many words on the topic at the recent IATA AGM in Sydney in Jun-2018, IATA's website reports: "The aerospace sector has done good work in the area of improving gender parity including OEMs. But airlines have to make a much bigger effort. In a packed room of almost 1000 people (at the AGM), just a handful of women self-identified as being at the C-Suite level. Industry has to accelerate training and find ways to bring more women into the airline workforce."
The AGM attracted plenty of attention in this aspect of the business, largely around a photograph of the 30 person Board of Governors, of which only two were women (only one featured in the picture of 26 board of governor members). In fact this is an over representation of the industry overall, as the number of airline CEOs globally is perhaps only four times that amount, out of a total of 287 members. IATA too is talking about action.
Airlines Where Women Account For More Than 5% Of Pilots*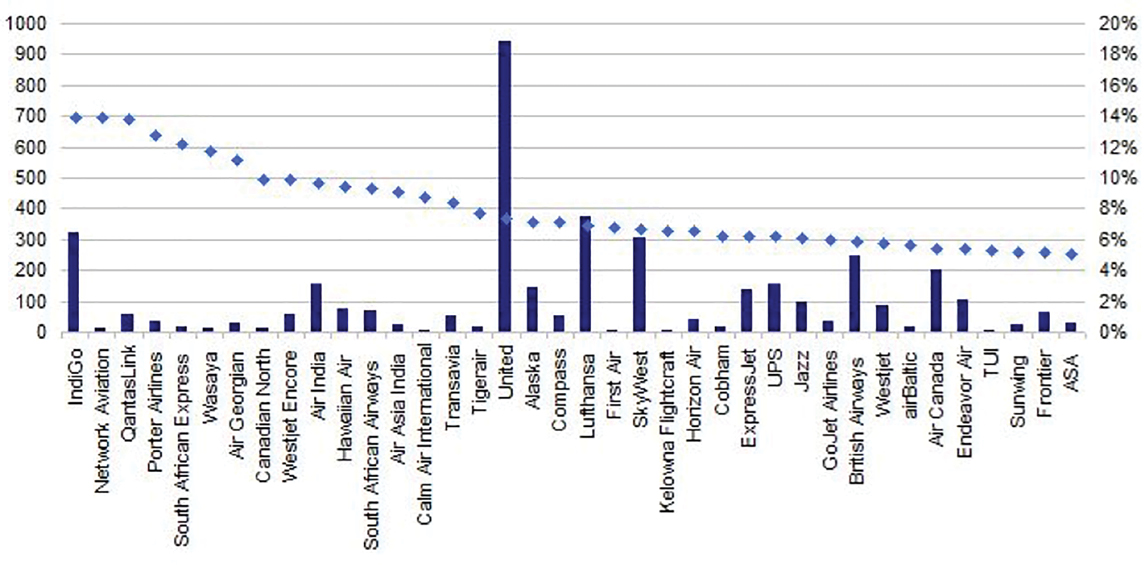 Words aren't enough.
Moving from words to tangible action is the biggest challenge. This is an area where there is no disagreement whatever – the industry needs skills! – but even though millions of words have been spoken and written in support of it, virtually nothing has changed in 20 years.
Perhaps one place to start is India. If that country, with its hierarchical and often paternalistic attitudes, can lead the way by a large margin, perhaps there are the germs of a solution to be discovered.