Africa Aviation Outlook 2020: Performance lags, pending integration
Airline Leader
Africa continues to lag the rest of world aviation. It has the fewest annual seats, the smallest fleet of narrowbody and widebody jets, the lowest number of aircraft on order, and weakest passenger load factor of all world regions. It also has the second smallest ratio of intra-regional to intercontinental seats (after the Middle East, where transfer traffic boosts intercontinental capacity).
The small scale of Africa's internal market is a function of many factors, not least infrastructure and aeropolitical restrictions. This gives its airlines only a small base on which to build intercontinental operations in competition with other airlines. Non-African airlines have 40% of all seats within Africa and more than 70% of seats on intercontinental routes.
Against this backdrop, Africa's leading airline Ethiopian Airlines stands head and shoulders above other operators. Ethiopian is profitable, while growing faster than any other airline in Africa's top 10 and managing a growing portfolio of associated subsidiaries.
The response to challenges faced by other, loss-making, national airlines ranges from proposed privatisation (South African Airways) to proposed nationalisation (Kenya Airways). In North Africa, EgyptAir, Royal Air Maroc and Air Algérie have slowed growth or cut capacity in recent years.
Africa's underperformance looks set to continue, pending the slow implementation of the Single African Air Transport Market.
Summary:
Capacity in Africa grew by 4.3% in 2019
Airline seat capacity in Africa is up by 4.3% in 2019, according to data from OAG Schedules Analyser (the source for all capacity data in this report). This is more or less in line with the 10 year compound average rate of 4.5% pa between 2009 and 2019.
International capacity, which accounted for 73.6% of the total in 2019, will grow slightly faster, by 4.6%, while domestic capacity growth is 3.3%.
Winter 2019/2020 capacity is set to grow by 3.4%.
Ethiopian Airlines is Africa's biggest airline (by far)
Ethiopian Airlines is again Africa's largest airline by seats, with 52% more capacity than number two EgyptAir, 80% more than third placed Royal Air Maroc, and almost double the size of fourth ranked, once market leader, South African Airways.
A decade ago, Ethiopian was ranked fourth and South African was number one, but the two have since swapped places. SAA, which was number one in Africa as recently as 2015, has cut its capacity by 30% over the past five years.
In addition to these four, the list of top 10 airlines by 2019 seats in Africa also includes two others based in the continent: fifth placed Air Algérie and eighth ranked Kenya Airways.
Four non-African airlines are in the continent's top 10
There are also four non-African airlines: Emirates at number six, Air France in seventh, Saudia at number nine, and British Airways in tenth place (BA's capacity in Africa includes that operated by the South African operator Comair under franchise).
The four non-African airlines have 30% of top 10 seats in 2019, and all non-African airlines have 40% of all seats to/from/within Africa.
On intercontinental routes, airlines from outside Africa have more than 70% of seats (and their passenger share is likely to be higher, given better load factors).
This highlights the relatively small scale of intra-African routes compared with intercontinental routes and the challenge faced by African airlines in competing with airlines from elsewhere on routes between Africa and other regions.
Ethiopian Airlines to continue robust growth…
Ethiopian Airlines' 2019 capacity is up by 11.0% – the fastest growth among Africa's top 10 airlines.
Ethiopian's 2019 seat numbers are more than 3.5 times its 2009 capacity. Its winter 2019/2020 seat numbers are due to rise by 16.6%. Ethiopian CEO Tewolde GebreMariam has previously said that he expects 20% traffic growth in 2020.
Ethiopian has maintained double digit annual growth in spite of the Boeing 737 MAX 8 crash it suffered in Mar-2019 and the subsequent global grounding of all MAX aircraft.
According to the CAPA Fleet Database at 23-Oct-2019 (the source and date for all fleet data in this report), Ethiopian will take delivery of 15 new aircraft in 2020 (including 11 of 25 MAX 8s on order), compared with a current fleet of 109 aircraft (which include four grounded 737 MAX 8s).
In Jun-2018 Ethiopian became the first African airline to operate 100 aircraft.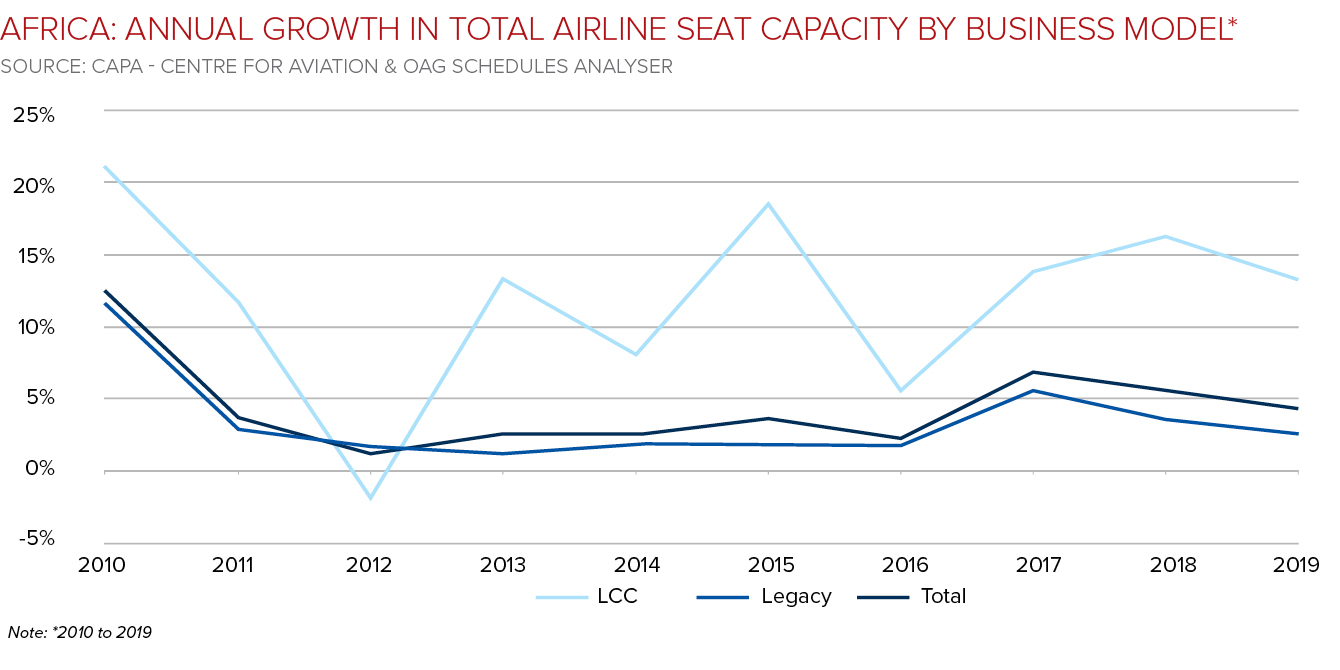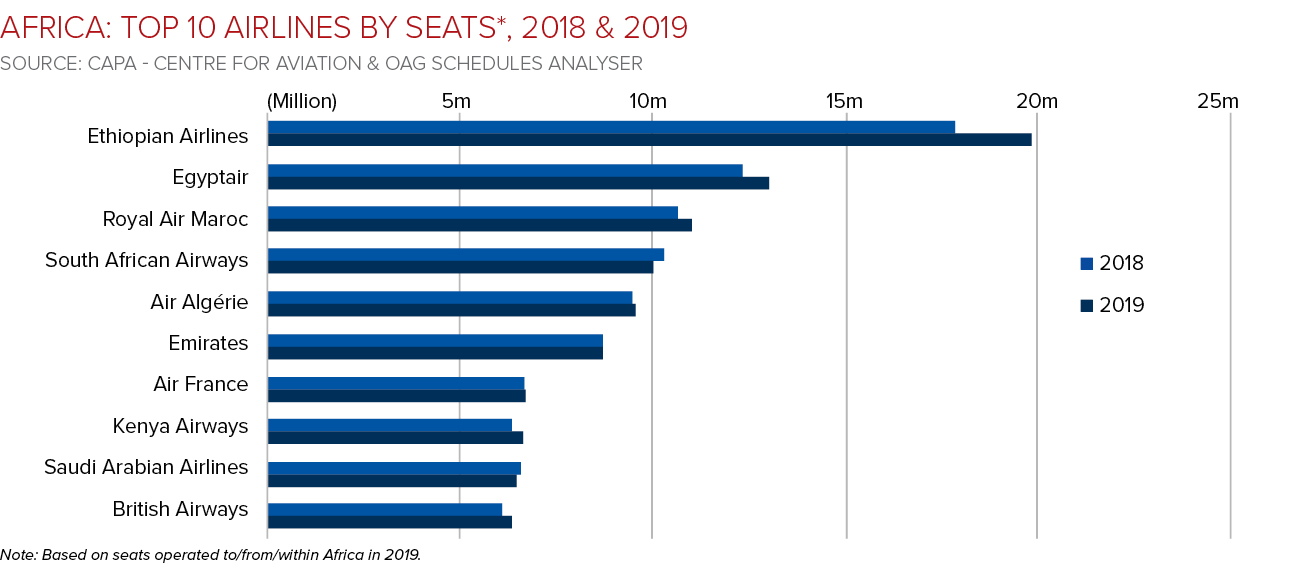 …and manage its portfolio of subsidiary and associate airlines
In addition to owning the continent's leading airline, Ethiopian Airlines Group also has a number of subsidiaries and associates: Togo-based ASKY (40% stake), Malawian Airlines (49%), Chad-based Tchadia Airlines (49%), and Ethiopian Mozambique Airlines (subsidiary).
Tchadia only launched in Oct-2018 and Ethiopian Mozambique Airlines in Dec-2018, and Ethiopian has ambitions to back more new airlines, pursuing talks on Ghana and Nigeria and also possibly considering Guinea and Zambia.
It has also been linked with possible investments in South African Airways and Angola's TAAG.
EgyptAir has returned to growth after a decade of stagnation
EgyptAir's seat capacity is growing by 5.6% in 2019 and 5.9% in winter 2019/2020, after stagnating for much of the past 10 years. Annual seat count actually dropped by 13.4% from 2012 to 2018, when demand was dampened by geopolitical and macroeconomic concerns surrounding Egypt.
EgyptAir expects 21 aircraft deliveries in 2020, more than one third of the number of aircraft in its current fleet (63). This indicates that growth is set to pick up, even allowing for replacements, helped by a more stable backdrop in Egypt. Indeed, it aims to grow the fleet to more than 100 by 2027.
The Star Alliance member expanded its codeshare agreement with Lufthansa in 2019 and started one with United, as well as also expanding its codeshare with Etihad. EgyptAir has been considering increasing its 60% stake in Air Cairo to take full control, with a view to converting the airline into an LCC.
Royal Air Maroc to join oneworld
Royal Air Maroc's capacity is up by 3.3% in 2019 and 5.4% in winter 2019/2020. Only three new aircraft deliveries are due in 2020, compared with a current fleet of 56.
These deliveries are 737 MAX 8s; Royal Air Maroc also currently has two of the variant parked on the ground and two more due to be delivered in Dec-2018 if the aircraft's grounding is lifted.
The seats associated with all these MAX aircraft equate to 15% of Royal Air Maroc's current fleet seats, so would represent a significant boost to capacity if they all entered service in 2020.
In 2020 Royal Air Maroc will become oneworld's first new full member in six years and its first African member. It has already signed a codeshare with Royal Jordanian and S7 Airlines and a letter of intent to expand its cooperation with Iberia.
South African Airways' restructuring continues, privatisation on the agenda – with a big bailout tailwind
South African Airways is cutting its seat numbers by 3.0% in 2019 – its fifth successive year of capacity cuts. The airline has been loss-making throughout this period (and longer) and undergoing a restructuring programme.
There are tentative signs of a return to growth, with a 3.0% increase in seats planned for winter 2019/2020, but SAA has no aircraft on order and its financial challenges remain significant.
In addition to its losses and high debt levels, the airline has been criticised for poor management, a high cost structure, and the wrong fleet mix. It has been without a permanent CEO since Jun-2019. Underlying most of these issues has been the perpetual and mostly unhelpful government intervention at many levels.
The South African government is open to private sector participation in the state-owned airline, once the biggest in Africa, which has relied on successive public sector bailouts. In the hope that this will be the last bailout and accelerate the process of gaining equity partners, national treasury chief director of liability management Tshepiso Moahloli announced on 31-Oct-2019 that the government will provide a USD600 million subsidy over three years. The purpose is to pay down the airline's debt.
Finance Minister Tito Mboweni provided the justification for this latest intervention: SAA "is unlikely to ever generate sufficient cash flow to sustain operations in its current configuration" and there are "conversations involving South African Airways and potential equity partners, which would liberate the fiscus from this SAA sword of Damocles". He also added, "maybe the time has come for us to consider selling or closing down South African Express".
In the circumstances this appears a sensible, if last gasp, decision. But, given the history of the past couple of decades, it is too early to assume that the good intentions expressed here will enjoy continuity of treatment once the money starts being injected.
It is to be hoped that it will. There can hardly be another reprieve for this once great airline.
Air Algérie's growth has slowed, but it may order new aircraft
Air Algérie's capacity is up by just 0.9% year-on-year in 2019 and actually lower by 9.0% versus 2017, after years of robust growth when it doubled its seat numbers from 2009 to 2017. Its winter 2019/2020 schedule sets out a 3.4% capacity increase, but it has no aircraft deliveries due in 2020.
Air Algérie aims to acquire 30 new aircraft to enter service by 2025 and reportedly has government approval for six, but there are no orders yet recorded in the CAPA Fleet Database.
Kenya Airways en route to nationalisation
Kenya Airways is growing its seat count by 5.0% in 2019 and 5.2% in winter 2019/2020, but its capacity has not changed much over the past five years. The loss-making airline has no outstanding aircraft orders but is focusing on increasing aircraft utilisation.
Kenya Airways has ambitions to double its fleet size in five years to 70 (it stands at 36 as at 23-Oct-2019), provided that it can achieve an appropriate financial structure. It favours Boeing (787 MAX and 737 variants) and Embraer, and has been considering a narrowbody order.
The Kenyan government plans to take full ownership of the airline, in which it currently has a 48.9% stake.
A consortium of banks owns 38.1%, Air France-KLM owns 7.8%, and the balance is listed on the stock exchange.
LCC growth is outpacing FSCs in Africa
African LCC seat capacity will increase by 13.3% in 2019, whereas legacy airline growth is only 2.6% in 2019. This is the seventh successive year in which LCC capacity growth outpaces legacy growth.
LCC share of total seat capacity in Africa will increase to 17.5% in 2019, from 16.1% in 2018, and has almost doubled over the past decade.
Just over half of LCC seat numbers (54%) are accounted for by five airlines: Ryanair, Johannesburg-based Safair, the South African Airways subsidiary Mango, the Comair budget brand Kulula, and Air Arabia Maroc.
All of Ryanair's capacity and more than 80% of Air Arabia Maroc's capacity is based on routes between Morocco and destinations in Europe. Both are growing seats in Africa by at least a quarter in 2019.
Three of the five leading LCCs – Safair, Mango and Kulula – have operations wholly within domestic South Africa, making them the leading truly African LCCs.
Safair's capacity is up by 31.0% in 2019, whereas Mango's and Kulula's growth have slowed.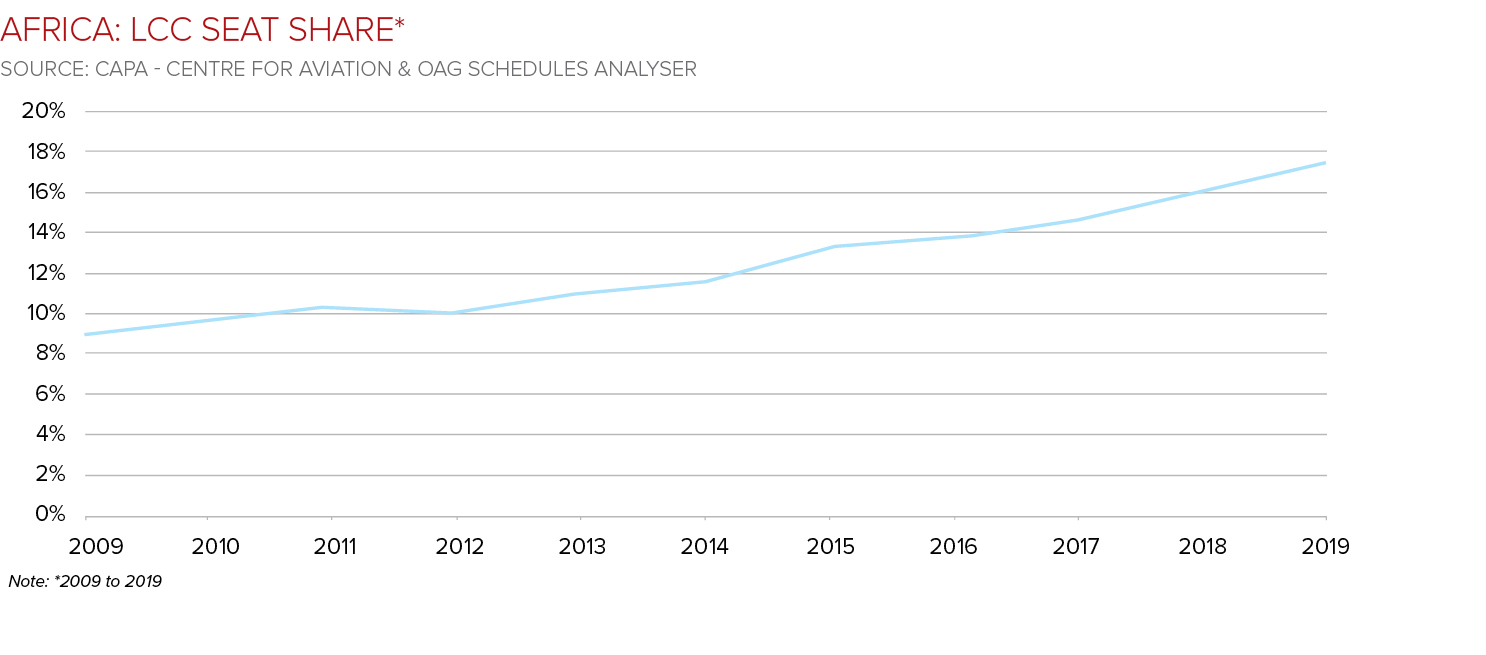 Africa underperforms on a number of measures
Africa's 2019 airline capacity total of 232 million seats is 42% smaller than that of the next smallest region, the Middle East, which has 397 million seats, in spite of Africa's much larger land size and population.
Africa has a combined narrowbody/widebody fleet of only 702 aircraft (498 narrowbodies and just 204 widebodies), compared with 1442 for the Middle East (600 narrowbodies and 842 widebodies jets).
The total African fleet of 1724 is only slightly bigger than the Middle East's 1638 because of turboprops and regional jets.
Africa has only 258 aircraft on order, compared with 998 for the next smallest region on this measure, Latin America. In the first eight months of 2019, Africa's passenger load factor was 71.9%, versus a global average of 83.0% and the next lowest figure of 76.9% for the Middle East.
Underperformance will continue, pending the Single African Air Transport Market
The roots of Africa's underperformance in aviation are complex and closely related to its macroeconomic underperformance. The challenges are exacerbated by a lack of coordination and integration of markets and by regulation across the continent.
The African Union, which has 55 member states, aims (among other things) to achieve greater unity and cohesion, to accelerate political and social-economic integration as well as the integration of African economies, and to establish conditions that enable Africa to play its rightful role in the global economy.
Aviation is inextricably linked with economic growth and social-economic integration and the aims of the African Union. The Union's project, the Single African Air Transport Market, which has 28 signatory nations, is aimed at liberalising the aviation market across the continent.
This includes the lifting of restrictions on market access and on ownership and control, in addition to harmonising safety and security regulations. However, work is needed to implement the project, so there could still be a long time before its benefits are fully felt by Africa's air travellers.
Meanwhile, Africa's underperformance looks set to continue, even if Ethiopian Airlines remains a positive outlier. Although, and only time will tell, there is a new glimmer of hope that South African Airways can regain some of its former significance in the region.