CAPA Perspectives: Virgin rationalises its fleet; it needs to, as capacity falls
Press Release
During 2016, Virgin Australia plans to remove 19 aircraft from its group fleet as part of an ongoing consolidation. According to the CAPA Fleet Database, the total fleet stands at 127 aircraft at 24-May-2016 as compared to 142 a year previously. Note: four aircraft are yet to leave the fleet this year. For the purposes of this analysis, three Boeing 737-800s provided to Tigerair Australia on ACMI lease are excluded from Virgin's numbers. The comparison includes only Virgin Australia and Virgin Australia Regional Airlines.
Most of the reduction stems from retirement of its eight-strong fleet of Fokker F50s – a positive step toward consolidation for an airline that, for most of its life, adhered to the single-model LCC approach with its 737 fleet. In 2016, Virgin Australia operated eight types, including the F50 – more than Ansett at the peak of its "Noah's Ark" fleet. Five Embraer E190s are also on the way out, with removal to be mitigated through increased utilisation of the 737 fleet. Three ATR 72s are also planned to leave due to weakness in the resources sector.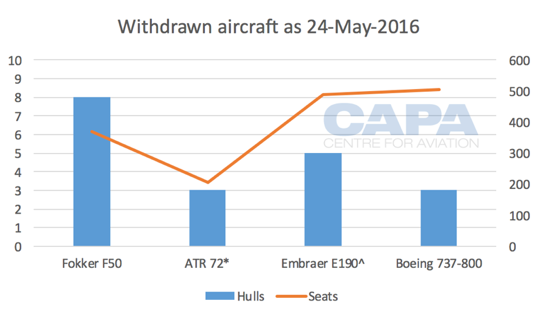 Compared to the p-c-p, during the week starting 23-May-2016 Virgin will operate 5.2% less ASKs in the domestic market. Overall share remains static, reflecting ongoing "capacity discipline" within Australia as economic clouds appear. Domestic Australia is the critical focus for CEO John Borghetti, and improved utilisation - with less aircraft - is one of the simpler avenues to achieve improvement. Like a number of adjustments at Virgin Australia over the last 12 months, it is not before its time.