CAPA and SCDC announce joint venture to develop US$125m aviation education and training campus
Press Release
In a substantial new Australia-India initiative, Sydney-based Centre for Asia Pacific Aviation (CAPA), the region's leading aviation knowledge practice, and Subramanya Construction & Development Company (SCDC), a premier Bangalore-based real estate developer, have today signed a joint venture agreement to develop CAPA AeroPark.
This world first integrated aviation university and training campus, which will see an investment of US$125 million, will be developed on a 50 acre site in Bangalore, with satellite academies in Delhi and Mumbai, the country's two largest aviation markets. There are plans for further roll-out to other metro cities across India, South Asia and the Gulf.
CAPA AeroPark will offer a university and international standard academies for airline and airport management, pilots, engineers, air traffic controllers, cabin crew and regulators. Each academy will be developed in partnership with the leading global providers in their field. The fully developed campus will include state-of-the-art academic facilities together with full flight simulators, a flying school, engineering workshops and laboratories, research centres, accommodation for students and faculty, recreational facilities, a hotel and convention centre.
CAPA AeroPark also has the potential to develop an adjacent aerospace technology and research park in Bangalore, to further enhance cooperation and exchange of knowledge between the facility and industry.
A signing ceremony for the joint venture agreement was held in Sydney this evening, attended by leading figures from industry and government. Chief Guests included The Honourable Anthony Albanese, Australian Minister for Infrastructure and Transport, and His Excellency Amit Dasgupta, Consul General of India, both of whom supported the importance of this initiative, not only for the aviation industry but also for furthering economic and social bilateral ties between Australia and India.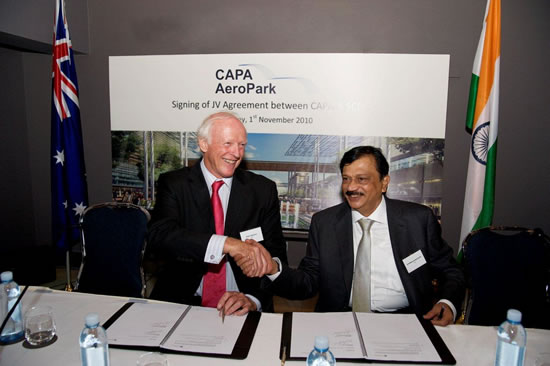 Peter Harbison, Group Executive Chairman, CAPA and K.N.Balasubramanyam, Chairman, SCDC Group shake hands after signing the CAPA AeroPark JV agreement.

CAPA AeroPark will be located at the heart of the world's fastest growing aviation markets. The demand for skilled personnel in India alone is expected to triple over the next decade, driven by strong economic growth. The IMF forecasts 9.7% GDP growth for India this year, and Prime Minister Manmohan Singh is targeting sustained double digit growth for at least the next two decades. This rate of expansion will be transformational. Even on relatively conservative projections, India is expected to emerge as the 3rd largest aviation market in the world within 12-15 years.
Meanwhile, airlines in the Gulf continue to grow at unprecedented rates and source a large proportion of their workforce from India. This will cause massive pressures on the currently inadequate levels of aviation training capacity. Shortages are already emerging across Asia. The International Civil Aviation Organization recently released figures stating that the Asia Pacific region currently only has enough training capacity to meet 35% of its annual pilot requirements of almost 14,000 pilots, an annual shortfall of 9,000.
"We are excited to launch this new and vital concept in India to support the long term growth of the aviation sector. There is an emerging global shortage of skilled human resources in the industry, which is particularly acute in rapidly emerging markets such as India and neighbouring regions. The aviation industries in India and the Gulf alone are expected to see investment of in excess of US$200 billion over the next decade and availability of skills is critical to support this," stated Mr. Peter Harbison, Group Executive Chairman, CAPA. "CAPA AeroPark is different in that it will only work with the leading global education and training providers."
"We are delighted to have SCDC as our partners in this venture, our complementary strengths in aviation and major project development are ideally matched to bring CAPA AeroPark to fruition," Mr. Harbison added.
An Advisory Council of eminent aviation experts from around the world, with backgrounds at the Federal Aviation Administration, International Air Transport Association, International Civil Aviation Organization, US Department of Transportation, Civil Air Navigation Services Organisation, Flight Safety Foundation, UK Civil Aviation Authority, leading universities and international airlines, has guided the development of the Masterplan.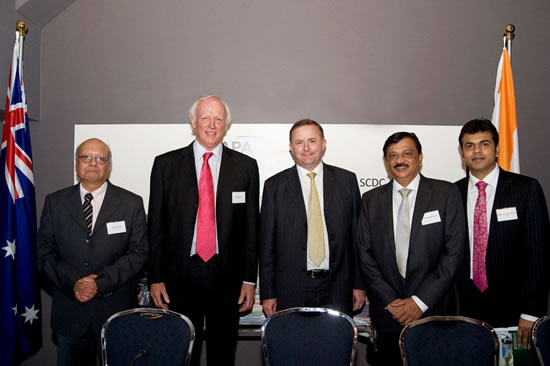 From left to right: His Excellency Amit Dasgupta, Consul General of India; Peter Harbison, Group Executive Chairman, CAPA; The Hon. Anthony Albanese, Australian Federal Minister for Infrastructure & Transport; K.N.Balasubramanyam, Chairman, SCDC Group; Nagesh Balasubramanyam, Director, SCDC Group.
The CAPA AeroPark Masterplan was developed over more than 2 years and involved unprecedented research and consultation around the world with airlines, airports, governments, universities and aviation training providers, and involved an exhaustive on-the-ground study of currently available training infrastructure in India.
Bangalore was selected as the location for the campus due to the fact that it is India's aerospace hub, with strong credentials in education and research and offers a safe, cosmopolitan lifestyle. Mercer Consulting rates Bangalore as having the highest quality of life for expatriates in India, allowing CAPA AeroPark to attract the best international faculty. Bangalore is home to Hindustan Aeronautics, the nation's leading aerospace company, the Airbus Engineering and Design Centre, Boeing's Research & Technology Centre, several major national research institutes and hundreds of companies involved in aviation technology, design, maintenance and manufacturing.
Indian aerospace activity is expected to be boosted by the growing manufacturer offset obligations attached to major Indian government civil and military equipment orders. India is expected to place orders for over US$15 billion over the next 12 months alone for transport and fighter jet aircraft, a topic that will be on the agenda for US President Obama's visit to India later this week. Looking to the future, Bangalore will be one of the most important locations on the international aeronautical map.
Mr.K.N.Balasubramanyam, Chairman of the SCDC Group stated that "we are delighted to partner with CAPA to bring this unique project to Bangalore, which will be vital for developing a professional, sustainable and safe aviation industry and will help position India as a globally competitive aviation and aerospace hub." He added, "this is our first foray into the private education sector and will soon follow with initiatives in healthcare and hospitality".
CAPA AeroPark satellite academies in New Delhi and Mumbai are scheduled to open in the second half of 2011, with the Bangalore campus opening in 2012.