Individual/Restricted - CAPA-Envest Airline Sustainability Benchmarking Report 2021
CAPA launches historic, first of its kind airline sustainability benchmarking report
Globally, consumers, communities and countries are increasingly demanding climate action. So too are investors, who now want proof, not just talk of climate plans and results. Now more than ever, airlines are under pressure to cut flight emissions through sustainable aviation fuels, efficient aircraft and propulsion systems, as well as carbon pricing and reduction strategies. These are expensive solutions at any time, let alone post-COVID, when airlines are posting record losses. But the cost of inaction is even higher.
The CAPA-Envest Airline Sustainability Benchmarking Report 2021 is the industry's first single source of truth on emissions, benchmarking airlines and their performance as they transition the net zero operations. The 130+ page report includes:
52 airlines benchmarked using their reported emissions for 2019 and 2020;
Analysis on the most important airline comparisons for the year pre-COVID, 2019;
Insights into global corporations' decarbonisation strategies and implications for corporate travel; and
Perspectives on investor demands for the airline industry and how these will continue to lead to increased pressure on airline boards and senior management.
REPORT SNEAK PREVIEW! The total CO2 emissions by airlines in 2019 highlight the largest emitters and the significance of the top 10 airlines relative to total industry emissions.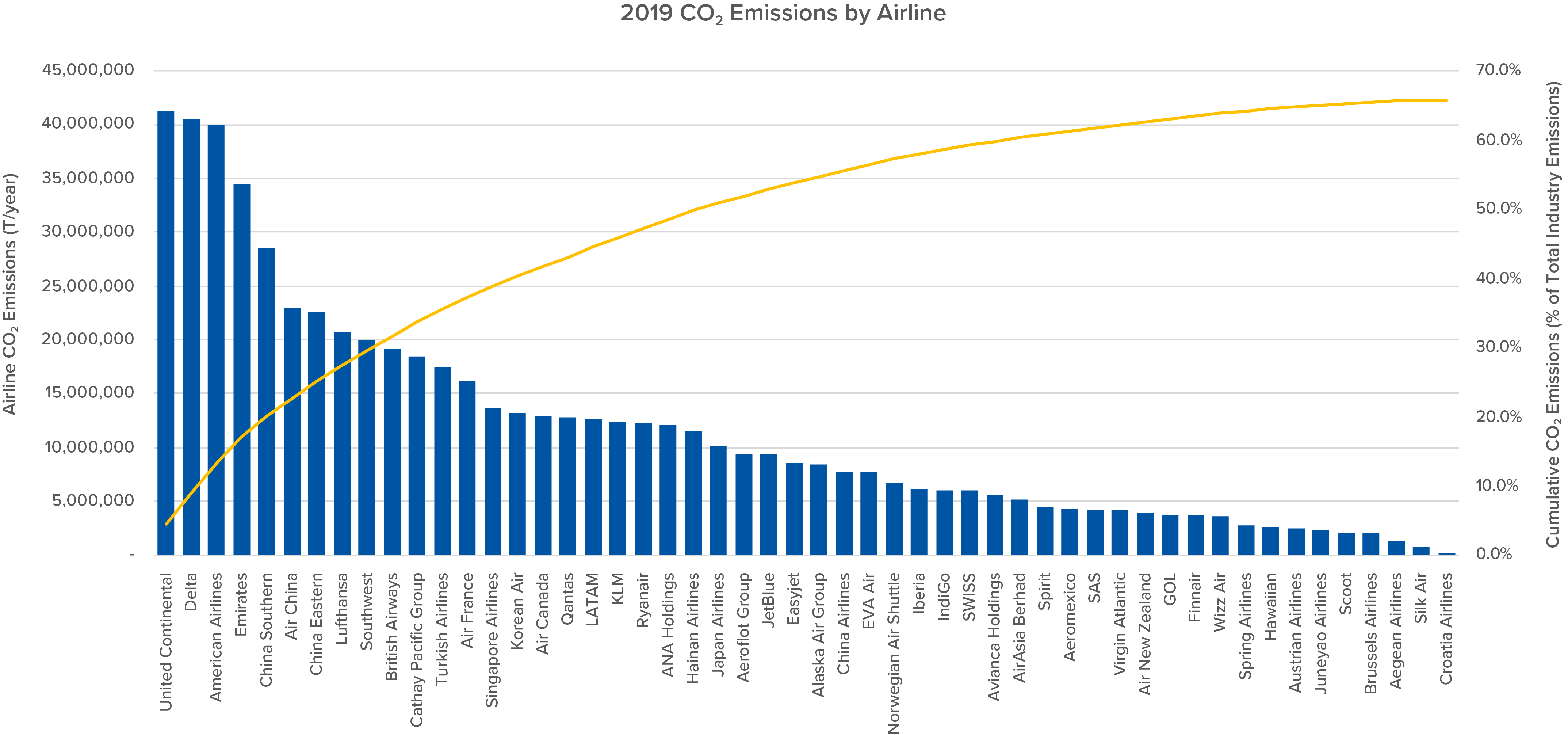 Notes:
CAPA Members receive a USD1,000 discount off purchases. Contact your account manager for the code.
Ensure you are purchasing the correct version:

Individual/Restricted: For internal use only.
Enterprise Usage: For subsidiary sharing, external use and resale e.g., consulting.
Airline Only: Special discounted version for airlines.
Deepen your research with the CAPA Airline Sustainability Benchmarking Dashboards and Data Compendium
Also available for purchase is the CAPA Airline Sustainability Benchmarking Dashboards and Data Compendium. Each document allows the reader to delve further into the data collated by CAPA and Envest Global to benchmark the relevant airlines. The dashboards show individual airline results, highlighted for ease of visualisation and the compendium provides raw data for further analysis.
Contact us or reach out to your dedicated Account Manager for access.
Purchasing this product gives access to 1 file(s).