Why Tony Fernandes' new possible premium airline isn't a competitor to Qantas' Asian premium carrier
Analysis
It is tempting to portray Tony Fernandes's possible new premium airline as being in contention with Asia's only other planned premium carrier, the one from Qantas, an airline that has ties to Mr Fernandes. But the premium market in Asia is nascent, and based on the few known details of the carriers, they are pitched at different segments. A closer look is in order.
An unconfirmed report from the Malaysian Sun believe Mr Fernandes, the AirAsia co-founder, will start a premium carrier based in Kuala Lumpur. Qantas in August announced its intention to establish a premium carrier in Asia, saying Singapore or Kuala Lumpur were likely.
Mr Fernandes's planned operation, possibly to be named Caterham Jet, is expected to be based at Kuala Lumpur's Sultan Abdul Aziz Shah Airport. Commonly known as Subang, the airport is Kuala Lumpur's former international airport but now restricted to general aviation and turboprop flights; Malaysia Airlines and other international carriers are restricted to serving Kuala Lumpur International Airport. Subang is considerably closer to the city centre, taking about half the time to reach.
Qantas' planned operation, which favours Singapore, will be restricted to major airports as it will operate Airbus A320s. Mr Fernandes, however, is possibly acquiring Bombardier regional jets, which seat 50-100 in an airline configuration, compared to up to 180 for the A320. Both the Qantas and Mr Fernandes carriers will use less dense layouts, which slashes Mr Fernandes' seat count to a figure more comparable to a shared business jet or air taxi transport. The air taxi model is slowly finding ground in the United States where there is demand for travel in a class beyond first, but not enough demand to rent out or own an entire aircraft.
Seat comfort and soft service is not the only driving factor. A smaller operation based at a nearby airport with no crowding reduces waiting time; the only thing better than an extravagant first class lounge is not needing one if passengers can waltz up to the airport and quickly board their flight. This further aligns the known details of Mr Fernandes's operation to a business jet service.
Aircraft selection determines network reach. Qantas' A320s with sharklets will have the range to link Southeast Asia with cities eight hours away in Sydney and Melbourne. From Southeast Asia, almost all of Asia will be accessible. It is not known which CRJ model Mr Fernandes will use, but assuming a generous range of 2300nm, North Asia and Australia will be out of range.
Comparison of possible ranges for Mr Fernandes' CRJ operation out of Subang (left) with Qantas' A320 sharklet operation from Singapore (right)
But available range may be irrelevant. The cities named as possible destinations for Mr Fernandes's possible operation are Bangkok, Jakarta and Singapore – all high-growth, booming cities for trade and financial services. It is evident Mr Fernandes is capitalising on point-to-point regional links where there is demand for speedy flights enabling business people, like the AirAsia founder, to quickly hop around Southeast Asia.
In CAPA's ranking of the top 100 intra-Asia international routes by weekly seats available, Kuala Lumpur-Singapore is the third largest, Kuala Lumpur-Bangkok 13th and Kuala Lumpur-Jakarta 15th. If the ASEAN region liberalises air traffic by 2015 as planned, it will open routes like Singapore-Jakarta (second most popular) and Singapore-Bangkok (sixth most popular).
Top 20 Intra-Asia International Routes Ranked by Available Seats (07-Nov-2011 to 13-Nov-2011)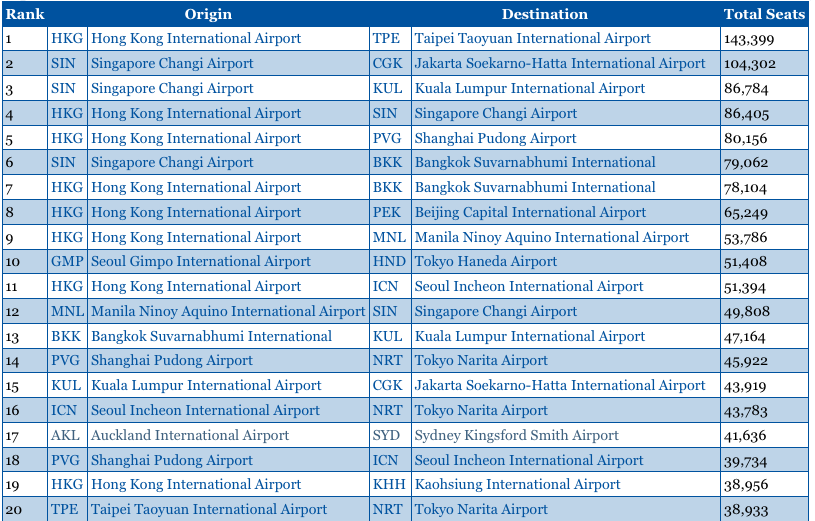 Qantas is more interested in network traffic, serving intra-Asia passengers but also those on its long-haul flights from Australia and Europe. This is a major factor for its preference to base its operation at Singapore, although a final decision has yet to be made. A Mr Fernandes operation at Subang provides for little network traffic.
Transfer traffic may also be limited, as even if Mr Fernandes's carrier offers a service beyond first class on airlines, that enhanced product will be negated by the extra time involved in having to connect between flights. For short flying distances, a direct flight on a less impressive premium product trumps a superior product with a longer journey time.
With Qantas unlikely to base its operation at Kuala Lumpur and Mr Fernandes likely looking at point-to-point services without network feed, the overlap between the two planned operations is minimal. Qantas could expect to lose a minimal amount of traffic, but it is not as though Fernandes is setting up a large capacity operation at a hub airport tapping into network feed. What Mr Fernandes's plan, which awaits comment – he has yet to even Tweet about it – proves is that there is now a market in Asia for premium carriers. But just as the North Atlantic market was flooded last decade with premium carriers eventually put out of business by their legacy rivals, a potential market does not mean the market is accessible.
See related articles: