WestJet's net profits slump in 3Q2009; major restructuring programme for bmibaby
Analysis
WestJet's shares gained 0.9% yesterday, upon the release of the Canadian LCC's 3Q2009 financial results.
During the quarter, WestJet reported a 46% reduction in net profit to USD29.5 million as "difficult" economic conditions resulted in "eroding consumer confidence", forcing the LCC to stimulate demand through "aggressive pricing". Accordingly, the carrier's yield (per RPM) and unit revenues (per ASM) were down by double-digits in the quarter, slumping 13.7% and 15.3%, respectively.
However, the carrier, which reported its 18th consecutive quarter of profitability in 3Q2009, remains optimistic that the market is seeing signs of recovery, with CEO, Sean Durfy, stating, "I'm cautiously optimistic that we are coming out of this" and is "starting our slow climb right out of it."
Selected LCCs daily share price movements (% change): 04-Nov-09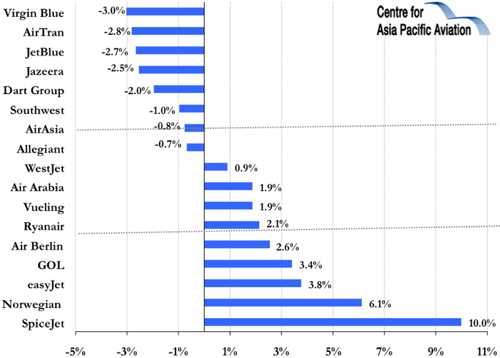 bmibaby announces major restructure
In Europe, non-listed bmibaby announced a major restructuring programme to focus its activities and efforts on routes where there are "clear indications and prospects for future growth and development".
The carrier plans to reduce its fleet from 22 to 17 aircraft in 2010 and add to the number of destinations it will serve from East Midlands Airport. However, 158 jobs are at risk due to the restructure.
In the Asia Pacific region, SpiceJet's shares soared by 10%. Last week the carrier, whose most prominent shareholder is Wilbur Ross, announced it was to raise USD50 million. Meanwhile Virgin Blue's shares were down by 3.0%.