Vision Airlines models itself on Allegiant
Analysis
There is a new airline in the US. Vision Airlines is modeling itself after highly successful Allegiant Airlines, combining low cost airline with tour operations and it has already made a splash with its USD19 fares. Of course, like Spirit and Allegiant, it will make up the operations shortfall with ancillaries and will provide new air service opportunities to points that generally have none. Its intra-Florida service provides non stop service between points otherwise served by a hub connection.
Vision Airlines' Route Map
Founded in 1994 as a Part 121 operator, the company operates a fleet of B767s, B737s and Dornier 328s, as well as Dornier 228s. It also operates bus services and limousines and its Vision Holidays is a fixed-wing Grand Canyon tour operating out of Las Vegas. According to its web site, it offers "one-top shopping for world class Grand Canyon tours, adventure and sight-seeing tours." It also developed celebrity charters before its recent move to become a full-service travel company.
Vision Airlines' homepage: www.visionairlines.com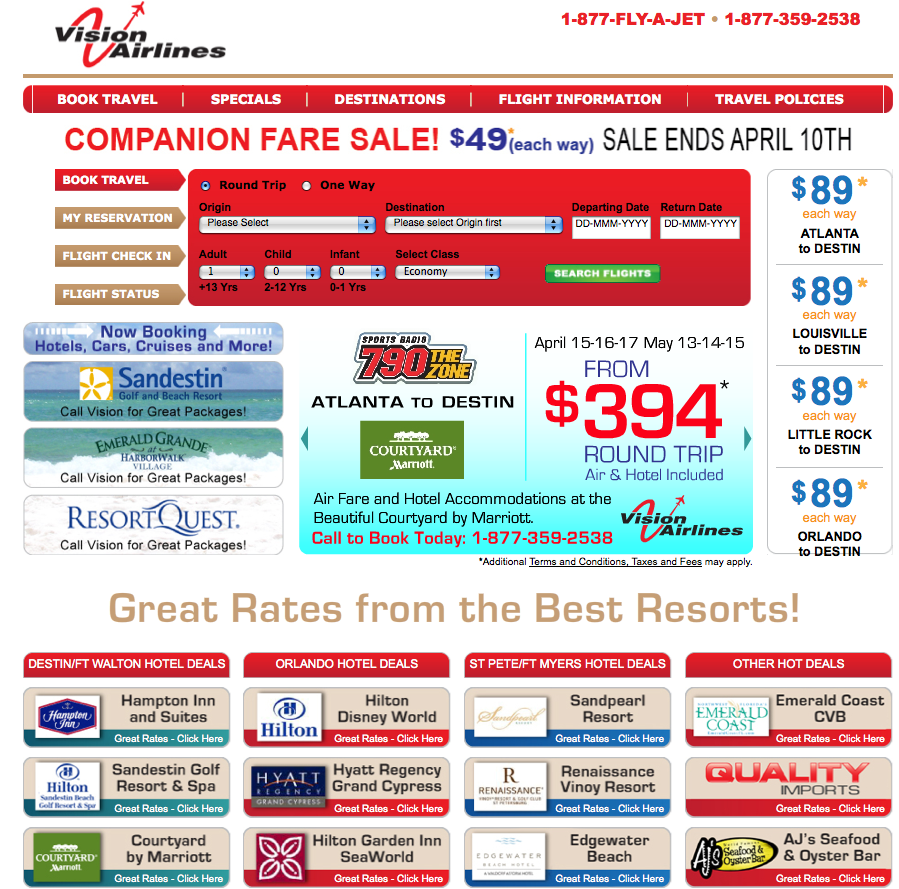 Allegiant Airlines' homepage: www.allegiantair.com
Allegiant%20Airlines%20homepage.png" alt="" width="734" height="646" />
Vision launches
Vision Airlines' new air service launched last month. In addition to leisure travelers heading to Florida beaches, the airline serves business travelers between Louisville and Atlanta which began last December when it also launched seasonal service to Niagara Falls and between northwest Florida and Miami.
Based in Suwannee, GA, the little airline describes itself as Pepsi to Allegiant's Coke, according to USA Today. COO David Meers told the publication that the idea is not to take over the aviation industry but to focus on under-served niche markets "neglected by the major carriers" with packages that include both ground and air accommodations at discounted prices.
The entrance of this new, discount carrier, comes as air fares are rising not only in response to fuel, but as conventional airlines develop a business model based on profits and reduced capacity.
Allegiant Air's share price has been under pressure, falling around 20% over the past 12 months as oil prices have firmed.
Allegiant Air share price over the past 12 months
Allegiant%20share%20price.png" alt="" />
Allegiant's operational fleet of 52 aircraft are 21-22 years old, according to Ascend. Click here for more information on Allegiant's fleet, network, traffic, financial and other data.
Allegiant's fleet, as at 04-Apr-2011