Virgin Blue, SIA and Qantas down, Cathay Pacific up. EVA's yields dive
EVA Air's shares were up 1.2% yesterday, with investors shrugging off dismal May-2009 traffic statistics, which revealed a 10.8% year-on-year reduction in passenger yield and a 0.6% reduction in passenger numbers for the month. Cargo figures were even more concerning, with traffic slipping 16.8% in the month and cargo yields falling by a massive 33.4%.
EVA Air passenger yield growth vs freight yield growth: Jun-2008 to May-2009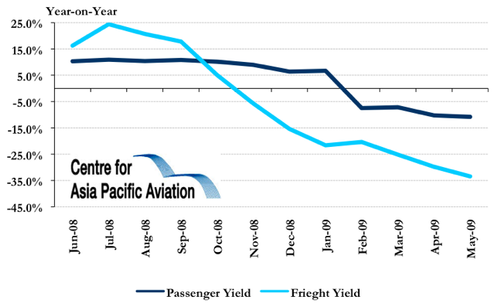 Yield have "stopped falling" - Cathay
Cathay Pacific's shares were up by 0.7% yesterday. The Hong-Kong based carrier yesterday presented an investor briefing, in which it stated its Economy class yields remain "weak", while premium demand has falled 39% in the first five months of 2009. However, the carrier stated passenger yield and demand has "stopped falling, although a recovery has not commenced".
Cathay's cargo prospects are "a little better" than earlier in the year, due to a slight pick up in demand and a reduction in market capacity. In the five months to May-2009, cargo yields were "driven down by competition in a market characterised by continued global weakness" (Cathay's freight volume fell 16.5% in the five-month period).
Looking forward, Cathay expects an improvement in 2H2009, due a seasonally stronger second half, but it expects continued economic turmoil, with currency fluctuations and rising oil prices a concern and swine flu still a "threat" to the carrier's operations.
The World Bank has meanwhile slashed its global GDP outlook for 2009, from -1.7% to -2.9%, and predicted a contraction in world trade of nearly 10% (the previously forecast from 31-Mar-09 predicted a 6.1% reduction). The World Bank also upwardly revised its oil price prediction for 2009 by 18%, from USD47 to USD55.5/barrel. While Global GDP growth is expected to rebound to 2% in 2010 and 3.2% by 2011, the World Bank has warned that "recovery is expected to be subdued as global demand remains depressed, unemployment remains high, and recession-like conditions continue until 2011".
Asia Pacific selected airlines daily share price movements (% change): 22-Jun-09