Virgin Atlantic Airways' new brand campaign offers the world, but its new network doesn't
Analysis
In Jan-2015, Virgin Atlantic Airways launched a new global brand campaign. Its central message is "the world doesn't come to you, so go to it". The campaign plays to the enduring qualities associated with the brand's strengths, such as aspiration, service, passion for travel and innovation. However, under its new ownership, it coincides with network changes that are necessary to improve Virgin's profitability, but which reduce the airline's ability to take its customers to "the world".
Virgin Atlantic still offers international destinations in five continents (excluding Europe) and remains the UK's number two intercontinental airline, but in 2015 it will withdraw from Tokyo, Mumbai and Cape Town, while increasing its capacity to the US. In its 2015 summer's schedule, 72% of Virgin Atlantic's international seat capacity will be deployed to North America, compared with 58% two years ago. The word 'Atlantic' in the airline's name is more appropriate now than for many years.
Virgin Atlantic route changes in 2015 - all additions are to the US
In 2015, Virgin Atlantic (VA) will launch a new route from Heathrow to Detroit and new summer seasonal routes from Belfast to Orlando and Glasgow to Las Vegas. It will also take over the Manchester to Atlanta route from its partner Delta, in return for the transfer of one of Virgin's Heathrow-Newark services to Delta. The joint venture will see further expansion through Delta's launch of a new daily service between Manchester and New York JFK.
Virgin Atlantic Airways: new routes in 2015
| Route | Launch | Weekly frequency | Aircraft | Airlines operating on city pair (in order of seat capacity*) |
| --- | --- | --- | --- | --- |
| | 1-Jun-2015 | 7x | A330-300 | |
| Manchester-Atlanta (transfer from Delta) | 29-Mar-2015 | 7x | A330-300 | |
| Belfast-Orlando (peak summer only) | 25-Jun-2015 | 1x | 747-400 | |
| | 17-Sep-2015 to 1-Oct-2015 only | 1x | 747-400 | |
In addition to the new routes detailed above, VA is increasing its frequencies on a number of US routes (see table below).
Virgin Atlantic Airways: increased frequencies for 2015
| Route | Date of increase | Change in weekly frequency | Aircraft | Airlines operating on city pair (in order of seat capacity*) |
| --- | --- | --- | --- | --- |
| Heathrow-JFK | 29-Mar-2015 | From 28x to 35x | A330-200 | BA, Virgin, United, AA, Delta, Norwegian, Kuwait Airways |
| Heathrow-Los Angeles | 29-Mar-2015 | From 7x to 14x | | BA, Air New Zealand, Virgin, AA, United, Delta, Norwegian |
| | 29-Mar-2015 | From 7x to 14x (increase for summer season) | A330-300 | |
| | 29-Mar-2015 | From 7x to 12x (increase for summer season) | A340-600 | |
| | 25-Oct-2015 | From 7x to 14x (increase for winter season) | A330-300 | BA, AA, Virgin Atlantic |
| Manchester-Orlando | 21-Jul-2015 | From 11x to 13x (increase for peak summer) | 747-400 | Virgin, Thomson**, Thomas Cook** |
| Glasgow-Orlando (summer seasonal route) | Jun-2015 | From 2x to 3x | 747-400 | Virgin, Thomas Cook**, Thomson** |
| Manchester-Las Vegas (summer seasonal route) | 23-Jul-2015 | From 2x to 3x (increase for summer season) | | |
In order to provide capacity for the new routes and frequency increases planned, VA will cease operating to Tokyo Narita, Mumbai and Cape Town and will not resume its summer seasonal route to Vancouver in 2015. Virgin's India network will only consist of its London-Delhi operation, while South Africa will only be served via Johannesburg.
These route closures reflect an increased focus on network profitability. Although the airline does not disclose details of financial performance by route, it can be assumed that these destinations were not profitable - or its fleet is more valuable supporting its US partner, Delta. VA's losses in four out of the five years to 2013 meant that it had to take action to prune the network.
When it announced these withdrawals in Sep-2014, VA said in a press release: "In the future if Heathrow gains its long overdue expansion, Virgin Atlantic would love to re-enter Tokyo, Cape Town, Mumbai and Vancouver". This comment was clearly aimed at putting pressure on the UK government (and, firstly, the Airports Commission) to decide in favour of expanding Heathrow. Nevertheless, there would be no justification for VA to re-enter these destinations if they cannot be profitable - or more valuable to its US partnership - regardless of Heathrow capacity expansion.
Virgin Atlantic Airways: routes discontinued in 2015
| Route | Date of cessation | Weekly frequency | Aircraft |
| --- | --- | --- | --- |
| | 31-Jan-2015 | 7x | |
| | 31-Jan-2015 | 7x | A330-300 |
| | 11-Oct-2014 | 4x | |
| | 26-Apr-2015 | 7x | A340-600 |
The network changes in 2015 will significantly increase VA's dependence on North America. Using data from OAG for the early part of the 2015 summer schedule (week of 13-May-2015), North America will account for 72% of the Virgin Atlantic's international seat capacity, compared with 58% in May-2013 (see charts below).
As analysed in previous CAPA reports, VA has a partnership approach, mainly through codeshares, to much of the rest of the world. Taking this further, by joining SkyTeam, remains an option under consideration, although it is not currently a priority. By contrast, generating synergies through the deepening relationship with Delta on the North Atlantic, is a high priority. SkyTeam membership might even dilute the value that Delta derives from its ownership stake.
See related reports:
Virgin Atlantic Airways international capacity by region (% of seats) 13-May-2013 to 19-May-2013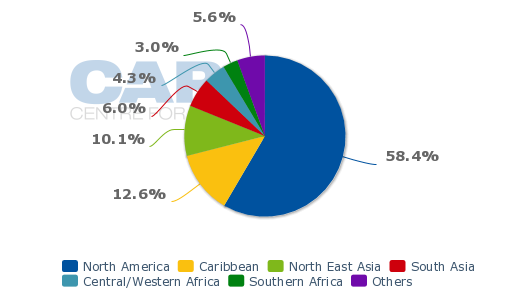 Virgin Atlantic Airways international capacity by region (% of seats) 11-May-2015 to 17-May-2015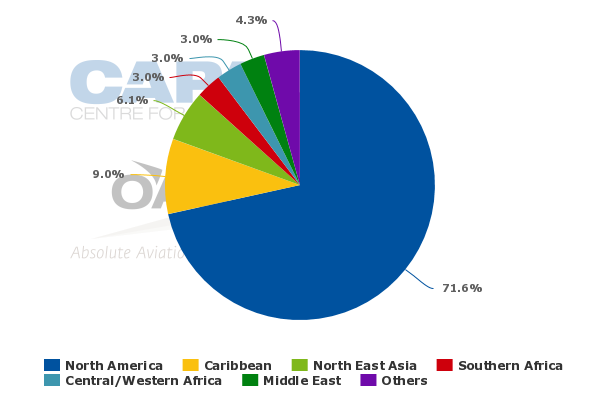 Aircraft changes: the Boeing 787-9 is slowly transforming Virgin Atlantic's fleet
Virgin Atlantic took delivery of its first Boeing 787-9 Dreamliner in Oct-2014, when it became the first European airline to operate the aircraft. Its original order for 16 of the type was supplemented when it exercised options over a further five in Oct-2014 and then placed an order for two more in Nov-2014.
As of 14-Jan-2015, Virgin has two 787-9s in service and 21 more due for delivery by 2019 (source: CAPA Fleet Database). The two in service are operating on routes from Heathrow to Boston and, effective 7-Jan-2015, to Washington Dulles. VA plans to use the type on its New York JFK service for one daily frequency between 28-Feb-2015 and 14-Jun-2015, before using it to replace the 747-400 on the route from Jan-2016 (Airline Route, 7-Jan-2015). It will introduce the Dreamliner to its New York Newark operation from 1-Feb-2015.
Although VA's initial use of the 787-9 is focusing on the US east coast, the greater fuel efficiency of the aircraft makes it more attractive from a cost saving perspective on longer routes. Virgin will replace the 747-400 with the 787-9 on one of its two daily frequencies to Los Angeles from 30-Apr-2015 and is expected to deploy 787-9s on its Heathrow services to Dubai, Johannesburg and Shanghai Pudong from the start of the winter 2015/2016 schedule. According to OAG, Virgin currently operates the A330-300 to Dubai, the A340-600 to Johannesburg and the A340-300 and A340-600 to Shanghai.
The new aircraft should help bring down VA's cost per available seat kilometre, contributing to further improvements in its financial results, and will mainly be used for replacement of older, less efficient equipment, in particular its Boeing 747-400 fleet (average age 15.8 years, source: CAPA Fleet Database) and part of its A340 fleet (average age 10.3 years).
Virgin plans to retire its final two A340-300s that are still in service and two of its A340-600s by the end of 2015. It also plans to withdraw its four Heathrow-based 747-400 aircraft entirely by Jul-2016.
VA's Heathrow 747 fleet currently operates to New York (both JFK and Newark), Miami and San Francisco, but its increased frequencies to these cities will be operated using A330 and A340 aircraft. It is currently considering a decision on replacement aircraft for its seven Boeing 747-400s based at London Gatwick from 2019. The Airbus A350, the Boeing 787 and the Boeing 777 are understood to feature in Virgin's thinking.
Virgin Atlantic Airways Fleet Summary as at 15-Jan-2015
| Aircraft | In Service | In Storage | On Order |
| --- | --- | --- | --- |
| | | | |
| | | | |
| | | | |
| | | | |
| | | | |
| | | | |
| | 11 | | |
| | | | 21 |
| | | | |
Most of the Little Red slots will revert to British Airways; some will give VA future long-haul growth options
Later this year, VA will return to being a wholly long-haul operation, after the cessation of its three UK domestic routes (operated for Virgin under the Little Red brand by Aer Lingus). The four times daily Heathrow-Manchester service is to end in Mar-2015, while the three times daily Aberdeen route and the six times daily Edinburgh route will be discontinued in Sep-2015.
See related report: Virgin Atlantic Airways sees more than a little red, but things were much simpler 30 years ago
The majority of the slots used for these domestic services were made available by British Airways as part of the European regulatory price for the approval of IAG's acquisition of bmi and so will have to be returned to BA. However, Virgin used two pairs of its own Heathrow slots on the London-Manchester service. It now plans to lease these out on an interim basis until its new 787 fleet grows sufficiently for it to use them on its long-haul network. These slots, in the afternoon and evening, are not peak slots and are not particularly well suited to trans-Atlantic flying, but they do provide VA with some options for growth.
Other than these slots, Virgin Atlantic's growth options at Heathrow, which accounts for three quarters of its international seats, are limited as a result of the airport's capacity constraints. Minor infrastructure efficiency improvements allowed the number of slots in the summer schedule at Heathrow to increase at a compound average rate of 0.3% pa from 2003 to 2014.
Virgin has significantly outpaced this growth with its own slot holding through slot trades and through steadily increasing its allocation in the slot coordination process, even outpacing the growth of its bigger rival British Airways at Heathrow.
From summer 2003 to summer 2012, before the IAG/bmi deal, VA's slot holding grew at a CAGR of 3.4% pa, compared with BA's CAGR of 1.7% pa. Both received a boost in their slot portfolios in 2012/2013 as a result of IAG's bmi acquisition. Between summer 2012 and summer 2014, BA's slot holding increased by 17% (the same as in the whole of the previous nine years), while Virgin's increased by 52%.
VA's share of slots in summer 2014 was 5.0%, double its share in summer 2003. However, as noted above, the slots that Virgin received from BA as a result of the regulatory approval for this deal will revert to BA, taking VA's share down to around 4%.
The focus for Virgin at Heathrow, rather than growth, is on optimising the profitability derived from the use of its slots, both within the North Atlantic joint venture with Delta and in other parts of its network. This helps to explain the changes to its network in 2015, as outlined above.
Virgin Atlantic Airways and British Airways: share of air transport movements at London Heathrow Airport, summer schedule 2001 to 2014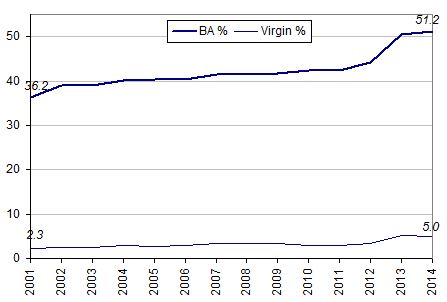 Virgin Atlantic is reluctant to take up the A380 options it has
Growth at Heathrow will only return to the agenda if the UK's Airports Commission makes a decision in favour of one of the two proposals for new runway capacity at the airport, rather than the proposal for new capacity at London Gatwick. The Commission's final recommendation is due in summer 2015, but any decision will then need to be implemented by the UK government.
Decisive action on airport capacity in the southeast of England has proved to be a political hot potato in the past. It is far from certain that any party/parties that may form the government after the May-2015 general election will have the courage to ratify the Airports Commission's recommendation, whatever it might be. Even if new runway capacity at Heathrow is eventually given the green light, it will be many years before it is constructed and operational.
In the absence of infrastructure capacity growth at Heathrow, and with significant growth in slot holdings now harder to achieve, the other avenue for growth is to acquire larger aircraft. With this in mind, VA took options on acquiring six Airbus A380s in 2001, but it has deferred their delivery more than once.
According to the CAPA Fleet Database, the six A380s are scheduled for delivery in 2018 and 2019. However, Virgin Atlantic CEO Craig Kreeger has gone on record saying that the airline is unlikely to exercise these options, but adding that "in the event the world changes and it makes sense to take the A380, [it] is always something nice to have", (Reuters, 6-Nov-2014). It will also not have escaped Mr Kreeger's notice that Delta CEO Anderson Richard Anderson is on the record as saying "The A380 is, by definition, an uneconomic airplane unless you're a state-owned enterprise with subsidies."
Virgin's reluctance to carry through its A380 order is understandable given its position as a long-haul point to point operator. By contrast, the competitor airlines that deploy A380 aircraft out of Heathrow are hub and spoke operators, who have significant feed at one or both ends of the route (either on their own or through partners' networks).
VA's network does include some very dense routes that arguably could support an A380 service (for example New York, Dubai, Hong Kong and Los Angeles), but it would not want to compromise its schedule by aggregating passengers onto a smaller number of larger flights. Its partnership with Delta enables it to fill out it schedule on certain US routes, which could perhaps support an A380 service at some point in the future. However, for now, it makes sense for VA to focus on increasing its deployment of the 787, an aircraft well suited to long-haul point to point operations.
Fleet and network changes are welcome, but the Virgin brand must retain its independence
Virgin Atlantic's fleet changes are coming at an opportune time for the airline, given the need to improve its financial results. Although the lower fuel price environment may have eased its cost burden to some extent anyway, the increasing use of new generation Boeing aircraft should further improve VA's unit cost structure over time. The 787 is well suited to VA's long-haul point to point business model.
Its network changes have been driven by a more commercial approach to the business, forced on it by a recent track record of losses (although it expects to confirm a return to profit when it reports 2014 results) and by its growing relationship with 49% shareholder Delta Air Lines.
With strategic decisions increasingly integrated with those of Delta and a network increasingly focused on Delta's US hinterland, the new ad campaign is vital to preserve the perceived independence of the Virgin Atlantic brand. The reality might be something different, but image is an essential ingredient of brand.
See related report: Virgin Atlantic SWOT. Little Red's demise further re-emphasises the Atlantic and the Delta ownership