Virgin America sale speculation: Hainan, jetBlue and others. Timing could be critical for new owners
Analysis
During nearly eight years of the airline's existence Virgin America's ownership structure has atracted as much attention as its product positioning and positive customer sentiment. In late Mar-2016 reports surfaced indicating that the airline had received interest regarding a potential takeover, which led the airline to reach out to potential buyers.

That development led to a flurry of speculation about a prospective acquirer, with theories ranging from a US rival to foreign airlines or non-airline private equity firms. Any entity that has an interest in Virgin America must carefully examine the risk-reward scenario of purchasing an airline whose position in the US market remains small; it is not the dominant airline at its top four bases measured by seats – San Francisco, Los Angeles, Las Vegas and New York JFK.

The most logical element of a possible sell-off of all or part of Virgin America is that its long-time investors are finally ready to cash out now that the company has some level of sustained profitability. Conceptually while other airlines constitute logical suitors for Virgin America, other aspects of the US and global airline business need consideration while the future of Virgin America is unfolding.
Virgin America's investors may believe now is the time to cash out
In late Mar-2016 Bloomberg, citing individuals close to the matter, reported that Virgin America was reaching out to potential buyers after receiving takeover interest.

An expression of interest for a takeover cannot be ignored by Virgin America, which engaged in an initial public offering in late 2014. Its largest shareholders remain VX Holdings and Cyrus Capital, which have held the greatest stakes in the company since its 2007 debut. With Virgin America posting three consecutive years of profits, now could be a favourable time for those two firms to recoup some of their investment in the airline.
The airline has also grown its ROIC from 11.2% in 2013 to 17.9% in 2015.
Virgin America net profit/loss: 2008 to 2015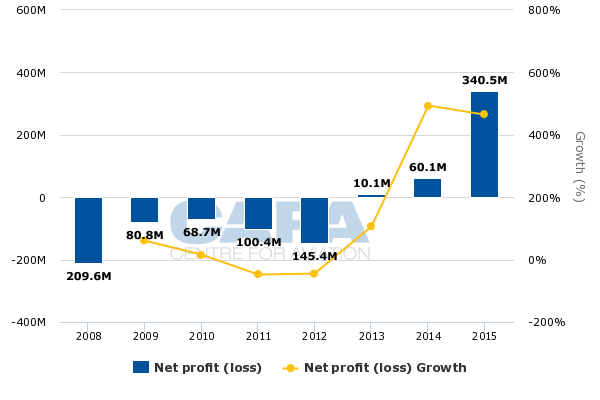 But many questions about a potential sale remain unanswered, such as the licensing of the Virgin brand. Although Richard Branson wants a return on his investment in the airline, it would be hard to believe there would not be some stipulation in a sale agreement that included continued licensing of the Virgin brand; the typical agreement involves a continuing royalty payment from the airline based on topline revenue. Such a scenario may be easier to accomplish with a non-US airline or private equity firm.

Virgin America's existing licensing agreement with the Virgin Group covers operations in North America and the Caribbean. Virgin America can place its code on other routes of other airlines but not on Virgin Atlantic's routes over the North Atlantic, which during the last couple of years have expanded under a joint venture with Delta Air Lines.
Two of the foreign airlines that have emerged in the speculation as potential buyers for Virgin America are Hainan/HNA and Etihad.

The holding company that controls Hainan, HNA Group, has grown its airline portfolio investments outside China, including airlines in Africa, France and Turkey. In 2015 HNA opted to take a 23.7% stake in Brazilian airline Azul - which in turn acquired a minority share in Portuguese flag carrier TAP.

A motivating factor for HNA's potential interest in Virgin America is China's 'one airline, one route' policy that a sets a limit of only one Chinese airline authorised to operate a long haul service. As a result, Hainan's US footprint is limited to smaller markets such as Boston or Seattle since Air China and China Eastern serve larger markets, including New York and Los Angeles from Beijing and Shanghai.

See related report: HNA investment in a US airline would boost Hainan Airlines in US-China market, reshape competition

There is no such limit in the reverse direction from the US to China, as long as traffic rights are available. If Hainan acquired a US airline it could overcome some of the traffic restrictions on Chinese airlines serving the US. However, there is inherent complexity in a potential acquisition of Virgin America by HNA group.
This complexity includes the highly restrictive ownership restrictions in the US, and general backlash by larger US airlines over foreign ownership stakes in smaller US airlines. Those airlines mounted a formidable challenge to the establishment of Virgin America, and some years later Alaska challenged Virgin America's ownership structure when the upstart upped competition in some of Alaska's US West Coast markets.

Virgin America could be a target for Etihad's strategy of building alliances by acquisition. However, although the subsidy debate waged by American, Delta and United against Emirates, Etihad and Qatar seems to have quietened down, a move by Etihad to take a stake in Virgin America could reignite the subsidy battle.
The result potentially being a charge by the Big 3 that Virgin America's owners are supported by what they deem as illegal subsidies. Etihad would need to weigh the ownership backlash it could face by pursuing a stake in Virgin America versus the overall benefit that Virgin America could bring Etihad in the US market.
It is that reason – value – that makes an Etihad's stake unlikely. Etihad has an existing and deep partnership with American Airlines. It does not appear in danger: the partnership has expanded while American has partaken in allegations about Gulf airline subsidies. American Airlines can offer Etihad far more than Virgin America could in terms of corporate market awareness and connections (destinations, frequency, etc.). Further, Etihad is looking to bed down its operation and investments in 2016; investing in Virgin America would go against that.
Delta's pursuit would likely require some concessions for approval
Among potential US airlines that may have an interest in Virgin America, Delta and jetBlue seem like logical choices, in theory. Delta has been acquiring stakes in foreign airlines during the last couple of years in regions where it has historically had a network weakness versus rivals American and United, including a 49% stake in Virgin Atlantic.


Delta would likely have an interest in Virgin America's positions at Los Angeles International airport and Dallas Love Field. But a data snapshot from CAPA and OAG for the week of 28-Mar-2016 to 3-Apr-2016 shows that a Delta-Virgin America combination would result in Delta being roughly on par or just slightly ahead of American in Los Angeles measured by seat share, rather than surpassing American for dominance.
Gates at Los Angeles are valuable, and Delta and American have been battling to attain dominance at the fragmented airport during the last couple of years.
Los Angeles International Airport capacity by airline: 28-Mar-2016 to 3-Apr-2016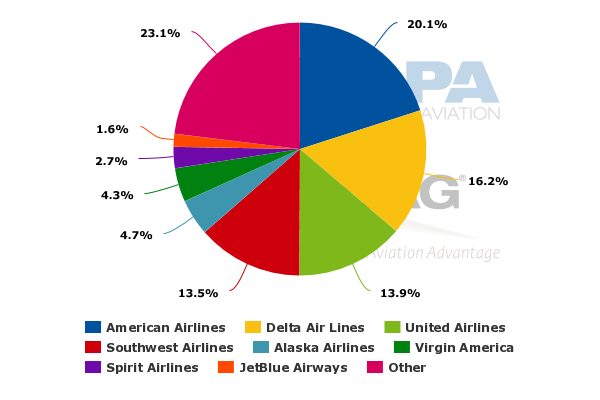 One of the reasons that Virgin America won slots at Dallas Love Field is that US regulators wanted to ensure that low cost airlines would have access to key regions after consolidation of the large US major airlines. A settlement between American and the US Department of Justice entailed American divesting gates at Love Field, and Virgin America moved its operations from Dallas/Fort Worth to Dallas Love Field in late 2014.

Delta would likely face considerable opposition from US regulators if it opted to pursue Virgin America, given its stature as the third largest US airline measured by domestic seat deployment. Essentially, there would be one less LCC in the market place, which would require concessions that could presumably outweigh potential benefits for Delta in acquiring Virgin America.
United States of America domestic capacity by airline (% of seats): 28-Mar-2016 to 3-Apr-2016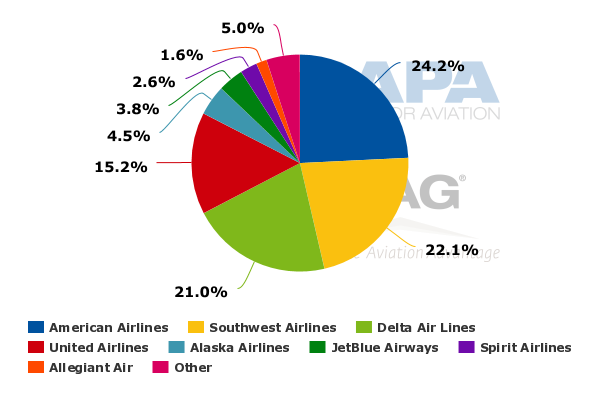 Perhaps not be the best time for jetBlue to pursue an M&A
jetBlue also seems like a logical pursuer of Virgin America given that both airlines are Airbus A320 operators and drive positive consumer sentiment. A jetBlue acquisition would allow it to gain access to lucrative US West Coast markets and would eliminate a competitor in the transcontinental market.

A tie-up between jetBlue and Virgin America would not draw as much ire from US regulators, considering their comparative sizes relative to other US airlines. Based on their current fleets (29-Mar-2016), combined jetBlue and Virgin America operate 277 aircraft – 217 at jetBlue and 60 at Virgin America.

jetBlue often fields queries about further consolidation in the US and its potential role in future mergers. The consistent response of management is that the airline plans to remain independent.

For jetBlue, the timing may not be ideal to pursue acquisitions. The company is in the midst of strengthening its balance sheet and driving down its leverage ratios. At YE2015 jetBlue's cash balance was USD318 million and its short-term investments totalled USD558 million, along with an undrawn revolver of USD400 million.
Combined those amounts totalled 20% of its trailing 12M revenue, which the agency stated was sufficient to meet the airline's needs. Virgin America also has a higher percentage of leased aircraft - 90% - while jetBlue owns 73% of its fleet and is working to increase its number of unencumbered assets.
Virgin America owned vs leased for aircraft as of 29-Mar-2016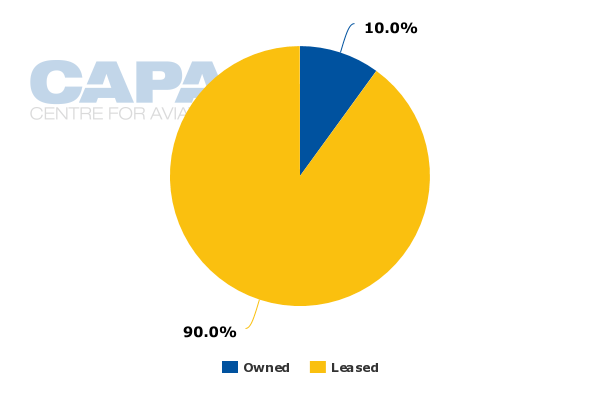 See related report: jetBlue Airways praised by analysts rating is upgraded, but 1Q2016 unit revenue is pressured

jetBlue may not have much of an appetite to seek financial support for an acquisition or takeover that will add complexity to its financial commitments as it works to position itself to offer more comprehensive shareholder returns beginning in 2017.
Controlling stake by private equity could allow Virgin America its independence
It seems more viable for a private equity firm to take total ownership or a controlling stake in Virgin America rather than for another airline entity to take over the company. US regulators seem to have little appetite for further consolidation and any pursuit by a foreign airline is likely to meet strong opposition - even if it would be a healthy development in a market which is now tightly held and leveraging very high fares by international standards. The private equity path would allow Virgin America to pursue its growth strategy independently.

One certainty is that the hype over a potential sale of Virgin America is likely to die down before a definitive decision about the company's future ownership is made. Although tie-ups with other airlines seemingly look viable on paper, in reality the execution of such acquisitions is rife with challenges.
That is not to say that change is impossible, even in the very conservative and well protected US market. Sir Richard Branson's group is certainly wiling to sell down, at the right price and it would be dangerous to rule out any possibility.