Virgin America leaves a lasting product legacy as it readies for absorption by Alaska
Analysis
The pending merger between Alaska Air Group and Virgin America has generated many questions about brand, product, aircraft and network composition. Those are among myriad elements that need evaluation as the two airlines unify to become a more competitive force in a post- consolidated US market place.

One issue that Virgin America believes the merger cannot rectify is enlarging access for smaller airlines at slot- or space-constrained airports in the US. However, with the combined scale, Virgin America believes the two airlines can compete more effectively against the US major airlines that dominate those facilities.

Virgin America is on the cusp of being absorbed by Alaska at a time when its unit revenue performance, albeit negative, remains better than the industry average. Since the merger announcement Virgin America's stock has spiked, which seems to indicate that while some do question the airline's USD2.6 billion price tag, Virgin America's inherent value lies in its ability to be acquired.
Virgin America's debut forced a rethink of the drab US airline passenger experience
Although Virgin America's product in the strategic US transcontinental market has arguably been leapfrogged by rivals with their lie-flat seats, in some ways the airline set the stage for much-needed product innovation in the US market.

The mood lighting, leather seats and cutting edge IFE that Virgin America introduced nearly nine years ago made a welcome change to the commoditised product prevalent in the US at that time. jetBlue was perhaps the exception, with its roomier cabin and satellite television.

Virgin America has always generated a good deal of scepticism about how it could achieve and sustain profits with a network strategy focused on large markets that were dominated by the three large US global network airlines, but the merits of its product were never scrutinised.

Recently the airline's CEO, David Cush, highlighted Virgin America's effect on the US industry." "Before Virgin America started operating the flying experience was dismal and it was pretty consistent and very little product differentiation across the industry...it was basically a drab generic experience, really, regardless of what airline you could travel on."

Mr Cush raises a valid point about product commoditisation and Virgin America's influence on product evolution in the US. Offering a new line in branded coffee or popcorn simply does not stimulate excitement about product differentiation. Other factors have also influenced the need for product differentiation, including the rise of ULCCs and the emergence of three mega-airlines with basically similar network compositions. Although most US airlines lag behind their counterparts in other regions of the world in product differentiation, de-commoditisation is emerging as a pillar of revenue generation in the US market place, and there is no doubt that Virgin America's product raised the bar in the US when it debuted in 2007.

Now, in 2016, the US majors cite product differentiation as one way to shore up sagging passenger unit revenues. Recently, the American Airlines president, Scott Kirby, remarked that although the company had a lot of customers interested in a commodity product, there were customers looking for product differentiation, "we can sell them a better experience and be appropriately compensated for that".

The CEO of Delta, Ed Bastian, also recently said that the airline's product was not a commodity, and the company needed to produce "a premium product that drives brand loyalty".

See related report: The US Big 3 airlines ramp up efforts to improve PRASM. Anxious investors hold back for real results
Alaska needs to consider carefully how to retain Virgin America's loyal corporate base
One prominent issue that emerged when Alaska outlined plans to acquire and enter into a merger with Virgin America was the loyalty Virgin America's brand engendered among its customers.

The presumed elimination of Virgin America's brand is something Alaska needs to handle carefully if it wants to retain those passengers, which in many cases are higher-yielding corporate clients. The Virgin America SVP planning and sales, John Macleod, recently stated the airline is well entrenched with tech companies in California's Silicon Valley and spend is trending up. During 1Q2016 Virgin America recorded 27% growth year-on-year in its top ten corporate accounts.
That is the type of revenue that Alaska is hoping to capture and build on with its acquisition of Virgin America, and arguably adopting some of the elements of Virgin America's product evolution philosophy is key to preventing those accounts from jumping to other airlines.
Virgin America warns that the merger does not solve the problem of airport access
Virgin America has consistently been a champion for smaller airlines to gain access to constrained airports dominated by larger airlines including the slot-controlled airports New York JFK, Newark and Washington National. Similarly, access to the space-challenged airports such as Los Angeles International and Chicago O'Hare. Mr Cush continues to believe that constrained airports create competitive disadvantages for smaller US airlines.

The airline was able to gain slots at Newark through American's Chapter 11 process. It also acquired slots at Dallas Love Field and Washington National after the US DoJ required slot divestitures by American and US Airways in order for those airlines to proceed with their merger. The US FAA recently stated that it would allow additional flights at Newark in late Oct-2016 if the airport's capacity levels were not exceeded.

Virgin America operates three daily flights each from Newark to its top bases at San Francisco and Los Angeles. It plans to add a fourth daily flight to Los Angeles in the US summer timeframe, and is attempting to gain approval for expansion from Newark in the winter time period.

However, Virgin America believes the lack of opportunity for smaller airlines at key airports remains a competitive challenge.
Mr Cush has said that the merger does not solve the obstacles that small airlines face at constrained airports. "Very simply, Alaska has never been able to get significant penetration on the east coast because of a lack of slots and gates. So this [merger] does not solve the problem."

The combination does inject a "more able competitor" into those airports – with the gates and slots Virgin America brings to the market place – Mr Cush explained. Two of the busiest airports on the US east coast, New York JFK and Newark, are Virgin America's fifth and eighth largest bases measured by seat deployment.
Virgin America global top 10 hubs/bases/stations by seats: 23-May-2016 to 29-May-2016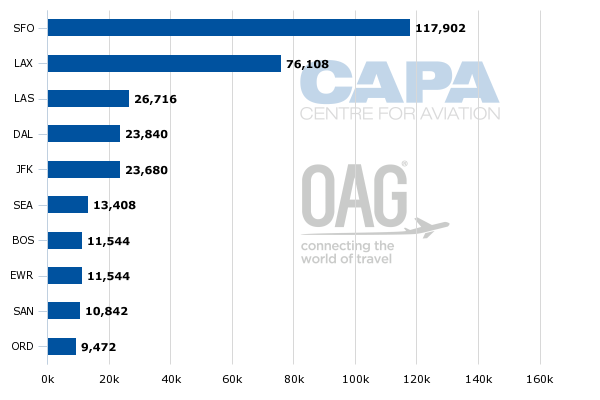 Data from CAPA and OAG for the week of 23-May2016 to 29-May-2016 show that Virgin America represents 4% of JFK's domestic seats, and 2% at Newark. At slot-controlled Washington National, Alaska represents a 1.6% domestic seat share and Virgin America's share is 1.2%.

Virgin America's CEO warned that constraints are becoming a problem at more and more airports. "As the big four [American, Delta, United and Southwest] go into these airports and start playing the real estate game, they can move a lot of capacity in", in his view. He believes that it is going to take more action from the federal government and airport authorities "to pry[sic] open these airports".

In the meantime, US regulators are undertaking their review of the proposed merger. In theory, it seems like the combination shouldn't raise any eyebrows – as Mr Cush pointed out, the combined airline would only represent 6% of US domestic capacity.
But at times the US DoJ seems to have a different agenda and is likely to take its time before issuing a decision to approve or reject the merger, which leaves Virgin America and Alaska in a bit of commercial limbo as they have to wait for the government's ruling before starting the integration process in earnest.
Virgin America attracts a higher Wall Street value now
Since the early Apr-2016 merger announcement, Virgin America's stock has jumped 43%, to USD55.6 near the end of May-2016.
Although some investors have questioned whether the USD2.6 billion that Alaska agreed to pay for Virgin America is too much, Virgin America's integration into Alaska seems to make it more valuable in the eyes of Wall Street.
Virgin America's stock price: late May-2015 to late-May-2016
Although the industry's unit revenue performance remains negative, Virgin America had one of the better PRASM performances in 1Q2016. The airline posted a 5% rise in PRASM on its west coast markets on 12% capacity growth. Virgin America also stated that its capacity on routes from JFK to San Francisco grew 31% year-on-year in 1Q2016, and 22% between JFK and Los Angeles, but PRASM in those markets outperformed the rest of its network.
Passenger unit revenue (PRASM) decrease of selected US airlines: 1Q2016
The fate of Alaska and Virgin America rests with US regulators; the agenda is hard to pinpoint
Ultimately the combination of Alaska and Virgin America should prove beneficial for both airlines, assuming the merger integration is successful and Alaska carefully considers how to preserve the product attributes that have made Virgin America a customer favourite. For Alaska, a large part of the benefit clearly is that Virgin America will not be combining with jetBlue, bringing a powerful combination into its backyard.

Of course, all of those assumptions are predicated on the companies receiving approval for their tie-up from the US government, and on how the proposed merger fits into the government's agenda. Combined, with the right product, these two airlines could inject some viable competition into the US market. It can only be hoped that US regulators reach the same conclusion.