Virgin America expands capacity "rationally", targeting unit costs below Southwest Airlines
Analysis
Virgin America is assuring investors that its resumption of double digit capacity growth during 2016 is rational, and will allow the airline to keep costs flat or down, and unit revenue flat or growing. The airline's ultimate target is a unit cost level excluding fuel that is lower than Southwest Airlines. The airline's confidence in reaching its cost target is driven by its young fleet, forging favourable fleet financing arrangements and labour productivity.

Although Virgin America has provided guidance of unit revenue contraction in 3Q2015, it was one of the few US airlines to post gains in that metric during 1H2015. The company has concluded that it is shielded from some of the revenue headwinds its legacy competitors face, including foreign currency exposure.

As Virgin America resumes growth it anticipates adding one to two new markets per year, recently citing Sacramento and Denver as holes in its network. Although the airline continues to face pressure in its key transcontinental markets, Virgin America believes it is in a solid overall position to exploit new opportunities in the US market.
Virgin America so far seems to be weathering increased competition in transcon markets
Virgin America was one of the few US airlines to actually post unit revenue gains in 1H2015, joining JetBlue in recording an increase. Delta, American, United, Alaska and Southwest all posted decreases in the low to mid single digits.
Passenger unit revenue increase/decrease of select US airlines: 1H2015

The ability of Virgin America to attain positive unit revenue growth was against the backdrop of increased competition in its most important transcontinental markets from American, Delta, and JetBlue, which have added a flatbed premium product to their transcontinental flights from New York JFK to San Francisco and Los Angeles – Virgin America's two largest domestic markets measured by ASMs.
Virgin America top ten domestic routes by ASMs: 5-Oct-2015 to 11-Oct-2015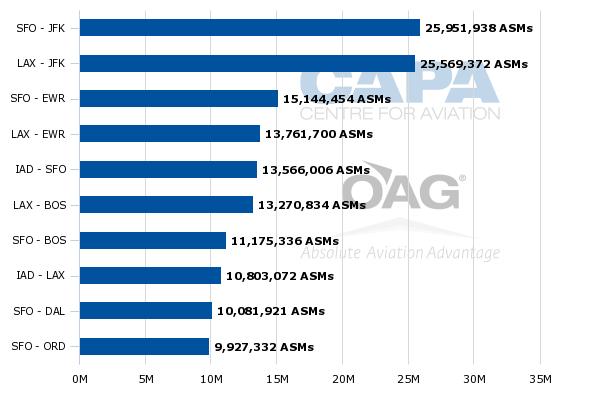 JetBlue with its premium product has added a lot of capacity into the transcontinental markets with introductory fares for the Mint offering of USD599. Virgin America CEO David Cush recently acknowledged that Virgin America is suffering a unit revenue premium to American and United on transcontinental routes, but also stated that American, for example, operates a lower density Airbus A321 on certain transcontinental routes with 102 seats, 30 of which are first and business flatbed seats.
Mr Cush argues that American needs to capture a much larger revenue premium to attain the same revenue per trip as Virgin America, which operates its transcontinental routes with 149-seat A320s. If Virgin America operated A321s on transcontinental routes, the configuration would be approximately 180 seats, Mr Cush stated.

Virgin America calculates that its unit revenues between San Francisco and Los Angeles to New York JFK during 1Q2015 were higher than JetBlue. But that could change as JetBlue gears up to add frequency on routes from JFK to San Francisco and Los Angeles beginning in Oct-2015 and continuing through Feb-2016.
Airline unit revenue performance on San Francisco and Los Angeles to New York JFK: 1Q2015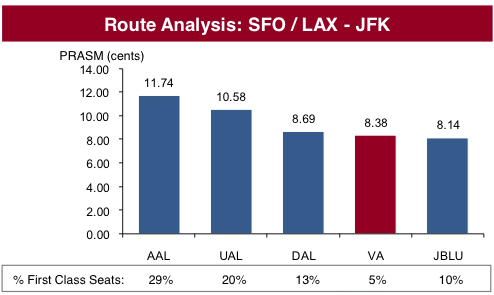 Virgin America views capacity growth from the industry as no problem
Virgin America has previously estimated that its passenger unit revenues should drop between 2% and 4% during 3Q2015, noting that the third quarter is a peak for competitive capacity additions in its markets. The airline has cited capacity growth by Spirit and Frontier in its markets, and pricing actions from Spirit and American. Its forecast drop is still less than the projections of American, United and Delta, which have much more exposure to foreign currency pressure.
Only 2% of Virgin America's ASMs (5-Oct-2015 to 11-Oct-2015) are deployed into international transborder markets in Mexico.

See related report: Virgin America maintains an optimistic outlook despite competitive capacity pressure

In late 2014 Virgin America transferred its existing service from Dallas/Fort Worth to San Francisco and Los Angeles to Dallas Love Field, and expanded its offerings to New York LaGuardia, Washington National and Austin. Southwest Airlines during the last year has also made a huge push from Dallas Love Field after the lifting of the Wright Amendment, creating significant pressure on fares. American has pledged to match the fares of its low cost competitors, which is likely the pressure that Mr Cush was referring to.

Joining other industry executives, Mr Cush noted that investors and analysts have been putting a lot of emphasis on the industry unit revenue decline. But instead of urging investors to focus on top line margins and profits, he offered a different perspective on the unit revenue decline.
In the 2010 and 2011 period industry unit revenue growth settled in the double digits, so extrapolating a 2% industry decline in 2015 as the new normal is not based on facts, said Mr Cush. Even flat industry passenger unit revenues in 2016 show a bit a correction, he stated, adding that he had not seen reckless behaviour by the industry in terms of adding capacity. Mr Cush highlighted that when Virgin America grew its capacity 17% and 29% in 2010 and 2011, its PRASM growth was in the double digits.
Virgin America and industry PRASM growth: 2010 to 1H2015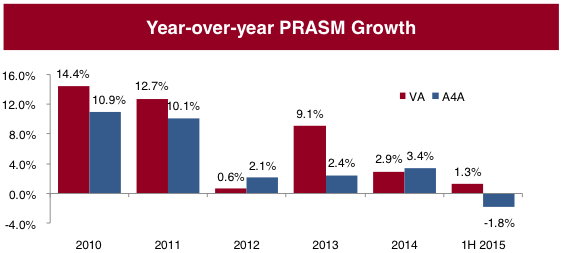 Virgin America forecasts deploying two thirds of capacity into existing markets
While it has taken a breather from its capacity growth over the past couple of years, Virgin America plans 13% to 16% growth in 2016. Mr Cush stated that the airline would grow around 10% for the next number of years. About two thirds of that capacity will be deployed into existing markets and one third to new markets, said Mr Cush, which equated to roughly one to two markets per year. Much of Virgin America's focus in 2015 and into early 2016 is the launch of new flights from San Francisco to Honolulu and Maui. The airline has started FAA proving runs to gain ETOPs certification for the flights, set to begin in Nov-2015 and Dec-2015.

Although the viability of Virgin America's Hawaii flights has garnered much attention given the return to overcapacity in the Hawaii-US mainland market, Mr Cush stated that the airline's expectation is that Hawaii would be a small but important part of its network.

Mr Cush highlighted Sacramento and Denver as two important markets that Virgin America is not yet active in that would enhance its network utility, which indicates where the airline may opt to deploy some of its new aircraft (10 are scheduled for delivery in 2016).
Other markets that Virgin America does not serve from San Francisco include Atlanta, Phoenix, Philadelphia, and Minneapolis.
With the roughly 10% capacity growth rate, Mr Cush concluded that Virgin America could keep its unit cost flat or post decreases, and keep unit revenues flat or record increases in that metric. For 2016 the airline is forecasting a 1% to 2% decline in unit costs excluding fuel.
The drivers of that performance are a young fleet, with an average age of 6.4 years, favourable aircraft financing and higher employee productivity. Virgin America pilots average roughly 61 hard block hours per month, said Mr Cush, versus an average 51 for low cost airlines (Southwest, JetBlue, Frontier and Allegiant).
Virgin America average fleet age as of 6-Oct-2015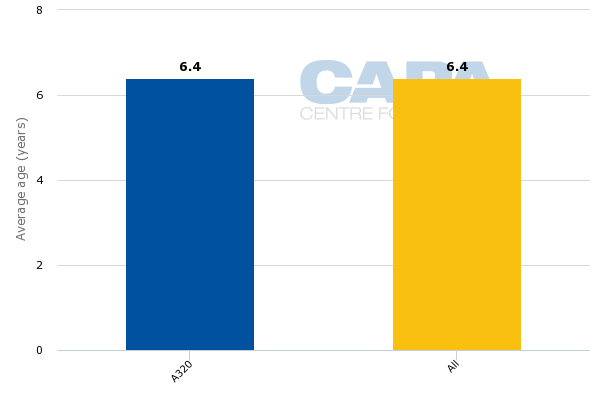 Virgin America views Southwest and JetBlue as its peer set in terms of cost comparisons. Mr Cush maintains it is arguable at the moment whether Virgin America has lower unit costs than JetBlue, and that the airline's ultimate goal is to drive its unit costs below Southwest.
On an unadjusted stage length basis, Virgin America's unit cost of USD7.53 (excluding fuel, special items and profit sharing) in 1H2015 was lower than JetBlue and Southwest.
But Virgin America with its concentration of transcontinental flights also has a higher stage length than those airlines. However, Virgin America's average stage length did fall 1.5% year-on-year in 1H2015.
Virgin America, JetBlue and Southwest unit costs excluding fuel and profit sharing: 1H2015
| | | |
| --- | --- | --- |
| Airline | Unit Costs | Average Stage Length |
| Virgin America | USD7.53 cents | 1,423 miles/2,290km |
| JetBlue | USD7.75 cents | 1,091 miles/1,755km |
| Southwest | USD7.89 cents | 748 miles/1,195km |
Virgin America is showing solid progress; now, sustaining the momentum is key
Virgin America has been profitable in 2013 and 2014, reversing an extended trend of unprofitability. Its unit revenue performance held up during 1H2015, and it is pledging rational capacity growth after hitting a ceiling of 29% in 2011. Virgin America's planned increases do not appear to have shaken investors as much as Spirit's average 20% growth during the next few years, but Spirit's unit revenue declines have been much sharper than the industry average.

There is likely lingering scepticism about Virgin America's ability to profitably execute its expansion given its target markets are legacy strongholds and where it caters to the same passenger segments as the large three US airline and Southwest and JetBlue.
But Virgin America seems to be offering a clear cut definition of its strategy, and for now is producing solid results. The key now is to sustain the momentum.

See related report: Spirit Airlines' expansion & unit revenue declines concern Wall Street, but are central to the model