Virgin America cites a positive performance for Hawaii while pricing in Dallas continues to suffer
Analysis
Although capacity has recently decreased in the Dallas market pricing remains under pressure, which has triggered Virgin America to trim some capacity on its routes from Dallas Love Field, starting in 2Q2016. For the last year, Dallas has been mired in outsized capacity growth and lower pricing. But Virgin America has concluded that the pressure it is experiencing is no longer driven by a supply and demand equation, but rather a decision by its competitors to trade yield for load factor. Virgin America is opting to reduce its exposure to the depressed fare environment instead of engaging in similar behaviour.

Virgin America plans to deploy some of the capacity that it is cutting from Dallas in 2016 to new flights from its Los Angeles base to Honolulu and Maui. Those new routes follow the debut of service to those Hawaiian markets from the company's San Francisco base in late 2015. Despite entering routes to Hawaii that are already heavily populated by other airlines, Virgin America is pleased with its performance in those markets.

The airline is forecasting a 3% to 5% drop in passenger unit revenue for 1Q2016, while capacity for the full year of 2016 is growing 14% to 16%. Aside from the situation at Dallas, Virgin America remains optimistic about the performance of its network. However, similarly to the state of most US airlines, there will likely be no positive PRASM traction for the airline until 2H2016 at the earliest.
Capacity cuts do little to drive pricing traction in the contested Dallas market
Virgin America's 4Q2015 passenger unit revenues fell 5.1% year-on-year, slightly higher than its original guidance of a 3% to 5% decline. In 4Q2014, the company benefitted from a 1% gain to its original year-end estimates, so stripping out that gain, Virgin America's PRASM fell roughly 4% in 4Q2015.

Southwest made a huge push from Dallas Love Field in late 2014 that continued in 2015, which produced outsized capacity growth in the market and pressured fares. All airlines serving Dallas felt the sting of the pricing pressure created by Southwest's expansion.

At the end of 2015 Virgin America was encouraged by industry capacity reductions in Dallas for 1Q2016. The airline estimated that capacity from Dallas to New York and Washington, DC, was falling by double digits in the first three months of 2016. But the reductions have done little to improve pricing.

See related report: Virgin America expects positive industry capacity reductions in Dallas during early 2016

Virgin America CEO David Cush recently stated that yields are still "looking for a bottom" in Dallas as the region's two largest airlines American and Southwest are engaged in price discounting. He cited the example of fares as low as USD41 between Dallas and New York LaGuardia that were available in Mar-2016.

Virgin America conducted an analysis of data from the US Department of Transportation from 3Q2015 (the latest available). Using flights from Dallas (DFW and Love Field) as an example, Mr Cush stated that American and Southwest were selling approximately half of their fares below USD100 and posting 90% load factors. He concluded that selling "half the airplane for under USD100 is not explained by supply and demand".
Virgin America does not expect a bottoming-out on yields in Dallas during early 2016
Virgin America plans to trim some capacity in Dallas in 2Q2016 and 3Q2016; however, the airline remains committed to the market. Its routes from Love Field include Los Angeles, San Francisco, Washington National, New York LaGuardia and Las Vegas.

Mr Cush highlighted that Dallas is the fourth or fifth largest corporate market in the US, and Virgin America is simply making adjustments to minimise the financial impact of the current yield environment until the market normalises. "We are simply not matching those fares," said Mr Cush.

It is tough to predict when that could occur. Mr Cush stated that the pricing environment from 3Q2015 to 4Q2015 was flat or marginally worse, and it does not look like "we hit an inflection point in the first quarter [1Q2016] either".
Elsewhere, Virgin America has the benefit of relative stability as transcon pressure eases
Apart from Dallas, Virgin America cited reasonably positive trends in other regions in its network. The airline's short haul markets on the US West Coast are delivering positive PRASM, said Mr Cush.
Los Angeles to San Francisco and the return route are Virgin America's top domestic markets measured by seat deployment for the week of 22-Feb-2016 to 28-Feb-2016.
Virgin America top 10 domestic routes by seats: 22-Feb-2016 to 28-Feb-2016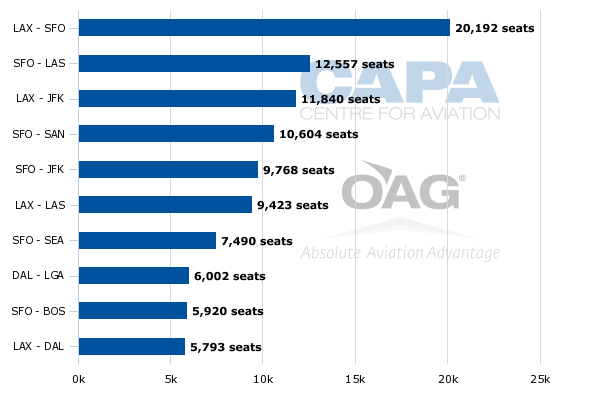 The pressure from introductory pricing on jetBlue's premium product (Mint) that Virgin America faced throughout 2015 in its New York transcontinental markets also seems to be easing. The company's passenger unit revenues on routes from JFK fell 8% year-on-year in 2Q2015, but Mr Cush explained that based on publicly available data, Virgin America is broadly at PRASM parity with JetBlue on flights from New York JFK to Los Angeles and San Francisco.

During the last couple of years Virgin America has fielded questions about its decision not to follow rivals jetBlue, American, Delta and United in offering a lie-flat premium seating option for its customers. Essentially, the airline has concluded that the revenue benefits do not outweigh the cost and complexity of operating a sub-fleet of aircraft with lie-flat seats on certain routes. In early 2016 Mr Cush observed that there are still a number of USD799 first class transcontinental fares in the market place. "Our math just can't justify a lie-flat seat for USD799", he stated.

Virgin America also faced increased pressure from United in 2015 when the US major airline opted to move its premium PS service, featuring lie-flat seats, from JFK to its Newark hub. Virgin America competes with United on its routes from Newark to Los Angeles and San Francisco. Mr Cush has stated that transcontinental unit revenues have been fairly stable since United made the change, and overall those New York transcontinental markets (from JFK and Newark) remain stable.
Virgin America opts to up the ante with new flights from Los Angeles to Hawaii
In late 2015 Virgin America launched new flights from its top base and headquarters in San Francisco to Honolulu and Maui. Both markets are served by United and Hawaiian Airlines, which combined offer approximately 9,450 one-way seats to Honolulu and 5,950 to Maui. Virgin America has added approximately 1,036 one-way weekly seats on each route, which results in a 10% seat share between San Francisco and Honolulu and a 13% share on service from San Francisco to Maui.
Airline seat share on Virgin America's routes from San Francisco to Hawaii: 22-Feb-2016 o 28-Feb-2016
Mr Cush concluded that average fares in Virgin America's markets had exceeded expectations, and while load factors were a little lower than expected, on balance the airline's performance has been positive on its new routes to Hawaii (versus its forecast).

Virgin America plans further expansion to Hawaii from Los Angeles to Honolulu and Maui in 2016. Five airlines operate between Los Angeles and Honolulu – Delta, United, American, Hawaiian and Allegiant. All of those airlines, with the exception of Allegiant, also offer flights from Los Angeles to Maui.

The new services from Los Angeles to Hawaii by Virgin America, which start in May-2016 and Jun-2016, is not a surprise. The airline has stated its desire to launch trans-Pacific flights to Hawaii from its second largest base, noting that Honolulu was one of two top-ten domestic markets from Los Angeles (based on passengers per day each way) that it did not serve. The other market was Denver. Virgin America plans to launch flights from San Francisco to Denver in Mar-2016.
Virgin America global top 10 hubs/bases/stations by seats: 22-Feb-2016 to 28-Feb-2016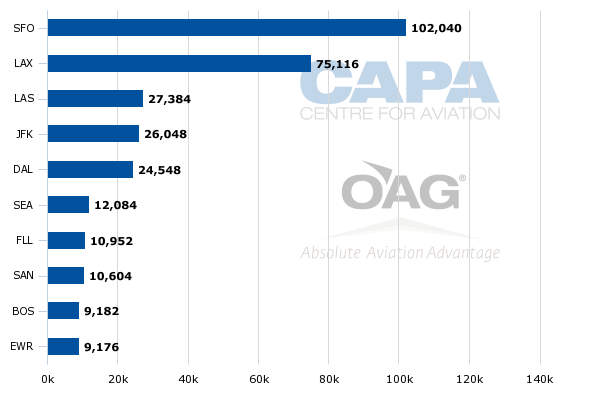 Half of Virgin America's 14%-plus capacity growth in 2016 stems from new markets
Virgin America is taking delivery of five Airbus narrowbody aircraft in 2016 after accepting a similar number of jets in 2015. Approximately half of the company's planned 14% to 16% capacity growth for 2016 is dedicated to new markets. Part of the growth comes from adding back frequencies on routes that were cut to fund growth at Love Field, while Virgin America posted flat capacity growth from 2013 to 2014.

The airline is resuming growth at a time when lower fuel prices are driving industry capacity increases and generally lower fares. Virgin America's projected 3% to 5% PRASM decline for 1Q2016 is lower than the 6% to 8% decrease forecast by American and United, and the 2.5% to 4.5% decline projected by Delta. No airline is venturing to make a guess on when PRASM may turn positive but it is not likely to occur at Virgin America until 2H2016 at the earliest, as the airline moves capacity out of Dallas and works to build up new markets in Hawaii.
Virgin America's handling of 2016 capacity growth could draw close scrutiny from investors
Virgin America has faced challenges during the last year in both New York and Dallas, but the pressure in New York seems to be moderating in early 2016. The weakness in Dallas, however, does not show any signs of improving over the short term.
Yet Virgin America remains steadfast in its belief that Dallas is important for its network over the longer term. Much of the PRASM pressure it faces in 1Q2016 is likely driven by the lack of pricing traction in Dallas.

The company's planned capacity growth for 2016 is among the highest for US airlines. Virgin America is working off a much smaller base than any of its US peers, but its ability to navigate capacity expansion could come under heightened scrutiny from investors who are investing for a sustained positive financial performance. They will probably be encouraged by the airline's rational behaviour in the Dallas market, while watching the progress of the new Hawaii services.