Vanilla Air and All Nippon Airways deploy dual-brand strategy on Tokyo-Hong Kong route
Analysis
LCCs are kickstarting growth between Hong Kong and Tokyo, a route that has seen relatively flat capacity in recent times but in Mar-2015 will be 27% larger than a year prior, making Hong Kong-Tokyo Asia's 15th largest international route based on seat capacity.
Mar-2015 seat capacity will be the highest in nearly a decade. LCCs in Mar-2015 will comprise 20% of seat capacity, up from zero a mere 18 months prior. HK Express will offer three daily flights – giving it more capacity than Japan Airlines – while Vanilla Air will have double daily services. Vanilla's bold growth comes as owner All Nippon Airways launches its own overnight flights to target the leisure segment. The dual-brand strategy between the two centres on ANA's Haneda base and full-service offering while Vanilla is low-cost and based at Narita.
ANA's growth will largely preserve its Hong Kong-Tokyo market share while Vanilla Air will help ANA grow. HK Express is also gaining in market share while Cathay Pacific and Japan Airlines, which do not have LCC units on the route, are losing share - although Cathay still accounts for about half of the market.
Vanilla Air made Hong Kong its third international route following the launch on 02-Nov-2014 of three times weekly Tokyo Narita-Hong Kong service with 180-seat A320 aircraft. Vanilla will gradually increase frequency on the sector to daily from 01-Feb-2015 and to twice daily from 21-Feb-2015, coinciding with the delivery of its seventh and eighth A320 aircraft. At the same as announcing Hong Kong, Vanilla disclosed plans to launch service in 2015 to Kaohsiung in Taiwan.
The quick build to double daily Hong Kong service was perhaps necessitated by a decreasing pool of slots at Hong Kong but was nonetheless particularly bold for Vanilla Air, which has so far seemed relatively conservative in its launch and growth. Vanilla Air executive vice president – operations Hiroshi Kitahara told CAPA's recent Aviation Summit and LCC Congress that the carrier hopes to stimulate Japanese traffic, which has waned, and also carry Hong Kongers to Japan.
Vanilla Air Executive Vice President – Operations Hiroshi Kitahara discusses Vanilla's recent performance and growth: Oct-2014
ANA offers overnight Tokyo-Hong Kong service
ANA in Oct-2014 announced a new three weekly overnight service between Tokyo Haneda and Hong Kong. ANA's capacity in Hong Kong has been relatively flat over the last two years. The overnight service makes use of aircraft that would have largely sat on the ground, including one aircraft that would have overnighted at Hong Kong. ANA found recent success in an overnight service between Okinawa and Tokyo.
ANA commenced the service with a widebody initially only carrying freight but then expanded the service to include passengers during the peak northern summer travelling period. ANA branded this its "Galaxy" service in a nod to the back-of-the-clock hours the service operated.
The new service leaves Saturday, Sunday and Monday at 01:25 from Haneda and arrives in Hong Kong at 05:25. The return service (using a different aircraft) leaves Hong Kong also on Saturday, Sunday and Monday at 01:05 and arrives into Haneda at 05:55. The flights allow for maximum visiting in either city while minimising hotel costs. HK Express has also found some Japanese business travellers using its overnight flight to Haneda in order to work a full day on Friday and be home Saturday morning. They can then leave Tokyo early Monday morning and arrive in the office a bit late, but were able to spend the weekend with their family at a price point full service airlines did not previously make possible.
A spot check on fares shows that when booking ex-Japan, ANA's overnight service is the same price as daytime flights, and these fares are higher than when booking ex-Hong Kong, consistent with the general trend of fares ex-Japan being more expensive, especially on Japanese carriers. When booking ex-Hong Kong, a HKD1000 (USD129) discount was offered for the overnight flights. ANA's fare was about HKD500 (USD64) more than HK Express' Haneda service. ANA's fare includes baggage and meals, which HK Express excludes. HK Express however offers more lower-priced fares across the week, in addition to the ability to have an open-jaw low fare ticket.
ANA's new overnight service overlaps (three times a week) with Vanilla Air. The two will both have a post-midnight departure, ANA around 01:00 and Vanilla 02:00. ANA however will go to Haneda and Vanilla to Narita, with Vanilla's later departure and Narita base making it more difficult to be at work at the start of the day.
Vanilla's new service will also overlap with ANA's existing mid-day departures, but once again there is segmentation between Haneda and Narita as well as ANA offering a full service. Some ANA flights will especially target onward connections, mainly long-haul international, which ANA is building and Vanilla does not serve.
ANA and Vanilla Air typical arrival and departure times in Hong Kong to/from Tokyo: Mar-2015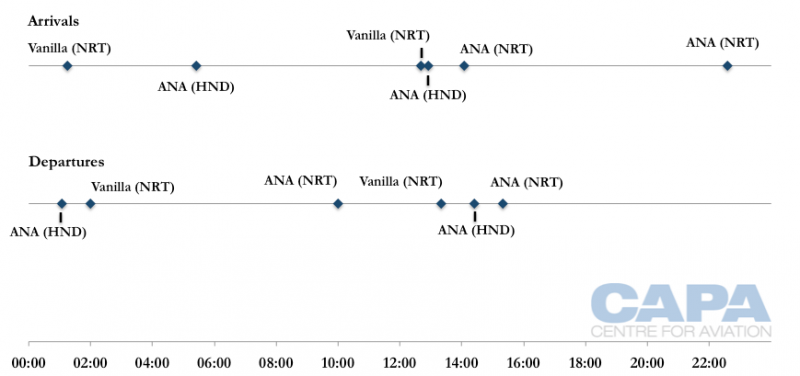 Vanilla Air is helping ANA increase its group marketshare between Hong Kong and Tokyo
ANA's new overnight service will marginally increase the airline's marketshare between Hong Kong and Tokyo by about 1ppt to just under 20% in Mar-2015 compared to Mar-2014, according to OAG data. However, Vanilla will contribute an 8ppt gain to ANA's group marketshare, bringing the group marketshare to 28%.
It appears that without an LCC arm, ANA would have found it difficult to grow its group position meaningfully in the Hong Kong-Tokyo market. ANA's most notable market share gain is in the budget sector.
Monthly seat capacity between Hong Kong and Tokyo (all airports) by carrier: Jan-2011 to Mar-2015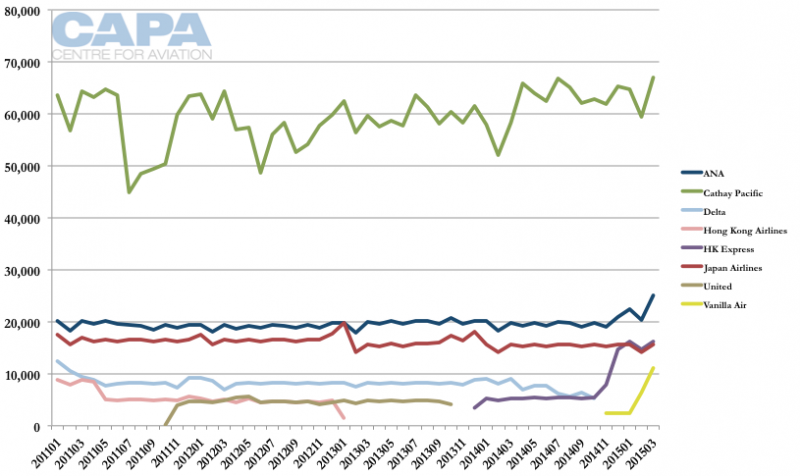 These gains are coming at the expense of Cathay Pacific and Japan Airlines, both which do not have a LCC division in the Hong Kong-Tokyo market. JAL is keeping its capacity flat in Mar-2015 from Mar-2014 levels and will see its marketshare decrease from 15% to 12%.
Cathay Pacific is growing Tokyo seat capacity in Mar-2015 by 17% compared to Mar-2014 levels, but this is below the average growth rate of 27%. Cathay's market share between Tokyo and Hong Kong will decrease from 53% to 49%, still a powerful position.
LCCs will help Hong Kong-Tokyo capacity reach new levels
The Hong Kong-Tokyo market in recent years has experienced limited capacity changes from the main full-service airlines (ANA, Cathay and JAL). This is also true when looking at the market excluding Delta and United, which carried a small amount of local traffic using their fifth freedom rights. The market starts to change in late 2014 with the entry of Vanilla Air and growth of HK Express, contributing to growth not seen in recent years. Mar-2015 seat capacity will be the largest in a decade, surpassing previous highs in 2004 and 2005 (and briefly in 2007) although those periods also saw capacity from Delta (via merger partner Northwest) and United.
Despite the surge in capacity in late 2014 and early 2015 (light gray line in the graph below), the capacity from full-service airlines (ANA, Cathay and JAL, brown line in the graph below) shows only little change compared to previous years; it is LCCs that are bringing the market to new highs.
Monthly seat capacity between Hong Kong and Tokyo (all airports): Jan-2011 to Mar-2015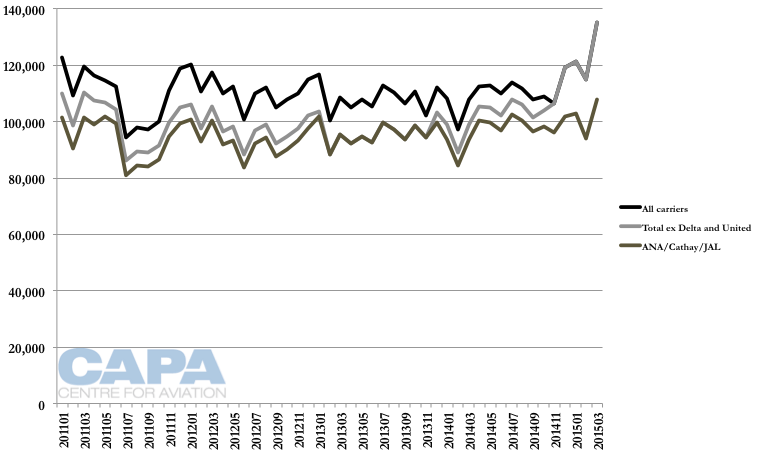 LCCs will comprise 20% of the Hong Kong-Tokyo route
HK Express operated a single daily Hong Kong-Tokyo Haneda service in Mar-2014, giving it an approximately 5% share of the market. By Mar-2015, when HK Express has two daily Hong Kong-Tokyo Haneda and one daily Hong Kong-Tokyo Narita service, HK Express will have a 12% share of the market. HK Express will have slightly more capacity between Hong Kong and Tokyo than Japan Airlines, according to OAG data.
HK Express' share in addition to Vanilla Air's 8% share will mean LCCs will comprise 20% of seats in the Hong Kong-Tokyo market, up from zero a mere 18 months prior.
This 20% LCC penetration rate is twice that of the approximately 11% share of seats LCCs account for in all travel within Northeast Asia. In Nov-2014 LCCs account for 8% of all seats in Hong Kong and 10% of international seats in Japan, further demonstrating the gains made between Tokyo and Hong Kong, although the Hong Kong and Japan figures are somewhat distorted by the number of long-haul flights.
LCC Capacity Share (%) of Total Seats within Northeast Asia: 2001 - 2014*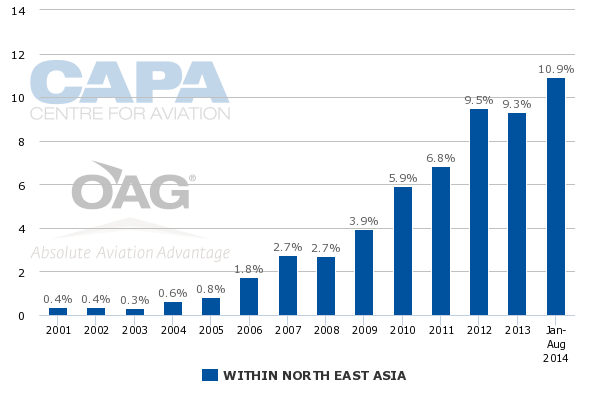 Further LCC market share growth is likely as fares remain high. HK Express has also already used up available frequencies to Tokyo Haneda, so absent an expansion of those rights, further growth would be at Tokyo Narita. Although Narita is typically less convenient to arrive at for those staying within Tokyo city, Narita provides a different catchment area than Haneda for those not in the city proper.
The other two LCCs based at Tokyo Narita, Jetstar Japan and Spring Airlines Japan, have been operating domestic services since their launch (2012 for Jetstar Japan, Aug-2014 for Spring Airlines Japan). Both have spoken of opening international services in 2015. Spring Airlines Japan has said it plans to launch service between Narita and 10 Chinese cities from spring 2015, with two to four of those destinations in 2015 and the others in subsequent years.
Service to mainland China is most logical given the local presence of part-owner Spring Airlines based in Shanghai. Spring Airlines Japan can serve China-Japan routes that Spring (China) cannot. Hong Kong would be a lower priority for Spring Airlines Japan. Spring's visibility in Hong Kong is much lower than in mainland China.
Jetstar Japan would likely enter the Tokyo-Hong Kong market, with Jetstar Japan's future size partially dependent on how much capacity Jetstar Hong Kong would put into the market, if and when it is approved and launched. All services will be partially dependent on the increasingly constrained slots at Hong Kong, including limits on overnight services that are ideal as they boost aircraft utilisation.
Three airlines have exited the Tokyo-Hong Kong market
Although there is strong growth in the Tokyo-Hong Kong market, three airlines have exited, although these have contributed marginally. Delta Air Lines, United Airlines and Hong Kong Airlines have exited the market. Delta and United were primarily providing feed from Hong Kong to their Tokyo-US flights and as such carried a small portion of the Tokyo-Hong Kong market. Their fares were often the lowest although came with low frequency and off-peak timing as the flights were coordinated with trans-Pacific operations.
Hong Kong Airlines exited the market in Jan-2013. Tokyo was not a particularly strong addition to Hong Kong Airlines' focus of providing connections between mainland China and Taiwan/Southeast Asia. Tension between China and Japan further weakened the route. Hong Kong Airlines started schedule service to Tokyo in Oct-2010, according to OAG, but in the over two years it operated on the route Hong Kong Airlines never built its schedule above one daily flight.
In comparison, its sister LCC HK Express in just over a year has grown from one to three daily flights in Tokyo alone, demonstrating the demand for cost-efficient point-to-point demand.
Part II of this report will look at the growth between Hong Kong and all of Japan