US widebody aircraft market: Boeing's upper hand in aircraft orders
Analysis
A decision by American Airlines to cancel its order for Airbus A350s and opt for 47 Boeing 787 widebodies surprised no-one. The airline had been hinting for quite some time that the order was somewhat of an outlier as it worked to simplify its widebody fleet for the future.

American's cancellation of its Airbus A350s followed a decision by Hawaiian Airlines to cancel an order for six Airbus A330-800s and instead order 10 Boeing 787-10s. American's and Hawaiian's selection of the 787 has resulted in a diminished widebody order backlog for Airbus in the US.

For now, US airlines appear to have their large widebody order books firmed up for the foreseeable future. But they are eager for mid-market aircraft as the replacements of aging Boeing 757s and 767s, a development that is now the next phase of intense competition for Boeing and Airbus.
Summary
Boeing is now the airframer of choice for American's widebody fleet
Now that American has opted to cancel its order for 20 Airbus A350s (a holdover legacy from US Airways before its merger with American), the airline's changed order represents 65% of the 83 787 jets on order by US airlines.
Orders for all Boeing 787 models by US operators as of early May-2018

Boeing now holds 100% of American's widebody order backlog, and is the provider of approximately 84% of the airline's widebodies in service.
American Airlines widebody in aircraft by manufacturer as of early May-2018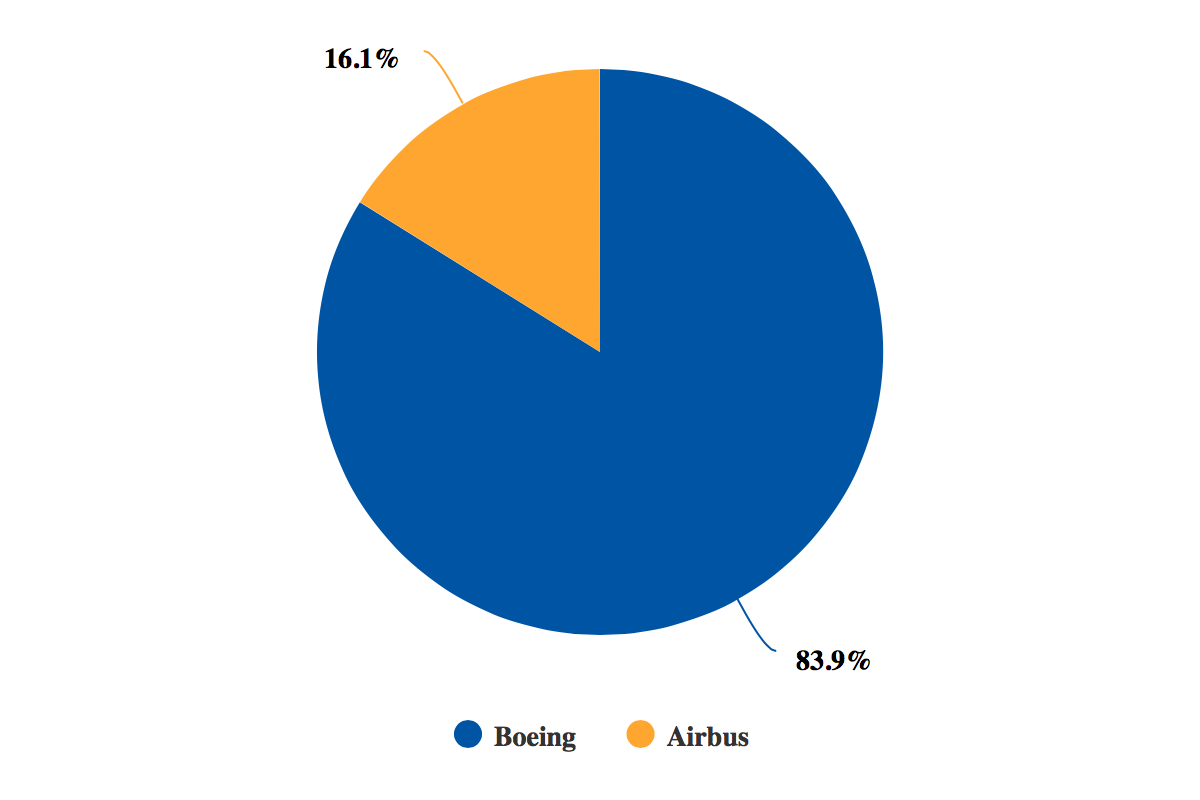 The remaining Airbus widebody variants in American's fleet include 22 A330-200s and nine A330-300 models. Those aircraft have an average age of 10.7 years, according to the CAPA fleet database. American's 787s will replace older 767s, and eventually its A330-300s and some older 777-200s.

At the time that American placed its latest 787 order, the airline also reached a deal with Boeing to defer 40 737 MAX narrowbodies from 2020 and 2022 to 2025 and 2026. It also deferred three A321neo single aisle aircraft from 2021 to 2023. Those deferrals are helping the airline trim its aircraft capexes for 2019 and 2020, which are now forecast at USD2.5 billion and USD1.7 billion, respectively.
United and Delta remain committed to the A350, with a total of 61 orders
United Airlines and Delta are now the only remaining US airlines with A350s on order. American's cancellation results in the A350 order book for US airlines falling from 83 to 61, and United's fleet represents the bulk of those, at 45 aircraft. United has converted an original order for 35 A350-1000s to 45 smaller A350-900s as the replacements of 55 777-200ERs.

Boeing also dominates United's widebody order backlog, representing 69% of the airline's widebody aircraft on order.
United Airlines widebody aircraft on order by manufacturer as of early May-2018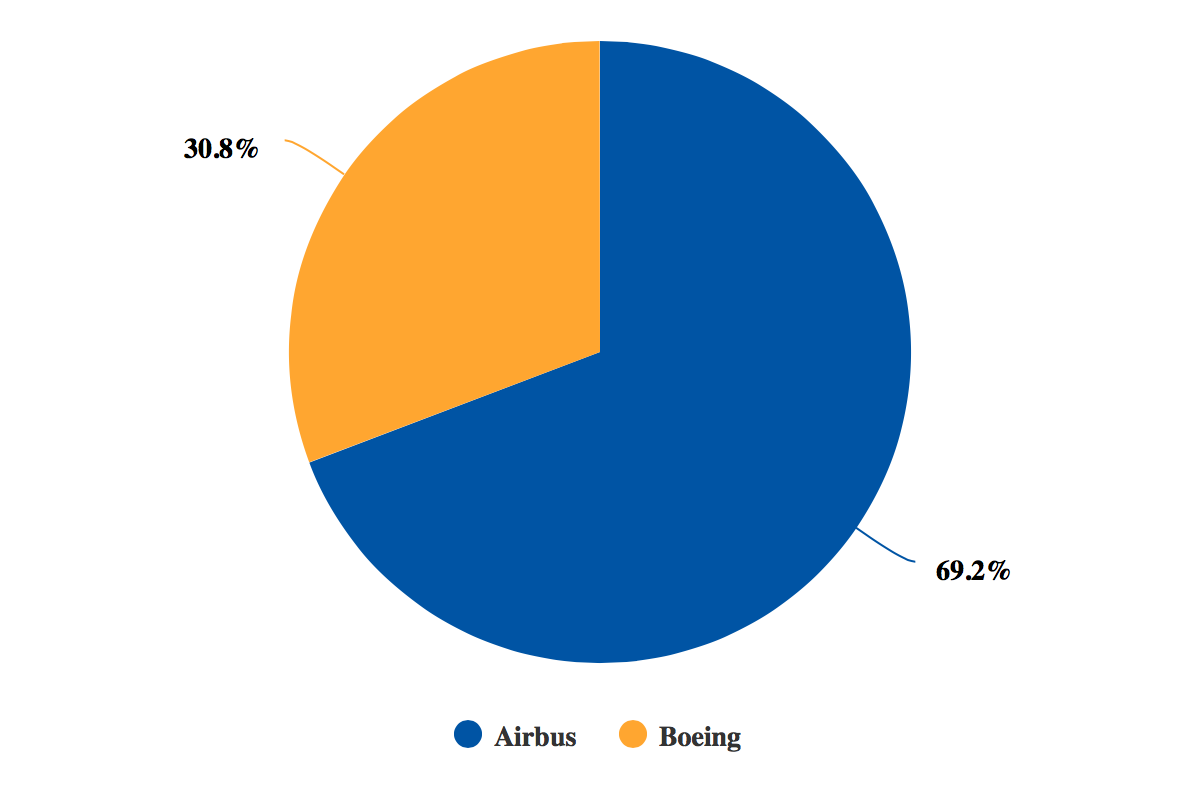 Unlike the widebody order backlogs of its rivals, Delta's is all Airbus
Airbus represents 100% of Delta Air Lines' widebody backlog. The airline has 25 A330s on order, along with 16 A350s. An order for 18 787-8s placed by Northwest before its merger with Delta remained on Delta's books for years, and was finally cancelled in 2016.
Delta Air Lines fleet summary as of early May-2018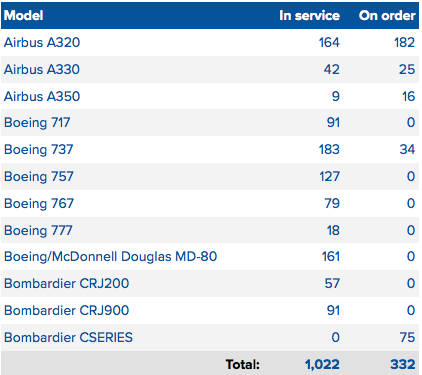 Delta deliveries of its A330neos are scheduled to start in 2018 and it has deferred the delivery of 10 A350s scheduled for 2019 and 2020 by two to three years. The A350s and A330s are replacing Delta's 747s and 767-300ERs.
The middle market competition will soon heat up for Airbus and Boeing
Hawaiian's and American's decisions to nix orders for Airbus widebodies results in US twin aisle operators ironing out their large jet fleets for at least the medium term, with Boeing maintaining an advantage in its key home market.

Now the competition will intensify at American, Delta and United for replacement of their 757s and 767s.
The Airbus A321LR (with a 4000nm range) made its first flight in early 2018 ahead of first delivery. Concurrently, Boeing is still evaluating the development of a middle market aircraft dubbed the 797, with a range of 5000nm and a seating capacity of 225 to 270 seats.

Two years ago JetBlue reached a deal with Airbus to include an option for the A321LR as part of evaluations of launching trans-Atlantic service, and the industry at large is still waiting for the airline to make a decision regarding its long haul aspirations.

JetStar, Aer Lingus, Norwegian, TAP and Air Transat have all placed orders for the A321LR, which is marketed as a 757 replacement. At United, where the average age of its 757s is 21 years and 20.8 years for its 767s, the airline has stated that replacement of those aircraft is a near term target, and the A321LR is a contender for 757 replacements.
United Airlines fleet summary as of early May-2018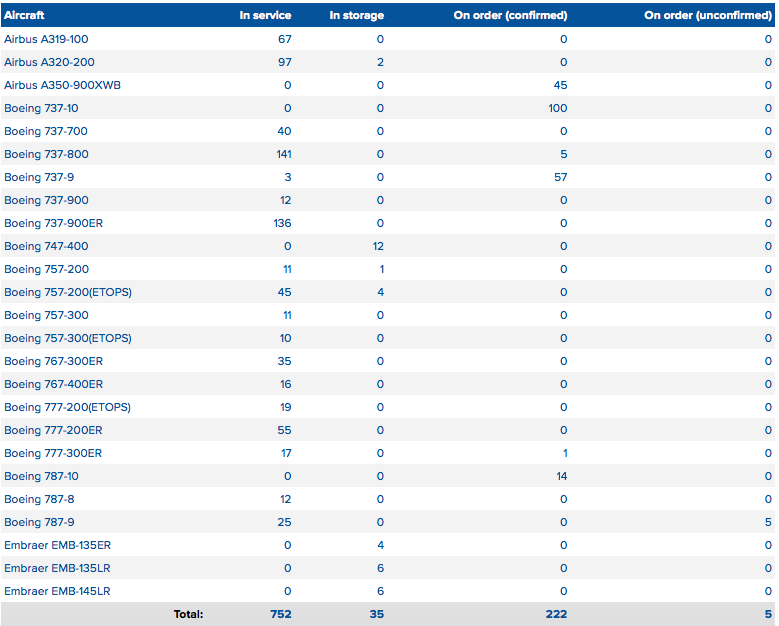 Delta has made an uncharacteristic move in expressing its desire to become a launch customer for Boeing's middle of the market aircraft. Given that Airbus represents 67% of Delta's total aircraft on order (widebodies and narrowbodies), Boeing is no doubt taking notice of Delta's desire for launch customer status.

Delta has a total of 127 Boeing 757s in its fleet, 32 of which are ETOPs certified. The average age of its 757 fleet is nearing 21 years.
Boeing needs to firm up its mid-market plans to remain competitive in the US
US widebody operators have made several adjustments to their order books and delivery schedules during the past two to three years, which has resulted in the firming up of their replacement plans for older twin aisle jets. The result is that there is a level of dominance by Boeing in the US widebody market.

Now Boeing needs to firm up plans for its middle of the market aircraft as some of its most important US customers begin their quest for the best replacement of 757 and 767 aircraft in their fleet.
With Airbus marketing its A321LR with full force, the question for Boeing is not if, but when, it formally announces development and production of its next generation small long haul aircraft replacement.