US major airlines poised to deliver solid 2Q2014 results as N Atlantic overcapacity signs emerge
Analysis
All the major US airlines are projecting strong unit revenue growth for 2Q2014 underpinned by continued strong domestic demand. Southwest so far has the highest projections of 8% while United is reversing a 1Q2014 unit revenue decline of 2% with 3.5% growth year-on-year in 2Q2014.

Although United's estimated passenger unit revenue growth is still trailing its peers, the improvement is encouraging. The airline's unit cost projections for 2Q2014 are also favourable, a welcome sign for investors looking for indications that United is really beginning to clear some major merger hurdles.

There are lingering concerns about a slight capacity imbalance in the trans-Atlantic market and weakness in Latin America triggered by a decline in business demand during the World Cup. But overall the positive momentum from 1Q2014 seems to be continuing for US airlines, which should result in solid profits for the summer high season.
Southwest Airlines emerges as the unit revenue leader for 2Q2014
Southwest Airlines so far has provided the highest estimates for passenger revenue growth among US major airlines, forecasting an 8% rise year-on-year during 2Q2014 and a nice bump from the 3.5% increase recorded during 1Q2014.
Each of the major airlines, with the exception of United, estimates 2Q2014 passenger unit revenue growth in the mid-single digits, and is recording improved results sequentially from 1Q2014, which is typically a weaker period of the year.
US major airline projected 2Q2014 passenger unit revenue growth and 1Q2014 unit revenue results
Southwest's likely owes its strong performance to its larger domestic footprint. Data in CAPA and OAG for the week of 7-Jul-2014 to 13-Jul-2014 show that 99% of Southwest's seats were deployed in the US domestic market compared with 83% at Delta, 77% for United 76% at American and 88% for US Airways (American and US Airways are still in the process of merging).
US major airline seat deployment (% domestic and international): 7-Jul-2014 to 13-Jul-2014
Both Delta and United cited solid domestic demand in their respective revenue forecasts. Delta highlighted some weakness in international markets, particularly in Latin America as corporate demand during the FIFA World Cup soccer tournament held in Brazil weakened. American, which is the largest carrier between the US and Latin America, also made similar assessments about the region.

See related report: American Airlines indicates its positive momentum is continuing in 2Q2014

For the 6M ending Jun-2014, Delta had the most rapid growth among US major airlines to Latin America, increasing its traffic to the region by 22% year-on-year on 21% capacity growth, which led to a 0.4ppt rise in load factor to 83%. However, on a seat deployment basis, Delta still lags behind American, which combined with US Airways holds 34% of the seats deployed from the US to upper South America (based on CAPA and OAG data for the week of 7-Jul-2014 to 13-Jul-2014, US Airways holds a 2% share).
Both Delta and United each hold an approximate 11% share of the seats deployed in the region. TAM, part of LATAM Airlines Group, also has an 11% share.
Delta is the latest airline to cite industry capacity increases in international markets
Delta expects system-wide capacity for 2Q2014 to rise 3% versus a 0.1% increase at United. American has estimated a 3% increase in supply for CY2014, with 6% of that overall total dedicated to international markets.

Delta, which recorded a 4.5% rise in unit revenue year-on-year in Jun-2014, observed that its international yields for the month were offset by industry-wide capacity increases. Air France-KLM (Delta's SkyTeam trans-Atlantic joint venture partner) and Lufthansa in particular have expressed concern about oversupply in the trans-Atlantic markets.

For 1H2014 Delta's supply in its Atlantic markets decreased 1.5% while traffic grew 0.3%. United's trans-Atlantic supply was essentially flat at 0.9% growth while its traffic increased 0.6% year-on-year. American's trans-Atlantic capacity jumped 7.5% while traffic increased 3.5%. American has stated that it does not see an over-supply scenario within the trans-Atlantic market place, and ASMs are essentially trending in-line with demand.

Data from CAPA and OAG show that for the week of 18-Jul-2014 seats from the US to Western Europe are growing roughly 10% year-on-year to approximately 783,232.

American's seat growth is essentially flat year-on-year, while US Airways' seat supply is jumping roughly 14%. Legacy US Airways serves many secondary European destinations in the high season, and prior to the merger with American cited healthy point of sale corporate demand in its European markets. Delta's seats year-on-year for the week of 18-Jul-2014 from the US to Western Europe are also essentially flat while Air France is showing 3% growth.
American's oneworld JV partners British Airways and Iberia have increased their seat counts by 12% and 44%, respectively.
United States to Western Europe (seats per week, one way): 19-Sep-2011 to 4-Jan-2015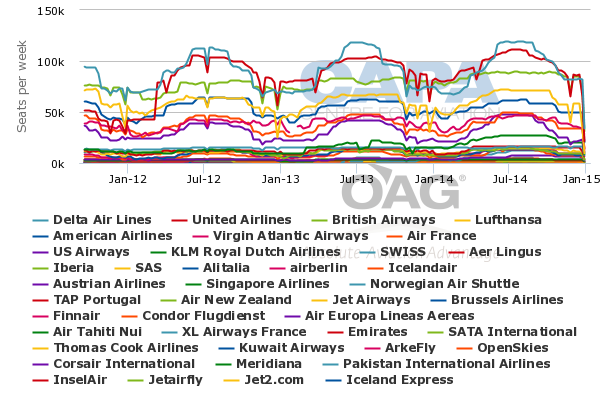 Even as it seems logical that the increased capacity within the market place should be absorbed, commentary from Delta, Air France and Lufthansa shows that some of the increase in supply may be eroding pricing in the trans-Atlantic. US airlines for now seem to be offsetting that pressure with healthy domestic demand.
Both Delta and United should post a favourable unit cost performance in 2Q2014
In tandem with solid unit revenue projections, but Delta and United have also estimated favourable ex-fuel unit costs estimates for 2Q2014. Delta forecasts flat to 1% growth and United estimates flat growth for the period.

After recording 3% unit cost growth in 1Q2014, United has previously concluded that in 2H2014 its unit costs excluding fuel should increase less than 1%. That seems to be one area of improvement where the airline is delivering on its promises.

See related report: United Airlines: time to deliver as sceptics look for improved fortunes in 2Q2014

Delta attributes its favourable cost performance to its fleet revamp that includes the shedding of 50-seat regional jets for the larger Boeing 717s it is acquiring from Southwest.

American's cost projections are a bit higher as the carrier expects mainline unit costs to grow 1% to 3% year-on-year during 2Q2014 and for CY2014. Unit costs in its regional operations are projected to increase 5% to 7% year-on-year in 2Q2014. With the merger there are a lot of moving parts to American's cost puzzle, including the delivery of 83 mainline aircraft and 43 regional jets during 2014.
US airlines should post strong results for the summer travel season
On balance, prospects look positive for US airlines in 2Q2014 even if there is some underlying concern about the supply-demand balance in certain regions. There also seems to be slight improvement in areas that have produced weak results during the past year as United in its 2Q2014 guidance cited a better than expected performance in its Pacific entity, which has generally underperformed due to the weak yen and increases in industry capacity.

Fortunately there seem to be more encouraging signs than discouraging trends for US airlines as the summer high season gets underway. Now those airlines just need to fully master sustaining that strong performance during the weaker periods of the year.
With the majority of US airlines posting profits during the first quarter, perhaps they are moving closer to their goals of prolonged stability. That is, of course barring market share capacity battles or major external shocks.
The most likely territory for readjustment of market shares is visibly on the North Atlantic, where American and its oneworld partners are adopting a different strategy and where Delta is still adjusting to using its new acquisition, Virgin Atlantic. Here Delta in particular is taking a very conservative approach, betting too that Latin American markets will improve post World Cup - even though they didn't win.