US legacy airlines enjoy a heyday while ULCCs face margin pressure
Analysis
United Airlines believes an inversion is occurring in the US airline industry with ultra-low cost airlines, which were previously outperformers, battling margin pressure while legacy airlines are holding their own.
Now the question is if this is a permanent reversal of fortune, or just an aberration due to a myriad of factors ranging from air traffic control and supply chain constraints to shifting preferences among passengers to a more upscale experience.
Only time will tell how long legacy airlines will have the upper hand, but for now those operators are confident in their prospects for the near future.
Summary
United Airlines cites an inversion in the US airline industry structure.
US legacy airlines do not see the same type of demand erosion as their lower cost peers.
The ULCC Frontier Airlines focuses on cost control to overcome current challenges in the US market.
Passenger preference for a premium experience shows no sign of waning.
The ability of US budget airlines to overcome current challenges will be carefully watched.
Softer demand and growing fuel costs pressure US ULCC margins
Back in 2019, the margins of US low cost and ultra low cost operators were two to three times the margins of legacy airlines, said United Vice President Corporate Development & Investor Relations, and President of United Airlines Ventures Michael Leskinen during the Morgan Stanley Annual Laguna Conference on 13-Sept-2023.
But now, as US lower cost operators issue updated third quarter guidance, "...you've seen a complete inversion of the industry structure," he said.
Frontier Airlines and Spirit Airlines have both lowered their margin guidance for 3Q2023, due in part to rising fuel prices, and in the case of Frontier, sales trending below historical seasonality patterns in recent weeks. Spirit pointed to heightened promotional activity with steep discounting for the second half of 3Q, through the pre-Thanksgiving travel period in the US.
Denver-based Frontier has lowered its adjusted non-GAAP pretax margin for 3Q to negative 4%-7%, from a previous estimate of a positive range of 4%-7%. Spirit expects an adjusted operating margin of negative 14.5% to negative 15.5%, compared with a prior projections of a negative 5.5%-7.5% operating margin.
United did adjust its fuel cost guidance of 3Q from an average price per gallon of USD2.50-USD2.80 to USD2.95-US3.05, but its previous guidance of revenue growth of 10%-13% year-over-year remains intact.
US legacy airlines fare better than their ULCC counterparts in 3Q2023
Mr Leskinen believes some of the flip in performance for United specifically is focusing on its competitive advantages, including cabin segmentation, driving business through the company's direct channels, driving costs down by focusing on hub connectivity, and upgauging aircraft rather than adding frequencies.
Another change, said Mr Leskinen, is "...we're not spilling traffic, we're not trying to add new points to the map. We're flying where we have customers today, where we know demand exists, where we can provide a superior product because of the way we run our business".
The spate of constraints on US airlines, including air traffic control challenges, supply chain issues and pilot availability, "...have all contributed to this flipping of the industry dynamic around margin," said Mr Leskinen. He also explained that the domestic market is a bit tougher than international, "...but we knew that going into the quarter [3Q]".
The question, Mr Leskinen stated, is whether there is some divergence within the domestic market that is causing a different outcome.
"I would say…if you are growing into new markets, putting new dots on the map domestically, the revenue degradation you get from that versus the type of growth that United is leading is very different," Mr Leskinen said.
Delta Air Lines' President Glen Hauenstein, speaking at the same conference, explained that the company (Delta) was surprised to see the demand commentary from other US airlines.
He added that budget airlines tended to be some of the fastest growing airlines, "so maybe they're a little bit over their skis in terms of allowing the demand sets to catch up".
Delta sees "...really strong, particularly business and high yield demand through the fall," said Mr Hauenstein.
United's head of investor relations did acknowledge that the macroeconomy would ebb and flow, and there is more concern about a recession today than three months ago.
"This is not me head in the sand saying everything is roses. But we are going to deliver on the third quarter as we thought we would deliver…", said Mr Leskinen.
Delta did refine its operating margin guidance for 3Q2023 from a previous forecast of mid-teens to 13%. American revised its operating margin for the quarter from 8%-10% to a new projection of 4%-5%.
Similarly to all operators, both airlines are navigating through higher fuel costs; however their margins remain solidly positive.
Frontier adapts its network to counter air traffic control challenges in the US
Frontier's CEO Barry Biffle also spoke at the Morgan Stanley conference, and added some additional commentary to the airline's outlook.
During the past couple of weeks industry sales have gone from being flat compared with 2019, to decreasing. "And that's coming at time when capacity is going up", Mr Biffle said, along with increasing fuel costs.
Data from CAPA - Centre for Aviation and OAG show that US domestic available seat kilometres (ASKs) are higher for the typically slower season that starts in September of each year.
US: weekly domestic ASKs from 2019 to Sep-2023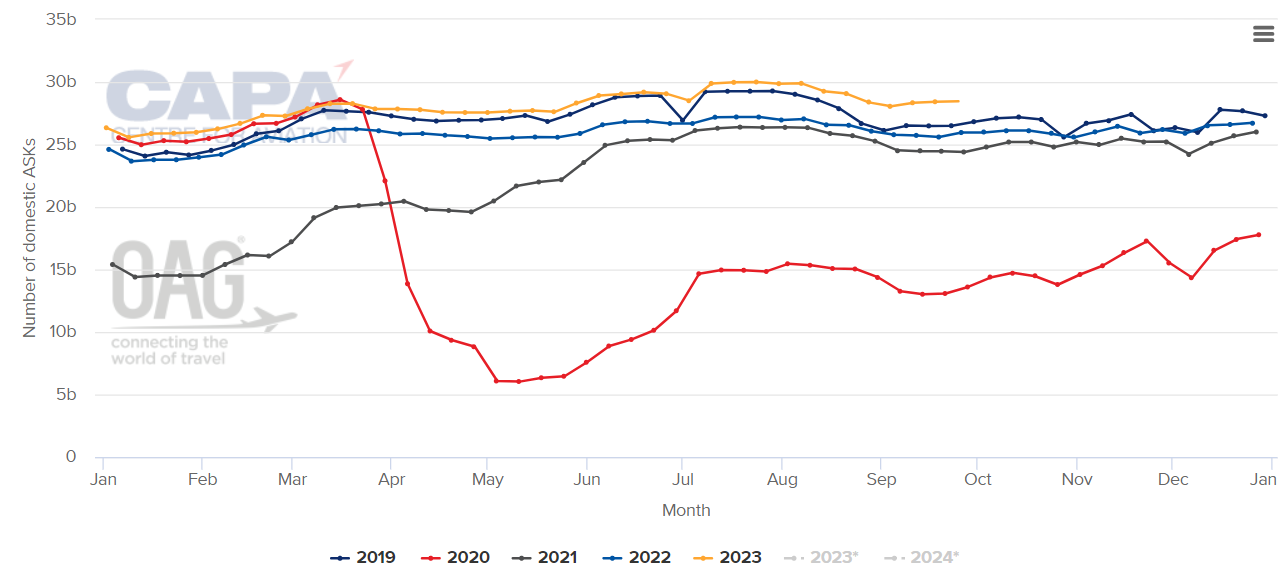 As a result, Frontier is going to simplify its business and double down on costs, Mr Biffle stated. He also explained that Frontier not only needed to lower costs to thrive in the current environment, but also that air traffic control challenges were a big issue that were not "going away anytime soon."
Frontier has examined its business during the spring and summer time periods this year, said Mr Biffle, and the element of its operations that was most affected by ATC issues was multi-day trips within the airline's network. Approximately half the company's flying is out-and-back trips, and the other half is trips of two to three days, said Frontier's CEO.
The majority of the complications stemmed from the trips of two and three days, with crews ending up in the wrong city with aircraft and being stranded. "That's when all the disruption happened," said Mr Biffle.
He explained that this summer Frontier had lost almost 40% of its maintenance manpower planning, "...because the airplanes just ended up in the wrong places".
To solve that issue, Frontier is going to get as close as it can to 100% of that out-and-back flying to simply the business. As a result, there will be fewer reserves for pilots and flight attendants and fewer parts, "...because all the planes go home every night", Mr Biffle explained.
That change will also help with Frontier's aircraft utilisation. "I think the only way we see in this new ATC [air traffic control] environment to get back to our previous utilisation levels is to go all out and back," said Frontier's CEO, which will generate "a significant amount of money".
Momentum for premium products continues to grow
Mr Hauenstein of Delta said that in Aug-2023 the airline had run a record high premium load factor of 74%.
United is growing in a segmented way and is also growing its premium offering, said Mr Leskinen. "We are increasingly an airline that people choose to fly. If an airline is charging [USD]200 but has [USD]100 in ancillaries, consumers are starting to understand that. So I think there's a clear preference[,] and we didn't realise that when we were spilling traffic to some of those other competitors", he said.
Passenger preference for premium offerings shows no signs of slowing down, and while a slowdown in the economy could dull that momentum, there's arguably been a shift by many consumers to seek out a more favourable travel experience – beginning with air travel, and the performance by US legacy airlines continues to reflect that trend.
US ULCCs come under scrutiny in the current environment
There is always going to be a place for budget airlines in the US aviation sector, and worldwide.
But those airlines are facing some shifts in market dynamics that are creating near term challenges. And their ability to overcome those obstacles will be scrutinised over the course of the next few quarters.