US economic trends: trade uncertainty=air travel headwinds
Analysis
The effect of tariffs and trade uncertainty has now become a semi-permanent fixture in economic discourse. And while warnings of negative effects for US consumers in the form of rising prices continue unabated, the immediate economic impact of the onset of tariffs is hard to measure.

For now, travel demand, including corporate demand, appears to be remaining steady in the short term. But pessimism is building for the long term, as many economists believe a recession is in store for the US during 2020.

It seems that more clarity needs to materialise during mid-2019 about the overall economic impact of the tit-for-tat decisions by the US and China to impose tariffs on one another. The US Federal Reserve is also expected to institute three interest rate increases in 2019, which, coupled with trade spats, could dim consumer confidence. Eventually, the coalescing of all those elements could have a trickle-down effect on travel demand.
Summary
CAPA's Americas Aviation Summit, 18/19-Mar-2019 in Denver, CO will provide a high level look at the outlook for the aviation industry.
With industry leaders from across the country, this is sure to be a date to mark in your diary.
US consumer confidence remains stable as worries over trade grow
The US has levied USD250 billion in tariffs on Chinese goods, and China has retaliated with USD110 billion in tariffs on US goods.

Discussion about the potential effects of the trade spat is now a mainstay in economic discourse, and the overarching conclusion is that prices for US consumer goods will rise as a result of the trade tension.

According to Money magazine a gamut of retailers, including Walmart and Target, have warned that the tariffs will result in rising prices for goods. The publication also stated that Office Depot had warned that tariffs could disrupt its supply chain, noting if one component of a furniture collection is not priced competitively, then that product could affect the purchase of larger, coordinated collections of furniture.



Those warnings have not resulted in a major hit to consumer confidence, which has been at record highs in 2018 due in part to recently enacted tax cuts. According to CNBC, The University of Michigan's monthly survey of consumers had a preliminary reading of 99 for Oct-2018, which was below expectations of 100.4. However, the results for Oct-2018 remained above the average reading for 2018.
Business travel trends seem solid heading into early 2019
Business travel demand also appears to be holding steady, for now. The US Travel Association forecast shows the leading travel indicator (LTI) for US domestic business travel is 51.7 for the next six months (any reading over 50 signals growth).
Current and future travel trends for US domestic, business international and leisure travel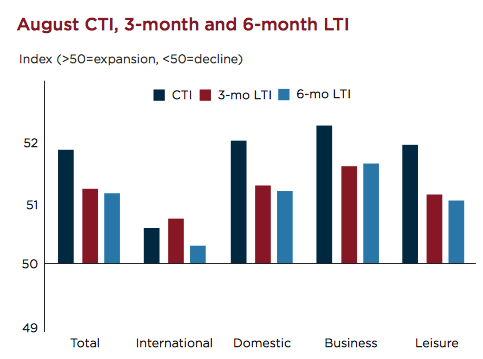 Delta was the first US airline to report 3Q2018 earnings in early 2018 and company management stated that its total corporate revenues had grown 12% year-on-year in the quarter. Airline executives remarked that has recovered approximately 40% of the decline in corporate fares it has experienced since 2014.

Results from Delta's most recent survey show that 90% of corporate travel managers expect to maintain or increase their spend into 2019.

Responding to a query about changes in corporate behaviour or booking trends as a result of the tariffs in Delta's Asia markets, company President Glen Hauenstein stated that so far the airline had not seen any meaningful impact from changing trade policies.

"Our Pacific based revenues and China specifically have done quite well in the quarter, especially given some of the added capacity that we had put into the market with our recent launch of Atlanta-Shanghai doing well within our range of expectation. So we haven't seen it," Mr Hauenstein stated.

Delta's Pacific unit revenues increased 5% year-on-year in 3Q2018 on an 11% rise in stage length. The airline's routes to Japan and Korea both produced double digit unit revenue growth, and routes to China posted a 9% rise in unit revenues on 18% capacity growth.
Trade tensions and cool global economic growth could dampen positive trends
There are some clouds waiting to overshadow those positive travel trends. The US Travel Association's LTI for the next six months (as of Aug-2018) shows international travel to the US is only projected to grow 0.6%.
The association also warned that there is reason to believe the US domestic travel market could soften in the coming months as overall economic growth is expected to slow through the end of 2018. Additionally, the group warned that rising trade tensions and the expected cooling of global economic momentum are cause for concern.
Recession clouds thicken for 2020 as US economic growth could reach 3% in 2018
Many economists believe the US could enter a recession in late 2019 or early 2020. A recent poll of 51 forecasters conducted by the National Association of Business Economics showed that 10% believed a recession could begin in 2019, while 56% stated 2020 as a start date for an economic decline, according to Bloomberg.

The publication stated that the association had concluded that trade issues were influencing the forecasters. Economists also expect the US Federal Reserve to raise interest rates three times in 2019. Those types of moves can cause volatility in the stock market, which has a ripple effect on business sentiment that could lead to a slowing of economic growth.

For now, US GDP is forecast to grow at close to 3% in 2018, before dropping to approximately 2% in 2020.
The travel industry needs to be alert to an economic slump on the horizon
Although the US economy remains robust for now, consensus among a number of the country's economists is that the country's more aggressive trade policy will ultimately trigger a period of slowing economic growth.

If the forecasts of a recession occurring in 2020 come to fruition, the travel industry needs to start thinking about how it will cope with those changing economic fortunes. There are steps that can be taken now that may not be possible if the economy does decline.