US carriers report ninth month of revenue growth; strong international growth
Analysis
US carriers reported revenue growth of 19% in Sep-2010 marking the ninth consecutive month of revenue growth according to the Air Transport Association of America's (ATA) sample group of carriers. This reflects improvements in the global economy that is driving spend on air travel. Passenger revenues are exceeding last year's depressed levels across all regions.
ATA yield growth: Sep-2008 to Sep-2010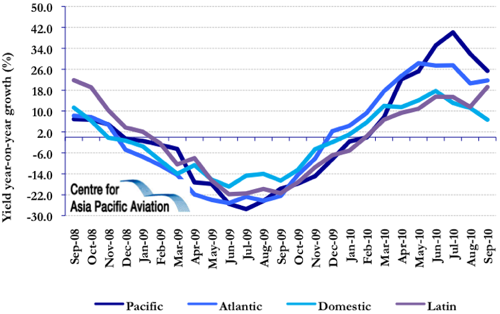 Yield trend moving in the right direction
The average price to fly one mile rose 11% in Sep-2010 while the miles flown by paying passengers rose approximately 7%. ATA President and CEO James C May added that the industry "remains hopeful that the nation's economic recovery will progress in the months ahead".
ATA yield: 12 months moving average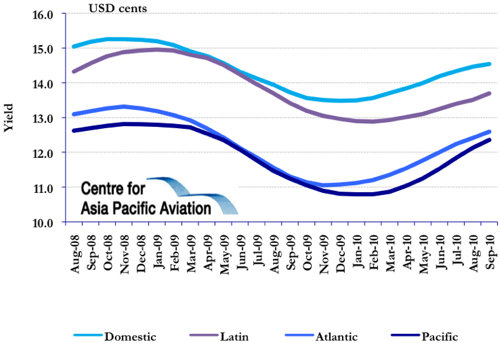 Passenger revenue growth of 12% domestically; 35% in international markets
During Sep-2010, passenger revenue improved 12% domestically and 35% in international markets. Domestic yields increased 6.7% year-on-year, while Atlantic (+21.7%), Latin (+19.2%) and Pacific (+25.4%) yields all surged on a year-on-year basis.
Pacific yields are now back to levels last seen in Sep-2008 while the other regions all enjoyed yield improvements from their lows in 2009, but have yet to return to Sep-2008 levels. Latin American yields are down 6.5% over the same timeframe, while Atlantic yields are 5.7% weaker. Domestic yields in Sep-2010 were 11.1% below Sep-2008 levels.
Inflation adjusted domestic fares down 25% from 1999 levels in 1Q2010
During 1Q2010, the US domestic average fare of USD328 was down 8.3% from the all-time high, not inflation-adjusted, of USD358 in 3Q2008. However, adjusted for inflation, fares in the quarter (the most recent BTS data available) were down 25.0% from 1999, the inflation-adjusted high for any first-quarter since 1995.
The 1Q2010 average fares were up 8.9% from the post-9/11 fourth-quarter low of USD301.39 in 2005 although 1Q2010 fares have declined 5.6% since 1Q2001 compared to an overall increase in consumer prices of 23.5% during that period. In the 15 years from 1995, the first year of BTS records, air fares rose 10.5%, compared to a 43.7% inflation rate. In 1995 dollars, the average air fare in 1Q2010 was USD228 compared to USD297 in 1995 and USD301 in 2000.
US average domestic fares: 1Q1995 to 1Q2010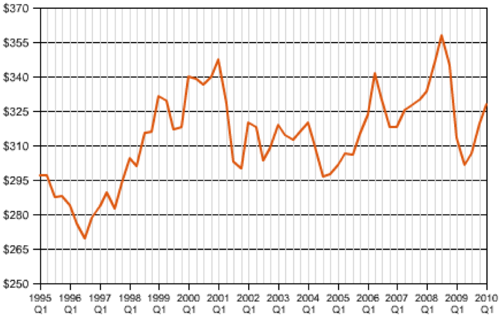 Yields down 18% in 2009
Yields were severely impacted by the global financial crisis. Passenger revenue declined 18% in the full year as a result of a 6% reduction in passenger volume and a 13% drop in average price paid to fly one mile. The decline in passenger revenue from 2008 to 2009 is the largest on record, exceeding the 14% decline observed from 2000 to 2001.