US Big 3 global airlines' fleets: nuanced changes
Analysis
The large three US global network airlines have solid order books and their fleet plans are largely firmed up for the foreseeable future. But there are shifts occurring as American, Delta and United make subtle adjustments in order to ensure their fleets are sized appropriately.

American has cancelled an order for Airbus widebodies and deferred deliveries of narrowbody jets, while ordering some replacement regional jets. Delta is in the process of replacing a portion of its mainline fleet with new build aircraft, even as it has historically been a big player in the used aircraft market. United has also ordered regional jets and additional widebodies, and is also actively looking for used aircraft.

All of these moves show that fleet management is a science; airlines are constantly reviewing their fleet plans and making nuanced changes to their aircraft portfolios in order to strike the right cost and revenue balance.
Summary
American Airlines is deferring narrowbody deliveries, replacing older regional jets, and working to cut its subfleet counts to 30 by 2022.
Delta Air Lines is in the process of replacing 30% of its mainline fleet, and the company does not see as many opportunities in the used aircraft market as in the past.
United is working to strike the right mix of used and new aircraft in its fleet, while also touting a certain level of fleet flexibility as oil prices continue to climb.
For more information on global airline fleets and CAPA's Fleet Database please click the link
American cancels orders, defers deliveries and selects regional jet replacements
So far in 2018, American Airlines has cancelled an order for 22 Airbus A350 widebodies, ordered 47 Boeing 787s, and deferred deliveries of 40 737 MAX jets and 22 A321neos.

At the same time, American has ordered larger regional aircraft – 15 Bombardier CRJ900s and 15 Embraer 175s to replace smaller gauge jets.
American Airlines fleet summary, as of mid-Sep-2018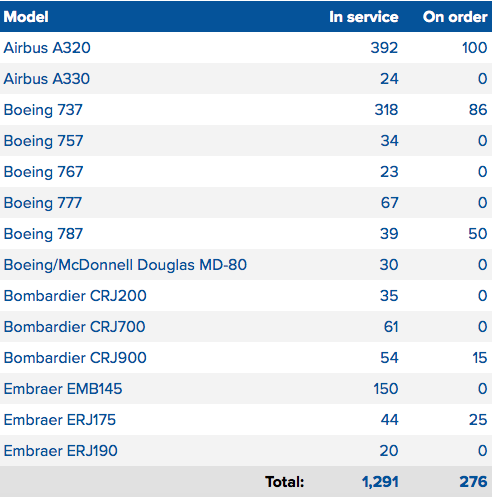 The changes will result in significant reductions in aircraft capex, beginning in 2018. American has calculated that its aircraft expenditures will fall from USD4 billion in 2017 to USD1.9 billion in 2018. However, American's debt loads are substantially higher than those of its peers. According to YahooFinance, American's total debut is USD24.08 billion, compared with USD10.99 for Delta and USD14.5 billion for United.

In some ways, American is still managing the fleet integration with US Airways and working to reduce the number of fleet types the merged airline operates. The company estimates its aircraft subfleets should drop from 52 in 2016 to 30 by 2022. "We think there's even a chance to get to fewer than that, down to 25", American's president Robert Isom recently declared.
Whittling away at its subfleet numbers obviously creates maintenance savings for American, so it is no surprise that the airline is working to cut its subfleet types nearly in half (based on 2016 numbers).
Delta focuses on replacing 30% of its mainline fleet with new build aircraft
Delta Air Lines is replacing 30% of its mainline fleet through 2020, and that includes the retirement of its MD-88 jets.
Delta Air Lines fleet summary, as of mid-Sep-2018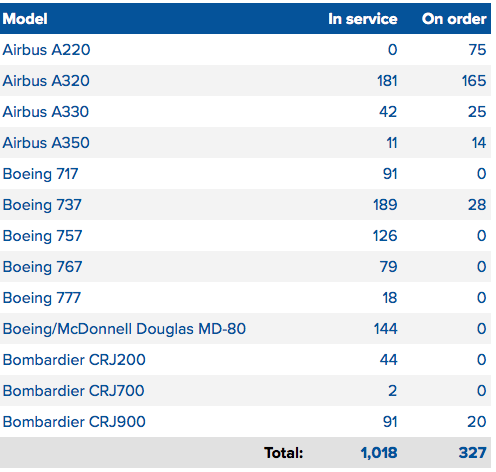 CAPA's Fleet Database shows that Delta's deliveries during the next few years peak in 2020. The company's aircraft deliveries during that year are dominated by narrowbodies, and single aisle jets represent 59% of Delta's aircraft on order.
Delta Air Lines projected delivery dates for aircraft on order from OEMs and leased from lessors, as of Sep-2018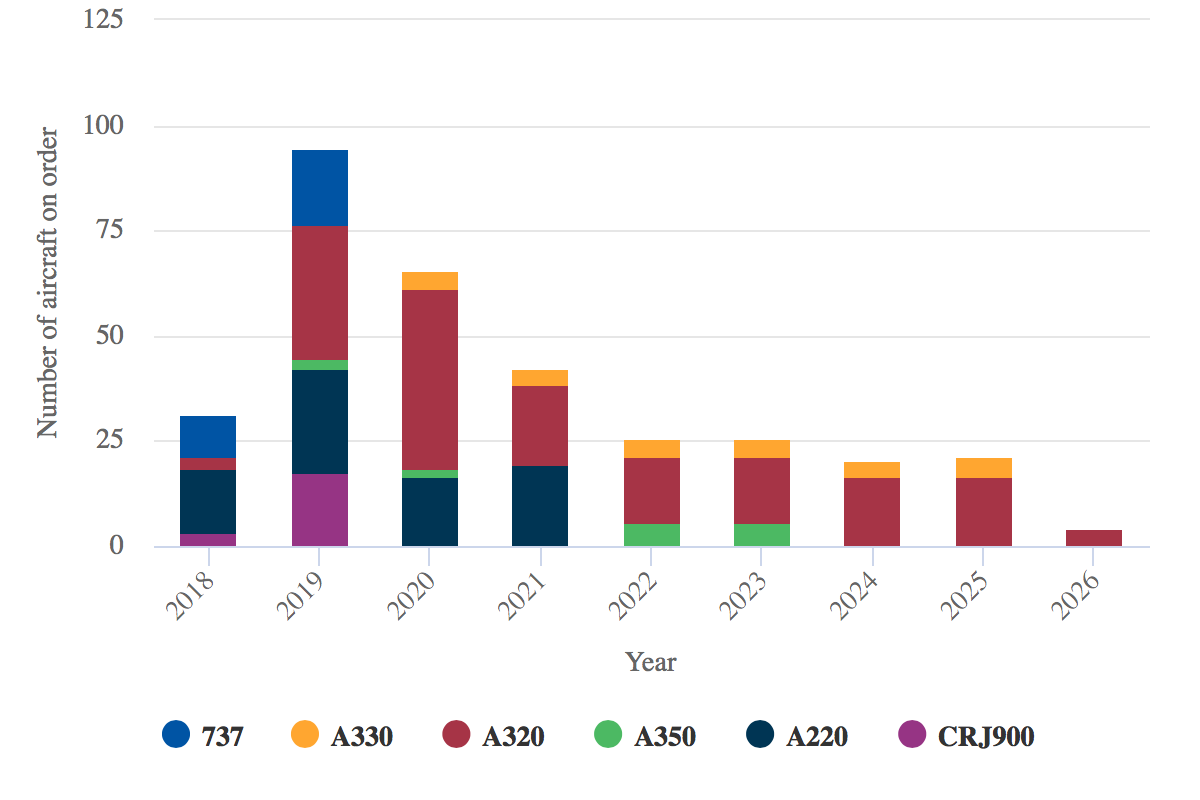 Delta has been historically opportunistic in the used aircraft market. During the past six to eight years the company has acquired used MD-90s and struck a deal with Southwest to lease 717s that the low cost airline inherited in its acquisition of AirTran Airways.

But for now, the airline appears to be focusing on new aircraft acquisitions. Recently, Delta CFO Paul Jacobson explained "those opportunities [for used aircraft] haven't been as prevalent over the past few years as what we saw five, six and seven years ago with those transactions. But we are still open to it under the right opportunities."
United pursues both new and used aircraft acquisitions
During the past few years United Airlines has also been more active in the used aircraft market. In 2015 it subleased two Boeing 737-700s from Copa Airlines and struck a deal with the lessor AerCap to lease up to 25 Airbus A319 narrowbodies previously operated by China Southern Airlines.

See related report: US airline fleet strategy and finance Part 1: The Big 3 take differing approaches to fleet revamps

In 2018 the airline has forged another deal to obtain 20 used A319 narrowbodies and three Boeing 767s from Hawaiian Airlines.

The airline recently stated that it was actively looking for additional used aircraft, and focusing on a number of potentially attractive opportunities.

United has also pledged to add four more new 787s to its fleet and ordered 24 Embraer 175s to replace older CRJ700s.
United Airlines fleet summary, as of mid-Sep-2018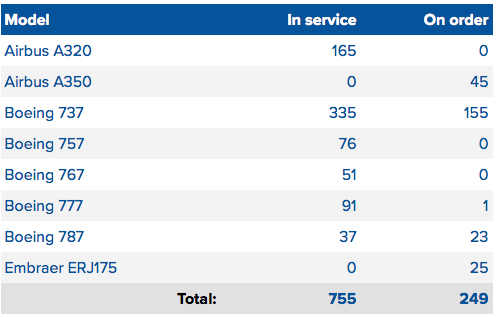 As it works to strike the right mix of used and new aircraft, United is also stressing a certain level of fleet flexibility as oil prices continue to climb. The airline's management recently advised lease returns and possibly retiring older aircraft.

United explained that when an older aircraft is due for an engine or airframe overhaul, the company can either complete overhauls and continue flying the aircraft, or ground the aircraft and use its parts as spares and replacements. The airline believes the economic benefit of retiring aircraft is positive for its P&L, since it can avoid the expense of overhauls, and parts from those jets are less expensive than buying new parts from third parties.

The company has calculated that it has 31 lease expirations in 2019 and 43 in 2020. The number of aircraft with heavy maintenance checks scheduled in 2019 is 63, and grows to 66 in 2020.
United Airlines mainline fleet lease expirations and aircraft due for heavy maintenance for 2018 and 2019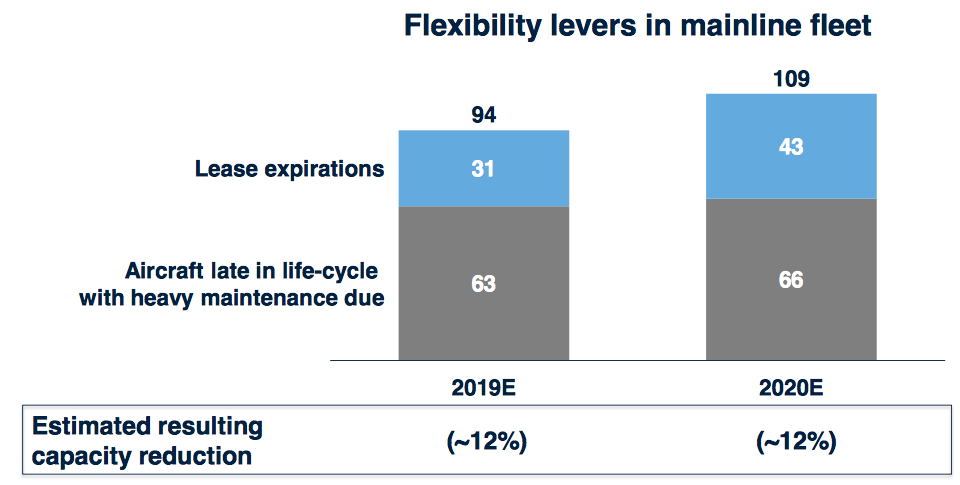 All airlines are constantly looking for opportunities to cut fleet expenses
Airlines worldwide are constantly tweaking their fleet compositions as opportunities for deferrals, cancellations, or favourable opportunities to acquire used or new aircraft arise.

The three large global US network airlines are taking different approaches in managing their respective fleets, with an eye towards climbing fuel costs. Those operators are also constantly looking for ways to be opportunistic in order to lower their aircraft ownership and maintenance costs.