US Big 3 airlines: Capacity growth despite fuel price volatility
Analysis
Revenue momentum for the three large global network airlines should continue into 2Q2018, with international entities leading the charge. American, Delta and United all believe their trans-Atlantic entities should be revenue leaders in the quarter, which is the start of the US summer high season.

But accompanying the solid unit revenue growth forecasts is a certain level of volatility in fuel prices, which increased significantly for all of those airlines during 1Q2018. American Airlines expects a 30% increase in its fuel expense for the year.

Despite the run up in fuel prices, American, Delta and United are keeping their 2018 capacity forecasts intact, for now. American believes it is not prudent to trim its forecast just before the summer high season, but is not ruling out adjustments later in the year if fuel prices remain at current levels.
Summary
The large three global US airlines remain optimistic that revenue momentum in international markets is continuing into 2Q2018
All of those airlines are particularly bullish about the Pacific after years of underperformance
Fuel cost volatility is dimming the revenue traction the large global US network airlines are enjoying in 2Q2018
International markets drive solid revenue growth for US global network airlines
American, Delta and United all posted solid unit revenue results in 1Q2018, with Delta's 5% growth year-on-year surpassing the increases posted by its rivals.
American, Delta and United TRASM growth in 1Q2018
The Atlantic was Delta's best performing regional entity in the quarter with a 11.5% rise in total unit revenue year-on-year. The airline cited strong business class bookings and a five point currency tailwind.
Best regional performance for American, Delta and United in 1Q2018
United also posted its best unit revenue performance in the trans-Atlantic during 1Q2018, recording 8.8% growth in that metric. The Atlantic represented the airline's second largest region by capacity deployment during the quarter, representing 18% of its ASKs.
United Airlines PRASM performance by regional entity for 1Q2018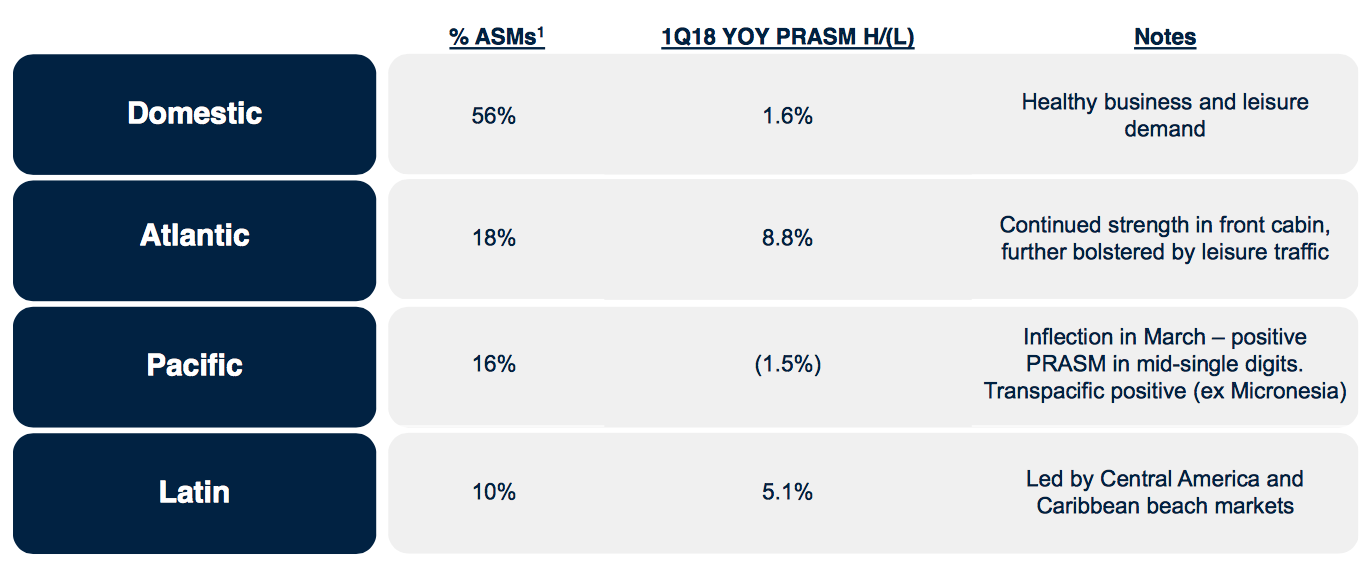 The airline attributed its strong performance in the Atlantic to strength in higher fare classes and solid leisure traffic.

Latin America was American's strongest performer in 1Q2018, with passenger unit revenue growth of 12% year-on-year. The airline remarked that Brazil and Mexico improved in the mid-single digits while the remaining entities posted double digit improvement.
US airlines continue to see Trans-Atlantic and Pacific strength in 2Q2018
The shift in the Easter holiday to Mar-2018 is likely contributing to a sequential decline in unit revenues for the three large global US airlines in 2Q2018. American noted its comparisons become tougher than its peers due to its outperformance in 2Q2018.
American, Delta and United 2Q2018 unit revenue forecast
Both American and United believe the trans-Atlantic will produce their best revenue performance in 2Q2018, followed by Pacific and Latin America.

All three of the large global US network airlines are expressing positive sentiments about the Pacific after years of a negative performance in the region driven in part by competitive capacity challenges. United remarked that "China has been good for the last couple of quarters", and Guam is no longer posting a negative unit revenue performance. Delta stated all its Pacific markets are showing positive unit revenue momentum industry capacity has moderated.
Both capacity and fuel levels remain elevated in the US market
American, Delta and United all posted increases in top-line fuel expense of more than 20% in 1Q2018. Delta remarked that its fuel price pressure was partially offset by a USD40 million benefit from its refinery business.
American, Delta and United topline fuel price increase year-on-year in 1Q2018
Delta remarked fuel prices were volatile in 1Q2018, with Brent Crude trading anywhere from USD62 to USD70 per barrel, and in mid-Apr-2018, prices were USD5 to USD6 ahead of its projections. American is forecasting a 30% hike in its fuel expense in 2018, or an increase of USD2.3 billion.

Despite the fuel cost headwinds and volatility, American, Delta and United are sticking to their 2018 capacity forecasts, and all have projected growth targets that are higher year-on-year.
American, Delta and United 2017 capacity growth and 2018 projections
| | | |
| --- | --- | --- |
| Airline | 2017 Capacity Growth | 2018 Projections |
| American | 1% | 2.5% |
| Delta | 1% | 2.3% |
| United | 3.5% | 4.5% to 5.5% |
Data from CAPA and OAG show US domestic ASKs are forecasted to grow at a solid clip in 2018.
United States of America weekly total domestic ASKs from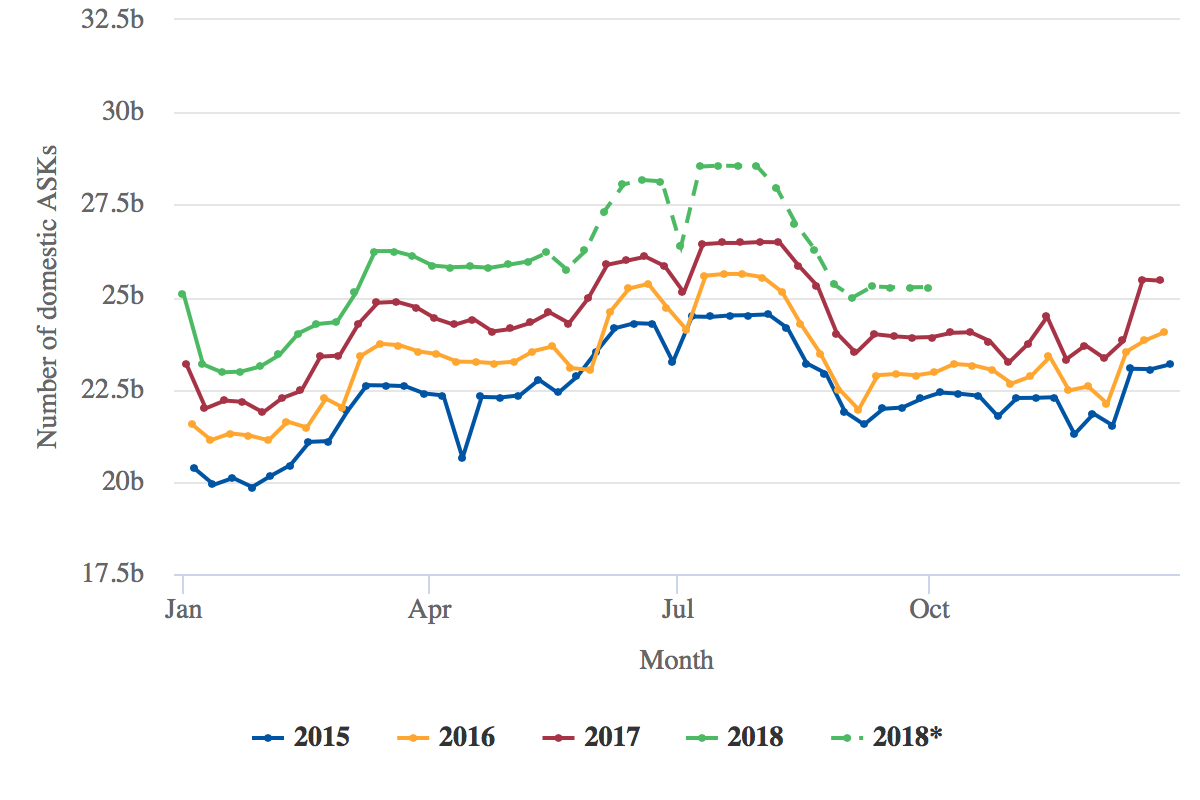 The run-up in fuel and capacity growth in the US market obviously has investors worried. In late 2017 American Airlines laid out its ambitions to earn an average USD5 billion in pretax profits for three to five years. The company earned roughly USD4 billion in pretax income during 2017, but during 2018 its pretax profits could fall below USD3 billion.

Higher fuel costs have resulted in American slashing EPS guidance (excluding special items) for 2019 from USD5.50 to USD6.50 to USD5 to USD6. American executives recently explained the jump in fuel expense happened particularly fast, with prices jumping 60% since the summer of 2017 and 12% within in two week period during Apr-2018.

But American does not believe slashing capacity as the peak summer travel period nears is in its shareholders best interest; however company management did leave open the possibility of re-examining its capacity guidance if fuel prices remain at current levels. "...I do believe as we move forward, if indeed this is the steady-state level of the fuel prices, you'll see less capacity growth than people are talking about right now", American CEO Doug Parker concluded.

Delta Air Lines stresses there's a significant correlation between airline revenues and fuel price, but it takes some time for that scenario to be absorbed in the market place. "Under normal circumstances with a growing economy, we would see that roll into fares probably in the 90-to-120-day range," said Delta President Glen Hauenstein, "But it has to stay there, and I think it's fluctuating around...".
Investors may push US airlines to revisit their 2018 growth forecasts
A run-up in fuel prices is not a new phenomenon to US airlines, and fuel price volatility in general has been a feature in their business landscape during the last few years. Usually airlines opt to trim their capacity estimates as fuel costs creep up, but for now the large three global network airlines show no signs of adjusting their growth targets for 2018.

At the moment those airlines seem to have a general view that a solid US economy and pricing traction should provide a tool chest to weather fuel volatility. But at some point, investors may push for a revisiting of growth forecasts.