US airlines use JVs to expand Asia presence, but dissenting voices: CAPA Americas Summit (VIDEO)
Analysis
The year 2016 marks the third consecutive year of high single-digit growth between Asia and North America, and the third year of approximately 20% annual growth between China and the United States. Between 2012 and 2016, trans-Pacific flights have grown from 150 a day to 193 while those just between China and the US have doubled from 21 to 42. One in five trans-Pacific flights is travelling between China and the US, and one in four from China to Canada/US.
Although demand is strong, capacity has arguably grown slightly faster. This pressure, combined with wanting to secure a strategic foothold, has the result that airlines on both sides are considering deeper partnerships, including joint ventures. CAPA's recent Americas Aviation Summit held in Las Vegas brought together airlines representing the spectrum of trans-Pacific alliance developments: ANA, which has a joint venture with United and wants to expand it to include Air Canada; Air China, which wants closer ties to its Star partner United, and equity partner Cathay Pacific; Korean Air, which has been aggressively courted by Delta; and Hainan Airlines, which is seeking a partnership solution. Hainan opposes any JVs that foreign airlines may seek to establish with state-owned airlines, such as Air China. Hainan's worries of protectionism could gain ground with the US DoT, which permits JVs so long as there is open skies and no barriers to entry. US-China open skies is one of the most pressing aeropolitical matters.
Opportunities in Asia: Different strategies o capitalise on Asia's expansion.
Panel discussion at CAPA Americas Summit, Apr-2016

US-China market grows at 20% in 2016: the third consecutive year
The Northeast/Southeast Asia-North America nonstop market has experienced positive growth since 2010. The market contracted in 2009 during the global financial crisis, then made strong gains in 2010, and by 2011 had rebounded, with new growth. As of Apr-2016 the approximately 9% expected increase in seat capacity for the market is the highest over the last decade. It is the third year of growth over 5%.
Driving growth is the China-US market, which has grown in the double digits every year except 2009 and 2012. Growth in the years 2014, 2015 (and 2016) was/is approximately 20%; 2016 is slightly slower at 19%, but given the tendency of Chinese airlines to launch services with close lead times, these figures can be expected to creep upwards as the year progresses.
Annual seat capacity growth rates between North America and Northeast/Southeast Asia, and the US and China: 2007-2016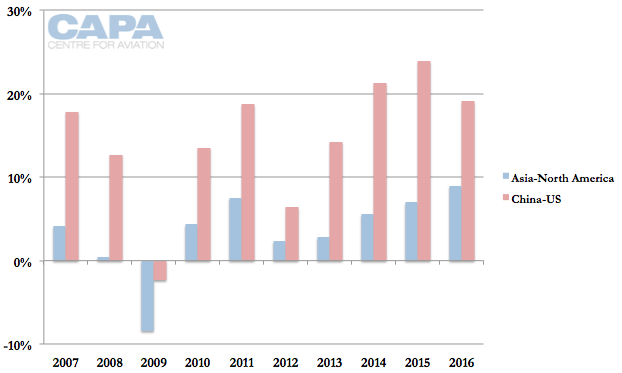 The North America market to/from China is what dominates the larger trans-Pacific market and influences developments, including the critical ones of partnerships and alliances. China-US flights accounted for 10% of all trans-Pacific flights in 2008. This increased to 15% in 2013, and is jumping to 22% in 2016, reflecting the higher growth in this market. Including Canada, in 2016 China-North America accounts for 27% of trans-Pacific flights. (Japan is the largest, accounting for 35% of flights.)
Annual average daily nonstop flights to North America by departing Northeast/Southeast Asian market: 2006-2016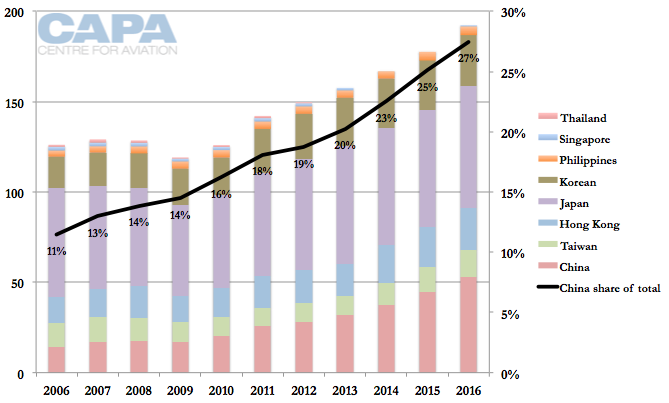 Along with Air China, ANA has been the fastest-growing airline across the Pacific, albeit from a low base. ANA has grown from being ninth largest across the Pacific in 2005 to fifth largest in 2015, as CAPA had observed in a 2015 report about EVA's growth.
Average daily trans-Pacific flights from the 10 largest airlines in 2015: 2005-2015
See related report: EVA Air order for 787s/777s to fuel long haul growth, but no Chinese transfer traffic for now
Supporting ANA's growth have been transfer traffic and access to interior US destinations, first facilitated through codeshare and interline cooperation with United Airlines, and then by a joint venture.
Japan's All Nippon Airways shifted gears a few years ago to focus on traffic between Asia and North America. The ANA VP strategic planning Americas, Tadashi Matsushida, told the CAPA summit about ANA's shift to be a larger player in the Asia-North America market. Together, ANA and United represent approximately 23% of the seats on offer between the US and Northeast Asia for the week of 25-Apr-2017.
Top airlines between the US and Northeast Asia by seat share for the week of 25-Apr-2016
Mr Matsushida remarked that the joint venture with United had more than doubled ANA and United's connecting passengers during the last five years. United has said that it connects more passengers onto ANA in Japan than it had ever connected to its own intra-Asia flights when United used to have a larger intra-Asia hub at Tokyo.
ANA-United, along with the rival JAL-American, are the only active JVs between Asia and North America. Air China and Air Canada have a JV in proposal.
Although it may seem that ANA speaks from comfort and maturity, its position highlights the challenges of broadening JVs. As CAPA has previously written: ANA would like to include Air Canada to make a Japan-North America JV, but United is not interested. In the trans-Atlantic, airberlin is excluded from the oneworld-led JV, while LOT, TAP and others are excluded from the Star-led JV. EVA Air would also like a stronger partnership with its Star partner in the US, but United also seems uninterested.
Korean Air and its SkyTeam partner Delta Air Lines have yet to pursue a joint venture; in part this is due to Korean executives remaining unconvinced that Delta is a necessary partner. Korean Air serves more North American gateways than any Asian airline and has partnerships with North American airlines to cover certain markets. This includes unaligned airlines (such as WestJet) as well as aligned (American Airlines for the Dallas-Seoul route).

See related report: Delta Air Lines' proposed investment in Skymark clouds a possible joint venture with Korean
The Korean company VP sales and marketing, North America, John Jackson, stated that Korean's yields had not been as affected as its competitors due to its performance in the corporate market. It has helped that Korean Air has exercised capacity discipline by sitting out the latest round of capacity expansion and the chasing of market share.
Air China's VP and GM for North America, Zhihang Chi, said that the airline's passenger mix had evolved from 80% US and 20% Chinese to now – approximate parity, with a continuing shift toward China. This is broadly consistent with figures that Delta gave at its 2015 investors' day reflecting that China had already surpassed parity; in 2015 it accounted for 55% of bookings compared with 45% for the US. By 2025, Delta estimates that the market will shift further, to 70% of bookings being from China.
Delta US-China daily passengers by point of sale: 2010-2025E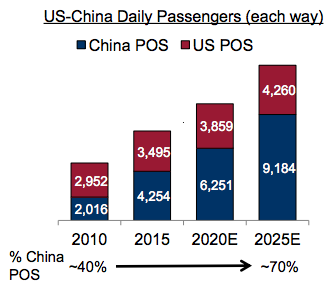 Air China's analysis shows that outbound US demand is flat, or slightly declining. This is consistent with Chinese visitor arrival statistics indicating that US visitors to China declined slightly in 2015 compared with 2014, with 2013-2015 visitor arrival figures reduced from 2011 and 2012 figures. US visitors have made up a consistent 1.6% of arrivals, reflecting relatively flat global visitor arrivals into China.
US visitors to China (left axis) and US visitor share of all arrivals to China (right axis): 2008-2015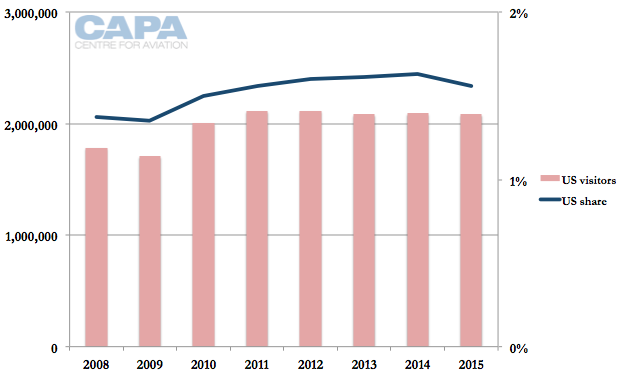 Air China wants some balance in passenger flows and believes that it has hit a threshold for outbound US O&D, with considerable pressure on yields. So for the ex-US market Air China has started to increase its focus on sixth freedom traffic. Air China has previously mostly focused on third and fourth freedom traffic flows. This is also true for its peers, although China Southern has made a greater sixth freedom push, perhaps, in the main, because its Guangzhou hub does not attract the O&D passengers of Beijing or Shanghai. The ability to leverage Chinese hubs – already huge for Chinese traffic – and turn them into sixth-freedom hubs remains a long-term opportunity, and one that is confronting to competitors. Dr Chi remarked that Air China is "playing the sixth freedom game more than we used to".
Data from CAPA and OAG for the week of 25-Apr-2016 show one-way seats between the US and China have grown 26% year-on-year.
United States of America to China (seats per week, one way): 29-Apr-2013 to 10-Oct-2016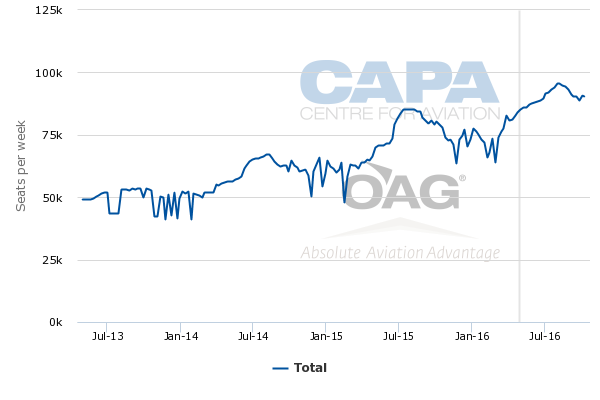 Despite home market advantage, Air China itches for closer relationship with United – and perhaps Cathay
Although the US-China market may be switching to origin China, where Air China has a home market advantage, a strong US partner remains a critical objective: to grow presence on trans-Pacific services, improve quality of revenue and broaden connecting opportunities. Air China has been looking for a stronger relationship with its Star partner United, the largest US airline by far in China. The lack of open skies between China and the US precludes a joint venture, but there are strategic initiatives that can occur before that.
In Mar-2016 Air China and United announced a "joint strategic initiative that will significantly deepen coordination between the two airlines". This includes more connecting opportunities (unspecified), improvements at hub airports for transfers, frequent flyer benefit improvements and joint marketing.
Yet Air China still feels that United is aloof. United has a JV with ANA, but the JV does not include traffic beyond Japan to China. The JV does include coordination to beyond markets where regulatory approval has been secured, such as in Singapore.
United is not the only potential partner disappointing Air China. Air China also wants a closer relationship with oneworld's Cathay Pacific. the airline has an equity swap with Cathay, and owns just under 30% of it. Cathay, like United, appears to believe that it can compete without Air China, and that a partnership would be skewed towards benefitting Air China.
The future of an Air China-United partnership is likely, one day, a joint venture. This will require open skies. Yet a Cathay Pacific partnership introduces the more complex task of a multi-lateral agreement: Hong Kong, for aviation matters, is its own jurisdiction. Air China would likely be interested in partnering with Cathay for beyond markets as part of a joint sixth-freedom push. The common aviation market in Europe has made North America-Europe JVs encompassing for the number of countries they include. In Asia, country-by-country participation would need to be secured. The existing US-Japan JVs have shown the challenges of that goal.
Hainan has built US-China network largely without key destinations or partners
Hainan Airlines has been rapidly expanding to the US in more recent years, having built a North America network mostly with 787-8s (with some A330s and some 787-9s).
Hainan now serves Boston from Beijing and Shanghai, Chicago O'Hare from Beijing, Los Angeles from Changsha, San Jose from Beijing and Seattle from Shanghai and Beijing. Serving North American cities from two Chinese gateways made it unique among Chinese airlines.
Hainan's seats on offer between the US and China have grown nearly 100% year-on-year to 6,380, but its total seat share between the two countries is still small, at approximately 8%. Hainan is challenged by not being able to serve many prime destinations. As previously noted by CAPA, China's 'one airline, one route' policy generally permits only one Chinese airline to fly a long haul service.
Hainan cannot serve blue-chip points like New York and Los Angeles from Beijing and Shanghai since Air China and China Eastern already serve those points. Hainan has instead developed a mostly secondary market network including Boston and Seattle.
See related report: HNA investment in a US airline would boost Hainan Airlines in US-China market, reshape competition
Hainan is the world's largest full service (non-hybrid) airline not to be a member of a global alliance. This has been seen to be the result of China's state-owned airlines lobbying to prevent privately owned Hainan from benefitting from a global alliance. As a result, Hainan does not have a strong partnership portfolio. While Air China may bemoan its United partnership, that arrangement is still relatively strong, with ample codeshares. Hainan has a small, tactical partnership with American Airlines; one that has not significantly expanded in recent years.

The Hainan Airlines SVP, Hou Wei, stated that it is more favourable to forge sound and viable partnerships rather than to be treated as "small potatoes". This might be a reference to United's (at times) ambivalence towards Air China, and the control that Delta seeks to exert on its equity partner China Eastern.
Hainan plans to push forward with its strategy to work with larger, non-alliance partners in the US market. Hainan has a reciprocal frequent flyer deal with Alaska Airlines and it also interlines with JetBlue and Virgin America. The American codeshare only includes frequent flyer benefits on codeshare flights; the Alaska deal is more encompassing.
Hainan's approach may be the result of this situation. No doubt Hainan would like a strong partnership – such as with American. American's oneworld alliance lacks a mainland Chinese member, and there could be synergies between the two. But American may not be ready to cosy up to Hainan. China is still a developing aviation market and there can be profound changes – such as the prospect of China Eastern leaving SkyTeam for oneworld. China Eastern would obviously be a stronger partner for American than Hainan. China Eastern already partners with oneworld's Qantas, and is in talks with British Airways.
Hainan's parent, HNA, has built an equity alliance of airlines outside mainland China, most recently including a 23.7% stake in the Brazilian airline Azul in 2015. Hainan could invest in Portugal's TAP, which Azul (indirectly) owns a stake in. In Mar-2016 reports surfaced that HNA was possibly pursuing Virgin America, but Alaska emerged as the victor in the contest to acquire the airline. Hainan could consider purchasing a North American airline – to have that airline flying to China and also providing intra-North America connections.
HNA (and affiliate) airline investments outside mainland China as of late 2015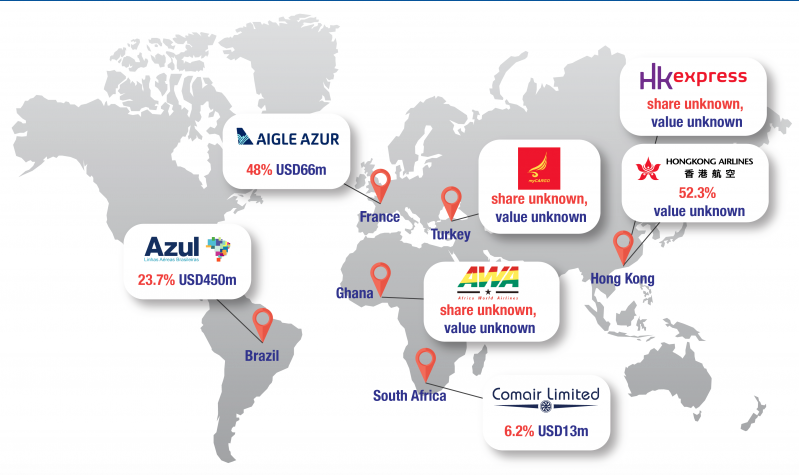 See related report: Virgin America sale speculation: Hainan, jetBlue and others. Timing could be critical for new owners
Hainan opposes US-China JVs until it has equal opportunity to compete
In Air China's assessment, a JV with United will be its objective sooner or later. Interim measures may bring the two closer together, but not as one. Dr Chi remarked: "When you have two different bottom lines, you're going to have to compete [,] there is no question about it."

The US requires open skies as a prerequisite to joint ventures. The United-ANA and JAL-American JVs were forged only through Japan-US open skies.
Open skies between China and the US becomes its own topic. Historically it was the Chinese side that opposed liberalisation since US airlines used their frequency allotment faster than Chinese airlines. Now Chinese and US airlines are brushing up against allotments, and in the long term the opportunity rests with Chinese airlines. Chinese airlines are being pushed by the government to expand internationally, and have greater confidence as they improve product and other segments of the experience, even if there is more to go.
Dr Chi said that open skies used to be a "very theoretical question, now I think it is a very practical issue".
The prospect of US-China open skies and resulting JVs is a worry to Hainan, in whose judgement it is not a level playing field. "We have a different view than Air China, " Mr Wei remarked about JVs. "How can you balance anti-trust? It's a different scenario in China."
Air China and Hainan are at the extremes: Air China is the one and only flag airline and enjoys privileges even other state-owned airlines do not. Hainan, privately owned, is at the bottom of the pecking order. This could be a concern to the US DOT. Its principle of open skies preceding JVs is to reduce barriers to entry and market growth.
Without open skies, another airline may not be able to challenge JVs. That principle of competition could be jeopardised, in Hainan's view, if Hainan continues to be restricted by the Chinese government in international and domestic flying.

Hainan strongly opposes JVs between US and Chinese major airlines, Mr Wei said. If the domestic market is still regulated...that gives super national access to foreign carriers to have the domestic traffic rights". Mr Wei also expressed concern about what agency would approve a US-Chinese JV: "who knows who has the final say in antitrust immunity, it is not the CAAC, it is not [US] Department of Transportation, it is the NDRC [National Development and Reform Commission], which has no clue what is going on in the aviation society". Although the US DOT would need to approve a JV from a US perspective, there could be political pressure, and US DOT approval could be knocked back by Chinese rejection.
US-China open skies will one day shape Asian aviation and partnerships
There are numerous moving parts as the US to Asia market evolves. Asian airlines wishing to broaden their presence in the US understand very well the importance of forging partnerships to achieve key network coverage, which is especially important for high-yielding corporate traffic.
Partnerships and regulatory frameworks are key to governing how the market takes shape in the future. Through the partnership lens, more avenues are opening up for airlines wishing to work outside the traditional alliance framework. Independent Hainan is working on some of those opportunities, but so too are aligned airlines that are not able to get the feed benefits they want. And there is cross-alliance cooperation, as seen with the American-Korean Air partnership, small but with room to grow.
It is US-China open skies that will single-handedly redefine Asian aviation and partnerships given the ramifications. Most recent US and China talks have stalled over the difficulty US airlines have in securing slots in China. The only general consensus is that open skies is not a target for the short term. There is massive ground to cover before the governments agree on a full open skies pact.