US airlines aim to please investors and limit the political backlash as oil prices tumble
Analysis
US airlines are once again in political crosshairs, coming under scrutiny for not passing on the benefits of lower fuel costs to consumers. One legislator is calling for an investigation to determine the reasons why airlines have not lowered fares as oil prices have taken an unexpected sharp decline.

At the same time airlines are being watched closely by investors to ensure they do not rush to adjust fares in light of lower fuel costs, which can rise just as quickly as they fall.

It puts airlines in a tough position as they face consumer backlash while trying to improve their investment case to long term equity investors. Two of the largest airlines in the US – Delta and Southwest – are taking the long view that the recent decline in fuel prices while welcome, is not a permanent fixture in the airline business.
Even with some hedge downside, airlines welcome lower fuel prices
IATA estimated that jet fuel prices fell nearly 33% year-on-year at the beginning of Dec-2014, and for 2015 projects collective fuel costs for global airlines of USD192 billion compared with USD2014 billion in 2014 and USD208 billion in 2013. The assumptions are based on average prices of just under USD100 per barrel and USD85 for Brent crude oil.
IATA projections of global airline industry fuel spend: 2013 to 2015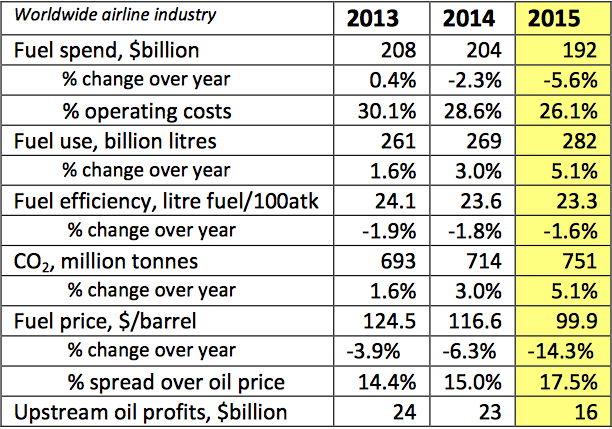 Airlines overall are obviously pleased with falling fuel costs; however, their 2014 hedge books are creating some headwinds as the fall-off in fuel was unexpected. Delta Air Lines estimates that its hedges will generate a USD150 million loss for the airline in 4Q2014. But the company has concluded that a USD75 million profit during the quarter at its Trainer refiner will offset roughly half of the hedge losses.

See related report: Delta Air Lines aims to mirror top S&P Industrials, but realises its journey is not yet complete

For 2015, Delta projects fuel costs including hedges of USD2.40 to USD2.50 per gallon, which is lower than its average costs in 2014 of USD2.90 per gallon. Using the market projections of USD2.10 to USD2.20 per gallon in 2015, Delta estimates a savings of USD3 billion, with its hedge portfolio offsetting roughly USD1 billion of the savings.

Southwest is forecasting fuel costs per gallon including hedges for 4Q2014 of USD2.65 to USD2.70 per gallon, which is below the USD3.05 per gallon the airline paid the year prior.

The airline estimates that it is participating in roughly 80% of the decline in fuel costs for 2015, with an estimated costs per gallon including hedges of USD2.60 to USD2.70 per gallon compared with 2014's prices of USD2.90 to USD2.95. Southwest has hedged roughly 40% of its fuel costs from 2015 to 2017.
Southwest Airlines fuel cost per gallon (including taxes and hedges): 2010 to 2014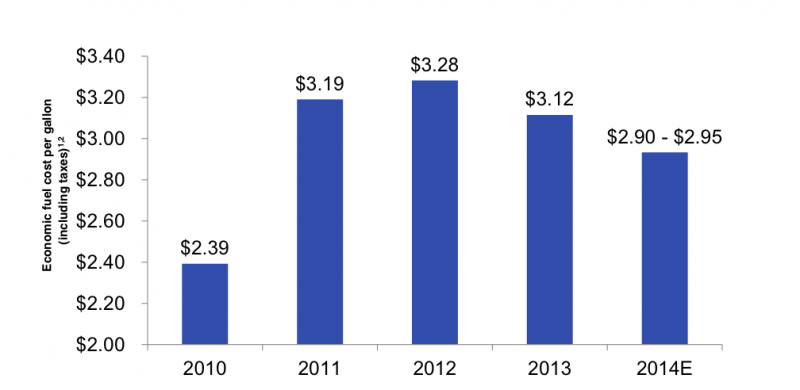 Southwest and Delta take the long-term view that lower fuel costs are fleeting
Overall, airlines are seeing a significant upside to lower fuel costs despite their hedging programmes creating some pressure. But the rapid fall-off in prices has not triggered a fundamental shift in how airlines are approaching their business. They have learned the hard way that fuel price volatility can wreck the strides they have made in creating a sustainable US airline industry.

Southwest CEO Gary Kelly recently admitted the collapse in oil prices took him by surprise, and warned that "logic tells you that the opposite can happen and we need to be prepared for that". He remarked that while the fuel price outlook looks good, "it worries me when fuel prices are so volatile, I will admit. So I'm not euphoric about the fact that fuel has done what it's done".

Delta has concluded that using high fuel assumptions for its planning is prudent given that it helps the company to drive down its non-fuel unit costs and keep capacity tight. Over the long-term horizon, says CEO Richard Anderson, using more conservative fuel projections allows the airline to hang onto the surplus that occurs when fuel costs are lower.
Airlines refrain from declaring lower fares, for now
IATA is estimating that adjusting for inflation, average return airfares in 2015 (excluding taxes and surcharges) are projected to fall by 5% compared with airfare cost in 2014.

US airlines are not openly proclaiming that they intend to pass the benefits they'll reap from lower energy costs onto consumers, something that is being watched closely by investors. US airlines are arguably behind in product investment, having put various projects off during the previous decade as terrorist attacks, SARs and economic turmoil (including record fuel prices) resulted in many of those companies fighting for survival.

Delta is openly stating that it wants to make certain that "people don't see our pricing strategy or product as a commodity", airline president Ed Bastian recently explained. Mr Kelly of Southwest stressed he would not comment on future pricing action, but did remark that if oil prices continue at current levels, the airline's operating costs will be lower than the last couple of years and "that's good for everybody".

Alaska Air Group management recently concluded that industry capacity is based on the premise of USD100 per barrel, and the benefit of lower fuel costs could allow the airline to perhaps bring lower fares into some its new markets or higher capacity routes, but it doesn't appear that the airline is aiming to usher in irrational pricing in the market place.
Airlines come under Congressional scrutiny for not lowering fares as fuel prices drop
Falling fuel costs have now caught the attention of US legislators, with US Senator Charles Schumer asking the US Departments of Transportation and Justice to investigate the reasons behind airlines opting not to lower fares in light of lower fuel costs. Mr Schumer is urging the departments to determine why "airline profits are not more efficiently being passed down to consumers".

The decline in fuel costs is a convenient target, and something that politicians can easily tout to resonate with consumers. But airlines need to approach pricing action cautiously. If they drop fares and then oil prices start to rise, then they put themselves in a scenario of revenue erosion.

Given fuel price volatility it is not clear the extent of the benefits airlines will enjoy from lower energy costs, and even as IATA projects 6% profit margins for North American airlines, US airlines are still carrying roughly USD72 billion in debt, according to US trade group Airlines For America. The lobbying group also stresses that from 2000 to 2013, the Consumer Price Index grew 35% while average domestic airfares increased 15%, "thus adjusted for inflation, the average round-trip domestic fare fell 15%".
US airfares compared with other goods and services: 2000 to 2013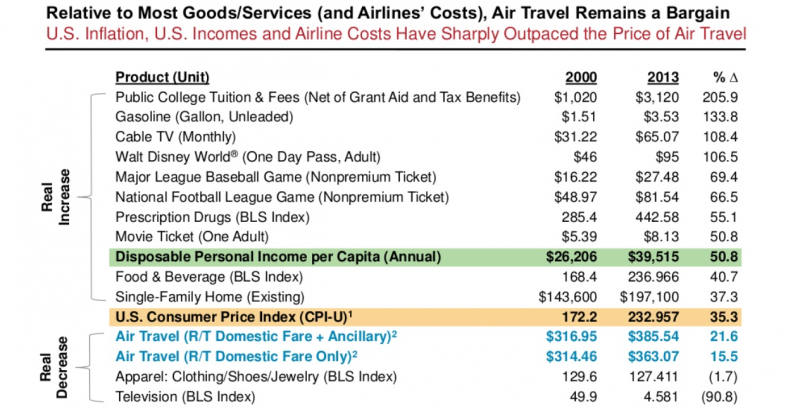 The challenges with Mr Schumer's conclusions are that they are based on short-term projections, and likely do not take into account the obstacles that wild swings in fuel prices create for airlines in managing pricing and their hedge portfolios.
Airlines face a delicate balance between pleasing investors and consumer angst
Airlines are now in a sensitive position as they work to convince investors that their efforts to sustain profitability, slash debt and outline definitive shareholder return programmes will not be torn down by what it likely to be a short term drop in oil prices.
But at the same time consumer advocates are quite reasonably beating the drum that customers deserve some of the benefits that lower energy costs provide.

How airlines plan to navigate those seemingly two opposing scenarios will undoubtedly vary among managements, with each watching the others carefully to ensure they don't step too far out of line with the mainstream.
In any event, by the time the US government decides whether it will examine the reasons why airfares have not fallen in tandem with fuel prices, energy costs may have bottomed out and started a steady climb to more familiar pricing levels.