US airline yields collapse further in May-2009
Analysis
The scale and the speed of the current reduction in US carrier yields are frightening. US domestic yields started contracting year-on-year in Nov-2008 and in just seven months have fallen 18.8% (from USD 15.65 cents per RPM in Oct-2008 to just USD 12.71 cents in May-2009), according to ATA data. In the previous major US economic downturn associated with the end of the dotcom boom/September-11, US carriers endured 29 months of yield weakness, falling from USD 16.04 cents in Feb-2001 to USD 12.51 cents in Jul-2003 – a 22% reduction.
In other words, over 2½ years of trouble last downturn has been compressed into just eight months this time, should yields fall again in June, which all the data suggests is likely.
May-2009's 16.2% reduction in domestic yield is approaching the biggest monthly fall this decade of 17.5% recorded in Oct-2001 in the aftermath of September-11. But in Atlantic and Pacific markets, the yield drop-off for US carriers has easily surpassed previous benchmarks during the current global economic downturn.
Last month's extraordinary 24% fall in Atlantic yields followed a 21.9% reduction in April and a 14.4% fall in March. The previous worst reduction, post September-11, was a 13.5% fall in Oct-2001. But in cents per RPM terms, Atlantic yields in May-2009 (9.94 cents) still stand 20.8% above the previous low point this decade, of just 8.23 cents set in Dec-2001.
US carriers extracted better yields out of Pacific markets than the Atlantic last month, at 10.26 cents per RPM, but down a massive 17.9% year-on-year. The worst monthly yield fall on the Pacific this decade was also set in Dec-2001, at -19.2%, while Pacific yields are still 29% above this decade's low point of 7.95 cents per RPM established in Apr-2003.
ATA yield growth: Jan-2008 to May-2009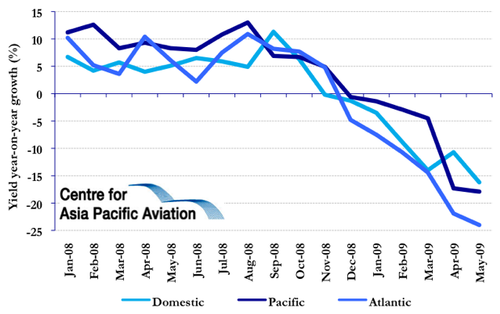 Outlook: Duration of yield falls depends on economic recovery and capacity
If the global economy is indeed recovering and carriers succeed in ratcheting up fares this Summer, then US airlines will have gotten away with a fairly brief – albeit intense – period of yield falls. The World Bank is predicting a 3% contraction in US GDP this year, followed by a 1.8% and 2.5% bounce-back in 2010 and 2011, respectively.
But if industry capacity levels continue to outpace demand falls and the economy softens further, the outlook for US carrier yields is not encouraging.