US airline seat densification Part 2: The Big 3 add seats, change the profile of willing passengers
Analysis
The three large global US network airlines are in the midst of adding seats to their aircraft at a time when the country's domestic capacity is creeping up and unit revenues and yields are falling. Of course these reconfiguration projects were set in motion before the price of fuel dropped significantly and pockets of weakness emerged in the US market place.

American, Delta and United remain bullish about their strategies to grow capacity through seat densification, often characterising the additional seats as efficient generators of capacity at nominal costs.

It also appears that the densification efforts are a competitive response to one another as the three large network airlines seek to offer the same size aircraft in order to reap the benefits that more densely configured jets deliver. Passengers, however, have at best mixed views about the strategy of adding additional seats to bolster revenue.
This is Part 2 in a series examining aircraft seat densification among US airlines
American believes denser seating help it compete more effectively with ULCCs
American Airlines has undertaken a project to add seats in its Boeing 737-800s and 777-200 widebodies. It is adding ten seats on the narrowbodies for a total of 160 and 42 on its 777-200 widebodies for a total of 289 seats.
American Airlines Fleet Summary as of 2-Oct-2015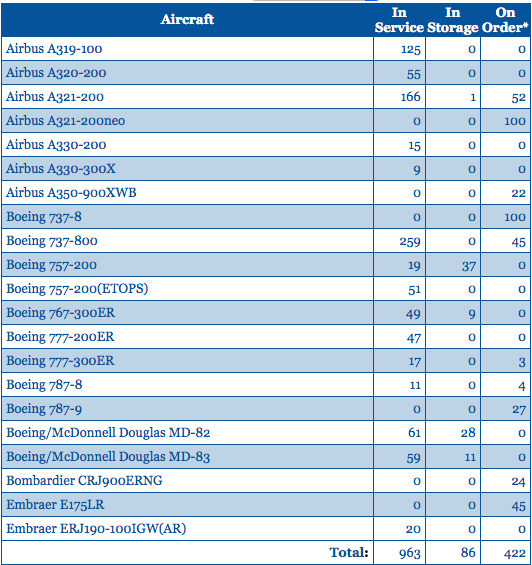 At the end of 3Q2014 American estimated that 1.5ppt of its then planned 2% to 3% capacity increase was driven by its aircraft densification projects. With unit revenues falling and domestic capacity inching up, American has refined its system capacity increase to 1% in 2015.

Even with the capacity adjustments – United has made two downward revisions to its 2015 capacity forecasts – airlines argue that their seat densification projects are still beneficial. Previously, American has concluded that adding seats is P&L positive due to the low cost of adding the seats, with the incremental revenue from the higher density configurations essentially pegged straight to the bottom line.

More recently, American has declared that more densely configured aircraft help it compete more effectively against ULCCs. The largest US ULCC, Spirit Airlines, is the second largest airline at American's Dallas/Fort Worth hub measured by ASMs. Spirit's Airbus A319s are configured with 145 seats, and it A320s feature 178 seats. The airline operates its A321s with 218 seats, and all economy seats on Spirit's narrowbody fleet are configured with a 28in pitch, the tightest among US airlines.

American president Scott Kirby has concluded that the real advantage of ULCCs is "just cramming as many seats as possible on an airplane". Operating denser aircraft, "makes us that more more competitive with ULCCs" he concluded.

See related report: American concludes currency and capacity headwinds mask still strong underlying demand
American also tries to match its larger rivals with the addition of seats on narrowbodies
American's decision to add seats on a portion of its fleet was also driven by the seating configurations adopted by its larger rivals Delta and United. In Jan-2014 The Dallas Morning News featured a quote from Mr Kirby in which he stated the new seating configurations of the 737-800s were in line with Delta. The new 289-seat configuration on American's 777-200s is just two seats shy of Delta's 291-seat configuration.
American Airline retrofitted seat configurations vs Delta, United and Southwest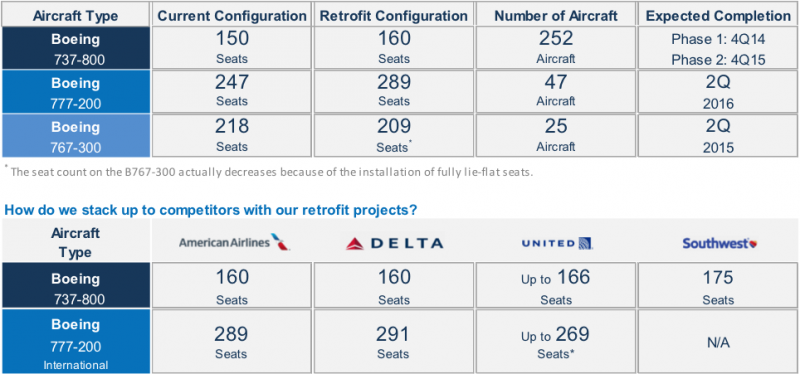 Mr Kirby declared in the report by the Dallas Morning News that American concluded that it was important to be competitive with United and Delta. "You can have a premium product, but a premium product in markets where there is premium demand and customers who are willing to pay for it," he stated.

American, still in the process of merging with US Airways, also has greater exposure to Southwest, an airline with lower costs than legacy carriers, but higher than the emergent ULCCs. American has faced pressure from Southwest's push from Dallas Love Field after the lifting of the Wright Amendment, and also has significant competitive overlap with Southwest in Phoenix, a legacy hub of US Airways.

Southwest operates its Boeing 737-700 (the backbone of its fleet) in a single class 143-seat configuration with 31in pitch and its 737-800s in a 175 seat configuration with 32in to 33in pitch. Most of American's Airbus and Boeing narrowbodies feature 30in to 31in pitch. Some of its domestic 757s have 31in to 32in pitch.
Delta believes seat density increases allow it to grow capacity with fewer departures
Delta in early 2014 tabled plans to spend USD770 million on fleet upgrades that included in-seat power, new lavatories and satellite television in addition to enlarging seat counts by 19 on its Boeing 757-200s, six on its Airbus A319s and 10 on its A320s. CAPA's Fleet database shows that as of 2-Oct-2015 Delta operates 57 A319s, 69 A320s and 86 757-200s.

Between 2016 and 2018 aircraft modifications are representing the bulk of Delta's projected USD2 billion to USD3 billion in capital expenditures.
Delta Air Lines projected capital expenditures: 2015 to 2019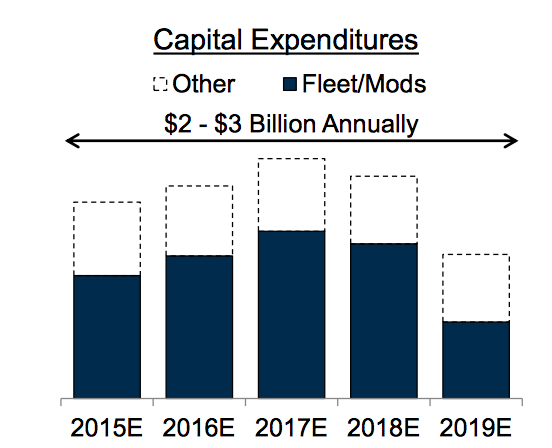 Among the three large US global network airlines, Delta has the lightest order book, with 174 firm orders compared with 422 for American and United's 201, according to CAPA's fleet database.

Delta in late 2014 also heralded the efficiency gains by operating more densely configured aircraft, noting its then planned 3% 2015 capacity growth was with flat year-on-year departures and 11 fewer aircraft. Much of that was driven by Delta's long standing initiative to reduce its fleet of 50-seat jets. It ended 1Q2015 with 189 50-seat regional jets, down from 474 in 2009. The latest seat additions to the narrowbodies will be completed in 2016-2017, which should drive even more capacity on fewer departures.

The densification is a more cost efficient way for airlines to enlarge their capacity without the outsized investment in new-build aircraft. Delta in particular with its narrowbody fleet strategy has relied on a mix of used and new aircraft, touting the benefits of low ownership of the used jets.

See related report: US airline fleet strategy and finance Part 1: The Big 3 take differing approaches to flee revamps
United touts the margin benefits created by increasing aircraft seating density
United has also opted to tap the used aircraft market in 2015, subleasing two Boeing 737-800s from Copa and striking a deal with AerCap to lease up to 25 A319s previously operated by China Southern Airlines.

The airline opted to begin adding slimline seats to its narrowbody aircraft ahead of its competitors in 2013 through densifying its Airbus A319s and A320s and later opted to install the seats on its Boeing 737s. At the beginning of 2015 United stated that it had installed the seats on more than 300 aircraft, and expected the project to reach 85% completion by YE2015.
United Airlines Fleet Summary as of 2-Oct-2015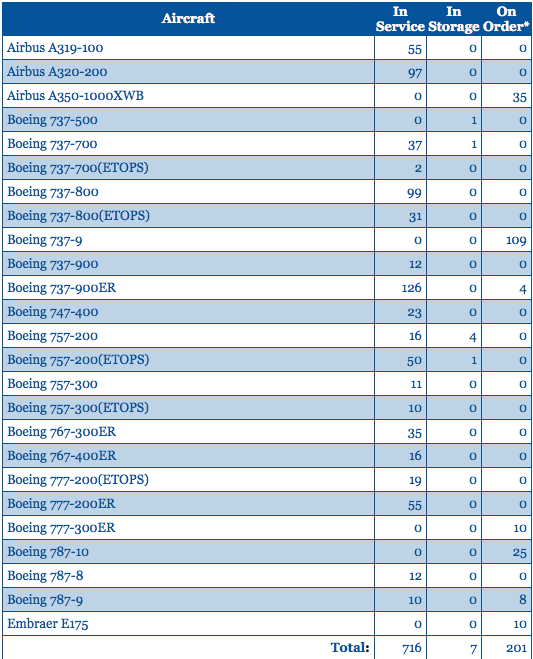 United has concluded the seats are accretive to earnings, but they do create unit revenue headwinds by generating lower yields; the trade off, however, is cost benefits and overall margin increases.

But the slimline seats that are lighter and feature less padding, have won less than ringing endorsements from passengers. The seat densification efforts have generated some negative sentiment among passengers – particularly those in frequent flyer forums – for their discomfort. Although airlines argue the new seats do not compromise legroom, some customers have complained about seat width.

Southwest Airlines in 2015 has revealed plans to use a different seat on its 737-800 deliveries beginning in mid-2016 and on its upcoming 737 Max jets. The new seats feature a 17.8in width versus a current width of 17.1in. However, the armrests on the new seats are smaller. The give and take with Southwest's seat design reflects the challenge airlines face in attempting to preserve a degree of passenger comfort while attempting to drive more value from their assets.
Are passengers becoming even more soured toward air travel as aircraft become denser?
Airlines across all business models are attempting to reap the benefits of operating more dense aircraft while in some cases navigating more vocal passenger expressions of dissatisfaction with the level of comfort in coach or economy travel.

For the large three US global network airlines the push in part seems to stem from the need to remain competitive with one another, and their low cost competitors.
Perhaps one conclusion from the densification initiatives is American, Delta and United are recognising the threat to their price sensitive market from ultra low cost competition.
Another trend is undoubtedly that the added seats are contributing to the growing sense of passenger disenchantment with air travel. This is not merely a matter of passenger discontent; that sentiment translates also to a greater reluctance to fly, in turn reducing the pool of willing travellers and a further progression towards commoditisation - precisely the trend the majors are trying to reverse.