Upstart carrier California Pacific Airlines banks on exploiting a unique geographic niche
Analysis
Management at start-up carrier California Pacific Airlines is attempting to carve out a niche business model based on tapping an affluent passenger base in North County, San Diego, California that will opt to use nearby Carlsbad McClellan-Palomar Airport for short-haul flights to a mix of business and leisure destinations in lieu of driving 56km south to San Diego International Airport. The carrier is competing with San Diego's largest carrier Southwest Airlines on its initial routes, but calculates it only needs to tap a portion of passengers heading south to turn a profit.
The carrier surfaced about three years ago as the brainchild of well-known North County businessman Ted Vallas, who is modeling the carrier somewhat on Pacific Southwest Airlines (PSA), a carrier based in San Diego that was purchased by US Airways in the late 1980s. Delays in obtaining requisite certification from US regulators pushed a planned 2011 launch by California Pacific into 2012, and the target could slip into 2013.
California Pacific marked a milestone in Jul-2012 when it acquired its first Embraer 170 aircraft. The carrier reportedly plans to operate its E170s in a 72-seat, two-class configuration. Seat pitch in the premium section of the cabin is 34in and 31in for standard economy seats.
Planned initial routes listed by the carrier include the California cities of Oakland, Sacramento and San Jose; Las Vegas in Nevada; Phoenix in Arizona; and Cabo San Lucas in Mexico. Carlsbad is currently only served by one carrier, United Express, with six Embraer EMB-120 turboprop flights each weekday from United's nearby Los Angeles hub (with fewer frequencies on weekends).
Planned initial routes for California Pacific Airlines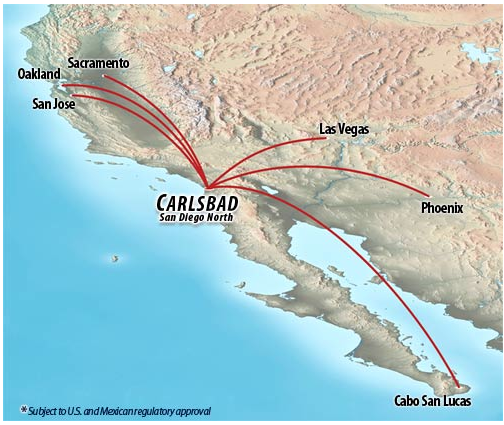 Service from Carlsbad to Cabo San Lucas will not likely debut until California Pacific has been operating for at 12 months. The carrier recently told the US Department of Transportation it no longer needed approval for foreign passenger flights during its first year of operations.
Facing stiff competition from Southwest
Current schedules in Innovata show that Southwest offers ample service in all of California Pacific's planned markets. On three route pairings – Sacramento, Las Vegas and Phoenix – Southwest offers more than 10,000 weekly one-way seats from San Diego. Southwest's established presence and breadth in those markets creates an obvious schedule advantaged, and the carrier will likely match California Pacific's fares if the upstart's prices are lower than Southwest's fares.
Ultra low-cost carrier Spirit Airlines also offers flights from San Diego to Las Vegas, while US Airways offers flights from San Diego to its Phoenix hub. California Pacific will compete less directly with United, which offers non-stop flights from San Diego to San Francisco (located near Oakland and San Jose) as well as one-stop flights from Carlsbad to Sacramento, San Jose, San Francisco, Las Vegas and Phoenix via Los Angeles.
Competitor capacity in California Pacific's initial markets (seats per week, one way): 16-Jul-2012 to 22-Jul-2012
Carlsbad is about 150km from Los Angeles International. John Wayne Santa Ana Airport (Orange County), serving the southern suburbs of Los Angeles, is about 80km from Carlsbad. Southwest also serves Santa Ana from all of California Pacific's planned markets. While Santa Ana is not much further than San Diego from North County, most North County passengers drive south rather than north partly because of the heavy traffic typically encountered when heading north from San Diego County towards Los Angeles.
California Pacific concludes it does not need to target the majority of passengers currently driving to San Diego International for air travel. Mr Vallas recently told U-T San Diego the carrier has carried out an analysis that shows California Pacific would garner about 15% of the customers driving to San Diego. He estimated a population of 1.3 million residents currently live in North County.
The competitive response by Southwest to California Pacific's entry into its markets could take different forms. Southwest could conclude the level of capacity introduced by California Pacific is not a significant threat, and allow the carrier to siphon off some customers opting for a shorter journey to the airport. But it is doubtful Southwest will just roll-over and allow another carrier to capture its passengers.
California Pacific is also hoping to capitalise on 25 of the top employers in greater San Diego being based closer to Carlsbad than San Diego, and is attempting to craft a product deemed attractive by business passengers with two free checked bags, free seating assignments and no middle seats in its 2-2 seating configuration. While that may create an outbound market, its plan for an inbound market is less clear.
Businesses located close to McClellan-Palomar Airport: 2012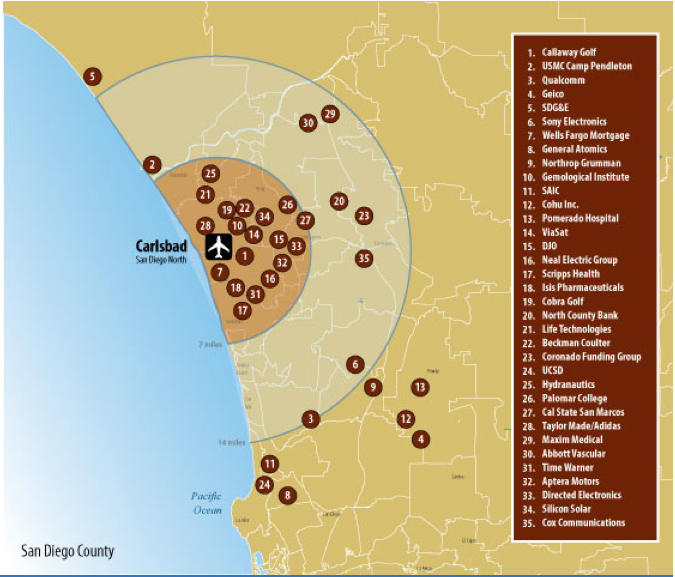 Drawing a reference to PSA Mr Vallas said that in the 1970s and 1980s the population of greater San Diego was lower than the more than one million residents currently living in North County. He believes if that smaller population could support a fleet of 17 aircraft operated by PSA, then California Pacific could corner the market in North County.
But the airline business today is drastically different from PSA's heyday 30 years ago, and few start-up carriers survive to mark their fifth year of service. While California Pacific has carried out extensive market research, the carrier's underlying assumptions about passenger preference for a more geographically desirable airport remain untested until it actually starts operations. Still, the prospective airline's business plan appears more sound and focussed than the broad-based, unfocused low fare strategy being adopted by the management of the new People Express.
See related article: Window for targeted launch of People Express continues to shrink
If California Pacific's focus remains on capturing business customers and incremental leisure passengers in North County, its niche bet could pay off.
Background information
San Diego International Airport capacity by carrier (% of seats): 16-Jul-2012 to 22-Jul-2012