United starts 2014 on a weak note – does this set the stage for more disappointing results?
Analysis
United's pledges that 2013 was the year it moved past merger integration into improved performance in financial metrics are fading fast as the carrier looks toward a loss for 1Q2014 and continued under-performance in unit revenue growth relative to its peers.

At the same time the carrier's cost are rising, creating an unattractive scenario for an airline that cannot seem to gain solid footing nearly four years after the merger of Continental and United formed the latest iteration of United.

Various challenges including a deluge of winter storms created havoc for the majority of US carriers during 1Q2014, but somehow those airlines will manage to turn a profit during a typically weaker quarter. Weather disruptions are a mainstay in airline operations, so United's expected weaker 1Q2014 performance begs numerous questions over the carrier's exact ailments and when it will rise to par with its peers.
United estimates unit revenues could dive nearly 2.5% in 1Q2014
During 1Q2014 United estimated it cancelled roughly 35,000 flights, 30,000 of which were services operated by the airline's regional partners. The carrier determined the effects from those disruptions negatively impacted its quarterly unit revenues by 1.5ppt. Overall, United's consolidated passenger unit revenues in 1Q2014 are projected to decrease 1.5% to 2.5%, while its unit costs excluding fuel, profit sharing and third party business expenses are set to increase 3% to 4%.
US major carriers passenger unit revenue and unit cost guidance: 1Q2014
| | | |
| --- | --- | --- |
| Carrier | PRASM guidance | CASM (ex-fuel) guidance |
| American | 2.5% to 3.5% increase | Mainline 4% to 6% rise, Regional 5% to 7% increase |
| Delta | 3% to 4% increase | 0.5% to 1.5% increase |
| United | 1.5% to 2.5% decrease | 3% to 4% increase |
United did record the largest number of flight cancellations among the three US major network carriers. American estimated it cancelled approximately 34,000 flights while Delta's cancellations topped 17,000 flights.

American expects its passenger unit revenues to grow 2.5% to 3.5% even as its flight cancellations during 1Q2014 were just slightly lower than United's. American did not break out the regional vs mainline cancellations, but ultimately carriers need to manage their overall revenue risks, which based on the numbers is something United fell short on in 1Q2014.
United's improved revenue forecasting is dimmed by an overall weak performance
United's weak revenue performance in 1Q2014 follows a pledge that favourable yield trends the carrier enjoyed in 4Q2013 (when yields grew 3% year-on-year) would continue into 1H2014 after miscues in its forecasting resulted in yet another weak unit revenue performance relative to its peers in 3Q2013. Its passenger unit revenues in 3Q2013 increased 2.7% year-on-year compared with a 3.4% rise at American, a 5% increase at US Airways and growth of 4% at Delta. (Note: American and US Airways did not close their merger until 4Q2013).

See related report: United Airlines continues pledges of improvement while its lacklustre performance continues

After 3Q2013 United explained it was making investments to improve its revenue management and update its projection mechanisms to favour more close-in bookings. The changes did create some positive momentum for United as its passenger unit revenue growth of 3% in 4Q2013 was in line with Delta's 3% increase and a bit lower than American's rise of 5% (the combined performance of American and US Airways). For FY2013 United's passenger unit revenues increased about 3%, again nearly equal to Delta's 3.7% rise and 2.6% growth at American.

In early 2014 United touted that tickets issued 21 days and beyond in Jan-2014 and Feb-2014 decreased 3% year-on-year, and tickets purchased within 20 days increased 11%. But obviously that upside was wiped out by the weather and other challenges the carrier faces as investors continue to grow weary of United's performance.
United frequently fails to execute on its network strength
United often touts its network superiority, and plans to add secondary Asian cities Chengdu and Taipei from San Francisco with Boeing 787s in 2014, further strengthening its position in the US-China market. Its San Francisco hub is a major gateway to Asia and its hub in Houston presumably drives high yields given the large presence of the oil industry in the market. During late 2013 United estimated it commanded 77 weekly departures between the US and China, 28 more than other US airlines combined.
United's weekly departures to China versus other US carriers: 2013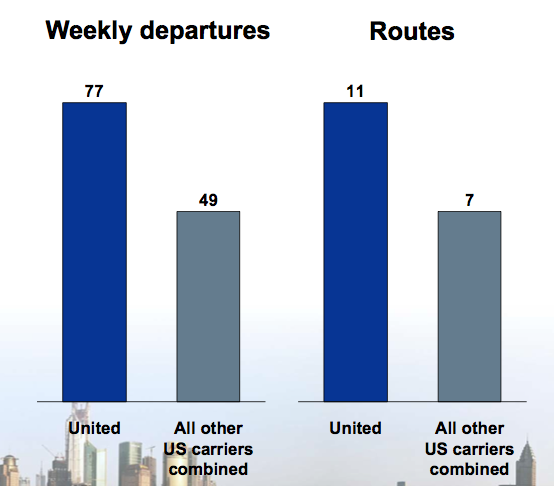 Presently, United accounts for nearly 15% of the seats deployed from the US to international markets, which is second behind the combined approximate 18% share of American and US Airways. Its hubs on the US west coast, mid-country and its fortress in New York Newark do provide opportunities for the carrier to capture high-yielding revenue. As Delta works to bring its New York operations to profitability, United touts its superiority in the New York market. During 2013 it estimated a USD1.1 cent premium in New York yields.
United States international capacity by carrier (% of seats): 14-Apr-2014 to 20-Apr-2014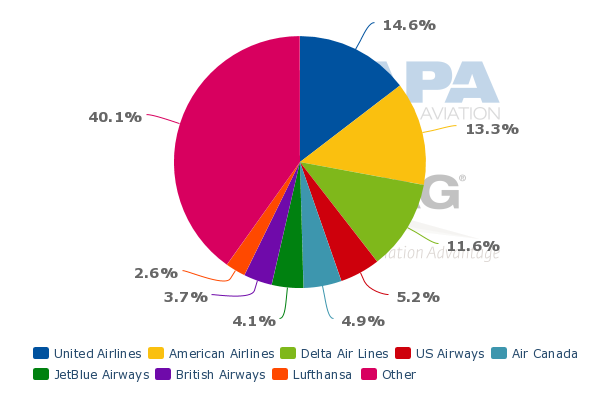 United's New York service versus the US industry: 2013

The carrier's corporate revenues increased 7% year-on-year during 4Q2013, which is also a positive development. Although it is unclear if United has recouped all the lucrative corporate customers that opted to travel on other airlines after the carrier endured massive operational meltdowns in 2012.

All of those factors point to one glaring question: Why is United having such a hard time exploiting its so-called network strength?
United counters its recorded PRASM is higher than industry average
As part of its defence against weaker passenger unit revenue growth relative to its US industry peers, United has often touted its larger recorded passenger unit revenues relative to other carriers. At the end of 3Q2013 United touted a PRASM premium of 14.9% compared with the average PRASM recorded by members of trade group Airlines For America (all the US major carriers are members of the group). However, for CY2013 United's consolidated PRASM of USD13.50 cents was lower than American's USD13.67 cents and Delta's USD14.15 cents.
United's PRASM compared to the industry average: 12M ending 3Q2013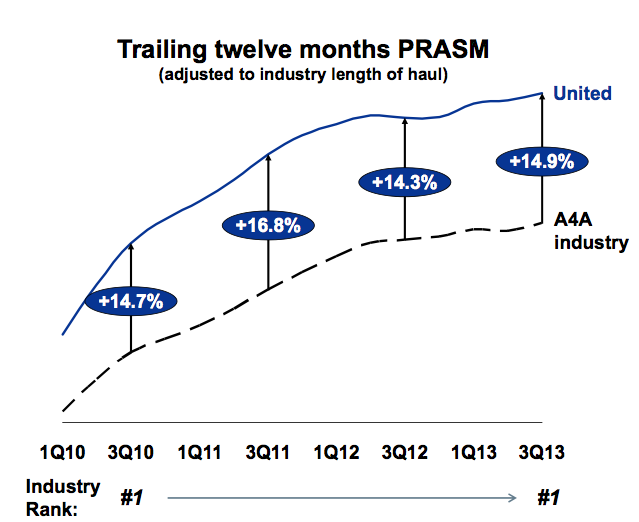 It has also highlighted two major initiatives to grow its passenger unit revenue premium – investments in revenue management and improving its network value.

Part of United's improving network value proposition is a realignment of its operations in Tokyo to de-emphasise connections as the weak yen has plagued the Pacific performance of most US network carriers throughout the past year. United is cutting its intra-Asia capacity in 2014 32% year-on-year as it cuts flights from Tokyo Narita to Bangkok and Seattle, and down-gauges equipment between Tokyo and Seoul.

See related report: United reduces Tokyo connections in a Pacific network revamp that emphasises more directs
United continues to tread water – is investor patience waning?
Throughout the last couple of years United has seemingly said and done the right things to chart a course to achieve the revenue potential worthy of a "world-class" network. But it seems the carrier has stumbled at every turn, taking two steps back for every single step forward.

United's pledges for an upturn in 2014 for the moment are falling short. While the carrier did face an outsized number of cancellations during 1Q2014, it would appear that perhaps its challenges are beyond mere operations recovery.

The carrier's lacklustre performance in 1Q2014 sets the stage for a hard climb throughout the rest of the year as questions continue to dog the airline over the hurdles that are prohibiting United from enjoying the full benefits of its merger, and what needs to be done to create sustained profitability for the carrier. More importantly, investor patience could be wearing thin, which means United needs to start delivering on promised synergies that have remained elusive for almost four years.