United reduces Tokyo connections in a Pacific network revamp that emphasises more directs
Analysis
United Airlines plans a realignment of its Pacific operations centred on increasing direct flights rather than stop-overs in Tokyo as the weakness in Japan's currency has dragged down the carrier's results in those markets for most of 2013. United is also building a strategy to directly serve non-traditional gateways to China as competitive capacity increases have also pressured the carrier's Pacific performance.

The adjustments are freeing up some aircraft for redeployment into new markets from United's Houston Intercontinental, Washington Dulles and Chicago hubs for new service to Europe, which perhaps seems like a safer option at the moment even as the region is on an at-best slow trajectory to economic recovery.

The success of these planned network shifts necessarily depends on execution, an area where United has faced challenges with respect to the merger with Continental. Now, getting it right will be central to the airline's Asian strategy.
Changes are necessary to improve United's weak Pacific Performance
The changes United intends to make to its Pacific operations are arguably necessary given the region was the carrier's worst performing geographical entity during 3Q2013 as unit revenues dived 9% year-on-year driven by an 8% drop in yields.
United Airlines unit revenue and yield performance by geographical entity: 3Q2013 vs 3Q2012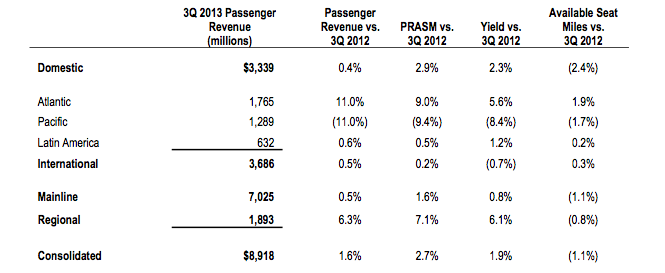 The airline's lacklustre performance was driven by what have now become familiar culprits that United has often discussed during the last year – the weak Japanese Yen and pressure from competitive capacity additions on some of its Chinese markets. United has estimated that capacity from the US to Beijing and Shanghai grew 20% year-on-year during 3Q2013, while it recorded a USD55 million headwind from the weak Japanese currency.

See related report: United Airlines continues pledges of improvement while its lacklustre performance continues
United believes its changes in Tokyo mirror increasing appetites for non-stop travel
United's answer to combating the weakening demand stemming from Japan's currency pressure is to de-emphasise its intra-Asia network from its base at Tokyo Narita.

Another portion of the carrier's logic behind its planned changes in Tokyo stop-overs is its calculations that non-stop traffic to Asia from the US has grown 40% since 1999 while its own intra-Asia capacity fell 31% from 1999 to 2013, and during 2014 its capacity in those markets will decrease 53% compared to to 1999.
Increases in non-stop passengers from the US to Asia and United's intra-Asia capacity: 1999 to 2014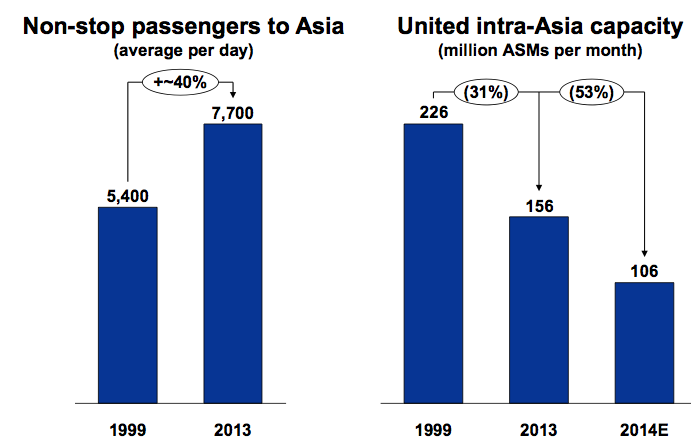 United exits Tokyo markets where it has limited scope
United's planned drop in intra-Asian capacity during 2014 is driven by the elimination of flights from Tokyo Narita to Bangkok and Seattle, and the down-gauging of equipment on the heavily served Tokyo-Seoul market.

Based on data from OAG for the week of 24-Nov-2013 to 30-Nov-2013, United accounts for about 12% of the approximately 22,000 one-way seats on offer from Tokyo Narita to Bangkok, which also served by Thai Airways (whose seat share is 40%), Japan Airlines (with an 18% share), ANA (also with an 18% share) and Delta (with a 10% share). Thai, Japan Airlines and ANA also serve Haneda-Bangkok offering a total of roughly 6,100 one way seats. Thai holds a 42% share followed by Japan Airlines at 29% and ANA at 28%.
Tokyo Narita Airport to Bangkok Suvarnabhumi International (seats per week, one way): 19-Sep-2011 to 1-Jun-2014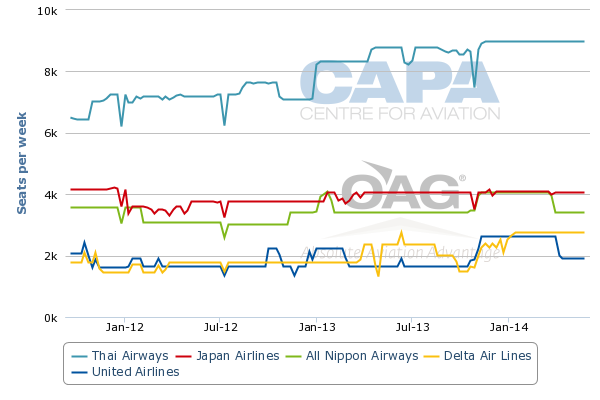 The decision to eliminate Tokyo-Seattle seems logical as Delta is aggressively expanding into the Pacific from Seattle and offers flights to Tokyo Haneda (in addition to Narita), which is closer to the city centre, giving Delta an edge among corporate travellers in the market.
Seattle is not a hub for United, and it only holds roughly a 13% seat share in the Seattle-Narita market. Delta also has the second-largest domestic network in Seattle, slightly ahead of United, and is planning future growth to feed long-haul flights, a key advantage for the long-haul network compared to United. It makes sense for United to exit the route and work with its Star joint venture partner ANA to maximise connecting traffic from Seattle.
Seattle/Tacoma International to Tokyo Narita (seats per week, one way): 19-Sep-2011 to 1-Jun-2014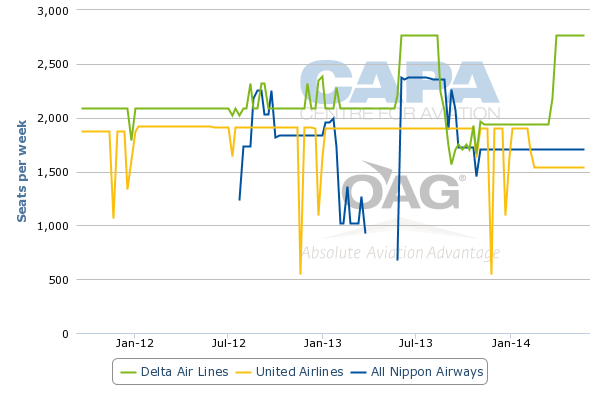 It appears United plans to leverage its joint venture with ANA as connections in Tokyo become less relevant in United's network. Recently carrier chief revenue officer Jim Compton explained that it can work with ANA to offer connections through Tokyo as it eliminates and down-gauges its intra-Asia network within Tokyo.

ANA does not offer passenger service between Tokyo Narita and Seoul, which is a heavily travelled market, but United's Star partner Asiana holds a 25% share of the roughly 19,200 seats available in the market, and also operates service from Haneda to Seoul. (ANA's Seoul services are from Tokyo Haneda. Transfers between Narita and Haneda are not preferred by passengers.)
Mr Compton in outlining United's strategy noted that "end to end alliances are very powerful in terms of expanding your network". He was referring specifically to United's Star partners in China, but it is a blanket philosophy that could be applied throughout United's network.
Tokyo Narita to Seoul Incheon International (seats per week, one way): 19-Sep-2011 to 1-Jun-2014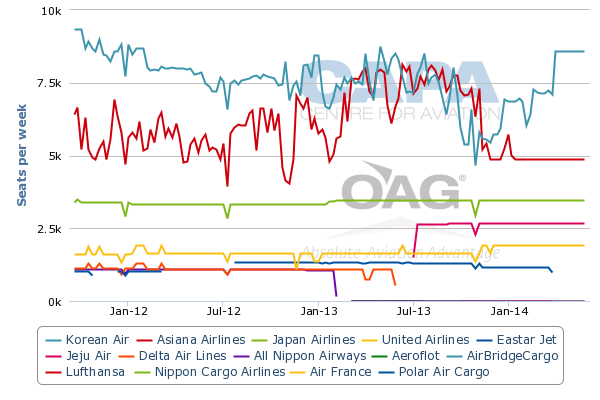 United's Asia 2.0 strategy is targeting secondary markets
United is opting to create a strategy in China which differs from its main US global competitor Delta by targeting secondary cities with its Boeing 787 fleet. Delta has previously outlined a strategy to offer secondary markets in China to its customers through its SkyTeam partners China Airlines, China Eastern and China Southern.
See related report: Delta Air to use its Chinese SkyTeam partners to grow, connecting over the main hubs
United's new service from San Francisco to Chengdu begins in Jun-2014 after new flights debut from San Francisco to Taipei in Mar-2014. Service to Taipei was pushed into 2014 due to 787 delivery delays and when 777s it initially planned to deploy in the market being tied up in other areas of its network.

Schedules in OAG show that EVA Air serves Seattle-Taipei while China Airlines and EVA serve New York JFK-Taipei (EVA non-stop, China Airlines via Osaka Kansai and at a lower frequency than EVA Air). Delta also offers service from Narita to Taipei and likely enjoys some connecting traffic through Tokyo. Although overall Delta also appears to be de-emphasising Tokyo connecting traffic as its push into Asia during the last couple of years entails launching service from Seattle to Beijing, Shangahi, Seoul and Hong Kong (a transfer of service from Detroit).
Delta also serves Osaka and both Haneda and Narita from Seattle, but it too seems to be focused on more direct service to Asia. It is likely Delta will offer a non-stop US-Taipei service.

See related report: Delta Air Lines' service roll-outs in Seattle reflect new nuances in airline partnerships
Chengdu 787 service offers a useful testbed
Chengdu will be an interesting test case for the operating profile of the 787 touted by Boeing regarding the aircraft's superiority on long-thin markets. United claims its Denver-Tokyo flights that debuted in Jun-2013 were profitable nearly out of the box, and stresses the route would viable with any other aircraft. There are no direct flights from Chengdu to the US, so United does have an opportunity to exploit the route, if it manages the roll-out within its overall global network effectively.

Even as United charts a course to serve secondary markets in China that it believes are made viable with the 787, the carrier is still touting its leading position among US carriers with service to the country. United estimates its 77 weekly departures are 28 more than the 49 combined on offer from other US airlines.
United weekly departures and routs from China as of Nov-2013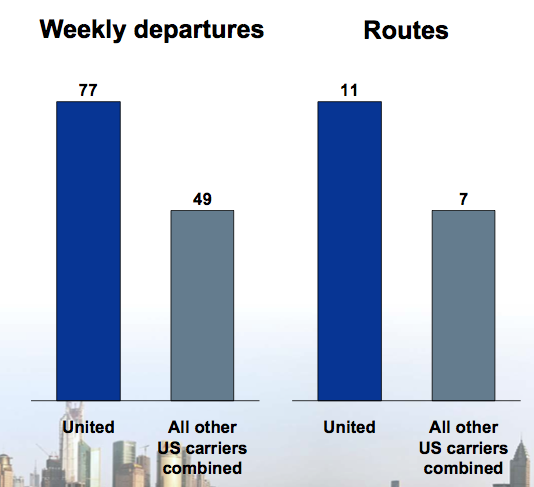 United opts to put some Asia capacity into new European markets
Mr Compton in his recent discussion with investors outlining the carrier's strategy to bolster revenues cited the network planning philosophy of contribution, which entails examining the economics of a market such as Houston-Austin outside of the local traffic and focusing on the benefits the market adds to the entire system in regards to connecting revenue.

He noted that United was working to improve the functionality within its revenue management scheme to optimise connections. The carrier's decision to add a second daily flight from its Houston hub to Tokyo (moving the Tokyo capacity from Seattle) reflects its focus on hub maxmimisation. Mr Compton remarked that "Houston is a key hub for us," which is interesting given the carrier's retaliatory pull-back at Intercontinental in 2012 after Southwest gained approval to launch international service from nearby Houston Hobby in 2015.

See related report: United Airlines walks away the sore loser after Southwest wins international expansion from Hobby

United can presumably leverage more revenue-enhancing connections through additional service between Houston and Tokyo versus its significantly smaller presence in Seattle, where it presently accounts for 9% of the one-way seating capacity, which limits connecting revenue on its current Seattle-Tokyo service. It is also noteworthy that American Airlines has had double daily services to its Texas hub at Dallas/Ft Worth, which is also a hub for Latin American services; these provide not insignificant connections from Asia.

Other additions United is planning from Houston include new service to the Munich hub of its Star and trans-Atlantic joint venture partner Lufthansa. United already offers service to Munich from its hubs in New York Newark, Chicago and Washington Dulles.

The carrier is also redeploying aircraft coming out of its intra-Asia markets onto new seasonal long-haul service from its Chicago hub to Edinburgh and its Washington Dulles hub to Madrid. The focus on Europe as Japan continues to weakens United's overall performance reverses the strategy it adopted in 2012 when the carrier right-sized capacity in Europe the region faced tough economic conditions.
United faces high levels of scrutiny of its strategy shift in Asia
All of the network changes are part of a broader plan by United to bolster revenue as its performance has been weak in that regard during the last year.

Mr Compton noted that United could do better in bolstering its revenue and reiterated previous comments the carrier's management has made regarding its financial performance. In future United faces considerable scrutiny as it works to shore up its efforts to improve cost and revenue metrics.
The airline's network changes seem logical, but again, given its track record in executing its merger, but industry observers looking for a solid upswing in the carrier's results will need some convincing that these new approaches are more than short term fixes to reduce losses.