United lags, Delta, FedEx, UPS and LCCs mostly down. Alaska rises on share buyback announcement
Analysis
United Airlines (-7.0% - see below), Delta (-4.2%), FedEx (-3.2%), UPS (2.4%) all lost ground on Friday, with United going to lengths to rebut suggestions that the company might breach debt covenants. Alaska Airlines (+5.0% - see below) however went against the flow following an announcement of a proposed share buyback.
North & South America selected airlines daily share price movements (% change): 12-Jun-09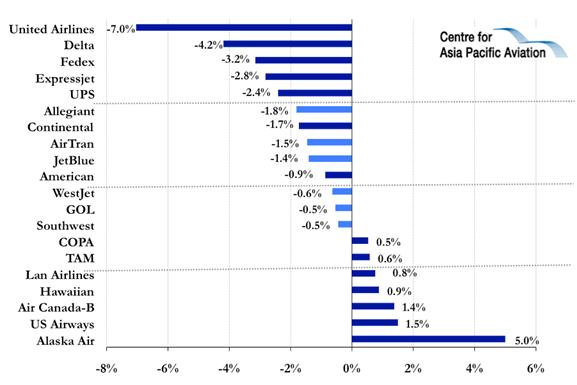 United's consolidated PRASM declined a nasty 11.1% y-o-y in 1Q09, "as the current economic environment weighed on demand". After stressing the Group's financial resilience, the presentation also emphasised comparisons with United's main competitors:
United RASM vs competitors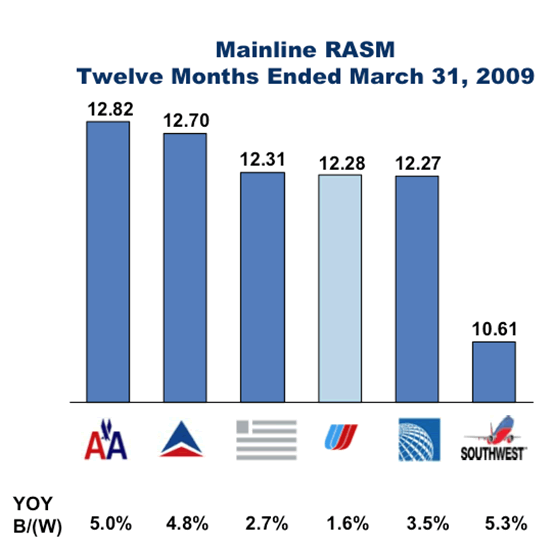 United costs vs main competitors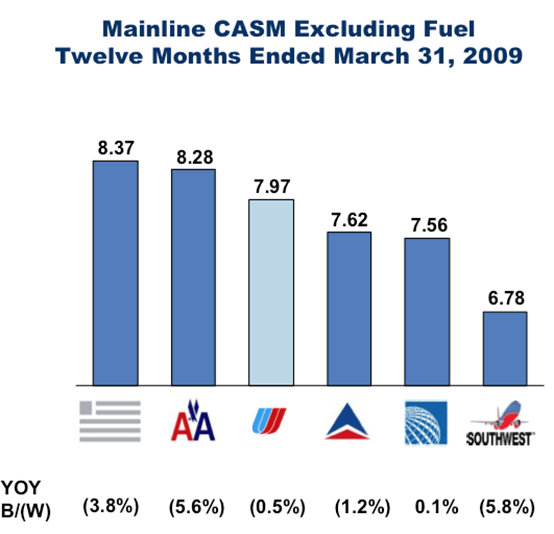 And these days, rather than saying mine (aircraft order) is bigger than yours, the macho statement is to cut back, as loss reduction strategies kick in.
Capacity reductions, compared with major competitors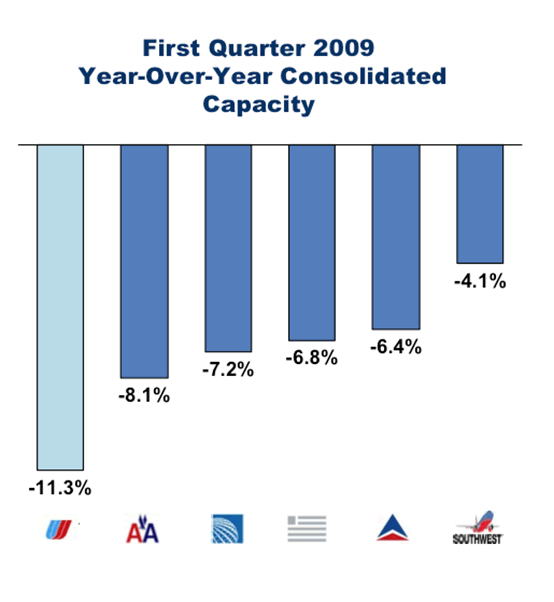 And, for the full year: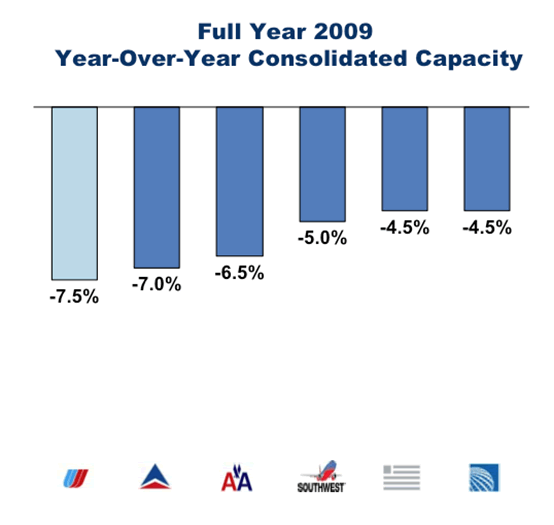 On planned orders
Concerning United's recent announcement that it would hold a beauty contest between Airbus and Boeing for selection of replacement aircraft for its Boeing 747's (Number in Fleet -26 ; Average Age -13 years), Boeing 777's (Number in Fleet -52; Average Age -10 years); Boeing 767's (Number in Fleet -35 Average Age -14 years); and elderly Boeing 757's (Number in Fleet -97; Average Age -17 years), the point was again reinforced that this would not weigh on the carrier's credit position:
United will only invest in new aircraft if:
"We can earn a return on our investment
"We can do so in a way that does not impede the progress that we have made building liquidity"
In any event, "deliveries will not begin for several years and last into the next decade."
The cashed up Alaska Group, which operates both Alaska Airlines and Horizon Air, announced on 11-Jun-09 that the board had approved a stock repurchase programme authorising the company to buy up to USD50 million of its common stock.
According to Bill Ayer, Alaska Group Chairman and CEO, "This program allows us to enhance shareholder value through the repurchase of outstanding shares while preserving our strong cash balance. Even after the repurchase, Air Group will continue to have the best liquidity position among major U.S. airlines. Today's decision is consistent with the company's practice of repurchasing shares opportunistically and underscores our commitment to provide a reasonable return to investors."
The announcement illustrates the Group's relatively strong cash position - and the stock will be bought out of cash reserves. The repurchase programme allows to the company to buy its own common stock from time to time "through open market purchases, negotiated transactions or other means."