United excludes Houston in new domestic and international push from US hubs
Analysis
IAH will see further network shrinkage with United ending service to Mazatlan, Mexico on 29-Nov-2012. Mazatlan was one of the markets singled out by United whose service would be in jeopardy if the city opted to allow international service from Hobby. In retaliation against the city's endorsement of new transborder flights from Hobby, United detailed plans to cut capacity IAH by about 10%, split between 6% of its current operations and 4% allotted to future growth from the airport. United reasoned the cuts were necessary since it had held onto certain unprofitable markets from IAH in the hopes that future expansion would usher in a reversal of fortunes. But United believes the new service from Hobby will result in irreparable harm, and now seems to be working to cut its losses at the airport.
See related article: United begins small market cuts from Houston in fallout from battle over Hobby
One immediate long-haul casualty from Houston is United's flights to Paris, which were launched in 1997. The service is scheduled to end in Oct-2012, but United appears to be replacing its flights between Houston and Paris with the re-launch of daily service to Paris from its hub in San Francisco in Apr-2013. San Francisco-Paris service last operated in Oct-2005.
As United switches its long-haul Paris service from Houston to San Francisco, United will still face familiar competition as Air France operates service to both Houston and San Francisco from its Paris hub. XL Airways also offers seasonal service between Paris and San Francisco.
San Francisco International Airport to Paris Charles De Gaulle Airport (seats per week, one way): 19-Sep-11 to 30-Dec-12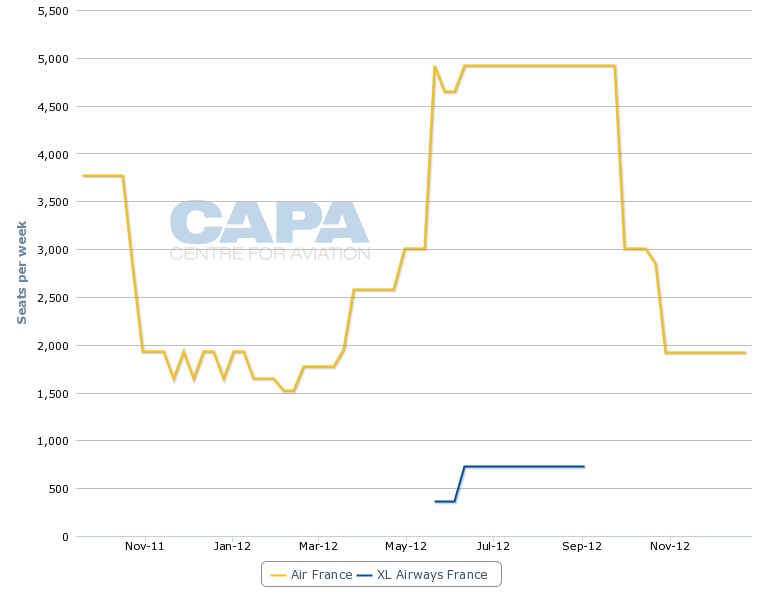 United's decision to move its Paris service from Houston to San Francisco could be a defensive move to bolster its presence from the US west coast, where SkyTeam carriers have a large presence to Paris. In addition to serving Paris from San Francisco, Air France offers flights from Los Angeles to Paris while its SkyTeam partner Delta operates flights from Seattle to Paris. United's status as the largest carrier in San Francisco coupled with its entrenched base of frequent flyer should help the airline hold its own against Air France. Its dense network on the US west coast could also be a strategic selling point for passengers originating in France, whereas in Houston Air France passengers could make some connections to Latin America through SkyTeam member Aeromexico.
SkyTeam's ability to foster connections on the west coast is more limited as no alliance partner has a leading presence in Los Angeles, San Francisco or Seattle. United holds a 21% seat share in the fragmented Los Angeles market (where Delta's share is 12%), and accounts for a 46% share in San Francisco. Alaska is the dominant airline in Seattle, holding a 47% share. Delta and Alaska do have an extensive codeshare partnership covering flights from Seattle, but that is likely tilted more towards feeding passengers from Alaska's network on Delta's long-haul service from Seattle.
United is also operating 214-seat Boeing 767-300 widebodies on its flights from San Francisco to Paris, which are slightly smaller than the 235-242-seat 767-400s operated on flights from Houston to Paris. The smaller aircraft allow United to somewhat rightsize equipment to projected demand on the service from San Francisco.
Los Angeles International Airport capacity by carrier (% of seats): 09-Jul-2012 to 15-Jul-2012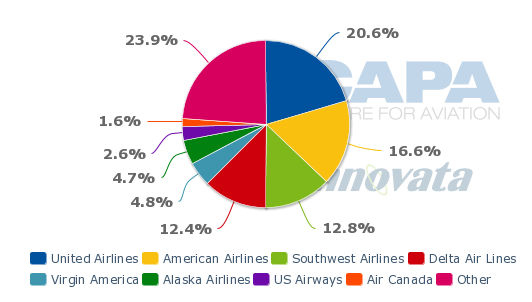 San Francisco International Airport capacity by carrier (% of seats): 09-Jul-2012 to 15-Jul-2012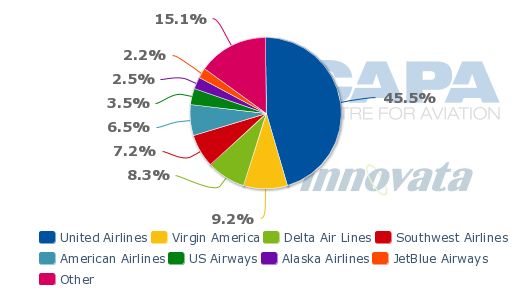 Seattle/Tacoma International Airport capacity by carrier (% of seats): 09-Jul-2012 to 15-Jul-2012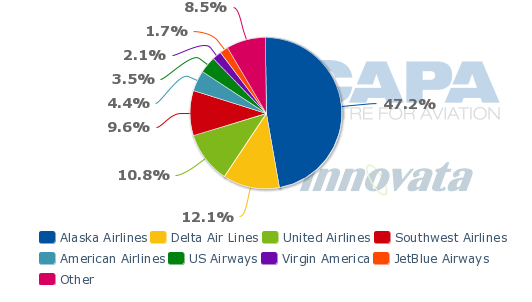 United's long-haul push from San Francisco in 2013 also includes the resumption of flights to Taipei Taoyuan International Airport, a market the carrier exited in 2008 during the height of the first oil price crisis. No US-based carrier currently offers direct flights to Taipei (United serves Taipei from Tokyo Narita) but new Star Alliance member-elect EVA Air and SkyTeam member China Airlines offer a combined total of roughly 6,504 weekly one-way seats from San Francisco to Taipei, with EVA accounting for 59% and China Airlines holding a 41% share.
San Francisco International Airport to Taipei Taoyuan International Airport (seats per week, one way): 19-Sep-11 to 30-Dec-12
The resumption of daily service to Taipei in Apr-2013 by United from San Francisco will result in the carrier offering service to seven Asian destinations from its northern California hub. Currently, United operates flights from San Francisco to Beijing, Hong Kong, Osaka, Seoul and Shanghai.
United's return to Taipei coincides with the carrier securing regulatory approval to codeshare with EVA on flights between and within the United States and Taiwan as well to third countries. The relationship has historical ties as Continental (United's merger partner) had a codeshare arrangement with EVA. The codeshare will allow the carriers to strengthen their networks, and, for United, potentially make the service viable. EVA intends to codeshare on a number of United's domestic routes. United can be expected to announce in due course additional codeshares on EVA following United's decision to enter EVA's hub. Although EVA's strategy is increasingly relying on Cross-Strait flights to mainland China, China typically permits foreign carriers to only codeshare with Chinese carriers on flights to the mainland, so United is unlikely to be able to codeshare on EVA's flights from Taiwan to the mainland.
In early 2012 Taiwan's tourist bureau estimated a nearly 10% rise year-over-year in foreign tourist arrivals during 2011, with 4% growth in visitors from the US.
EVA Air codeshares with American and US Airways on its flights between Taipei and San Francisco, according to Innovata, but EVA is likely to drop the American partnership as it works through the details of formally joining Star in early 2013.
See related articles:
Taipei Taoyuan International Airport capacity by carrier (% of seats): 09-Jul-2012 to 15-Jul-2012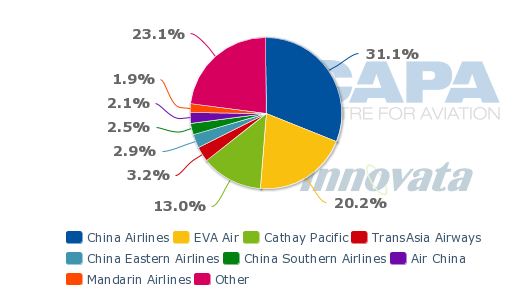 EVA warned in late 2011 that it was seeing weak demand in its US markets. But by potentially partnering with United in San Francisco to access its new partner's feed, EVA could actually improve performance in that market. EVA recorded load factors over 70% on its flights from San Francisco each month during 2011 (no yield information is available).
Plans are also underway by United to bolster its service to Mexico with a new Chicago O'Hare-Monterrey flight beginning in Dec-2012. At the same time the airline is resuming flights from its Washington Dulles hub to San Salvador, a market it exited during the mid-2000s.
United plans to operate two-class Bombardier CRJ700s on a single daily flight from O'Hare to Monterrey, which is a logical pairing given the size of United's hub in Chicago and Monterrey's status as a large business centre and the third largest metropolitan area in Mexico. United already offers flights from IAH to Monterrey (along with Mexican low-cost carrier VivaAerobus) and will compete with Aeromexico on the new service to Monterrey from Chicago. Schedules in Innovata show that Aeromexico offers four weekly direct flights on the pairing operated with Embraer E-190s by its subsidiary Aeromexico Connect.
The service to San Salvador is especially interesting given that United's new Star partner, El Salvadorian carrier TACA, offers 17 weekly flights between Dulles and San Salvador, and codeshares with United on those flights, according to Innovata. While there is a significant Salvadorian community in the Washington, DC metro area, United's flight could also be aimed at tapping into TACA's network from El Salvador for connecting flights.
Washington Dulles International Airport to San Salvador Comalapa International Airport (seats per week, one way): 19-Sep-11 to 30-Dec-12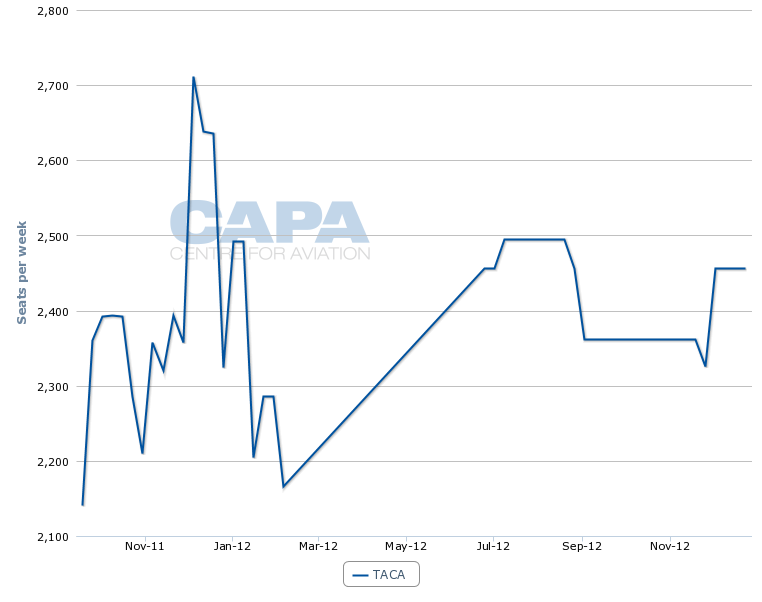 New service to small Canadian and US markets
United's new services being introduced during late 2012 and early 2013 also includes flights from Chicago O'Hare to Thunder Bay, Ontario and Los Angeles and Kelowna, British Colombia.
The service from Chicago will be Thunder Bay's only US link once United inaugurates its new daily flights operated with 50-seat CRJ200s in Feb-2013. Delta Air Lines dropped flights from its Minneapolis hub to Thunder Bay in 2010.
Thunder Bay is served by Air Canada, Porter and WestJet as well as smaller Canadian carriers Bearskin, Nakina and Wasaya. United currently codeshares with Star partner Air Canada on its flights from Toronto and Winnipeg to Thunder Bay, which is the largest city in Northwestern Ontario. Thunder Bay appears to be thin market for United, with little obvious direct demand, as weak demand drove Delta's decision to abandon service from Minneapolis.
Officials from Kelowna have reportedly been pursuing United for a number of years, and have finally succeeded in convincing the carrier demand from Los Angeles is sustainable. United is launching the daily CRJ700-operated flights in Dec-2012 ahead of the busy ski season in Kelowna, which is also popular among outdoors and wine enthusiasts. Kelowna is also served by Alaska Air Group through its subsidiary Horizon from Seattle.
Ahead of new service to Canada from Chicago and Los Angeles, United in Nov-2012 is launching daily flights from Chicago to Jackson, Mississippi and service from its Denver hub to Williston, North Dakota.
Jackson is the capital of the state of Mississippi, and during recent years has evolved into a centre for automobile manufacturing. United also serves Jackson from Houston, while Delta serves the city from its Atlanta hub and US Airways worked to keep flights to Jackson from Washington National after Delta ended flights following US Airways and Delta completing their slot swap at National and New York LaGuardia. Southwest Airlines also serves Jackson from Chicago Midway.
Williston is a small market currently only served by Great Lakes Aviation with EMB-120 turboprops. Great Lakes, an independent regional carrier which codeshares with United, serves Williston from Denver with roughly four daily flights, alternating some of its flights on Saturdays and Sundays. United will operate 50-seat Embraer ERJ-145 regional jets on its new three daily flights to Williston, which has witnessed an increase in population and infrastructure during the last few years due to expanded oil drilling in the area.
United is also planning a once-weekly seasonal flight from Chicago to Nassau, Bahamas scheduled to run from Feb-2013 to Jun-2013.
New services are within United's 0.5-1.5% growth profile
The new service introductions initiated by United beginning in Nov-2012 do not alter the carrier's capacity projections of consolidated supply growth of 0.5%-1.5%. As it continues to weigh its service cuts from Houston, some markets could see increased service from the carrier's other US hubs. It should be watched if United keeps its IAH-Jackson flights intact and retains its current service levels from IAH to Monterrey. Based on recent changes United appears to be willing to use its discontent with the city of Houston to continue to bolster service at its other US hubs.