United, Delta, JetBlue biggest gainers. Southwest drifts towards ancillary charges. Air Canada down.
And Southwest Airlines (+1.1%) took another timid step towards ancillary charging (see below - and The Centre's recent article on baggage fees).
All US airlines rose on Friday as continuing good vibrations pervaded Wall Street, despite the near-certainty of a bankruptcy filing this week by General Motors, leaving the auto manufacturer 70% government-owned.
The largest fall in the Americas was ailing Air Canada (-3.6%), whose union negotiations with the tough Canadian Auto Workers Union broke off over the weekend, to be resumed this week. A major difference is still Air Canada's wish to have a moratorium on pension payments.
North & South America selected airlines daily share price movements (% change): 29-May-09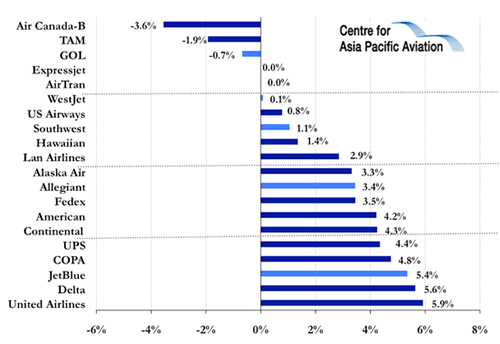 Southwest skirts around non-ancillary charges, but how long before it follows the herd?
Southwest on Friday pushed its ancillary charges up as far as it could without disturbing its assertion of transparency. A USD25 each way charge for unaccompanied children (about 1% of its traffic) is to be introduced and a doubling of the fee on overweight bags and third and fourth bags to USD50 each way - still less than its competitors, but....
Southwest still says the fees are to cover excess costs, not to introduce a revenue stream.
Fluffy and Fido get the freedom to fly, but not for free
Finally entering the massive potential pet market, Southwest is going to make it easier for pet lovers to take their animal-children with them, effective 17-Jun-09.
This is a smart move (at last), and actually costs the carrier next to nothing - a lot less than shipping them in the hold, which Southwest refuses to do - and also will attract the well-heeled pet-loving traveller to use the LCC's services. Its charges are lower than the other majors who already permit fluffy fliers.
There is a (transparent) USD75 each way fee for the hairy beasts. Only small ones are allowed and must be able to stow under the seat in front. The container must be "leakproof and well ventilated".
No Rottweilers or tigers will be allowed. And this seemingly cuddly man does not qualify as a pet, despite his clever disguise, nor does he fit in the box.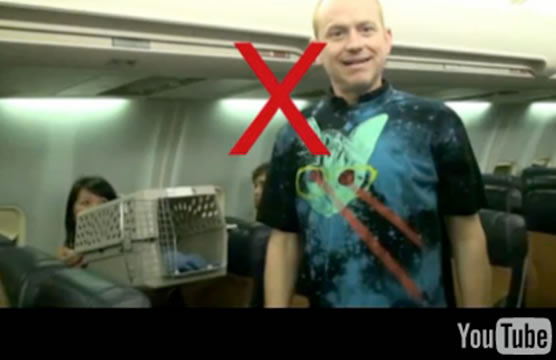 According to Southwest:
"Pets will now have the "Freedom to Fly" on Southwest Airlines. Southwest will soon allow Customers to bring along small cats and dogs in the aircraft cabin for a special low "pet fare" of $75 each way. All pets must be in a carrier that fits under the airplane seat, and the carrier will count as the Customer's carryon bag."
There'll be more charges to come, and it won't be long
And there was a taster in Friday's media release for the analysts too: According to CEO Gary Kelly, "These new programs and processes are just the starting point with additional initiatives planned for later this year. It is always our goal to be upfront with our Customers and to set the right Customer expectations. Our changes today associate a charge for items that are truly an extra service."
Is this another stage in a retreat from the CEO's previously more categorical stance? It sure looks like it. It surely won't be long before Southwest follows the herd.
It is hard to demonstrate that Southwest actually gains from its no-ancillaries strategy. Measuring whether the policy retains passengers - as opposed to the rather more measurable addition of new ones - is extremely difficult. Focus groups can only do so much. Even if it does work, the massive gravitational attraction of all those "missed" dollars is surely going to overwhelm the rationale sooner or later.
The analysts certainly want Southwest to follow the herd and introduce more charges. Down by half on last year's share price, the Dallas-based LCC is losing money and, for the first time in its life, doesn't see any immediate way out of that hole.
Southwest is apparently missing out on several hundred million dollars in potential revenues by maintaining its more purist approach. But then, the other airlines which are plundering ancillary charges are losing money anyway - and Southwest's purist model made the airline what it is today.
Shucks, what would Herb Kelleher have done? Offer them all a free bottle of Southern Comfort, no corkage.