United Airlines works to start anew as its rivals work to widen their competitive advantages
Analysis
The US global network airlines Delta and American regularly receive accolades for the execution of their respective merger integrations. Assessment of the merger between United and Continental has been different, even from the airline's own executives, who admit the integration was more challenging and took longer than anyone had anticipated.

United is working to adapt to changed pricing structures ushered in by the ULCCs – shifting more of its operations from regional to mainline and ensuring that customers fully understand the attributes of its various product offerings once its version of a basic economy fare debuts later in 2016.

United's executives are also acknowledging the long standing gap it has in margin performance vis a vis its peers, and stresses its commitment to margin improvement. United in many ways is starting again, attempting to build a new foundation of trust with customers, employees and investors.
United works to shrink a wide margin gap with its peers. Costly hubs prove challenging
The United CEO, Oscar Munoz, returned to work in Mar-2016 after recovering from a heart attack he had suffered in Oct-2015. A former railroad executive, Mr Munoz is attempting to create a clean slate with United's stakeholders, all of whom have suffered from the challenging merger integration.

Shortly after his return Mr Munoz observed that United needed to be more disruptive in the market place, concluding: "I think we've been standing by a little bit too much".

The details of United's planned disruption appear to be materialising, but in the meantime the company admits that its margin gap with its rivals American and Delta is the "elephant in the room" – a comment by the acting CFO, Gerry Laderman, recently.
In 1Q2016, United's pre-tax margin was 4.3ppt lower than American's and the gap with Delta was 8.6ppt.
United, Delta and American pre-tax margins: 1Q2016
United's executives were recently queried about the role that its domestic hubs play in the margin gap the airline faces against its peers. Asked about Delta's advantage at its Atlanta hub, United's chief revenue officer, Jim Compton, stated clearly that Delta connects a large number of passengers through Atlanta, which creates efficiency – given the airport's lower operating costs.

Some of United's hubs apply higher costs than Atlanta, said Mr Compton. However, many of those hubs also tend to have larger pools of premium corporate customers. United has an opportunity to generate a revenue premium in those hub markets despite having a cost disadvantage on a structural basis compared with Delta's hub in Atlanta, he concluded.
Data from Denver International airport – United's fourth largest hub measured by seats – show that the facility's estimated cost per emplanement (CPE) in 2013 was USD11.95, compared with estimates by Fitch that there was a CPE of USD3.70 at Hartsfield. Denver's estimated CPE for 2016 is USD13.49.
United airlines global top 10 hubs/bases/stations by seats: 6-Jun-2016 to 12-Jun-2016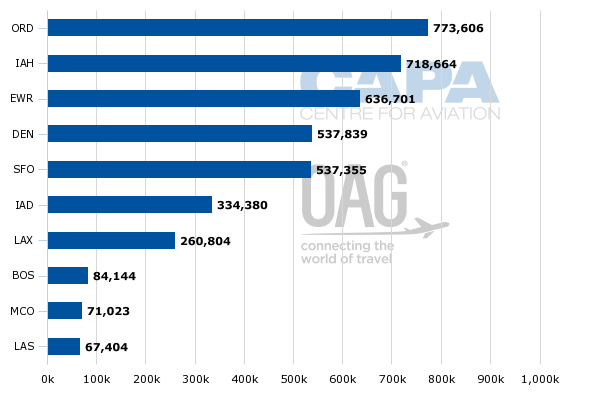 Even with Denver's higher costs, United is capitalising on Denver's favourable economy in 2016, shifting some capacity from Houston Intercontinental to both Denver and San Francisco. Houston's performance as a hub has suffered from a weakened oil and gas sector due to lower energy prices. United is now projecting flat growth in Houston in 2016, reduced from previous estimates of 2% growth.

See related report: Delta aims for positive PRASM starting in 2H2016. United aims to mitigate weakness in Houston

The shift to Denver reiterates Mr Compton's view that some of United's higher-cost hubs also have favourable revenue potential. "We've seen tremendous opportunity in Denver during the last 12 to 18 months", he has stated.
Shedding 50-seat jets allows United an upside in selling higher margin products
United has previously outlined many initiatives it is undertaking to bolster its revenue, which on a top line basis in 2015 also lagged American and Delta.
2015 operating revenue for United, Delta and American (USD)
One opportunity that United has identified from aircraft upgauging is an ability to sell a larger number of higher-margin products such as premium economy as the airline continues to shed small 50-seat jets, whose cabins are not conducive to offering more than one class of service.

The bulk of United's growth in the future is targeted to mainline operations, driven in part by pilot constraints in the US regional business. Mr Compton remarked that through YE2015 United shed approximately 130 50-seat regional jets, and by YE2019 it plans to operate less than 100 of the smaller-gauge aircraft. United's order for 65 Boeing 737-700s is an example of the upgauging the airline has undertaken to become less reliant on 50-seat jets.

The airline projects that its future regional fleet will comprise approximately 300 to 350 shells, and its mainline fleet should expand by approximately 100 aircraft, from 700 to 800.
United Airlines operating fleet as of 9-Jun-2016
Similarly to many North American airlines, United is also stressing its ability to decrease its projected fleet counts if market conditions change. Mr Laderman explained that one benefit for United from eliminating USD6 billion in debt from its balance sheet is unencumbering USD8 billion worth of assets, including 200 aircraft. United can easily change the retirement schedule for those aircraft, "without costing a lot of money", said Mr Laderman.
United is focused: passenger education is an essential factor in creating segmented products
United, American and Delta have all recently touted their focus on product segmentation as a means of serving passenger segments effectively – passenger segments ranging from cost-conscious leisure customers to high-yielding business passengers.

Both United and American are working to follow Delta in creating a basic economy product to target the cost-conscious passenger segment. United plans to introduce the 'Bare-bones' fares in 2H2016 and American has plans to roll out its version by YE2016.

Mr Compton is stressing that United needs to ensure that it effectively communicates the difference among the segmented products to customers, highlighting that the company aims to "manage confusion in the market place": not create problems for gate agents in dealing with passengers that might not have an understanding of the different fare levels.
That is a problem Spirit Airlines has encountered in the past, as customers couldn't grasp the bare bones nature of its offering. Due to that lack of understanding, many passengers felt nickel-and-dimed when they realised that checked bags, carry-on bags or other items required an additional fee.

United, American and Delta (whose Basic Economy fare has been in the market place for more than year) share the main goals of adding a bare bones fare tier: to compete more effectively with ULCCs, and stave off revenue dilution. That is, catering for passengers paying less airfare, but willing to pay more for certain product attributes – including assigned seating or upgraded meals. American has stated that its product segmentation could produce a revenue benefit of USD1 billion.
In the short term United and most US airlines continue to battle negative PRASM
All three US major airlines believe that product segmentation is an important factor in intelligently evolving their respective revenue management strategies. But the change in product offerings is not an overnight solution to help slumping passenger unit revenue performance. United has projected the steepest PRASM decline among the three large global network airlines for 2Q2016.
American, Delta and United 1Q2016 PRASM performance and 2Q2016 projections
| | | |
| --- | --- | --- |
| Airline | 1Q2016 PRASM | 2Q2016 PRASM forecast |
| American | 7.5% decrease | 6% to 8% decrease |
| Delta | 4.6% decrease | 2.5% to 4.5% decrease |
| United | 7.4% decrease | 6.5% to 8.5% decrease |
United expects its domestic result to fall 3.5% to 5.5%, and the company's international PRASM projection is for a drop of 11% to 13%. Factors driving 3.5ppt of the consolidated revenue decline include FX pressure, lower fuel surcharges, energy market weakness at United's Houston Intercontinental hub, and other competitive challenges. Approximately 2.5ppt of the forecast 2Q2016 unit revenue decline stems from the GDP growth in the US, and international markets failing to keep pace with capacity increases.

See related report: The US Big 3 airlines ramp up efforts to improve PRASM. Anxious investors hold back for real results
United has much lost ground to regain as its peers work to widen competitive advantages
From an operational meltdown in 2012 to the former CEO stepping down in 2015 due to a political scandal, United's evolution since its 2010 merger with Continental has been markedly different from those of Delta-Northwest and American-US Airways.
Employee frustration and distrust festered under the previous CEO, which resulted in employee engagement ranking high among Mr Munoz's many priorities for United during the short and medium term.

Although United has made solid strides forward in many areas since the 2010 merger with Continental – including debt reduction – in most respects it feels as if the company is only just embarking on the real changes needed to put it on par with its merged US peers.
United has a lot of lost ground to make up while American and Delta continue their efforts to widen the competitive space between themselves and their lagging rival.