United Airlines pressured to make network changes as its revenue growth remains sluggish
Analysis
United Airlines' prolonged underperformance in revenue generation relative to its US network airline peers has led to growing questions about United's management of its network, and if certain hubs should be eliminated altogether.

Recently the performance of United's Dulles hub has come under scrutiny as its proximity to the airline's gateway at Newark Liberty seemingly diminishes the importance of Dulles in United's overall network.

The latest bout of criticism for United reflects growing industry curiosity and impatience regarding a timeframe of when the airline could possibly close the revenue performance gap relative to its US peers. Until United begins to show solid signs of improvement, every detail of the airline's network and operations will continue to be scrutinised, and the criticism is likely to continue.
United posts unit revenue gains, but its performance remains below its peers
United for 2Q2014 projects a 3.5% rise in passenger unit revenues, which is a year-on-year improvement from the 1% drop the airline recorded in 2Q2013, and better than the 2% year-on-year decline the airline recorded in 1Q2014.

But even with the improvement, United's unit revenue generation still lags behind its peers, as the US major network airlines are estimating mid-single digit unit revenue growth for 2Q2014, and Southwest expects an 8% jump year-on-year.
US major airline estimated passenger unit revenue growth year-on-year 2Q2014
See related report: US major airlines appear poised to deliver solid 2Q2014 results as N Atlantic overcapacity signs emerge
The improvement in United's unit revenue performance, alongside estimates of flat unit cost growth year-on-year during 2Q2014 are positive signs; but its continued underperformance in the revenue metric continues to raise eyebrows.
Market realities in Dulles are more complex than other hubs
A recent report issued by Imperial Capital concluding that United should shutter its Dulles hub spurred numerous media reports of the analysis. A Street.com review of the reasons cited for the Dulles closure include its 336km distance from Newark Liberty, which Imperial argued results in network sub-optimisation since the two hubs are both connecting services to Europe and US north/south domestic traffic.

Based on data from CAPA and OAG for the week of 14-Jul-2014 to 20-Jul-2014, Dulles is United's sixth largest hub/base based on seat deployment and the fifth largest measured by ASKs.
United Airlines global top 10 hubs/bases/stations by seats: 14-Jul-2014 to 20-Jul-2014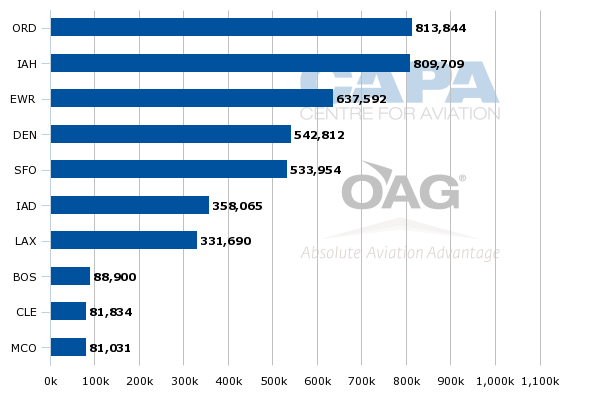 United Airlines global top 10 hubs/bases/stations by ASKs: 14-Jul-2014 to 20-Jul-2014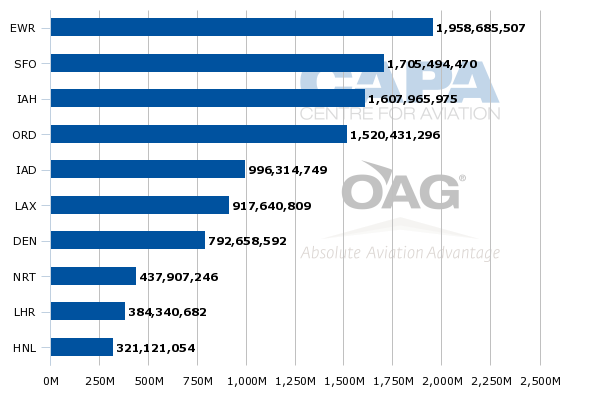 Presently, Dulles represents approximately 8.3% of United's system-wide seats, while of its top hubs measured by seats deployed Chicago O'Hare and Houston Intercontinental each represent a 19% share.

Data show that on a seat deployment basis United represents a 65% share at Dulles, second behind Newark where the airline holds a 69%. The total seat deployment in international markets from Dulles and Newark is also the highest among United's hubs at 37% and 36%, respectively, which results from a higher number of international airlines serving those airports.
Roughly 20 international airlines serve Newark and 25 international airlines serve Dulles.
United's seat share at its hubs and the overall international seat share at those airports: 14-Jul-2014 to 20-Jul-2014
United serves all the top international destinations from Dulles, with the exception of San Salvador. On service to Frankfurt and Munich it operates alongside its Star Alliance trans-Atlantic joint venture partner Lufthansa, and its fellow Star member Brussels Airlines operates on the Dulles-Brussels pairing. United's Star joint venture partner ANA offers flights from Dulles to Tokyo Narita and alliance member Air China operates on the Beijing route.

Data show that United has a commanding seat share on service from Dulles to Heathrow, Munich, Beijing and Brussels. On the other routes its share is split with its Star partners with the exception of Paris and Amsterdam, where SkyTeam's Air France-KLM holds a 79% and 58% respective share.
Airline seat share on top international markets from Dulles: 14-Jul-2014 to 20-Jul-2014
United obviously serves all the largest international destinations from Newark measured by seats (with the exception of Billy Bishop), and four – London Heathrow, Paris, Frankfurt and Munich – overlap with Dulles.
Of the top 10 international markets from Newark, United has a dominant seat share in four, Heathrow, Paris, Tel Aviv and San Juan.
Airline seat share on top international markets from Newark: 14-Jul-2014 to 20-Jul-2014
An argument can be made that United should pare down its presence in Dulles on some of the routes it operates in tandem with Lufthansa, and allow Lufthansa to feed passengers into it domestic network from Dulles, reducing United's expense in operating longer-haul flights to some of the overlap destinations in Dulles and Newark.

But specifics of joint venture relationships among alliance partners are not readily disclosed, and United and Lufthansa have obviously determined that the number of seats they jointly offer from Dulles is warranted, and presumably generates profits. With a complex joint venture in place, it is not easy to pull-down an international hub as quickly as was achieved in Cleveland, where no long-haul international service exists. In Jun-2014 United completed a roughly 60% reduction in daily departures from Cleveland.

See related report: US airline consolidation: United Airlines reduces service as Cleveland's hub role is pared back
United needs to ensure it maximises international passenger revenue at Dulles
United also may be hanging onto its Dulles hub to ensure it keeps a foothold in the larger Washington DC metro market even though the new American retains a commanding share at Washington National after divesting slots at the airport in order for the American-US Airways merger to gain US government approval. Presently, American and US Airways combined represent a 58% seat share from National, which has a geographical advantage given its proximity to downtown Washington.
National is slot controlled, so United has no prospects of expanding at the airport. However, during the last couple of decades some of the fastest growing regions within the Washington DC metro area (which includes Virginia and Maryland) are in the Dulles catchment area.

Based on data from Metro Washington Airports Authority, Dulles generates roughly 7 million domestic connecting passengers, compared with nearly roughly 5 million connecting at National. But on an international basis, Dulles sustains a total of almost 8 million local and connecting international passengers compared with approximately 1.5 million at National. As Dulles' largest carrier United represents a solid portion of those 8 million passengers, so it essentially becomes an exercise in determining just how much revenue those travellers generate.
On the surface it would seem that United does not want to completely walk away from that concentrated passenger base. National is obviously hampered by its slot and perimeter rules from hosting any long-haul international flights.
O&D and connecting passengers at the Washington DC metro area's three major airports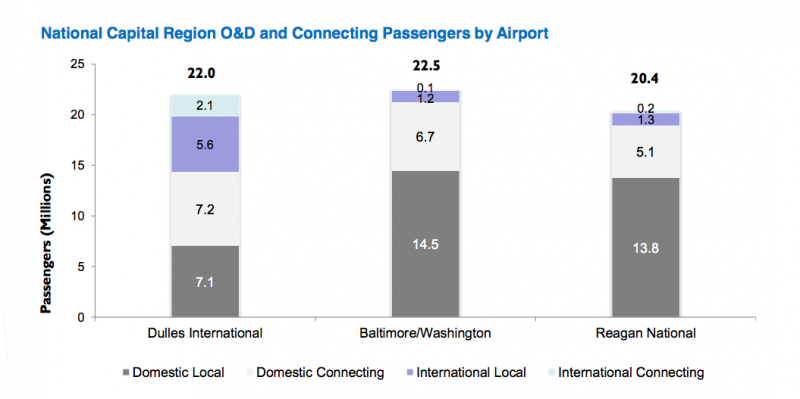 In some instances it does seem redundant to flow passengers over two hubs close to one another, but Newark is also slot controlled, which means United's Star partners have limited access to the airport. United does have some opportunity to upgauge aircraft in Newark, but United has to look at its network moves in the context of its international partners, and how they jointly coordinate feed and share revenue.
United needs to make several network adjustments to improve its fortunes
A re-alignment of Dulles by United is likely warranted as the airline works to deliver on long-awaited merger synergies. But unlike the pull-down at Memphis and Cincinnati by Delta, Pittsburgh by US Airways and United's own pare-down at Cleveland, Dulles has a larger international presence. So United understandably needs to evaluate how to maximise its commanding presence to ensure it keeps a proper share of the international passengers.

United's revenue challenges cannot likely be eliminated by the gutting of one hub. But there are definitely numerous changes that are necessary throughout the airline's network to create the kind of world-class, blanket coverage the airline often refers to.
Arguably, United should be much more advanced in achieving its network synergies, but so far its world-class network has not delivered top in class revenues. Until there is a turnaround, more outsiders will continue to attempt to solve United's problems.