United adds a new layer to changing competitive dynamics on the US west coast
Analysis
United Airlines has entered into the growing competitive fray on the US west coast with a push from its hubs in the region into two of Delta's hubs. Competition was ignited by Alaska Air Group and Delta with Delta increasing its service footprint from Seattle to drive feed for its burgeoning Pacific operation from the airport.
United's decision to add service from San Francisco to Atlanta and between Los Angeles and Minneapolis occurs as Delta in early 2014 begins a push into Seattle from the airport's heavily travelled domestic markets to bolster its growing international footprint from Seattle with a particular focus on Asia.

The decision by United to add service into its west coast hubs is occurring against a backdrop of weaker than expected revenue performance for 3Q2013 driven by lower yields in some trans-Atlantic markets and competitive capacity in China that contributed to lower than expected yields in the carrier's Pacific entity.
Seattle-San Francisco is emerging as a new west coast battleground
Shortly after Delta tabled its plans to introduce new service from Seattle to San Francisco, and bolster capacity to Seattle from Las Vegas and Los Angeles, United unveiled an increase its own capacity between Seattle and San Francisco by 50% for a total of 11 daily departures. Alaska also plans to add frequencies on the pairing for a total of 11 daily flights.

Once United adds additional capacity between Seattle and San Francisco in Apr-2014, the carrier will account for roughly 38% on the 22,881 one-way seats on offer in the market. Alaska will account for 34%, Virgin America 15% and Delta 12%. At that time United plans to operate all mainline aircraft between San Francisco and Seattle while Delta is operating two-class regional jets.
San Francisco International to Seattle/Tacoma International (seats per week, one way): 19-Sep-2011 to 6-Apr-2014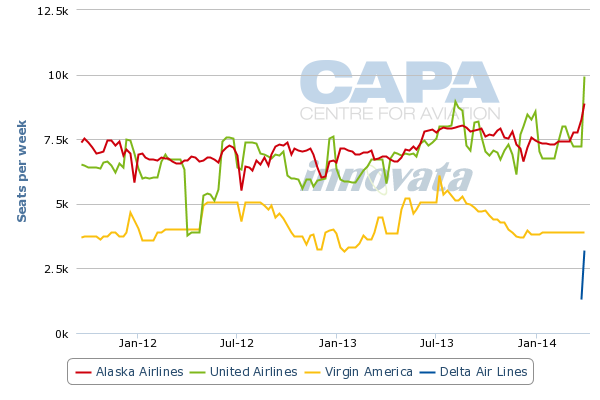 Based on current schedules in Innovata – 13-Oct-2013 to 19-Oct-2013 – there are about 19,068 one-way seats on offer from San Francisco to Seattle. Alaska represents about 40% of the total followed by United at 37% and Virgin America at 23%. Based on those numbers Virgin America's share will slide by about 8ppt. With that carrier's growth frozen for the immediate future, it could face pressure as the additional capacity by other carriers may dilute fares and make the route less profitable than in the past. Presumably Alaska, Delta and United will have larger mix of both O&D and connecting traffic in the market given their larger network scale in comparison to Virgin America, which may have a slighter higher percentage of O&D travellers on the route.

The moves by Alaska and United on the route are in some ways a defensive action to preserve their leading status on the route, and for United to stave off any encroachment by Delta on long-haul passengers that might opt for one-stop service in Seattle to trans-Pacific markets if prices and schedules are more favourable.

See related reports:
United serves Atlanta from nearly every other US hub
United during Apr-2014 is also adding service from its San Francisco and Los Angeles hubs to Delta's Atlanta and Minneapolis hubs.

In each market – San Francisco to Atlanta and Los Angeles to Minneapolis – United is operating two daily flights. For the transcontinental route to Atlanta, the carrier is operating Boeing 737-800 narrowbodies and two class Bombardier CRJ700s from Los Angeles to Minneapolis.

It is neither surprising nor uncommon for a dominant carrier in one hub to operate service to a competitor's hub – especially given the network overhauls executed by the US major carriers during the past few years to funnel the majority of their traffic through their most profitable hubs while cutting underperforming hubs and focus cities.

Current schedules in Innovata show that United operates flights from Atlanta to its hubs in New York Newark, Chicago O'Hare, Cleveland, Houston, Denver and Washington Dulles. It's not a huge stretch to add San Francisco into the mix given Atlanta's positioning as the second largest global airport ranked by CAPA in terms of seats. (Beijing is first for the week of 14-Oct-2013 to 20-Oct-2013).

Once United launches flights it will account for roughly 16% of the approximately 11,650 one-way seats on offer from San Francisco to Atlanta. Delta will account for 67%, AirTran 10% and Southwest 9%.
San Francisco International to Atlanta Hartsfield-Jackson International (seats per week, one way): 19-Sep-2011 to 6-Apr-2014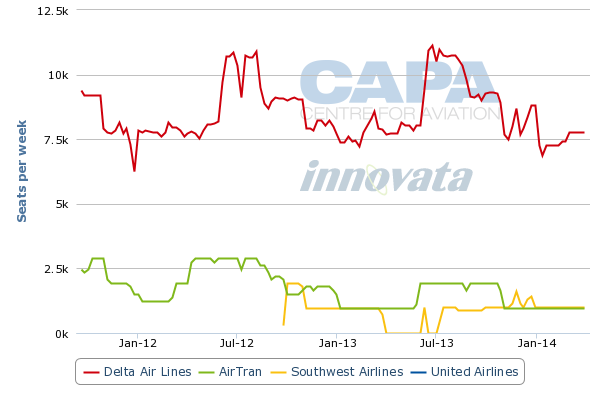 Presently (13-Oct-2013 to 19-Oct-2013) there are about 12,240 one-way weekly seats deployed between San Francisco and Atlanta with Delta accounting for 76%, AirTran 16% and Southwest 8%. From the current week to the time United adds flights on the route Delta's seats on offer are diminishing from 9,321 to 7,770, likely the result of normal network tweaking. Regardless, Delta will remain the dominant carrier, with AirTran and Southwest (who are in the midst of merging) combined representing nearly a 20% share.
Minneapolis flights are not posing a huge threat
United operates service from Minneapolis to its Chicago, Cleveland, Denver, Houston, Washington Dulles and San Francisco hubs. When the new service starts to Los Angeles, United will represent a roughly 7% share of the approximately 11,338 one-way seats on offer from Minneapolis, Delta will hold a 77% share followed by Spirit with 9% (its seasonal Minneapolis-Los Angeles service begins in Nov-2013) and Sun Country with an 8% share.
Minneapolis St Paul International to Los Angeles International (seats per week, one way): 19-Sep-2011 to 6-Apr-2014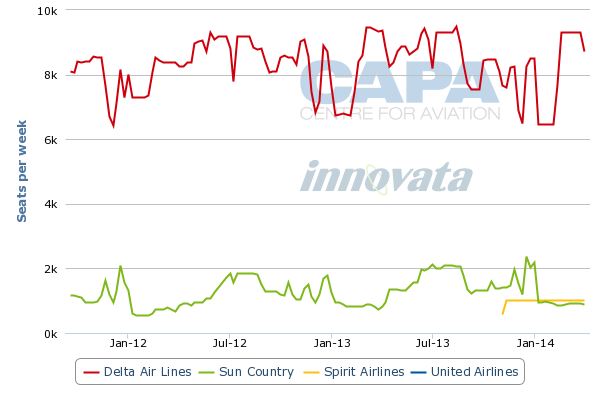 United is not posing a huge threat to Delta in either market, but instead seems to be adding service to bolster its service from San Francisco to Asia. United recently stated that travellers from Atlanta would have access to its Asian network from its hub and one of its Pacific gateways on the US west coast, and customers in both markets would have access to its comprehensive network in the western United States, and on service to Hawaii.
United's weak unit revenue performance is in part due to trans-Pacific pressure
United's attempts to bolster its Pacific feed in early 2014 follow a lacklustre performance in that entity during the past year. During 2Q2013 United's unit revenues fell 3.4% in its Pacific markets while yields plummeted 4.2%. Similar to Delta, United's performance has been hindered by the weak Japanese yen; however, United also has regularly remarked that its trans-Pacific performance has been dampened by competitive capacity increases.

During late Sep-2013 United estimated its passenger unit revenues would increase by 2.5% to 3.5% during 3Q2013, and noted that at the midpoint of the quarter its unit revenue growth was 1ppt lower than expected, driven by a less favourable performance in its international network. During Sept-2013 United recorded flat PRASM growth compared with a 5.5% rise at similarly size Delta, which also stated the devaluation of the yen pressured its unit revenue results for the month.

See related report: Delta and United record solid 2Q2013 results while remaining optimistic for 2H2013

Some of the missed targets were driven by weaker than expected yields from certain interline agreements on trans-Atlantic routes, but the carrier also explained increases in competitive capacity to China also pressured its results.

United remains the market leader between the US and China in terms of seat share. But its Star partner Air China has increased capacity to the US during 2013 with the introduction of new flights from Houston to Beijing, and bolstered capacity from Beijing to New York JFK. While the two carriers are codesharing partners, the overall capacity additions are likely pressuring United, which serves Beijing from its Chicago, New York Newark, Washington Dulles and San Francisco hubs.
United States to China (seats per week, one way): 19-Sep-2011 to 6-Apr-2014
Hainan Airlines also introduced new service from Beijing to Chicago O'Hare during Sep-2013, joining United and American on the pairing. The additional seats are certainly not aiding United in an accelerated rebound in its Pacific operations, so perhaps the carrier's push to get feed into San Francisco and Los Angeles from two larger population centres is a way to mitigate some of the capacity increases United is having to endure from its other US hubs to China.
But United is also seeking authorisation for 787-operated service from San Francisco to Chengdu, which could also be fuelling the addition of domestic feed into San Francisco. With Chengdu, United is starting a new chapter with direct service to secondary Chinese markets, so it could be attempting to bolster its levels of connecting traffic to make the experiment successful.

See related report: North America is the long-haul bright spot for Chinese Airlines
Trans-Pacific competition will only intensify as Delta builds out Seattle
Given United's overall sluggishness with respect to unit revenue performance compared with other US carriers, it is not surprising the airline is making moves to fortify its Asian gateways on the US west coast as Delta rapidly builds up Seattle to feed its ever-growing presence in the trans-Pacific from the northwestern US. While a couple of daily flights into Atlanta and Minneapolis will not drastically change the competitive evolution among US carriers serving the trans-Pacific, it does send a signal that the competition will only intensify as Asia's prominence within the global aviation industry continues to rise.