ULCCs glimpse an opening as the US' consolidated industry focuses on yields and profits
Consolidation in the North American marketplace has now been a mainstay for a decade, beginning with the combination of US Airways and America West and culminating with US Airways and American closing their merger in late 2013.
Those tie-ups, along with the Delta-Northwest merger, Continental's pursuit of United and Southwest's acquisition of AirTran, have resulted in four airlines controlling approximately 47% of North America's capacity (ASMs).
The process of consolidation and rationalisation has inevitably created some openings. This potentially offers space for ULCCs and other more niche airlines to capture a larger place in the market. This report looks at some of the recent developments and at where the industry may be heading.
The topic of ULCCs in the US market place will feature in a high level panel session at CAPA's Americas Aviation Summit in Las Vegas on 27/28 April, 2105.
In the decade that followed Spirit initially introduced its strategy in stages
Spirit moved first in the South Florida market targeting cost conscious passengers travelling to the Caribbean and Latin America, and then set a course to expand rapidly into the US domestic marketplace – paradoxically driving new levels of passenger angst while delivering one of the best financial performances within the industry.
Now that the largest country within the North American aviation market has settled into a state of relative maturity – or even oligopoly – opportunities in the post-consolidation environment are starting to emerge with no shortage of airlines looking to seize on the gaps opened by the creation of the Big Four. However, the long-term success of the ULCCs and hybrid airlines vying to exploit the new market realities is unpredictable.
Since the onset of the latest round of consolidation in 2005, LCC capacity share in North America has jumped from 22% to a projected 30.5% share for 2015. Between 2010 and 2015, LCC share has reached a steady state of 29% to 30%, perhaps reflecting the maturity of the market. But those numbers also underscore some level of opportunity for more low-cost penetration. Although the European market is markedly different from North America, its projected LCC seat share for 2015 is approximately 39%.

Now the network opportunities for other LCCs are starting to emerge
With the final stages of consolidation now occurring through the integration of United and Continental and American and US Airways, a new picture starts to emerge. The most pronounced gaps are those created in hubs whose relevance within the networks of the large four airlines has diminished drastically, with Cincinnati and Cleveland as the most obvious examples.
But other airports that are attempting to redefine themselves post-consolidation include Memphis (which is no longer a hub for Delta), Pittsburgh (which lost its hub status during the US Airways-America West integration), Indianapolis and Columbus.
Perhaps a surprising beneficiary of the new market realities is niche airline Allegiant Air. Two to three years ago those medium sized markets would have been unviable for the company, whose airline business was built on linking small cities such as Bismarck, North Dakota to large leisure destinations including Las Vegas and Orlando with low frequency service and low fares.
But during 2014 Allegiant made a significant push from Cincinnati, one of the fastest growing cities in the airline's history. After the addition of new service to Hilton Head and Austin in 2015, Allegiant will offer service to 11 destinations from Cincinnati, and by the end of Jun-2015 is forecasted to represent roughly 9% of the airport's ASMs, making Allegiant the airport's third largest airline after Frontier, with a projected 11.3% share and Delta's still commanding 57.5% share.
Medium-sized markets such as Cincinnati have experienced new popularity after the drawdown by large global network airlines
Allegiant has concluded that there are larger passenger pools available in those areas that are ripe for stimulation at higher pricing points than it typically charges in smaller markets.
Allegiant's build-up, along with a significant expansion by Frontier Airlines in Cincinnati, is possibly an indication of the transformation that medium sized US markets are undergoing as the big three global network airlines consolidate traffic flows at their largest hubs. Cincinnati's passenger numbers increased 3.3% year-on-year in 2014 after dropping 5.3% in 2013.
However, the 5.9 million passengers travelling through Cincinnati in 2014 is far less than the 13.6 million travellers the airport enjoyed in 2008. The changes in Cincinnati's passenger patterns during the last seven years show that hubs with diminishing stature can recoup some lost traffic, but will never attain the peaks enjoyed prior to consolidation.
Allegiant estimates that seats in medium-sized US hubs declined 21% during the height of US airline consolidation from 2007 to 2014
It is a change not lost on other airlines looking to carve out their place in the consolidated marketplace. Frontier's expansion into Cincinnati and Cleveland during the last year is a direct result of diminishing service by Delta and United.
During 2014 United initiated a pull down at its Cleveland hub that entailed a 60% reduction in daily departures with smaller markets suffering the majority of the cuts. United's service reduction was reflected in Cleveland's passenger counts falling 16% year-on-year in 2014.
Frontier has spooled up quickly in Cincinnati and Cleveland after being sold to Spirit's previous major shareholder Indigo Partners in late 2013. Frontier is completing its transition to an ULCC and seems to be abandoning its strategy of establishing small market focus cities in order to enter large network airline strongholds and stimulate traffic.
The airline for now is holding onto its focus market of Trenton, New Jersey; but that airport's fate appears questionable as Frontier recently opted to return to Philadelphia (roughly 55km from Trenton), and make a push from Atlanta during 2015.

This year is shaping up to be an important test case for the viability of two ULCCs within the US marketplace
Although Spirit and Frontier already have some overlap, the direct competition between those two airlines intensifies in 2015 as Spirit takes aim at Frontier in Cleveland while Frontier answers Spirit's planned expansion in Atlanta with its own push from Delta's largest hub. Spirit and Frontier will end up competing with one another in several markets from each airport, and in many instances with large network airlines.
In the case of Atlanta, Frontier and Spirit will not only overlap in several markets including Orlando, Chicago O'Hare, Cleveland, Las Vegas, Philadelphia and Los Angeles, but also face numerous competitors in some of those markets. Once all the service roll-outs are complete, the Philadelphia-Atlanta route will feature five airlines – Delta, US Airways, Southwest, Frontier and Spirit.
Frontier and Spirit will join Delta, American and United on service to Chicago O'Hare (Delta and Southwest also serve Chicago Midway from Atlanta). Five airlines will also serve Atlanta-Los Angeles: Delta, American, Southwest, Frontier and Spirit. In the remaining markets – Cleveland, Orlando and Las Vegas, the number of airlines jumps from two to four with the arrival of Frontier and Spirit.
Aviation Summit Panel Session:
Can Ultra-LCCS and "Hybrids" establish a Foothold in the US Airline Market over the Long Term?
Frontier bills itself as the 'Target' of aviation and has identified Spirit as the 'Walmart'. Both are making headway in picking up routes which have been "rationalised" as part of the consolidation process or which have been identified as pockets of low price demand. Allegiant too, with its unique model, is an expert at point to point route analysis. As they evolve, the full service airlines cherry pick the revenue aspects of unbundling, like baggage and seating charges.
But, aside from Southwest Airlines, which scarcely fills the bill as a ULCC any more, the low fare market is arguably underserved.
What are the real market opportunities for ULCCs in domestic - and perhaps international - markets?
Can LCC subsidiaries work in the US – as they have in Asia, Europe, even Canada? Or do the majors have such strong positions in the market that they can resist the need to cater for the low price segments?
Are there other ways for US airlines to respond to LCCs, for example non-flex fares on the full service airline?
Is airport infrastructure adequate to cater to the needs of ULCCs, from operational and cost perspectives and what do LCCs offer to mid size airports?
Do hybrids such as JetBlue and Virgin America – and even Alaska Air – have an enduring place in a market which is increasingly driven by short term investment goals?
Moderator: Cowen and Company, Managing Director & Senior Airline Analyst, Helane Becker
Panellists:
Allegheny County Airport Authority/Pittsburgh International Airport, CEO, Christina Cassotis
Allegiant Air, Senior Vice President Planning, Jude Bricker
Greater Orlando Aviation Authority, Executive Director, Phillip Brown
Indigo Partners, Co-Founder and Managing Partner, Bill Franke
Southwest Airlines, Senior VP Network & Revenue Management, Andrew Watterson
Spirit and now Frontier base their service entries on the premise of stimulating traffic in high fare markets
The next test will be whether two ULCCs can thrive on those already heavily contested routes. Spirit's market awareness is largely based on passenger displeasure with its strategy of charging for all aspects of the travel experience outside of the ticket price.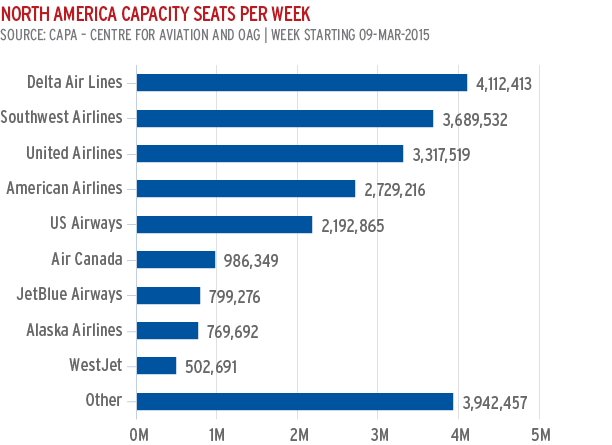 But its low fares are a magnet and Spirit has launched a passenger education campaign during the last year to instruct customers how to navigate its no-frills structure.
Its efforts to raise passenger awareness is likely spurred on by both Frontier's efforts to attain ULCC status and Spirit's own ambitious 30% growth planned for 2015.
Frontier faces a unique set of branding challenges driven by fits and starts in its network during the last couple of years and its product evolution. Unlike Spirit, Frontier offers a fully unbundled economy class that includes fees for checked and carry-on baggage.
Its Classic offering includes refundable tickets, stretch seating and one free checked and carry-on bag. Frontier has likened itself to mid-level retailer Target and identified Spirit as mirroring deep discounter Wal-Mart. But those nuances could likely be lost in crowded markets where two discount airlines are working to stimulate traffic.
A phenomenon Spirit and Frontier must contend with in 2015 is the ripple effect of falling oil prices on fares
This is particularly the case in lower yielding pricing segments. Spirit recently cited that part of the revenue headwinds it is facing in 1Q2015 stems from compression in the pricing structure for off-peak days.
CEO Ben Baldanza remarked that when the largest input costs for an airline drop, it makes economic sense to fill marginal capacity. But the passengers occupying that capacity are largely the target customers for ULCCs – travellers basing their decisions purely on price.
With fewer peak days in ensuing quarters Mr Baldanza believes some of that pricing pressure will ease, however Spirit now faces another airline battling for that marginal capacity which could result in lingering dilutive pricing.
With its unit cost (excluding fuel) projected to fall by 6% to 8% in 2015, Spirit has a built in a defence to combat some of the revenue weakness, and Mr Baldanza remains bullish on his airline delivering an operating margin of 21% to 24% in 1Q2015. "We think oil being lower increases our opportunity for growth, even if that means we achieve our high margins and grow earnings through lower RASM and much lower CASM," he declared at the beginning of 2015.
Spirit's growing profile as the leading ULCC in North America is prompting questions over how great a threat the airline – or other ULCCs – will ultimately become. In mid 2014 Spirit represented less than 2% of US industry seats on offer, and has forecasted attaining an approximate 5% share by the end of the decade.
So far the industry response to Spirit has been fairly muted
Spirit maintains in fact that the passenger segment it targets is largely unattractive to the global network airlines.
But the US majors are not by any means ignoring Spirit. American, which according to Spirit had 58% network overlap with the ULCC in 4Q2014, has deemed Spirit "a real competitor". American president Scott Kirby has concluded: "They do well and we care about them in competing with them and watch carefully what they do".
At this point, Delta Air Lines has created the most direct response to ULCC growth through a fare rebranding that features a Basic Economy option with little flexibility, including a non-refundable ticket and no ability for passengers to change itineraries or select seats. Delta has been testing the Basic Economy fares for a couple of years on select routes, and in early 2015 stated the fare segment was available in 75 markets.
Delta's network overlap with Spirit in 4Q2014 was approximately 29%, according to the ULCC, which is not an insignificant amount and should grow in 2015 with Spirit's planned expansion in Atlanta.
Given their increasing overlap, it is not surprising that Delta adopted a seemingly low risk response to counter some of Spirit's encroachment. It requires no aircraft modifications or huge product adaptations.
The response coined by Delta is likely the path other airlines will take as ULCCs become more prevalent in North America. The major airlines, Southwest and the hybrids will work with their existing product line-ups rather than reverting to past mistakes of creating a LCC within their current frameworks.
Failures of Continental Lite and Delta Express in the 1990s followed by United's Ted and Delta's Song in the 2000s still resonate with airline management teams.
Additionally, both American and United are still in the throes of merger integration, and it would be risky to undertake endeavours that have proven to be unsuccessful.
Even though the airline-within-an-airline or group model has been successfully executed in Asia
This has also been the case to some degree in Canada with Air Canada's second attempt at the concept with its new subsidiary rouge, airlines in the US are able to use their existing product suites to compete with ULCCs.
The foundation of their competitive arsenals is the product unbundling that took hold within the industry after the demise of those low-cost subsidiaries.
In retrospect, those early examples were ill-considered and much has been learned since then; but the US tends to be an inward looking market, with limited respect for foreign models.
With the onset of checked bag fees ushered in during a period of historically high fuel prices in 2008 and 2009, airlines have fully recognised the need to adopt varying degrees of merchandising strategies – offering passengers a range of experiences at different price points. That essentially eliminates the need for a separate entity to compete effectively.
Also, the dynamics in a given business cycle dictate the level of importance that major airlines place on lower yielding passengers. As Mr Baldanza concluded: "When the industry's highest cost input [fuel] decreases 40% to 50%, it's not a surprise to see a drop in the pricing of marginal capacity."
Spirit began to pioneer the ULCC model in the US around nine years ago
But the strategy has only gained widespread knowledge during the last few years, and Spirit routinely stresses that there are roughly 500 markets where it could execute its passenger stimulation strategy. After taking a breather from international expansion to focus largely on the US domestic market, Spirit is making a transborder push from Houston Intercontinental in 2015 ahead of Southwest debuting transborder flights from a new terminal at Houston Hobby.
Spirit plans to add service from Intercontinental to Los Cabos, Mexico City Toluca, Managua, San Jose and San Pedro Sula in addition to new domestic service to Tampa, Baltimore-Washington and Oakland.
Once the new service begins, Houston will become Spirit's second largest market measured by international flights after Fort Lauderdale.
Spirit serves all the new planned international destinations for Houston from elsewhere in its network, which means there is already brand awareness in those markets. "By connecting up, it makes each one of those stations a little bit more efficient, it makes our costs at those stations a little bit more efficient, makes our utilisation a little more efficient, so it is actually pretty low risk growth," Mr Baldanza concluded.
As Spirit resumes marked international growth in 2015, its fellow ULCC Allegiant has frozen its once highly anticipated plans to launch its first transborder service to Hermosillo and Los Cabos, Mexico. Allegiant has concluded that low-hanging fruit still exists in the US domestic market. "We don't believe we're losing anything in the south of the border type markets or the Caribbean at this point in time," Allegiant CEO Maurice Gallagher has stated.
The US hybrid airlines Alaska, JetBlue and Virgin America are not planning the explosive 30% capacity growth of Spirit in 2015
All three airlines are, however, planning growth in the mid to high single digits of approximately 8%, 7% to 9% and 4% to 6%, respectively.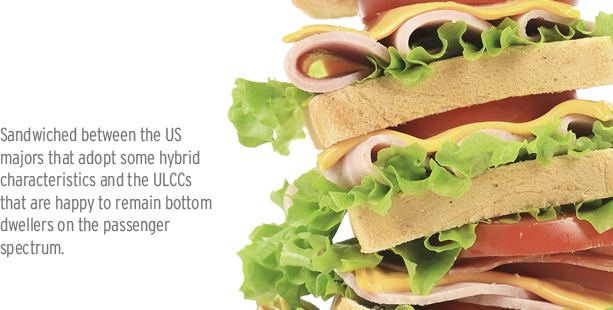 Sandwiched between the US majors that adopt some hybrid characteristics and the ULCCs that are happy to remain bottom dwellers on the passenger spectrum, the so-called hybrids' place within the marketplace is, according to some analysts, growing murky as those three airlines aim to cater to business and leisure passengers alike, and theoretically should pose more of a threat to US major airlines.
But despite having a less easily-defined business model, the hybrids face decent prospects as the US marketplace continues to mature. JetBlue is taking the largest gamble of the three with its new premium product Mint that it is rolling out on transborder flights with a lower price point than the business class seats offered by the US majors.
JetBlue's premise in developing Mint was to capture revenue spill in New York transcontinental markets. It has deployed Mint on flights from JFK to Los Angeles and San Francisco, and early returns look promising. The airline estimates that 4Q2014 operating margins on Mint routes improved twice as much as other transcontinental markets.
The revenue spill JetBlue was experiencing prior to Mint's debut was likely tilted towards Virgin America, whose once-leading first class that does not feature a lie-flat seat is starting to look outdated. Virgin America has admitted that Mint has pressured its performance in the New York transcontinental markets, noting that average fares in the JFK to Los Angeles market were down roughly 30% to 40% in early 2015.
However, Virgin America CEO David Cush concluded that the airline was holding onto its customers "albeit at a lower fare because of the impact of Mint".
Of the three hybrid airlines, recently listed Virgin America possibly has the most uncertain future
Unlike Spirit who targets cost-conscious travellers, Virgin America's passenger base is a business and leisure traveller mix, making it more susceptible to competitive repercussions by US majors.
It competes directly with Southwest on new service from Dallas Love Field to New York LaGuardia, Los Angeles and Washington National, and American also serves those markets from its Dallas/Fort Worth hub.
The Dallas market is presently one of the most challenging within the domestic US as the lifting of the Wright Amendment that prohibited certain long-haul flights from Southwest's Love Field headquarters was lifted in late 2014. Southwest along with other airlines including Virgin America have added a significant amount of capacity, which has created pricing pressure in the market. That is driving some revenue pressure for Virgin America, which celebrated its second consecutive year of profitability in 2014.
With the new pressure in its transcontinental markets, dilutive pricing in Dallas and the industry's discounting of marginal capacity, Virgin America could face revenue headwinds throughout 2015. A debt restructuring prior to its IPO, and the elimination of USD690 million in debt after its public debut has fuelled Virgin America's favourable financial performance during the last couple of years, and now the airline has to compete with airlines that have much larger scale and higher levels of cash in their coffers.
Alaska Air Group, the hybrid whose history dates back to the 1930s, proved its staying power in 2014
Alaska became the second US airline to attain investment grade status behind Southwest while it was coming under heavy fire from Delta at its Seattle hub. Delta opted to build out its domestic network on its own in Seattle to feed its new long-haul flights to Europe and Asia, creating a significant amount of competitive capacity in the market.
Delta's own capacity in Seattle increased 33% year-on-year in 4Q2014, much of that directed towards Alaska's existing markets. But Alaska has held its own. During 2014 the airline recorded its fifth consecutive year of posting profits in every single quarter. It was also the second year in a row that it was profitable every single month.
This is a commendable performance for a company that has come under attack from a fierce and much larger competitor, and perhaps suggests there are opportunities for airlines straddling that hard to define place between the two airline business models that rests on opposite ends of the spectrum.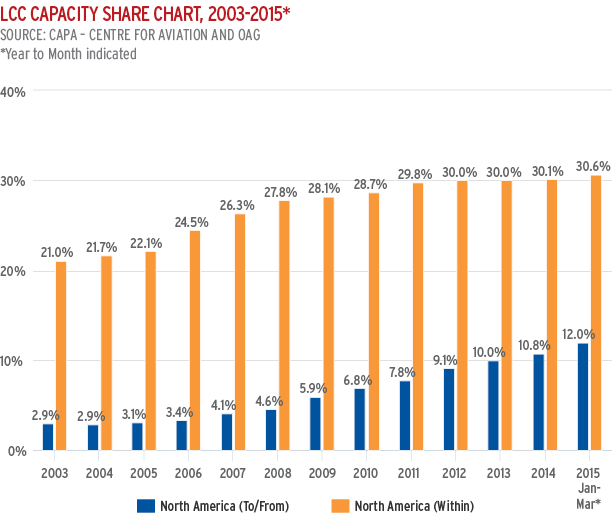 One area where the US major network airlines seem protected for the foreseeable future is in their intercontinental long-haul operations
Southwest Airlines and Spirit are targeting their international growth to the Caribbean and Latin America, Alaska seems to be sticking to destinations in Mexico and Canada while Virgin America is digesting its growth in Dallas.
At one point JetBlue was considering new generation widebodies to serve destinations deeper within Latin America, but those examinations have likely faded as the airline has undergone a change in CEO and is squarely focused on delivering an ROIC of 17% or greater by 2017.
As it works to meet those ambitious targets (it achieved a 6.3% ROIC for the 12M ending Dec-2014), widebody ambitions will dissolve in order for JetBlue to deliver results on par with its peers in key financial metrics. Meanwhile, plans by Brazil's LCC Azul to operate long-haul, aimed at the US market, will no doubt be watched carefully.
Although the 3% traffic growth recorded by North American airlines in 2014 reflects the maturity of the market (and some of the highest short-haul fares in the world), the US domestic market remains strong, driven by the country's better economic performance versus other regions.
With consolidation in the US market essentially complete, the airlines adopting various business models are attempting to stake their claims in the marketplace. No-one can predict the survivors of the post consolidation era, or even whether serious new entrants can emerge, but even as the number of players shrink, competition remains fierce.