ULCC Spirit Airlines faces pricing pressure from lower fuel prices, refines 4Q guidance
Analysis
Despite pledges by some US airlines that they have no plans to lower fares in response to falling fuel prices, the country's largest ultra low-cost airline Spirit has refined its 4Q2014 margin guidance due to what it deems as fare compression for close-in bookings.

The ULCC also concludes dilutionary pricing is occurring in Dallas, its second largest market by seat deployment and a particularly dynamic market due to the lifting of restrictions on certain long-haul flights from Dallas Love Field that has fuelled overall capacity growth in the market.

Spirit's trimming of its projected 4Q2014 margins could lead to larger questions about its planned growth and ambitious margin targets. At that point it is tough to determine if Dallas is just an anomaly in Spirit's business logic, or if major airlines are examining how to respond to the new breed of ultra low-cost carriers.
Spirit sought to stimulate traffic in American-dominated Dallas as it built up the market
Spirit began rapidly building up a presence in the Dallas market a couple of years ago, prior to the merger of American and US Airways when Dallas' largest airline American was in Chapter 11. American remains the largest airline at Dallas/Fort Worth by a wide margin with roughly 84% of both the system and domestic seats deployed from the airport.
Spirit is DFW's second largest airline measured by seats on offer, with a roughly 4% share. DFW is the ULCC's second largest base, representing approximately 12% of its seats deployed from its top markets for the week of 29-Dec-2014 to 4-Jan-2015.
Dallas/Fort Worth International Airport capacity by airline (% of seats): 29-Dec-2014 to 4-Jan-2015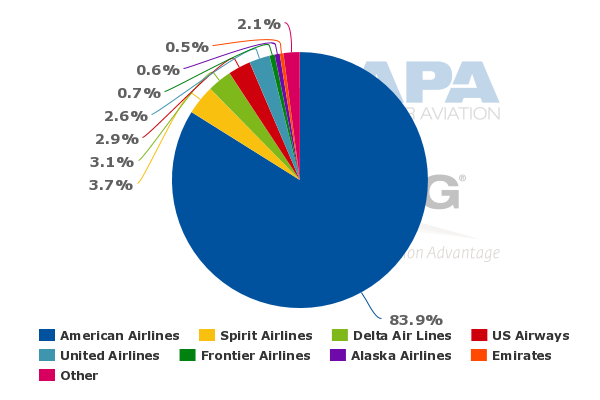 Spirit Airlines global top 10 hubs/bases/stations by seats: 29-Dec-2014 to 4-Jan-2015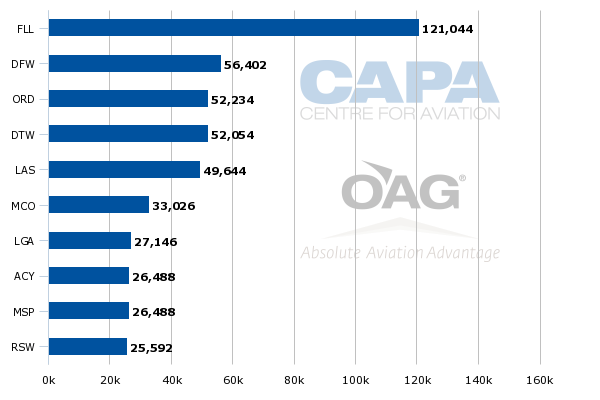 See related report: Spirit continues rapid expansion from American's stronghold of Dallas/Fort Worth
Part of Spirit's logic for re-entering the Dallas/Fort Worth market in 2012 was an opportunity to stimulate traffic in a high fare market dominated by a legacy airline. It was part of the airline's strategy in building up Fort Lauderdale, which is approximately 34km north of Miami.
American is also the dominant airline in Miami, which is the airline's largest gateway to Latin America. Spirit leveraged the large ethnic population in South Florida to offer fares well below American to stimulate traffic to the Caribbean and Latin America.
As of Nov-2014, Spirit estimated it had the most competitive overlap with American during 4Q2014 of 58%. It has the second highest overlap with Southwest of roughly 49%.
Spirit Airlines unit cost comparison (12M ending Sep-2014) and competitive overlap with other airlines: 4Q2014
Spirit's higher competitive overlap with the two US major airlines based in Dallas occurs at a time when capacity is rising at a fast rate in the market, which includes both DFW and Southwest's headquarters at Dallas Love Field.

With the repeal of the Wright Amendment that limited certain long-haul service from Love Field, Southwest in late 2014 made a push from the airport, launching nonstop flights to 15 new markets – New York LaGuardia, Baltimore/Washington, Washington National, Chicago Midway, Denver, Las Vegas, Orlando, Atlanta, Fort Lauderdale, Los Angeles, Nashville, Phoenix, Orange County, San Diego and Tampa.

See related reports:

Data from CAPA and OAG for the week of 28-Dec-2014 to 4-Jan-2015 show that Spirit operates service from DFW to several of those markets including LaGuardia, Baltimore, Chicago (O'Hare), Denver, Orlando, Atlanta, San Diego and Tampa.
As Southwest was making its push from Love Field, Virgin America also launched service during 2H2014 to LaGuardia, Washington National and San Francisco. It plans to introduce service to Chicago O'Hare in 2015.

See related report: Virgin America vies to inject competition at Dallas Love Field, as Southwest, Delta, Spirit line up
Other airlines have also increased capacity in the Dallas market post-Wright
Virgin America vied for and gained gates at Dallas Love Field that were divested by American and US Airways as they sought approval from the US Department of Justice for their merger. The airlines were also required to divest slots at Washington National, and both Southwest and Virgin America along with JetBlue purchased slots at the airport.

The push by Virgin America, Southwest and capacity additions by other airlines at Love Field has resulted in a 46% rise in seats deployed from the airport to North America year-on-year for the week of 29-Dec-2014. Southwest's seats have jumped 35%, and Delta and United have both ramped up their capacity from the airport by 93% and 56%, respectively.
Dallas Love Field to North America (seats per week, one way): 30-Dec-2013 and 29-Dec-2014

Delta competed against Virgin America to gain the Love Field gates, but ended up losing out to the low fare airline. Delta has up-gauged its aircraft from Love Field and now operates a mix of Bombardier CRJ900s and Boeing 717s from the airport. Although both Delta and United have added seats from Love Field during the past year, they still represent a fraction of the seats on offer from the airport to North American destinations. Each airline holds nearly a 2% share from the airport.
They deploy a much higher number of seats from DFW, and have also increased their seats on offer from that airport to North America during the past year. Delta's seats on offer for the week of 29-Dec-2014 have increased roughly 13% year-on-year and United's have grown by approximately 8%. Overall, seat counts from DFW to North America have risen by roughly 5%.
Dallas/Fort Worth International Airport to North America (seats per week, one way): 30-Dec-2013 and 29-Dec-2014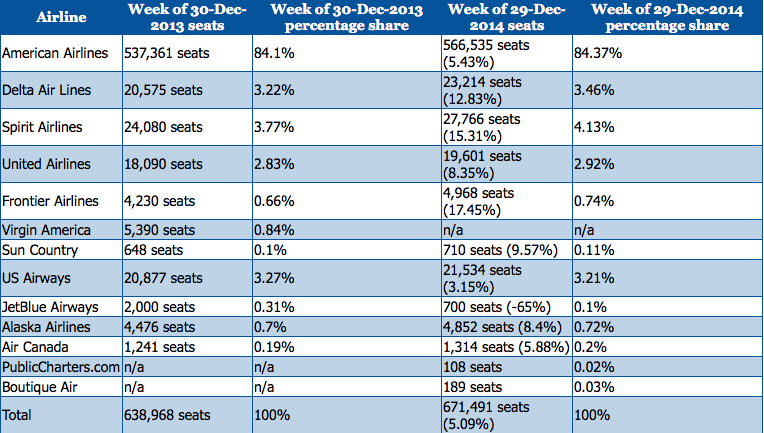 Spirit experiences pricing pressure on close-in bookings as fares drop with low oil prices
As a result of the new service launches and other capacity increases, Spirit recently declared that it had noticed dilutive pricing "arising from the change in capacity related to the expiration of the Wright Amendment". It also explained that since late Oct-2014 "there has been compression in the fare structure for close-in bookings believed to be driven by the industry's willingness to trade lower fuel prices for lower fares".
It is an interesting observation from the self declared low fare leader, and in contrast to declarations by Delta Air Lines that it did not intend to usher in lower fares as a result of falling oil prices. Pricing moves by airlines are being closely watched by investors, which could be spooked by airlines opting to act "irrationally" in light of lower energy costs.

See related report: US airlines aim to please investors and limit the political backlash as oil prices tumble

Spirit's observations that close-in fares are falling coupled with pricing pressure in Dallas has led the airline to trim its 4Q2014 operating margin guidance from 18.5%-19.5% to a still very respectable 18%-19%. The airline still estimates a 20% operating margin for 1Q2015 of 20%, and expects to grow capacity by 30% in 2015.

See related report: Spirit Airlines outlines ambitious 20%+ growth targets for both capacity and margin for CY2015
Are the US majors beginning to take aim at Spirit's encroachment?
As 2015 approaches, Spirit and the industry at large will learn if the pricing action on close-in bookings is temporary, or if it will linger as oil prices remain below historical highs. Spirit may also need to revisit its 1Q2015 margin targets if pricing pressure persists in Dallas.

It is tough to determine if Dallas is indicative of larger challenges Spirit may face going forward as major airlines become more aggressive in responding to Spirit's expansion. Spirit's long-held belief is that large legacy airlines essentially leave the airline to its own devices due to the fact that Spirit targets low-yielding, price conscious travellers.

But during 2014 executives at American confirmed that the airline does watch Spirit's movements, and during the last couple of years Delta Air Lines has opted to offer a basic economy fare in some markets where it competed with Spirit. Four of Spirit's top 10 markets based on seat deployment for the week of 28-Dec-2014 to 4-Jan-2015 are into Delta's Detroit hub.
Spirit Airlines top 10 domestic routes by seats: 29-Dec-2014 to 4-Jan-2015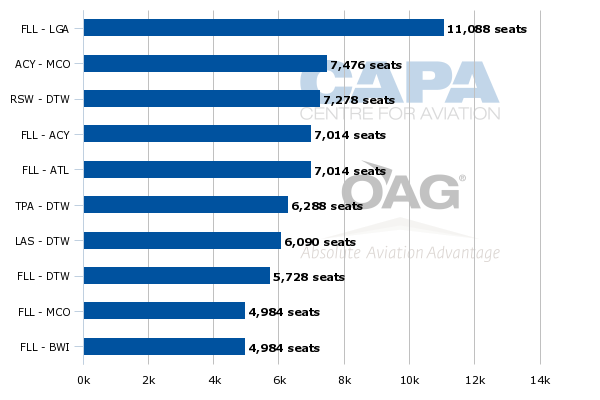 Delta recently revamped its fare structure to five fare families that include a restrictive basic economy option, main cabin, Delta Comfort plus and Delta One/First class. The bare bones option is in response to Spirit's business model that entails offering low basic fares and charging for nearly every other aspect of the travel experience
Spirit for now seems to offset unit revenue pressure with a solid cost performance
Spirit has previously explained that it can take some pressure on unit revenues if its costs remain low and margins stay high as its capacity growth for 2015 has raised some concerns among investors. On a unit cost basis, Spirit performed better than its expectations in 3Q2014 and projects unit costs excluding fuel in 4Q2014 of USD5.78 cents to USD5.84 cents compared with USD5.91 in 4Q2013.

The airline's ability to keep its fares low depends on keeping its costs in check, and it seems Spirit continues to perform well in that metric.

But it is tough to determine when Southwest and Virgin America will start to taper off their introductory fares into new markets, and how the management team at American will ultimately handle Spirit's presence in Dallas. Spirit could experience some unit revenue pressure for the foreseeable future; but for the moment it seems its cost performance should offset most of the headwinds.
New market dynamics start to materialise for Spirit
Spirit ends 2014 with an interesting set of market dynamics in its second largest base and in the US domestic industry overall as some airlines appear to be going against investor sentiment and adjusting at least a portion of their pricing to lower fuel costs, perhaps to deflect pressure from US legislators who have requested an investigation into the reasons fares are not falling faster.

As Spirit gears up for highly ambitious capacity growth in 2015, the airline may also find itself facing the largest challenge yet to its business model that up to this point has escaped direct attacks from the legacy airlines. Maintaining a substantial cost margin will be key to its success, but it has some big adversaries who can be destructive if they become sufficiently irritated.