Eastern Airways' expansion moves it up the ladder
Analysis
The UK's regional commuter airline, Eastern Airways, announced it will deploy Embraer 135 jet aircraft on services from Aberdeen to Norway from 01-Nov-2010. Better known as an operator of Jetstream 41 models – it is the largest in the world with 20 in service – Eastern has been bucking the economic trend during the past two years by acquiring new aircraft, opening new routes and expanding organically and, latterly, inorganically, through its acquisition of Air Southwest.
The airline began operations in 1997 and grew two years later when it bought the Manchester-based Air Kilroe, though it does not operate there presently. The Jetstream 41 became the mainstay of the fleet in 2003 when the aircraft and their routes were transferred from British Airways CitiExpress. Apart from the Jetstreams, the other major type operated is the Saab 2000 (eight in service). In Sep-2010, Eastern awarded BAE Systems, the original manufacturer of the Jetstreams, a contract to remarket for sale or lease six of its Jetstream 41s.
Fastest jet in the 30-40 seat category
In Jul-2010, the airline took delivery of its first E-135 and signed a lease agreement for a second, increasing its fleet to 30. The Embraer were initially assigned to the charter flying programme serving blue-chip companies, corporations and individual groups across the UK and mainland Europe. The addition of these jet aircraft offers a distinct flexibility in the private charter market where Eastern can offer 29, 37 and 50-seat aircraft. However, its deployment on the very high-yielding oil industry based scheduled Aberdeen–Norway (Stavanger and Bergen) routes makes sense, where eastern is in competition with SAS and Norway's regional airline Wideroe. With a cruising speed of above 500mph the E-135 is the fastest jet in the 30-40 seat category.
Interestingly, Eastern did once operate an Embraer-145 but three years ago stated: "We experimented with regional jets but decided that the economics for a 50-seat aircraft would make them become dinosaurs." However, it is well known that even seasoned business travellers prefer jets to turboprops over large and volatile expanses of water like the North Sea.
Eastern, which is based at Humberside Airport (Manchester Airports Group), with its principal hubs there and at Aberdeen and Newcastle airports, is unashamedly both a regional airline offering convenience to customers at a price (the antithesis of an LCC) and one that is committed to serving the eastern side of the UK, as did a predecessor, Air UK, in the 1980s and 1990s. Indeed, eight of the 14 UK cities it serves are in the east. Unlike Air UK, however, it is notable for avoiding all the principal airports in London and Manchester, though it does operate at Birmingham. It also operates long cross-country services such as Newcastle-Cardiff, Liverpool-Aberdeen and Southampton-Leeds Bradford, as well as connecting Aberdeen and Newcastle with Bergen and Stavanger.
Aberdeen Airport carrier capacity share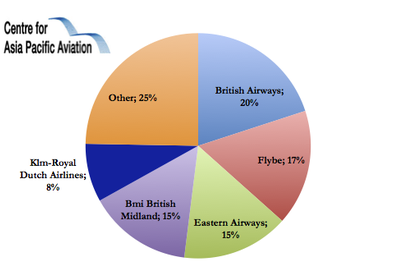 Eastern cuts the mustard in Dijon
The airline announced a major move into the domestic French market in Sep-2010 by setting up a base at Dijon Bourgogne Airport giving the airport its first scheduled services for over seven years. Twice daily services commenced to Bordeaux on 20-Sep, followed by twice daily flights to Toulouse on 27-Sep.Two Jetstream 41 aircraft are based in Dijon. The philosophy is the same as in the UK, to facilitate cross-country journey times for business travellers where road or rail journeys would be impractical. Eastern Airways has provided charter flights within France for a number of years and previously operated a scheduled flying programme from Angers in 2007.
Air Southwest acquisition offers greater reach

It was also in Sep-2010 that Eastern made the news by acquiring the ailing Air Southwest from Sutton Harbour Holdings, which also operates Plymouth Airport in the far southwest of England. The agreement is still subject to regulatory approval, with legal completion expected in Oct-2010. Air Southwest, which was formed in 2003, operates from 12 airports and has five aircraft and 135 staff. As part of the proposed acquisition, the Air Southwest brand will continue to be used in south-west England on services at Plymouth, Newquay and Bristol, while the Eastern brand will remain in place in its existing markets. Eastern Airways' fleet will also increase to 35 aircraft with the addition of Air Southwest's five 50-seat Dash 8 300 turbo-prop aircraft. According to Richard Lake, Eastern Airways' CEO, the deal makes sense as both airlines are "market leaders" in their respective catchment areas and gives it greater reach across the UK.
Eastern Airways is about as close to the concept of a US-style commuter airline that can be found not only in the UK but also in most of Europe, with the exception that it does not connect with other airlines, at least not yet, preferring a simple O&D model. The acquisition of Air Southwest, in addition to the deployment of jet aircraft and the new French domestic routes, moves it up the ladder, if not into the premier league of British airlines then at least not too far below it.
Eastern Airways reports the following financial highlights in 2009:
Revenue

Amount GBP million

Change

71.0

-3.5%

64.2

+9.4%

Profit before tax

1.2

-63.1%

2.4

-4.3%

Passenger numbers

N/A

+7%