Turning the industry on its head: AirAsia joins Malaysia Airlines
Analysis
A historic tie-up between AirAsia and Malaysia Airlines (MAS), which would have been unthinkable just a few years ago, could lead to unprecedented consolidation in Asia and other major strategic movements across the region's rapidly evolving airline industry. In the volatile and high growth Asia Pacific region, a move of this nature typically guarantees a host of flow-on impacts on the plans of other airlines and partnerships. Often there is no broad strategy behind each new move, as the airlines react to local circumstances, but other players are quick to re-assess the opportunities and whole new permutations arise.
Tune Air, which owns a majority 26% stake in AirAsia Group, forged a landmark agreement on 9-Aug-2011 with Khazanah Nasional, a Malaysian-government controlled investment company which has a 70% stake in MAS. The deal gives Tune Air a 20.5% stake in MAS and Khazanah a 10% stake in AirAsia through a share swap.
When a young noisy ex-Virgin group music business executive bought the bankrupt Tune Air for a token one ringgit in 2001, Asia's airline business could have no possible way of seeing what would happen over the next 10 years. First of all AirAsia, as Tony Fernandes renamed the carrier (the first smart move, setting it up as a trans-national brand, when established players proudly limited themselves by leveraging their national flags), threw the Malaysian domestic market on its head. Previously poorly served regional routes operated by MAS with government subsidy overnight became high growth and profitable as fares tumbled and demand spiked. Even MAS increased capacity and started to make money. From there on the disease spread like wildfire throughout Southeast Asia.
AirAsia has since overtaken MAS to become the largest player in the Malaysian market in terms of total seats. From a market capitalization standpoint, the AirAsia Group (includes affiliate carriers in Indonesia and Thailand but excludes AirAsia X) also overtook MAS last year although MAS still generates three times more revenues. The deal could prove more beneficial to MAS and invigorate the flag carrier, which has seen its stock price drop significantly over the last several months, reaching a nine-year low in May-2011. MAS shares shot up by 8% on 10-Aug, the day after trading was suspended for the tie-up announcement. AirAsia's stock price, which has been rising steadily over the last year, dropped 10% on 10-Aug.
Stock price (in MYR) for Malaysia Airlines and the AirAsia Group over the last 12 months

Malaysia Airlines and AirAsia Group monthly passenger traffic, Apr-2009 to Jun-2011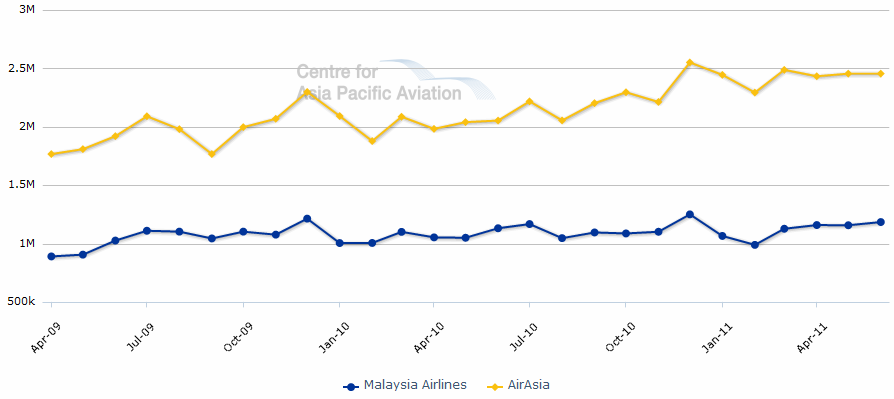 There is no evidence yet of a clear grand plan, beyond a need for MAS to find another way ahead. It appears probable that this will be the first step in an eventually closer relationship, although the cultures of the two airlines remain very different and a total merger seems unlikely in the short term. At the very least there will now be coordination between the two Malaysian companies in terms of their route networks and potentially connectivity.
For AirAsia, the deal potentially opens a whole new world beyond its core market. Regulatory hurdles, which have always been AirAsia's biggest challenge to growth, will also be eliminated as AirAsia benefits from its new link with a government-owned investment firm.
Mr Fernandes says the tie-up with MAS "is really a growth story" as both airlines will be able to grow faster by focusing on their core competencies. There will be no more "wasted energy" that comes with competing in the same sectors of the market. Significant cost savings are also envisioned for both companies as they look to work together in areas such as maintenance, cargo, ground handling and aircraft procurement.
AirAsia to get two seats on MAS board; MAS to appoint new CEO
The stock swap could also be the first step towards a merger between the two Malaysian airline groups. Mr Fernandes, who serves as AirAsia's group CEO and owns Tune Air along with partners, will immediately get a seat on the MAS board. AirAsia Group deputy CEO Kamarudin Meranum will also join the MAS board.
One of the first tasks of the new MAS board will be to appoint a new CEO. MAS announced on 9-Aug that Tengku Azmil Zahruddin, who only took over two years ago as managing director of MAS from Idris Jala, has left the company with immediate effect to join Khazanah. Mr Fernandes will undoubtedly have a big role in selecting the CEO – with whom he will work closely as the two airline groups look to generate synergies and pursue profitable growth.
The new MAS executive team and board will also lead the carrier through its ascension into the oneworld alliance. Oneworld in Jun-2011 voted in MAS as a new member with Qantas serving as its sponsor. MAS expects to formally join the alliance late next year and in the meantime is working on implementing codeshares with several oneworld members, including Qantas. The tie-up with MAS could become a component of Qantas' new international strategy, which will formally be unveiled later this month. This new development along with the new Singapore Airlines-Virgin Australia partnership, which was announced in Jun-2011, could intensify the Kuala Lumpur-Singapore rivalry considerably, making Qantas' next move an important ingredient.
There are also now hugely significant ramifications for extensive cooperation between AirAsia and Qantas low-cost subsidiary Jetstar. AirAsia and Jetstar forged a joint purchasing alliance in Jan-2010. But so far the tie-up has been very loose and has done little except contribute to Airbus' decision to launch the A320neo. AirAsia has already ordered 200 A320neos, with plans for a follow-on order for another 100 aircraft subject to board approval, and a very large order from Jetstar is also expected.
After the Qantas-MAS tie-up was announced, it appeared the AirAsia-Jetstar alliance would not grow beyond investigating joint procurement opportunities. But now everything could change for Asia's two largest LCC groups. A stronger alliance and the possibility of an equity swap would further widen the gap between AirAsia/Jetstar and the rest of the region's LCC carriers.
A strong Qantas-MAS and Jetstar-AirAsia relationship would change market dynamics
AirAsia and Jetstar already control nearly 40% of the rapidly growing LCC market in Asia Pacific and are likely to grow these shares given the orders they have placed and new affiliates they are planning to launch. AirAsia and Jetstar have each emerged as the most powerful trans-national airline brands and have successfully exploited their first mover advantage in the Asian LCC marketplace. A tie-up would further distance them from the rest of the pack, including a troubled Tiger Airways. But such a move could have an impact on their development plans as AirAsia and Jetstar are both planning to establish new joint venture carriers in certain key markets such as Japan. AirAsia is also planning to launch at the end of this year an affiliate in Vietnam, where Jetstar already has an affiliate.
Qantas also previously looked at acquiring a stake in MAS and studied basing its potential Asian full-service carrier at Kuala Lumpur. In the end Qantas decided against an equity tie-up with MAS and appears likely to have selected Singapore over Kuala Lumpur for the base of its new full-service carrier, which could be formally announced later this month. It is unlikely the AirAsia-MAS deal will prompt Qantas to immediately move to acquire a stake in either carrier or even to re-look at Kuala Lumpur as a potential hub. But a strong Qantas-MAS and Jetstar-AirAsia relationship, with the possibility of an equity tie-up later, changes the dynamics of the entire Asian marketplace.
Such a tie-up would be the biggest step yet towards consolidation in a region that has not seen the consolidation that has reshaped the industry in Europe and North America due primarily to regulatory restrictions. Other airline groups in the region could be compelled to make similar moves. In Singapore Changi for example, the Qantas, MAS and AirAsia groups combined now account for 20% of total capacity (this includes 8% for AirAsia, 6% for Jetstar, 4% for Qantas and 2% for MAS/Firefly, based on Innovata seat data for the current week). This figure will likely increase after the launch of the anticipated new Qantas Group full-service carrier, which would open up new connection opportunities at Changi outside the Singapore Airlines (SIA) Group and Star Alliance.
SIA, which has about a 33% share of capacity at Changi, with regional subsidiary SilkAir accounting for another 6%, will remain by far the biggest player in the dynamic Singapore market. But SIA's decision to launch a long-haul low-cost carrier is looking increasingly timely and the MAS-AirAsia tie-up could even force another strategic move from SIA Group. For example, SIA could look at buying out Tiger's publicly listed shares, which have plummeted in recent months and currently Tiger has a market capitalization of less than SGD600 million. SIA already has a 33% stake in Tiger with Singapore government investment firm Temasek owning another 7%.
AirAsia and MAS will continue to work as separate entities
In Malaysia, where the AirAsia Group, AirAsia X and the MAS group control about 80% of total capacity, the companies have committed not to cut capacity. But reduced route competition will almost certainly be one outcome of their agreement. The tie-up will require competition authority approval and come under additional scrutiny from next year, when Malaysia's new Competition Act is implemented, but is unlikely to be blocked as the companies will at least for now remain independent.
Malaysia capacity (seats per week) by carrier, 08-Aug-2011 to 14-Aug-2011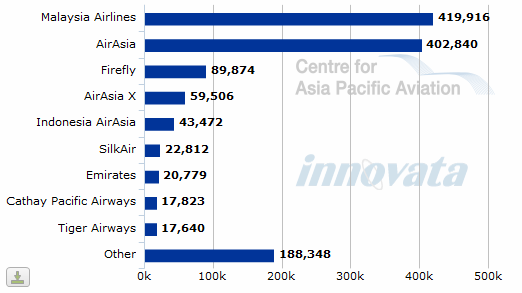 AirAsia and MAS will continue to operate side by side on major domestic routes. MAS will focus on the higher end of the market, offering a full service and a connection product to its international routes. AirAsia, which operates out of a low-cost terminal at the opposite end of Kuala Lumpur International Airport (KLIA), will continue to offer a low fare point-to-point product. If managed properly the AirAsia and MAS products can be complementary, following a similar strategy that the Qantas Group now employs with the Qantas and Jetstar brands in the Australian domestic market and that Garuda has started to use more recently with the Garuda and Citlink brands.
Of MAS' 10 largest domestic routes by capacity, AirAsia also currently operates all 10 with seven on its own top 10 list (see background information). Of MAS' 10 largest international destinations, six are now also served by AirAsia and two by AirAsia X. The only exceptions are Shanghai and Sydney, routes AirAsia X has been eyeing for some time but has so far been unable to secure the required traffic rights.
AirAsia X is potentially a complementary operation with MAS
On long-haul routes, AirAsia X will inevitably compete against MAS in more markets. But if managed properly the two products can become complementary, again using the Qantas and Jetstar example. AirAsia and MAS also expect their deal to open up more network opportunities for both groups as they focus on different sectors of the long-haul market. The tie-up should make both carriers more formidable competitors against rivals that now have larger long-haul networks. For example, more destinations in Europe, where SIA has a much larger network than MAS, could become viable.
MAS and AirAsia X combined have 33,000 seats per week on European routes, compared to 78,000 seats for SIA, according to Innovata capacity data for the current week. On routes to Australia and New Zealand, MAS and AirAsia currently offer a combined 52,000 seats per week compared to 70,000 seats for SIA. Network coordination should allow MAS and AirAsia to step up competition on the kangaroo route as well as in the Asia-Europe market, providing an increased threat to other Asian carriers and fast-growing Middle Eastern carriers.
A joint widebody order for AirAsia X and MAS could also be one of the first tangible outcomes of the new tie-up. MAS has been looking at next-generation medium size widebodies and could jointly purchase A350s with AirAsia X as the latter looks to top up its own A350 order. According to Ascend data, the MAS group now operates 126 aircraft – consisting of 49 widebodies, 57 narrowbodies and 20 turboprops – and has 67 more aircraft on order including 20 widebodies. AirAsia Malaysia currently has a fleet of 53 narrowbodies although it is likely to get a relatively small allocation from the 283 aircraft the AirAsia Group currently has on order. AirAsia X has 11 widebodies with orders for an additional 30.
While MAS and AirAsia X will continue to compete on several long-haul routes, AirAsia X could be used to take over some underperforming MAS routes and open up leisure markets which MAS could not operate profitably. Access to markets should be less of a challenge for AirAsia X as the two airline groups start to pursue network synergies and stop haggling over traffic rights. A touchstone in this context may be the Kuala-Lumpur-Sydney route, where AirAsia X has been fighting hard for designation from Malaysian authorities over the past two years.
Khazanah is also planning to take a 10% stake in AirAsia X, which is not part of the Malaysia-listed AirAsia Group and is planning its own IPO. A codeshare or connection product is currently not planned as part of the new AirAsia-MAS tie-up - but it would make sense particularly for AirAsia X.
MAS' low cost operator Firefly will also need to be integrated
Another carrier in the MAS and AirAsia groups, Firefly, will also be significantly impacted. MAS says it will convert Firefly from a low-cost carrier subsidiary into a full-service regional carrier to avoid direct competition with AirAsia. The shift will likely leave Firefly with an all-turboprop fleet, focusing on short domestic flights and international routes to neighboring countries primarily from Kuala Lumpur alternative airport Subang. A merger between Firefly and MASwings, which already follows a regional carrier model and only operates turboprops, is also a possibility.
MAS launched Firefly and MASwings in 2007. MASwings was established to take over subsidised regional routes in eastern Malaysia that were operated by FlyAsianExpress, a low-cost turboprop operation AirAsia established but shut down after only one year. Firefly was set up as a second budget brand under MAS, following a low-cost "community airline" model, in response to growing competition from AirAsia.
But for the first three-plus years Firefly only operated ATR-72s and pursued a niche which kept it away from the crossfire of AirAsia. It now has eight ATR-72s based at Subang, where it operates seven domestic and five international routes including 11 routes that have no competition. It also has two ATR 72s based at Penang, where it operates four domestic and three international routes including five which have no competition. Firefly also is planning later this year to open a small turboprop base in Malacca, where there was has previously been no service from any Malaysian carrier.
In Jan-2011 Firefly finally began competing more directly with AirAsia, as it added B737s. Firefly now operates six B737-800s, which are based at KLIA and Kota Kinabalua and are used to operate four domestic routes also served by AirAsia (including Malaysia AirAsia's two largest domestic routes - KLIA-Kota Kinabalu and KLIA-Kuching). Firefly also has two B737-400s, which are based at Johor and are used to serve two domestic routes also served by AirAsia but have been dropped by MAS. AirAsia will likely soon have a monopoly on these routes along with some thinner domestic routes from Kuala Lumpur, such as Sibu, which is also now served by Firefly but not MAS. While a few more domestic routes could be dropped, MAS will continue to operate alongside AirAsia on all the major trunk routes.
MAS late last year decided to pursue rapid expansion of Firefly's jet operation, putting in place plans for a fleet of 30 additional B737-800s by the end of 2015. With the fleet expansion, Firefly was intending to start competing against AirAsia on several additional routes from KLIA, including to the popular island of Langkawi from Dec-2011 (which is Malaysia AirAsia's third largest domestic route). There were also plans to develop a second hub at Johor and launch several international flights, filling a void left after AirAsia dropped international services at Johor last year. While a Firefly-operated Johor international operation could still be complementary under the new tie-up, it is unlikely to survive as Firefly downsizes and its expected exit from KLIA does not give it the scales needed to maintain a profitable jet operation.
As Firefly only became a serious competitor to AirAsia within the last few months, it was too early to determine if the LCC could have been successful at improving MAS' overall profitability and at having an impact on AirAsia. But the tie-up with MAS ensures AirAsia will again have a free reign domestically. The prospect of higher fares and lack of competition could potentially persuade a start-up carrier from entering the market but this seems highly unlikely given the relatively small size of Malaysia, the fact the market is already mature from an LCC perspective and the power the combined AirAsia and MAS will yield.
Malaysia capacity (seats) share by carrier type, 08-Aug-2011 to 14-Aug-2011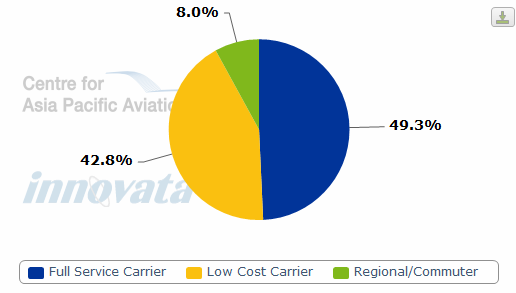 As seen from the initial investor reaction on the Malaysian stock market, the deal could be relatively more beneficial for MAS. The flag carrier has struggled to compete against AirAsia and was back in the red in 1Q2011 with a relatively bleak short-term outlook. Now all of a sudden MAS finds itself at the forefront of a strategy shift which will likely force a response from other carriers in the region.
While AirAsia's short and long-term outlook was already bright and the company was already on a growth path that could make it the world's second largest LCC group in the next decade, the tie-up with MAS has huge significance because its home market now is almost guaranteed to be free of significant competition and access challenges. Through joint purchasing and other synergies both carriers' ex-fuel unit costs will also undoubtedly be reduced, making MAS a more formidable competitor and further widening the cost gap AirAsia already has over all of the world's other low-cost carriers.
Background information
Malaysia Airlines top 10 domestic routes by capacity (seats per week), 08-Aug to 14-Aug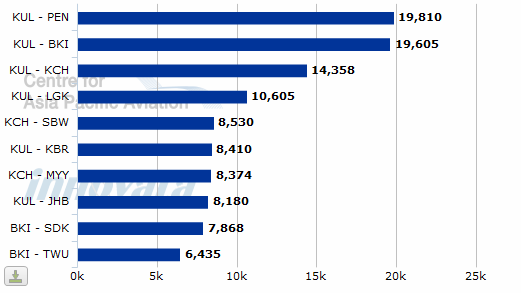 Malaysia AirAsia top 10 domestic routes by capacity (seats per week), 08-Aug to 14-Aug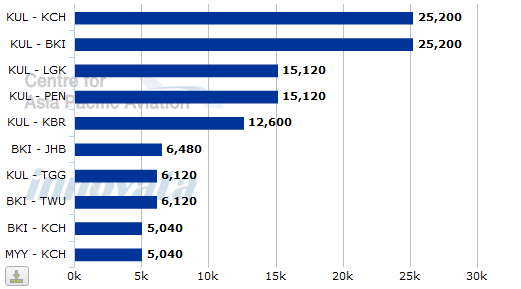 Firefly top 10 domestic routes by capacity (seats per week), 08-Aug to 14-Aug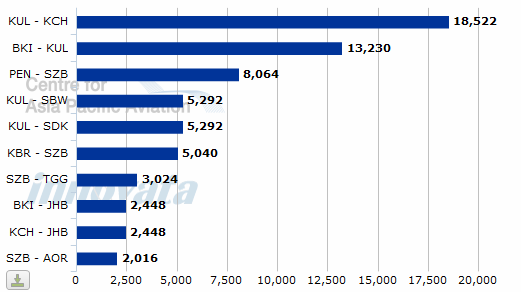 Malaysia Airlines top 10 international routes by capacity (seats per week), 08-Aug to 14-Aug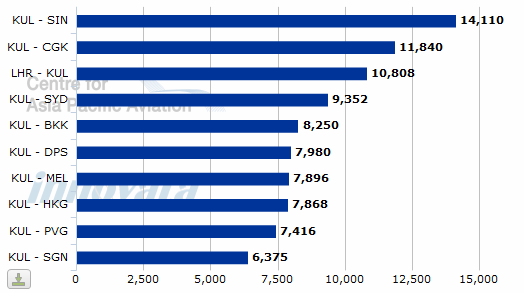 Malaysia AirAsia top 10 international routes by capacity (seats per week), 08-Aug to 14-Aug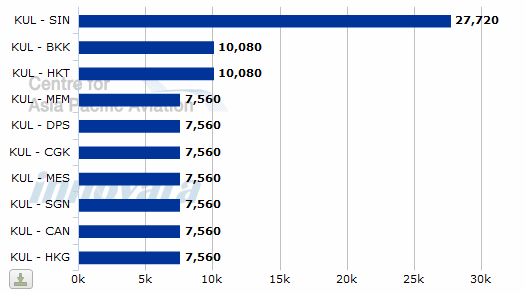 AirAsia X top 10 routes by capacity (seats per week), 08-Aug to 14-Aug