Turkish Airlines: wider 1Q loss a reflection of the need to balance growth against profitability
Analysis
Turkish Airlines suffered a wider operating loss in the 1Q2016. Its capacity growth, consistently at double-digit rates, is accelerating in 2016 as it pursues new markets and increases frequencies – particularly in the US and Africa. However, its load factor slipped by 2.9ppts and its total revenue per ASK fell by 17.2%.
Demand was weakened by the aftermath of geopolitical events but there are also gathering macroeconomic uncertainties in Turkish Airlines' markets, which increasingly embrace the globe. This highlights the risks associated with very high capacity growth when the robustness of demand is faltering. Although its unit cost also fell (thanks to lower fuel prices), this was not sufficient to offset the drop in unit revenue.
Turkish Airlines strategy of high growth, based on the geographic advantage offered by its Istanbul hub in attracting global transfer traffic, now ranks it among the world's leading airlines. Although the seasonally weak 1Q may not be a reliable guide to FY2016, the airline will need to generate improved trends in load factor, RASK and margins over the rest of the year if it is to assuage concerns that it is pursuing growth at the expense of profitability.
Operating loss widens to USD280 million in 1Q2016
In 1Q2016 Turkish Airlines' net result fell back into a loss of USD421 million after posting a net profit of USD153 million in 1Q2015, in what is typically its weakest quarter of the year. Comparison of these two results is distorted by significant changes in net foreign exchange gains and losses related to financing activities, and by different tax charges. The 1Q2015 net profit was unusual, and mainly based on foreign exchange gains in the net interest line.
THY's operating result excludes these items and income from investments and gives a better idea of the underlying performance of the business This fell from a loss of USD35 million in 1Q2015 to a loss of USD280 million in 1Q2016, an eightfold increase in the operating loss. Revenue fell by 1.4% to USD2,188 million and the operating margin declined by 11.2ppts to -12.8%.
Turkish Airlines summary profit and loss account (USD million), 1Q2016 versus 1Q2015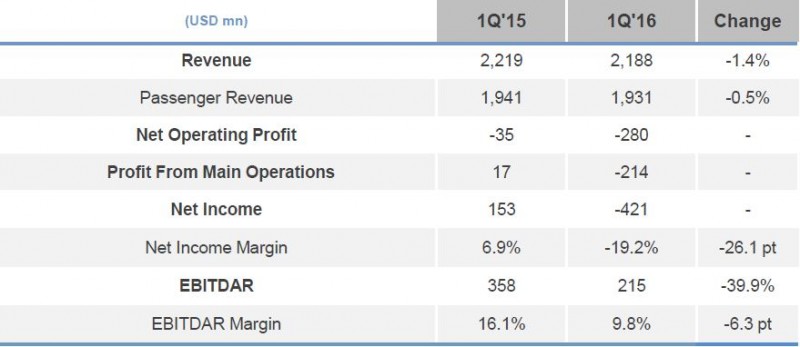 ASK growth of 19.1%, but load factor lower by 2.9ppts
THY continued its rapid capacity growth, increasing ASKs by 19.1% in 1Q2016. This was faster than its 9.4% growth in 1Q2015 and its 13.6% growth in FY2015, but approaching its FY2016 target growth rate of 21% announced in Jan-2016.
However, passenger load factor fell by 2.9ppts to 74.0% in 1Q2016, indicating that the markets were not fully ready to absorb all of THY's additional capacity. Its Jan-2016 targets included a goal of FY2016 load factor at 78%, a similar level to the 77.9% achieved in 2015. This will require load factor gains over the rest of the year.
In the domestic market THY's ASKs grew by 11.3% and load factor held at 83.4% (+0.2ppts). However, in international markets ASK growth was 20.2% and load factor fell by 3.2ppts to 72.8%. Load factor fell in all international markets apart from South America, where capacity growth was slowest (see below) and load factor gained 4.3ppts to 82.8%.
Turkish Airlines traffic and operating data, 1Q2016 versus 1Q2015
| | 1Q2015 | 1Q2016 | Change |
| --- | --- | --- | --- |
| RPK million | 25,345 | 29,055 | 14.6% |
| ASK million | 32,965 | 39,257 | 19.1% |
| Passenger load factor% | 76.9 | 74.0 | -2.9 |
| RASK USc | 6.73 | 5.57 | -17.2% |
| CASK USc | 6.84 | 6.29 | -8.1% |
| ex fuel CASK USc | 25,345 | 29,055 | 14.6% |
ASK growth led by US and Africa networks
THY continued to expand more rapidly in the Americas than in any other region, with an ASK increase of 38.5% (led by the US, where growth was 44.9%, while growth in South America was only 3.6%). Growth was also very strong in Africa (ASKs +29.4%).
See related report: Turkish Airlines in North America. Two new routes a year; geography favours it versus Gulf airlines
Double-digit ASK growth was also implemented in every other region, including Middle East (+18.9%), Asia/Far East (+14.9%), Europe & CIS (+13.8%). THY's growth was slowest in the domestic market, where its ASKs were up by 10.6%.
Turkish Airlines capacity, yield and unit revenue development by region, 1Q2016 versus 1Q2015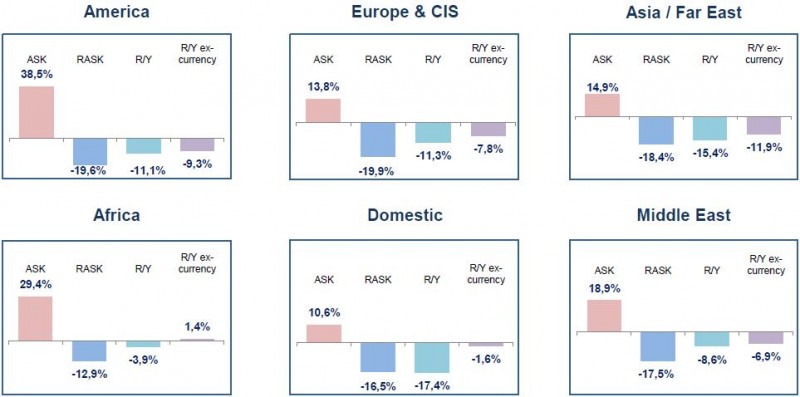 International transfer traffic continues to outpace total passenger growth
THY's passenger numbers grew by 10.3%, less than the 14.6% increase in RPKs, reflecting an increase in average sector length as a result of the strong growth in the international network in 1Q2016.
Passengers transferring between international flights at THY's Istanbul Atatürk hub increased their number by 22% to account for 30% of total passengers (up from 28% a year earlier) and 59% of international passengers.
This reflects a core element of the airline's growth strategy, which focuses on capturing global connecting traffic flows via its hub. Nevertheless, there were some group cancellations from passengers in the Far East to destinations in Europe as a result of security concerns in the quarter.
International-domestic transfer passengers reduced their share of total traffic to 7% and international point-to-point traffic's share of the total fell by 2ppts to 20%. Direct international traffic demand into Turkey was under pressure from geopolitical events. There was also weaker demand from oil routes in Russia and CIS.
Domestic passengers' share of THY's total increased by 2ppts to 43%.
Turkish Airlines passenger breakdown, 1Q2016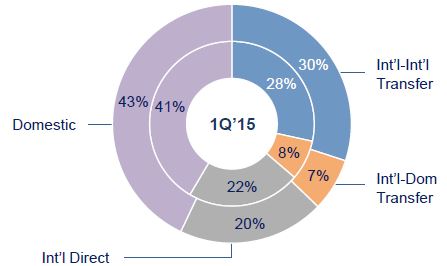 Revenue falls in spite of capacity growth; RASK lower by 17.2%
Revenue fell by 1.4%, in spite of the strong capacity growth. Scheduled passenger revenue fell by 0.5%, while cargo revenue fell by 5.8%. By region, flight revenue was almost flat in international markets (-0.6%) but reduced by 4.2% in the domestic market.
The softness of demand in THY's markets was evident in a 17.2% decline in total revenue per ASK (RASK). Double-digit RASK declines were felt in all markets, most notably in America (-19.6%), Europe and CIS (-19.9%) and Asia/Far East (-18.4%).
See related report: Turkish Airlines' targets for 2016 display its confidence in spite of unit revenue risks
Turkish Airlines revenues (USD million), 1Q2016 versus 1Q2015
| USD million | 1Q2015 | 1Q2016 | Change | % of 1Q2016 total |
| --- | --- | --- | --- | --- |
| Scheduled passenger revenue | 1,935 | 1,925 | -0.5% | 88% |
| Cargo | 224 | 211 | -5.8% | 10% |
| Charter | 6 | 6 | 0.0% | 0% |
| Other | 54 | 46 | -14.8% | 2% |
| Total revenue | 2,219 | 2,188 | -1.4% | 100% |
Within international markets: revenue fell in Europe, Far East and (slightly) in Middle East, in spite of capacity growth. In Africa and America flight revenue grew at double-digit rates, but this revenue growth did not match ASK growth.
Turkish Airlines passenger and cargo flight revenues (USD million), 1Q2016 versus 1Q2015
| USD million | 1Q2015 | 1Q2016 | Change | % of 1Q2016 total |
| --- | --- | --- | --- | --- |
| | 638 | 600 | -6.0% | 28% |
| Far East | 520 | 490 | -5.8% | 23% |
| | 283 | 281 | -0.7% | 13% |
| America | 252 | 283 | 12.3% | 13% |
| | 189 | 217 | 14.8% | 10% |
| Total international | 1882 | 1871 | -0.6% | 87% |
| Domestic | 283 | 271 | -4.2% | 13% |
| Total passenger and cargo flight revenue | 2165 | 2142 | -1.1% | 100% |
Costs up 9.5%; CASK reduced by 8.1%
Total operating costs grew by 9.5% in 1Q2015, less than the increase in ASKs, but more than the growth in revenue. Fuel costs fell by 11.8%, but non-fuel costs were up by 18.8% (almost in line with ASK growth).
THY's total CASK fell by 8.1% in 1Q2016, but this was almost entirely due to lower fuel prices. Non-fuel CASK was just below flat, reduced by 0.2% year-on-year.
Turkish Airlines operating costs (USD million), 1Q2016 versus 1Q2015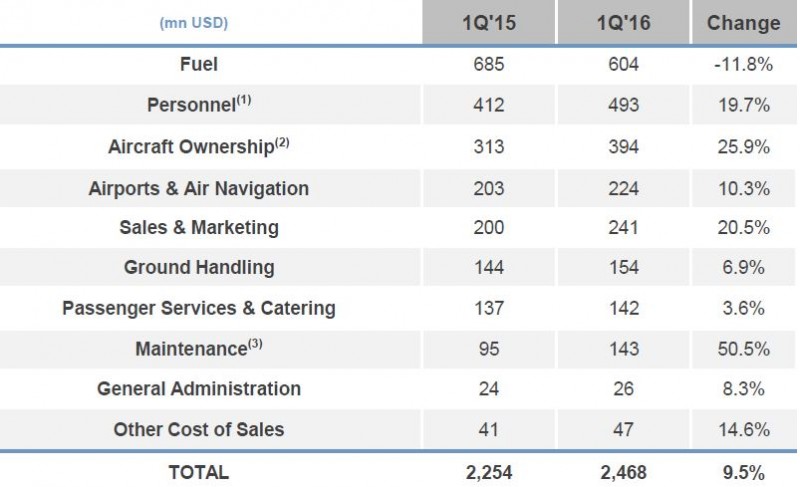 Consistent RASK decline for six quarters, but CASK is now not falling fast enough to compensate
Falling RASK has now been a constant feature for THY in each of the past six quarters. Indeed, since the start of 2013 RASK has fallen in all but two quarters. It is also true that CASK has fallen in each of the past six quarters and in all but three quarters since the start of 2013.
The key to margin improvement, however, is to ensure that RASK growth outperforms against CASK growth. THY's problem is that RASK has fallen faster than CASK in both of the past two quarters and in three of the past four, in spite of lower fuel prices.
Turkish Airlines year-on-year growth in USD-reported RASK and CASK by quarter, 1Q2013 to 1Q2016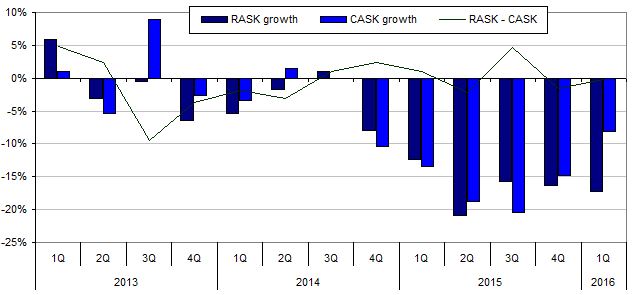 2016 outlook: strong growth, but lower margins
In Jan-2016 THY announced a 2016 revenue target of USD12.2 billion, which is 16% higher than its 2015 revenue level (compared with 21% ASK growth). Achieving this revenue figure will require an improvement in the RASK trend over the rest of this year.
THY's margin improvement in 2015 owed much to a strong performance in 3Q2015, in the seasonal summer peak. It has maintained its 2016 guidance for an EBITDAR margin of 20%–22%. This is below the 24.5% achieved in 2015, but still towards the upper end of its historical range.
See related report: Turkish Airlines improves 2015 margins thanks to lower fuel; growth to accelerate in 2016
Of course, EBITDAR (earnings before interest, tax, depreciation, amortisation and rentals for operating leases) excludes some fairly important costs – in particular, depreciation and operating lease payments.
THY has not announced targets for operating profit but a lower EBITDAR margin and likely higher depreciation charges (based on the significant increase reported in 1Q) make it likely that its operating margin in 2016 will also be lower than the 6.5% achieved un 2015.
Turkish Airlines operating margin and EBITDAR margin, 2006 to 2016*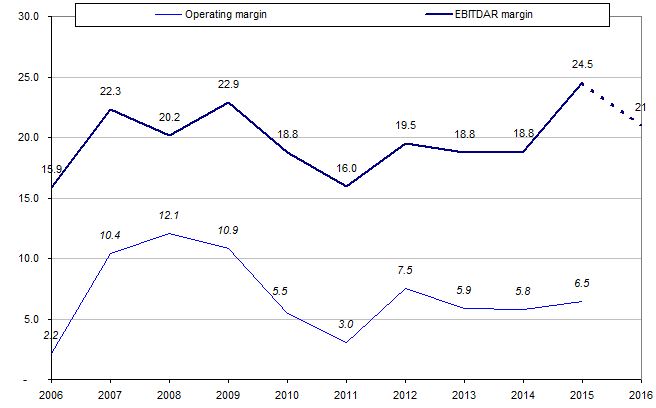 THY's market share growth is impressive, but it must not be at the expense of profitability
THY has shown over a period of many years that it has a robust business model that can sustain high levels of growth. Based on its 2016 growth plan THY expects to have 2.1% of global ASKs this year, up from 0.7% just 10 years ago.
This may not sound much, but according to data in its 1Q2016 results presentation, this will make it the world's tenth largest airline by share of global ASKs in 2016, behind only the US big three, Emirates, Southwest, the Chinese big three and Lufthansa. Among these larger airlines, the only one with a smaller home market is Emirates, with whom THY's 'super connector' strategy shares some characteristics.
Turkish Airlines' achievement in joining the ranks of the world's leading airlines is significant. However, in its pursuit of market share it there is a complex equilibrium to be established with the need to maintain strong profit margins.