Turkish Airlines in North America. Two new routes a year; geography favours it versus Gulf airlines
Analysis
North America is Turkish Airlines' fastest growing passenger region. The region forms a relatively small proportion of its total network, but contributes five of the airline's top 10 international routes by ASKs (Istanbul to New York is the biggest). Turkish has a strong load factor on its North American operations, although this has slipped in 2015.
However, there is no sign that Turkish plans to ease back on the throttle. After launching services from Istanbul to Boston and Montreal in 2014, it started San Francisco this summer and will add Miami this winter to give a total of 10 North American destinations. In 2016, it will commence flights to Atlanta.
Turkish is the sole operator on all but one of its USA/Canada routes from Istanbul (and its only competitor, to Toronto, is also a codeshare partner). This clearly positions it strongly in the Turkey-North America O&D market. However, such a rapid expansion requires additional feed and the region is also part of Turkish Airlines' global connecting strategy. Its expansion brings increased competition with the much more highly publicised Gulf-based super-connectors in North America, but Turkish should not fear this.
North America is THY's fastest growing region by passenger numbers
For Turkish Airlines (THY), North America remains a small part of its network. As of Sep-2015, it accounts for only nine destinations out of a total network of 268 destinations (of which 219 are international, according to OAG).
However, THY is growing rapidly in the region. In the first eight months of 2015, THY increased its scheduled passenger numbers to North America by 16.3%, faster than any other international region and equal to its domestic growth rate (North America's ASK growth of 20.3% is second only to South America's 22.0% so far this year for THY).
Moreover, THY's North American network has also enjoyed very strong growth in passenger numbers since the depths of the financial crisis in 2008. Its compound average growth rate in North American scheduled passenger numbers over the six year period 2008 to 2014 was 36.4% pa, higher than any other region, including THY's domestic network (the Latin American network had no operations in 2008, so is not included in this comparison, but grew at a compound average rate of 44% pa from 2009 to 2014).
Over the same time period, North America's share of THY's international scheduled passenger numbers increased from 2% to 5% (Latin American is still considerably less than 1%). North America is more important to THY by ASKs, with a share of 13%
Europe remains THY's most important international region by passenger numbers, but its share of the airline's international traffic fell from 67% in 2008 to 60% in 2014 (and 58% in 8M2015).
Turkish Airlines growth in scheduled passenger numbers by region Jan-Aug 2015 vs Jan-Aug 2014 and CAGR 2014/2008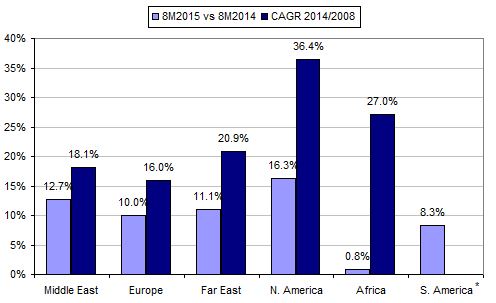 Turkish Airlines distribution of international scheduled passenger numbers by region 2005 to 2014 and Jan-Aug 2014 & Jan-Aug 2015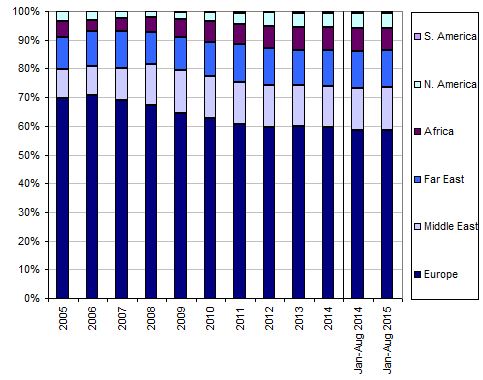 THY's international traffic growth has outpaced the domestic segment…
The broader picture of THY's growth in recent years has been one of international traffic outpacing the increase in domestic traffic. From 2008 to 2014, the compound average growth rate of scheduled international passengers was 18.3% pa, compared with 12.6% for the domestic market (CAGR of 15.7% for total scheduled passenger numbers 2008 to 2014).
Within the international segment, the key growth area has been in transfer traffic connecting between international flights (ie with both origin and destination outside Turkey), with a CAGR of 28.3% from 2008 to 2014. The remaining portion of scheduled international traffic (ie between Turkey and international destinations) has grown at an average rate of 13.2%, not much more than the domestic segment.
In 2014 and 2015, growth in the portion of scheduled international traffic with origin/destination in Turkey has slowed to a lower growth rate than THY's domestic traffic. In 2014, this 'other international' segment grew by 12.5%, compared with 13.3% for domestic traffic. Nevertheless, the 15.7% increase in total international traffic still outpaced domestic growth in 2014 thanks to 20% growth in international to international transfer traffic.
… but international growth has slowed in 2015
However, in 1H2015, scheduled international traffic growth slowed to 7.6%, which was less than the 11.8% for scheduled domestic traffic. International transfer traffic continued to grow faster than other segments, but at 12.7% it was slower than in 2014, while 'other international' traffic slowed considerably to 3.4% in 1H2015.
(An acceleration of traffic growth in Jul-2015 and Aug-2015 took the 8M2015 growth rates to 10.1% for international traffic and 16.3% for domestic traffic; THY only provides details of international transfer traffic on a quarterly basis).
A range of geopolitical factors in a number of THY's markets have combined to dampen international demand growth, not only for travel to/from Turkey, but also for global traffic flows connecting via Istanbul.
Its domestic network carried 49% of its passenger numbers in 2008, the first time its share fell below a half, and had dropped to 41% by 2014. In 8M2015, the slowing of international traffic growth to below the domestic growth rate has allowed THY's domestic network to increased its share of the total to 43%. As the fastest growing part of the network, and in spite of its being small, North America is gaining importance to THY's global connecting strategy.
Turkish Airlines distribution of scheduled passenger numbers 2006 to 2014 and Jan-Aug 2014 & Jan-Aug 2015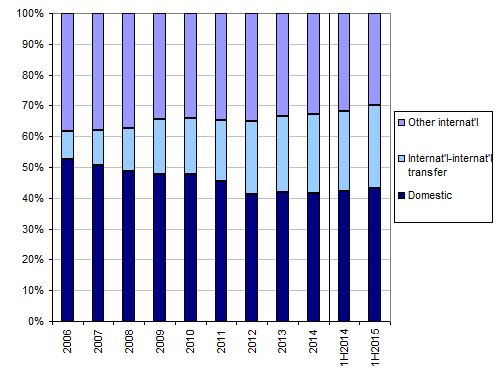 One new North American destination per year since 2009; Miami to be second launch of 2015
At the start of 2009, THY's only destinations in North America were Chicago and New York. Since then, it has opened new routes at the rate of one a year, bringing the total to nine today. It added Toronto in 2009, Washington Dulles in 2010, Los Angeles in 2011, Houston in 2013, Boston and Montreal in 2014 and San Francisco in summer 2015.
The once a year pace will is accelerating. After two new routes in 2014, THY will also make it two new launches in 2015 when it commences a daily Istanbul-Miami service on 25-Oct-2015 to give it 10 North American routes by the end of this year. In May-2016, it plans a daily Atlanta service.
All but three of its North American routes will have a daily service (Montreal is three times weekly, Toronto six times weekly and New York is three times daily).
Codeshare partner Air Canada is THY's only direct 'competitor'
THY is the only operator on all but one of its North American routes, the exception being Istanbul-Toronto, where fellow Star Alliance member, and THY's major North America codeshare partner, Air Canada also operates. In addition, it has seasonal competition in the peak summer months on New York JFK from Delta (but THY has around three times Delta's seat capacity on the route).
This winter Turkish will maintain its New York service at its summer frequency of three times daily, rather than reduce it to 17 times weekly as previously planned.
This will be the first time it has not reduced its frequency to New York moving into the winter schedule.
Although North America is still relatively small overall as a proportion of THY's total network, it includes some significant individual routes. Ranked by seats, only New York JFK makes THY's list of top 10 routes (at number seven). However, ranked by ASKs, New York is its biggest route, while Los Angeles, San Francisco, Houston Bush and Chicago O'Hare also in the top 10 (week of 14-Sep-2015, source: OAG).
Turkish Airlines and competitor seat capacity on North American routes to/from Istanbul Ataturk 14-Sep-2015 to 20-Sep-2105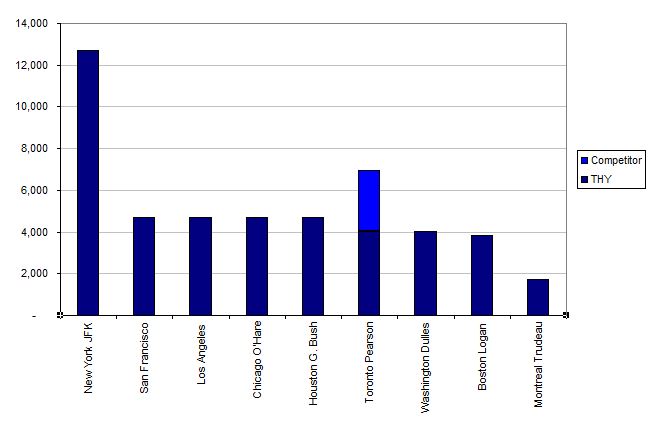 Turkish Airlines North American routes from Istanbul Ataturk 14-Sep-2015 to 20-Sep-2015
| | THY seats (two way) | Weekly frequency | Aircraft | Notes |
| --- | --- | --- | --- | --- |
| | 12,726 | 21 | | Monopoly (Delta operates peak summer - Jun to Aug - with around one third of TK capacity |
| | 4,718 | 7 | 777-300ER | Monopoly. Weekly frequency increased from 5 in May-2015 after Apr-2015 launch |
| | 4,718 | 7 | 777-300ER | Monopoly |
| | 4,718 | 7 | 777-300ER | Monopoly. Upgauge from A330-200 in May-2015 |
| | 4,718 | 7 | 777-300ER | Monopoly |
| | 4,044 | 6 | 777-300ER | Air Canada is only competitor |
| | 4,004 | 7 | A330-300 | Monopoly |
| | 3,812 | 7 | A340-300 | |
| | 1,716 | 3 | A330-300 | Monopoly. Air Transat ceased operating peak summer service in 2014 |
| Future plans | | | | |
| | 4,718 | 7 | 777-300ER | Monopoly. To launch 25-Oct-2015 |
| | 4,718 | 7 | 777-300ER | Monopoly. To launch May-2016 |
Turkish's North American codeshare strategy
THY is notably not part of the Star Alliance's immunised transatlantic joint venture agreement, reflecting nervousness felt by Lufthansa in particular over its Turkish partner's strong growth and competitive impact on its own hub. THY has, however, built a series of codeshare agreements to assist its North Atlantic strategy.
Apart from its reciprocal codeshare with Air Canada on the capacity constrained Toronto route, Turkish has no codeshares on routes between Istanbul and North America with other North American carriers. It has a codeshare with Singapore Airlines on its New York, Chicago, Houston, Washington and Boston services and with Air New Zealand on its Los Angeles route from Istanbul (Singapore Airlines and Air New Zealand also carry THY's code to destinations in Asia Pacific, primarily in Australasia).
THY also carries Air Canada's code on Istanbul services to/from the Turkish cities Ankara and Izmir, a number of destinations in the Middle East (Abu Dhabi, Amman, Bahrain, Cairo, Dammam, Doha, Dubai, Jeddah, Kuwait, Madinah, Muscat and Riyadh), the Indian subcontinent (Delhi, Islamabad, Karachi and Mumbai) and one in Africa (Nairobi).
For its part, Air Canada carries the TK code on services from Toronto to destinations in North America (Atlanta, Baltimore, Boston, Calgary, Charlotte, Cincinnati, Cleveland, Dallas/Fort Worth, Denver, Detroit, Edmonton, Fort Lauderdale, Miami, Montreal, Nashville, Ottawa, Philadelphia, Pittsburgh, Raleigh-Durham, San Francisco, Seattle and Vancouver). Air Canada also carries the TK code from Montreal to 13 North American destinations (mainly regional Canadian cities, but also including Toronto, Vancouver and San Francisco).
THY's codeshares with Star Alliance's United Airlines are confined to its carrying the UA code on routes between Istanbul and three hubs in Europe (Frankfurt, Munich, London Heathrow) and United's carrying of the TK code from Chicago O'Hare to four US cities (Atlanta, Dallas/Fort Worth, Denver, San Diego) and from Houston to two cities (Austin Bergstrom and San Antonio). THY's code is also carried by Jetblue from New York JFK to 16 US cities and from Boston to four US destinations.
THY's codeshare strategy towards North America is designed to give it greater access to North American destinations and also to draw incremental traffic flows between North America and the Middle East/Indian subcontinent (and, to a lesser extent, other parts of Asia Pacific and Africa to connect over Istanbul). Its biggest international market is Europe, but its Istanbul hub is not a natural choice for passengers from most of Europe connecting to a North American destination.
THY is second to Emirates among super-connectors by seats in North America
Although THY enjoys a large domestic Turkish market and this is also a source of originating traffic for its international network, its rapidly growing North American operations also need additional feed from elsewhere. THY's access to markets for sixth freedom traffic into North America is conditional upon traffic rights under the bilateral system, but this is only likely to grow over time.
By targeting these global traffic flows, THY is competing to a greater or lesser degree with the three Gulf-based super-connectors Emirates, Qatar Airways and Etihad. The Gulf carriers also have ambitious growth plans in North America. THY faces competition from at least one of these three Gulf airlines on all of its current and planned North American routes (none of the three currently operates to Atlanta, but Qatar Airways plans to launch a service from Doha in Jun-2016, the month after THY's launch from Istanbul).
See related reports:
Emirates' USA growth anchored around JetBlue and Alaska Air hubs. Panama City for LatAm Growth
Gulf-US airline partnerships: idiosyncratic but the way forward. American Airlines to Abu Dhabi?
Emirates and Qatar Airways announce new US services - for commercial as well as strategic reasons
Relative to the Gulf airlines, THY has a geographical advantage in being located closer to North America, giving it more flexibility in terms of its choice of aircraft (and payload) to serve that market (in particular to the US west coast, where Gulf airlines' ability to carry belly cargo is restricted).
Among these four super-connectors, THY ranks second to Emirates both in terms of seat capacity and the number of destinations in North America. Its nine North American destinations (of which two in Canada) compares with Emirates' 11 (one in Canada), Qatar's eight (one in Canada) and Etihad's seven (one in Canada).
Turkish Airlines versus Emirates, Qatar Airways and Etihad: weekly frequencies and destinations to North America 14-Sep-2015 to 20-Sep-2015
| | THY from IST | | Qatar Airways from Doha | |
| --- | --- | --- | --- | --- |
| | 21 | 21 | 7 | 14 |
| | 7 | 7 | - | 7 |
| | 7 | 7 | - | 7 |
| | 7 | 7 | 7 | 7 |
| | 7 | 7 | 7 | - |
| | 6 | 3 | - | 3 |
| | 7 | 7 | 7 | 7 |
| | 7 | 7 | - | - |
| | 3 | - | 3 | - |
| | - | 14 | - | - |
| | - | 7 | 7 | 3 |
| Orlando | - | 7 | - | |
| | - | - | 7 | - |
| | 7* | - | 5 | - |
| | 7** | - | 7*** | - |
See related reports:
Turkish Airlines: narrowing the strategic Gulf: Part 1
Turkish Airlines: narrowing the strategic Gulf: Part 2
Emirates, Turkish Airlines, Qatar Airways and Etihad: seat capacity and destinations to North America 14-Sep-2015 to 20-Sep-2015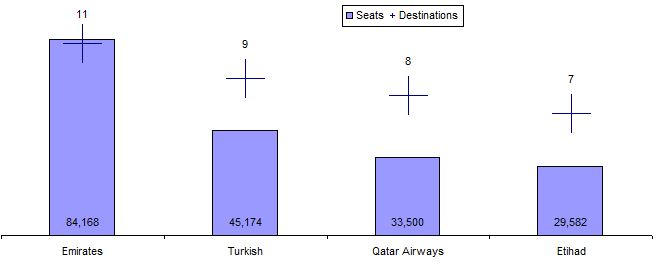 However, when destinations through codeshare partners are considered, the ranking is reversed. Etihad has 147, Qatar Airways 100, THY 56 and Emirates 40 codeshare destinations in North America.
Nevertheless, THY's own North American network, Turkish O&D traffic its and the geographical advantage of its Istanbul hub should give it confidence in competing with the Gulf carriers in the region.
Emirates, Turkish Airlines, Qatar Airways and Etihad: destinations and destinations under codeshare to North America 14-Sep-2015 to 20-Sep-2015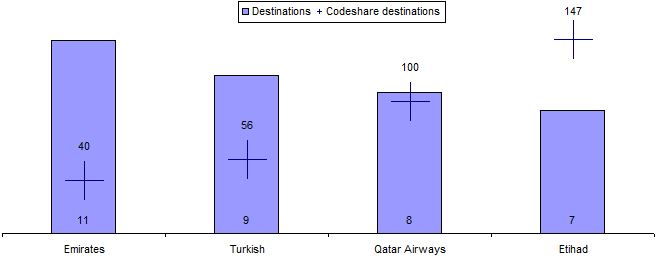 Source: CAPA - Centre for Aviation, OAG
Until 2014, THY's rapid growth in capacity to North America met with even stronger demand growth. Its scheduled passenger load factor to the region gained almost 10ppts between 2011 and 2014, when it reached 84.6%, considerably higher than any other part of the airline's network. Over the same period, THY's overall scheduled load factor gained more than 6ppts to reach 79.0%.
However, in 2014 the airline's overall scheduled load factor levelled off (it lost 0.1ppts) in a sign that its was becoming more difficult to fill the incremental capacity. North America's load factor however continued to outperform the rest of the network in 2014, when it gained 1ppt, but it has lost 2.3ppts in the first eight months of 2015.
North America has not been the only region to show weakening load factor. Indeed, only THY's domestic market has enjoyed an increase in 8M2015 and its overall scheduled passenger load factor has lost 0.8 ppts. Nevertheless, North America's load factor performance in 8M2015 versus 8M2014 has been weaker than every region apart from Africa.
Turkish Airlines scheduled passenger load factor by region 2011 to 2014 and Jan-Aug 2014 & Jan-Aug 2015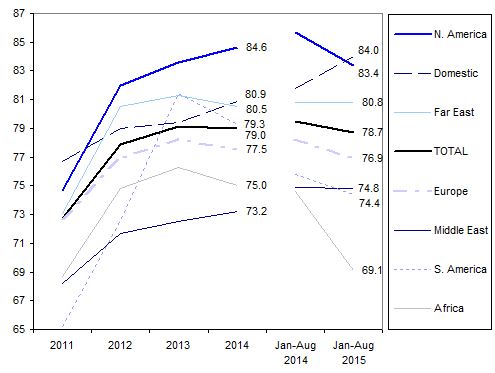 North American expansion must be profitable
THY suffered a significant drop in unit revenue (RASK) across its network in 1H2015 (-17.1%), partly due to the drop load factor, but mainly due to heavy yield declines in all regions, notably the major European markets, where the Euro has declined sharply.
See related report: Turkish Airlines: the positives of global super-hubbing can turn awry as 2Q unit revenue falls
Compared with other parts of its network, North America had the lowest rate of yield decline among THY's regions ("only" -11.5%) and the second lowest rate of RASK decline (-12.4%). However, the falls in both load factor and yield sound notes of caution as THY pursues its North American expansion.
Turkish Airlines has successfully grown its North American operations from two destinations in 2009 to 10 by the end of 2015. Moreover, through most of this period, it has achieved this with strong and rising load factors. However, as with the other regions, recent tumbling unit revenue will sharpen THY's focus on ensuring that its rapid capacity growth in North America is profitable.